Mosaic Monday: 4 Shimmering New Mosaics
February 08, 2016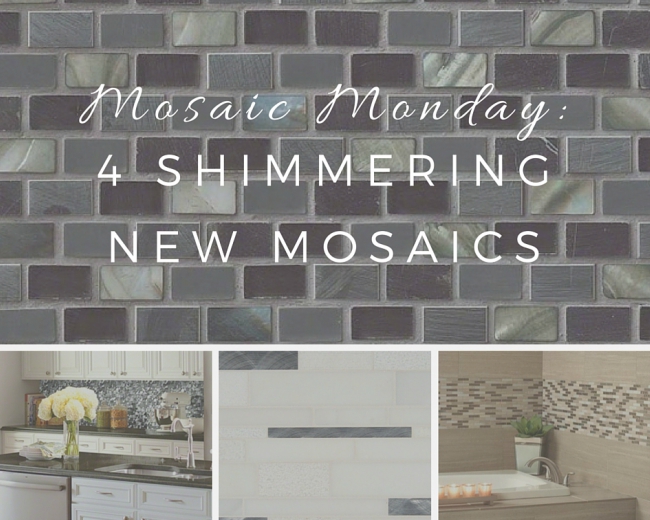 Like sunlight dancing across a gleaming pond, or moonbeams shining on a deserted beach, or a precious sapphire twinkling with glints of deep, dark blue, nature has a sparkling scenery that catches your eye like none other. A touch of nature's glimmer can add instant allure, shimmer, and magnetism when using shimmering glass, stone, and mixed metal mosaics in your home decor.
Sleek metallics in gold, silver, and platinum deliver a clean, contemporary look; pairings of frosty white, gold, and brick turn convention on its head; and iridescent glass and metal shine brightly for all to admire. Whether you prefer metallics or glass and stone, it's easy to create a spectacular aesthetic with one of MSI's shimmering new mosaics:
Moderno Blanco Interlocking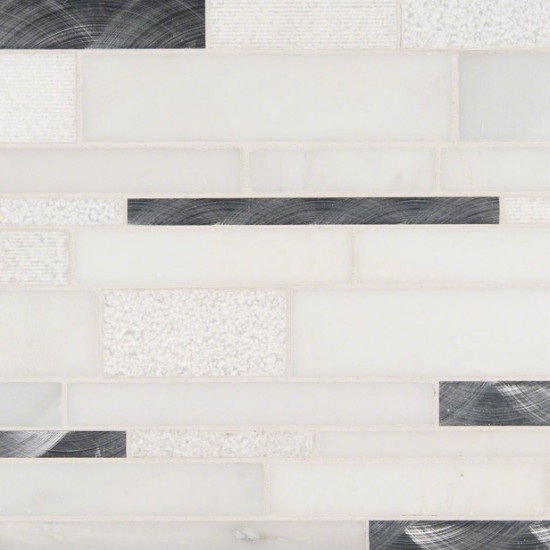 Featured: Moderno Bianco Interlocking
An exquisite blend of glass, stone, and metal, Moderno Blanco Interlocking breathes life into backsplash tiles, countertops, and floors. Like rolled-steel train tracks dusted with freshly fallen snow, this lovely tile beautifully blends hard and soft lines, and metallics and neutrals. The result is a modern twist on a neutral look. With various shades of frosty white—contrasted with harmonizing hues of gray, white, and speckled gray—this mini-tile mosaic is the perfect compliment to modern decor in residential and commercial settings. This exquisite tile pairs well with harmonizing hues of gray and tan, or more vibrant colors, like canary yellow or icy blue. Challenge the expected with sweeping swirls of gray, and soft, milky white lines and stipples.
Diamante Brick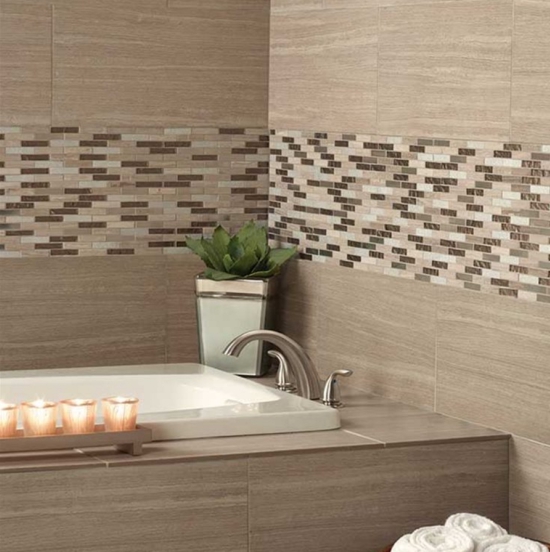 Featured: Diamante Brick
With a rich tapestry of glass, stone, and metallics weaved together into one beautiful design, Diamante Brick creates breathtaking backsplashes, countertops, and floors. A new take on an old classic, this lovely tile exudes all the rustic charm of a timeworn brick house—with just the right amount of modernizing shimmer and texture. With various shades of taupe combined with complementary black and gray, this mini-tile mosaic is a perfect accompaniment to modern decor in both residential and commercial settings. For easy application, this tile is offered in mesh-backed sheets. For a harmonizing look, pair this elegant tile with hues of light gray, white, beige, or greige. For a richer look, consider wood accents or shades of rose, light yellow, or watery, turquoise blue.
Midnight Pearl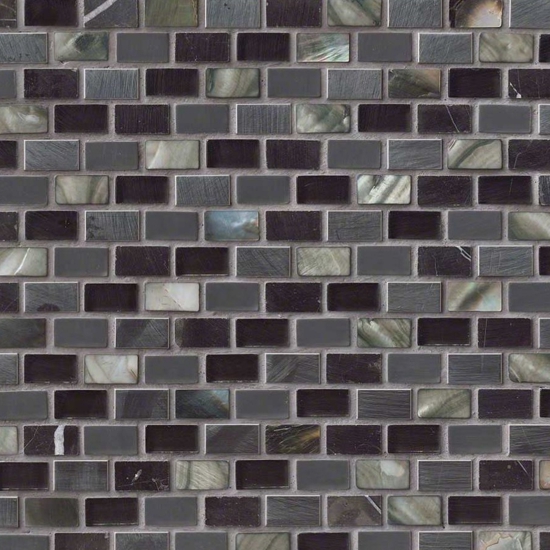 Featured: Midnight Pearl
With these captivating tiles, you'll never hit a brick wall on the road to style. Creating picturesque feature walls, countertops, and floors, Midnight Pearl beautifully blends glass and metal into an interesting, offset brick pattern. Picture-perfect amidst modern design accents, these luminous, black, gray, and iridescent mini tiles measure 5/8" by 1" and come in prearranged 12" x 12" sheets. Turn all attention to this radiant tile with subtle compliments in off-white, beige, or gray. Or create a sultry look with pairings of deep, dark black, gray, or brown.
Silver Aluminum Metal 3D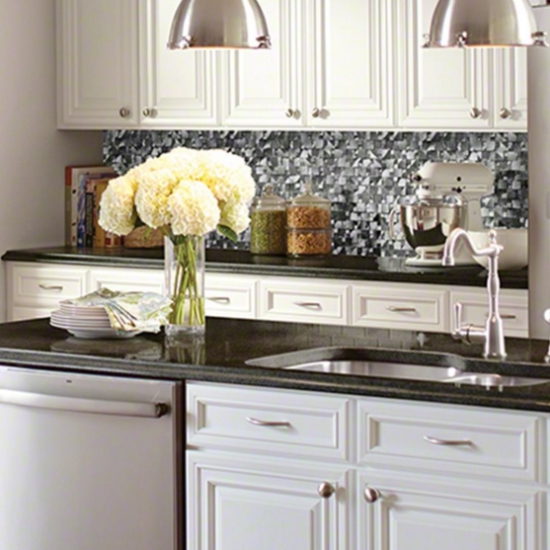 Featured: Silver Aluminum Metal 3D
With an exclusive, geometric look that resembles interlocking puzzle pieces, this three-dimensional metallic mosaic creates an ultramodern aesthetic for wall tiles and backsplashes. Like silver moonlight glistening across the sea, Silver Aluminum Metal 3D creates a quiet charisma for all to look upon in awe. With this statement piece tile, you'll enter into a new dimension of style.
With a lovely, shimmering mosaic tile from MSI, your décor will be positively beaming. Whether you reinvent a tried-and-true classic or choose a style that's current and contemporary, there's a beautiful, shimmering mosaic from MSI to make all your décor dreams come true.