Current Obsessions: Why White Quartz Countertops Are Underrated
August 24, 2018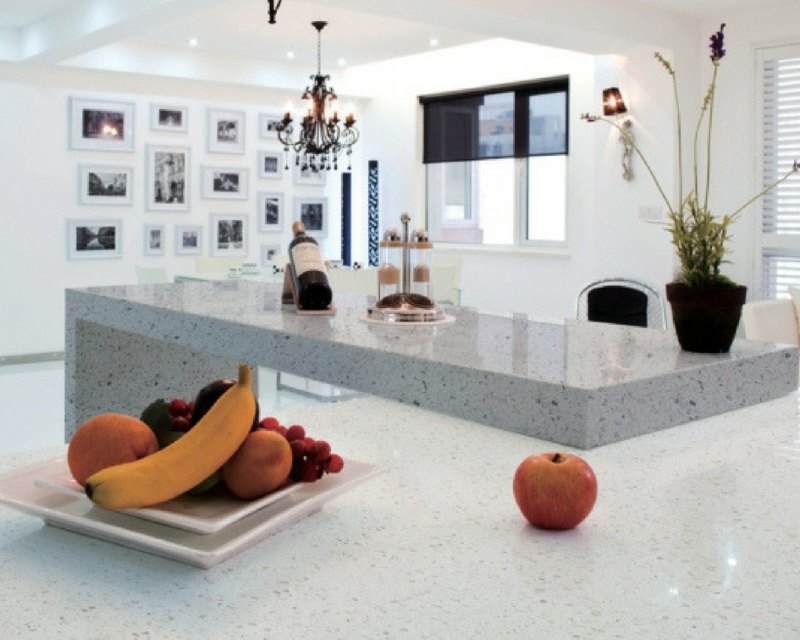 If you've been leafing through this year's home decorating magazines, you'll notice an abundance of white: walls, cabinetry, and countertops. The white quartz countertop is an especially lovely feature; it gives the room a peaceful, airy feel and a sense of impeccable cleanliness.
You may have concerns with white kitchens, however, and wonder if a white countertop is practical for you and your busy family. It seems like a nice idea, but you worry that it may take a lot of effort to keep it clean and avoid stains. After all, you want to use your kitchen, not just admire it.
Have you been hearing rumors that quartz countertops are impressing homeowners and contractors, thanks to their durability and beauty? But… white? Really? With white quartz countertops, however, that white kitchen re-enters the practical world of possibility.
White quartz countertops are underrated, because it's still tough to convince homeowners that they can stay white and pristine without a ridiculous amount of work and worry. They are unlike any other surface material you've ever experienced! Here are a few reasons why:
• The quartz manufacturing process creates a super-tough, non-porous material. Unlike natural stone, quartz does not need regular sealing to maintain this quality.
• Quartz — even bright white — resists stains like no other countertop. That includes red wine, coffee, and tomato sauce.
• MSI carries a wide range of quartz countertop colors, including gorgeous white patterns that realistically mimic marble.
With all of this in mind, check out these popular white quartz countertops by MSI. They don't just look beautiful in pictures, but in real life too.
Cascade White
Plain and solid-colored is not the only way to experience white quartz countertops. Cascade White features a pebbly mixture of taupe and silver along with a soft shade of white. The quartz manufacturing process offers a luxurious depth that is pleasing to the eye and complementary to many different décor styles. In the contemporary bathroom shown here, you can put aside your worries and relax.
Calacatta Venice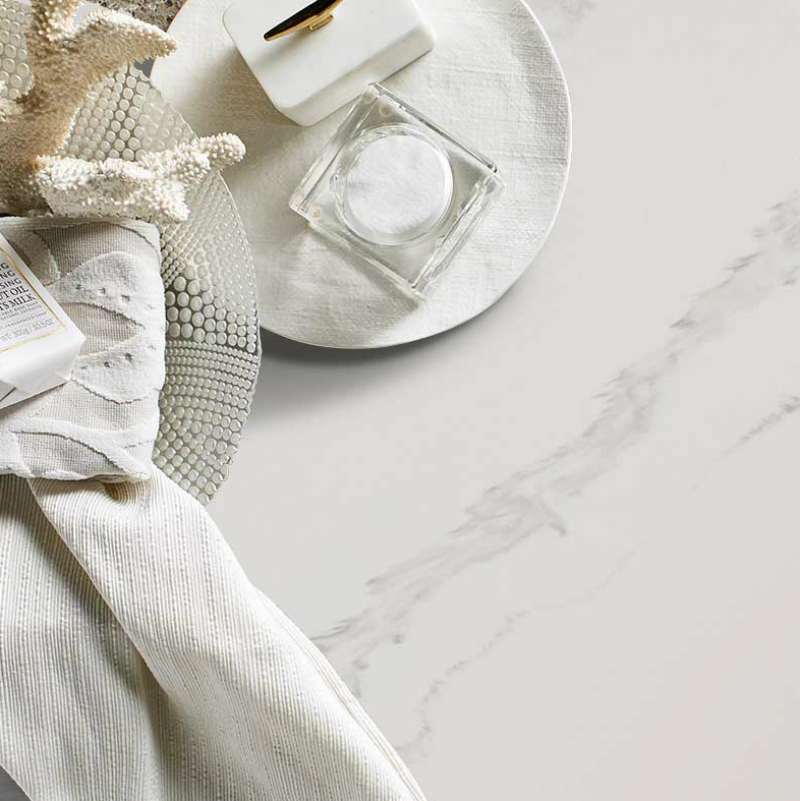 Featured: Calacatta Venice Quartz
Whether you're remodeling the kitchen or bath, white Italian marble countertops are the epitome of upscale décor. That's because upscale people have a staff of housekeepers to maintain it. For the rest of us, a Calacatta Venice quartz countertop delivers all the posh elegance of marble — complete with realistic, subtle gray veining — without the labor-intensive care.
Calacatta Vicenza
One of the best ways to create your elegant, white kitchen or bath is by combining natural marble with an authentic marble look quartz such as Calacatta Vicenza. Designers love this strategy, choosing marble for vertical surfaces such as backsplashes and accent walls where they are less likely to be stained or damaged, and easy-care quartz for the countertops.
Cashmere Carrara
If you have a bright white countertop, you'll need to stick to white wine from now on, right? Wrong! Cashmere Carrara quartz offers subtle gray veining and a bright, polished surface that looks stunning in both traditional and contemporary designs. But since it's nonporous and stain-resistant, even the clumsy among us can enjoy that glass of Shiraz at the kitchen island with no hassle at all.
Fairy White
How brave this homeowner must be to put a cooktop in a white countertop! No worries; quartz is heat-resistant and can easily handle all of the spills and splatters that are inevitable as you create a feast for your family. Fairy White quartz, with its high polish and snowy white hue, is not only durable but well worthy of playing the kitchen's starring role.
Don't fall prey to the belief that you can't have it both ways; white quartz countertops from MSI let you do just that. Enjoy your peaceful, light-filled white kitchen or bathroom without concerns about damaging your white countertop as you go about your daily life. MSI offers many more stunning quartz countertops in a wide range of colors, from dark to solid white. Which one is right for you?