Popular
Pattern Palooza
July 19, 2018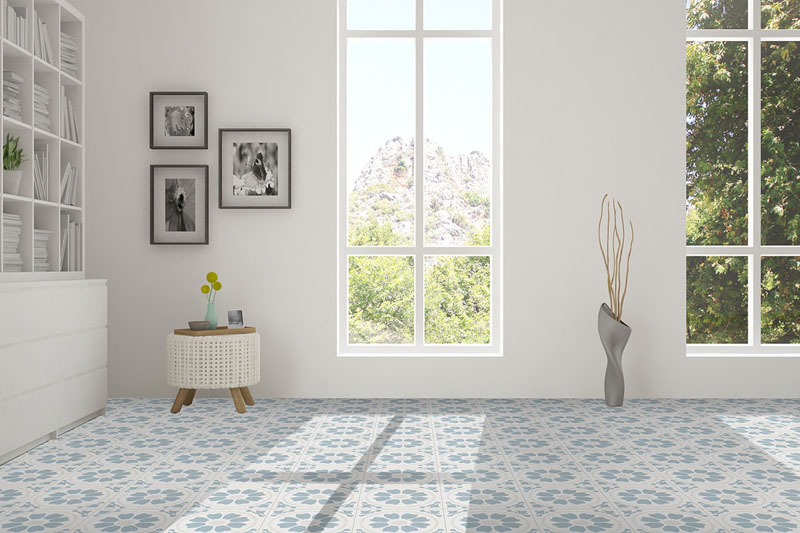 Pattern Palooza—a red-hot tile trend—is popping up everywhere these days. The design darlings stealing the spotlight? Encaustics, arabesques, herringbones, and geometrics are transporting floors, walls, backsplashes, and terraces with dreamy results.
We thank our design team (and other movers and shakers in the trade) for curating the inspiring new wave of pattern tile. And where would we be without the designers who bring these coveted looks to life? Or the homeowners who prove time and again that the eye candy streaming on social media helps us all cultivate our style.
If you're thinking of pattern tile for your next project, take a cue from the trendspotters who brighten our hallways. We hope their top picks—shown here in no particular order—inspire you.
ENCAUSTIC FEVER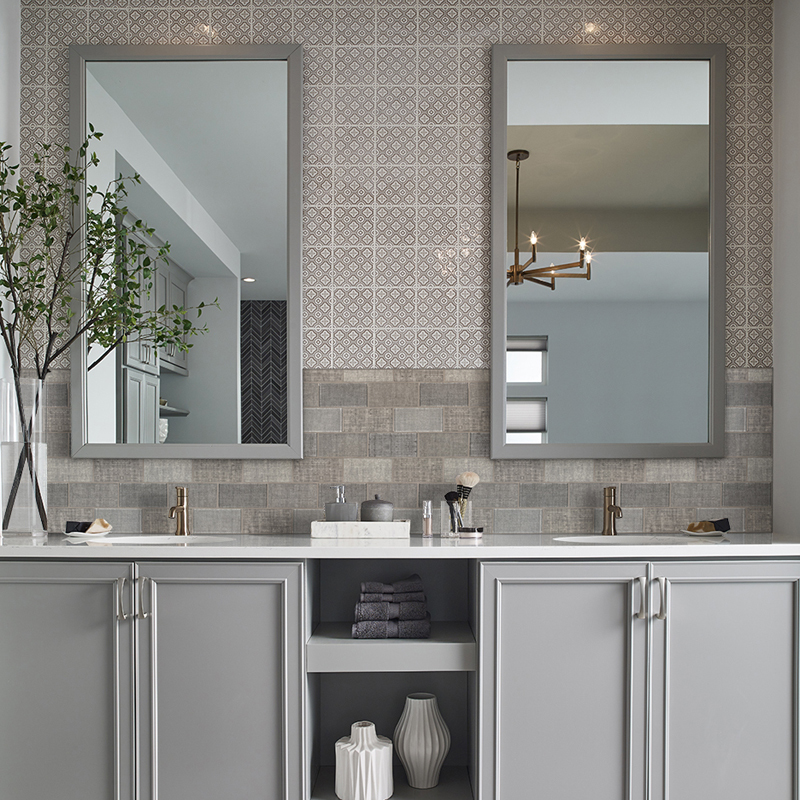 Pattern tile has entered a fresh new era in design. And many of the looks fueling our obsession today are inspired by century-old encaustic tile from countries like Spain, France, and Turkey. Featuring stylized flowers, mod geometrics, and other long-loved prints, it's a case of classic charm meets modern polish. For our part, love is a verb, and the pattern party is too much fun to pass up. So we're introducing new additions to our Encaustic Tile Collection at lightning speed.
Say hello to the new tiles on the block, Azila, Kasbah, Tamensa, and Zoudia – rounding out the Kenzzi collection. From kitchen backsplashes to patio floors, and all spaces in between, designers say this glazed porcelain lineup is a dream to work with. And because they're low-maintenance, homeowners never have to fuss over them.
GEOMETRIC ALL-STARS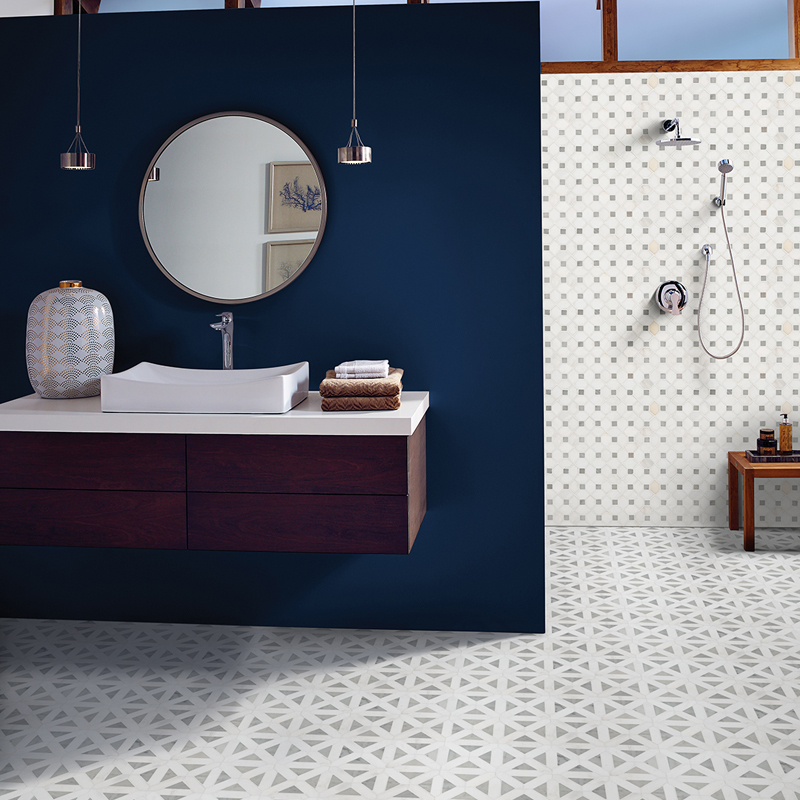 Proof that geometric patterns play well together: Bianco Dolomite Dotty on the back wall, Bianco Dolomite Geometrica underfoot
Iconic shapes in the geometric tile trend look familiar, but we've redefined them with a modern twist, so they're even more irresistible. Ours are made of natural stone and intricate inlays - which makes creating inspired interiors with an upscale aesthetic easy breezy.
A practical alternative to wallpaper—especially in wet zones like laundry rooms, foyers, kitchens, and baths—we love the movement and energy of geometrics. We've seen the shapely lineup, starring hexagons, retro fretwork, diamonds, and 3-D-inspired subways, refresh 1940s bungalows, urban lofts, and high-end commercial spaces with equally striking results.
CRISP & CLASSIC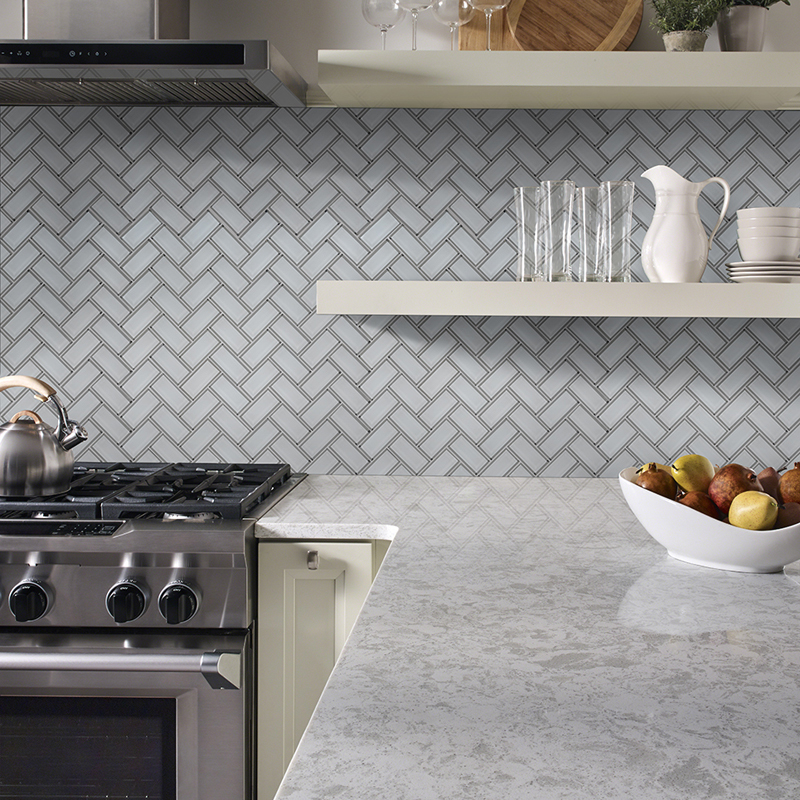 We adored gray before it hit the big time: Gray Glossy Herringbone porcelain tile only deepens our devotion
If your taste runs traditional, worry not. Our appreciation for the history of classic design means you'll always have a cadre of timeless surfaces to choose from. Thinking of upgrading your kitchen backsplash or giving your laundry room a little love? Whisper White and Portico Pearl from the Highland Park collection check off all the boxes: modern colorways, trendsetting shapes, ultra-durable, no-fuss maintenance. Oh, and if you want to show off your commitment to the classics, there's nothing like the clean lines and beauty of a floor-to-wall tile treatment.
BYE BYE BORING FLOORS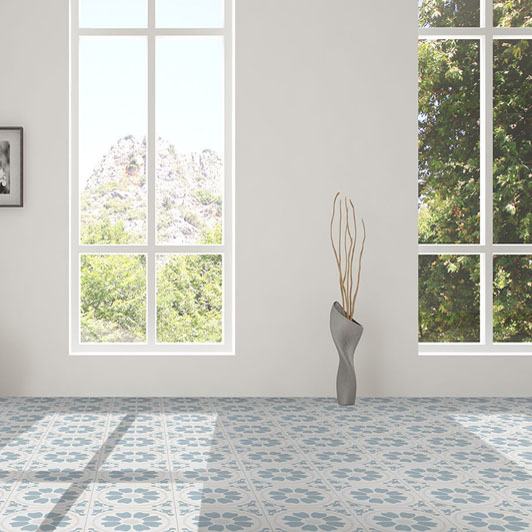 We may be biased, but a crush is a crush: Tamensa Porcelain Tile from our Kenzzi Collection
Playing favorites is a slippery slope. But sometimes, you can't help it. That's pretty much how we feel about our Kenzzi collection. Can you blame us? From the eighties to the aughts, it seemed like we'd never leave the beige-for-days and the wood-on-wood-on-wood era behind. We're breathing deeply again. Floors that come alive with pattern makes us hopeful– particularly when someone with an artistic eye creates a one-of-a-kind design by mixing the latest wave of print tile.
Still on the fence? You can always dip a toe into the Pattern Palooza Trend with pops and punches. Try color tiles to mimic a rug or its borders – both are pretty ways to delineate zones in an open floor plan. If you're classic at heart, create a domino effect by setting black and white marble or porcelain tiles on the diagonal. Wherever the trend takes you, have fun giving your floors depth, movement, and personality.
TAKE IT OUTDOORS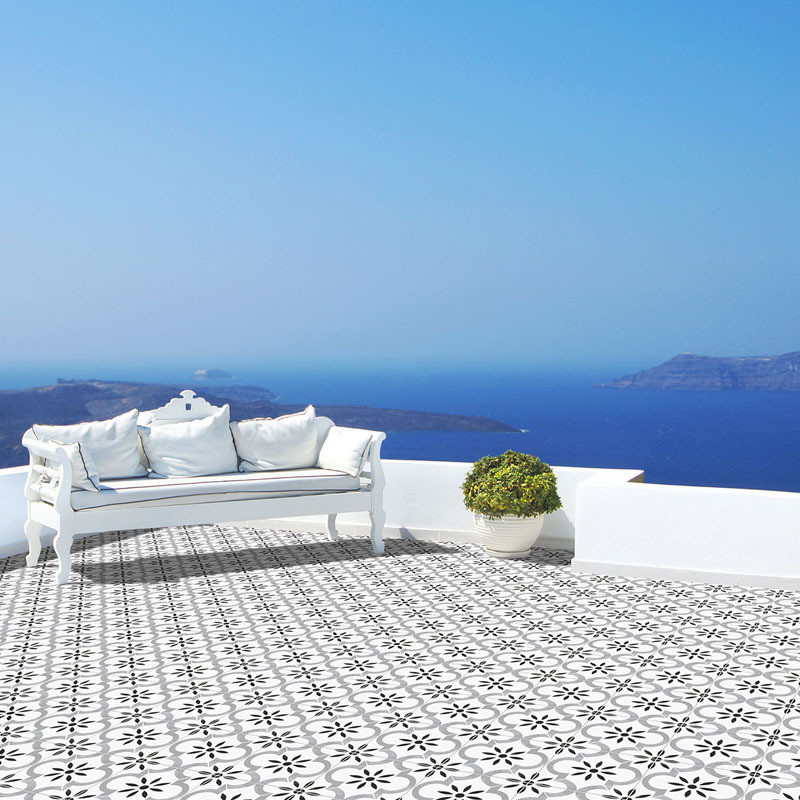 Love the old-school encaustics on the other side of the Atlantic? Azila Porcelain (from the Kenzzi Collection) is made for you
A side of envy with that burger? Expect your guests to gush over your encaustic tile terrace. Carry the look inside, and they may never get off the subject. Why? Apart from pillows and upholstery brightening up patio furniture, there aren't many patterns going on outdoors (um, angel-shaped clouds don't count). A gorgeous contrast against grass, sky, and, if you're lucky, water, the look's entirely unexpected.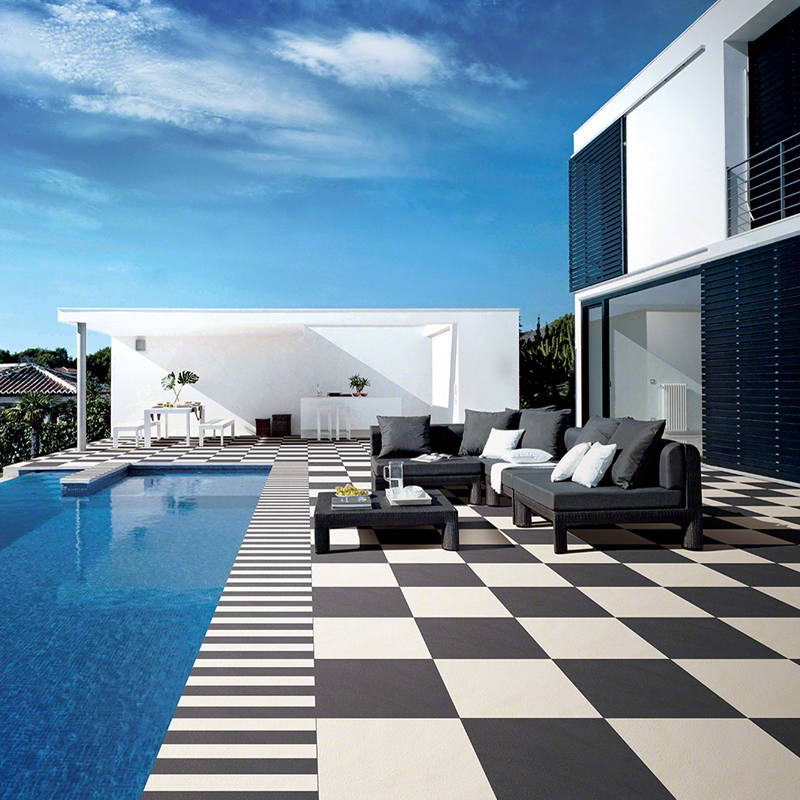 Pair Optima's cream and Graphite Porcelain Tile for a sophisticated, F. A. O. Schwarz-esque terrace
For the times you feel daring, arrange pool tile in wavy bands or go all out like the domino pattern above. You may be the first one in your zip code to bring your love of pattern outdoors.
YOUR TURN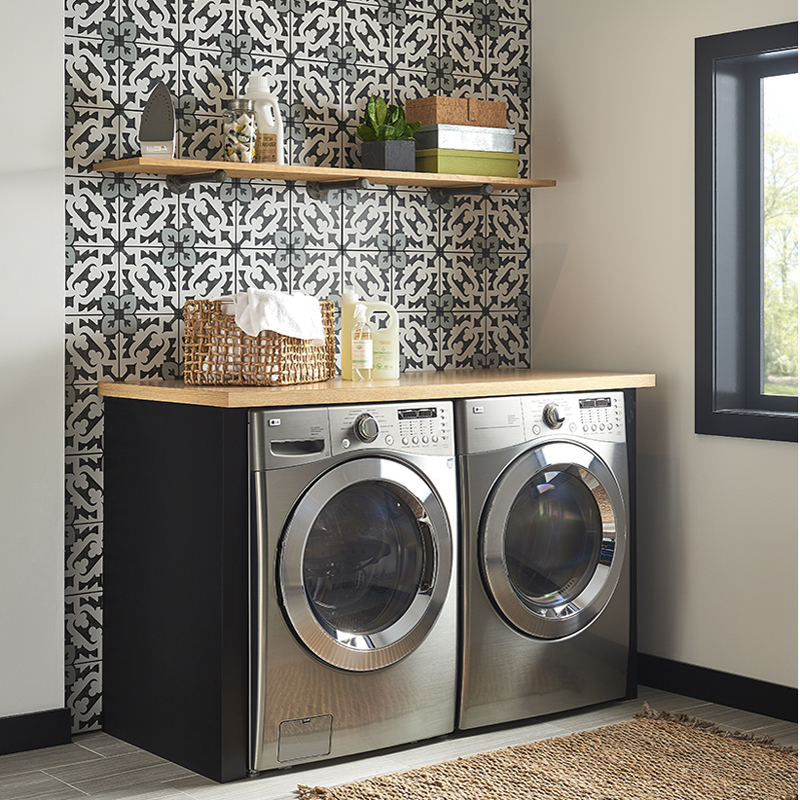 It's time to love your laundry room again: featuring Kenzzi Brina
From seasoned weekend warriors one project away from creating their dream home to first-time home buyers with improvements a mile long, you get serious props for increasing your property value. There's only so many Formica countertops, linoleum floors, and concrete terraces we want to see in our lifetimes! Here's to creating a well-loved home flush with lively patterns.