Here'S What Happens When You Use Large Format Porcelain Tile
May 15, 2018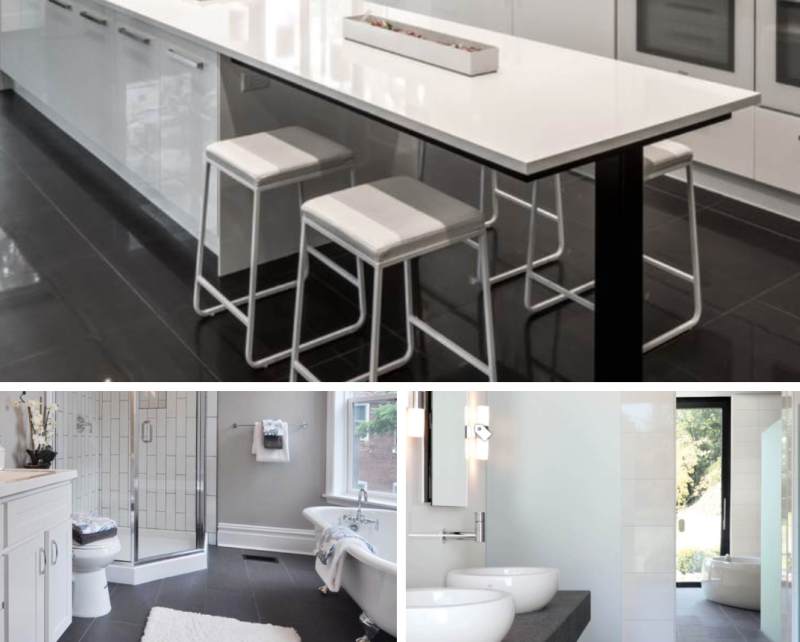 Beauty comes in many shapes and sizes, but one of the best ways to create beauty is to keep everything basic and simple. Far from being fussy, the Domino Porcelain Tile Collection from MSI focuses on the marvelous minimum — black and white porcelain tile, with only two finishes, matte and gloss. The shape and size of the tile takes center stage.
In a world full of tough choices, large-format porcelain tile from the Domino collection is simply soothing. There are more benefits than you think to choosing large-format tile, benefits that will not only simplify your look, but also simplify your life. Here are a few room scenes highlighting Domino tiles, so you can see how easy they are to use and to live with.
Domino White Shower Surround:
More Tile, Less Grout.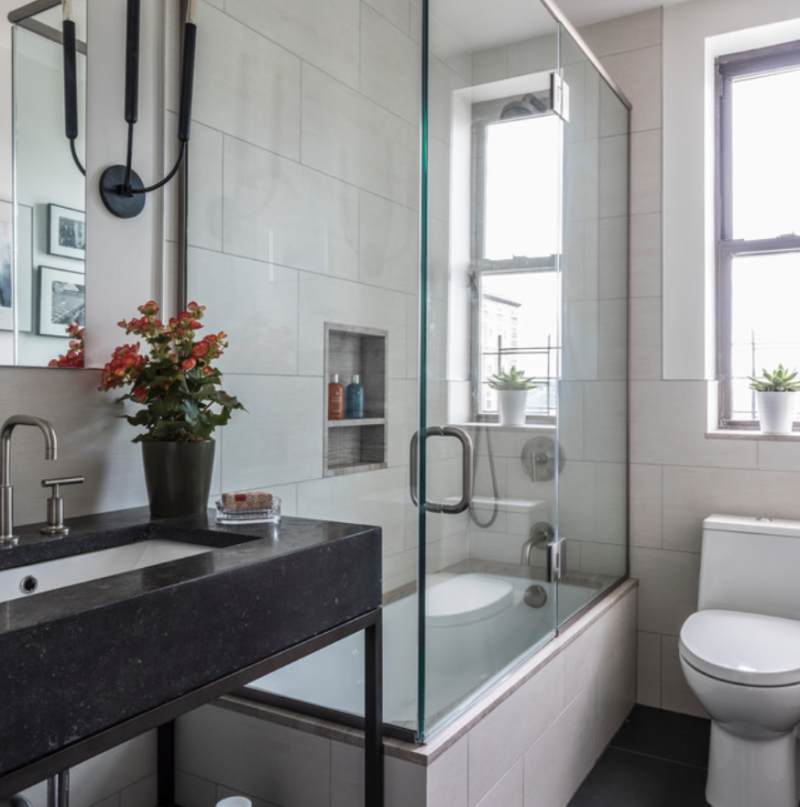 Recreate a similar look with MSI's White Domino Porcelain (Photo Credit: Houzz)
Porcelain tile is the ideal choice for any room where water spray, splashes, or spills will be a major theme — like the kitchen or bathroom, and especially the shower. After all, porcelain tile is tough and durable, as well as water resistant. However, grout lines are an inescapable reality. With the uniform size and shape of Domino porcelain tiles those grout lines can be extremely thin, but the real boon to having large-format porcelain tiles is that there are fewer grout lines, too.
Cleaning grout between porcelain tiles is not a difficult procedure, especially if you keep up with it. All you'll need is a regular spritz of vinegar, or a mild bleach solution. Well worth the effort for the gorgeous results in this pure-white tile shower surround — but less grout lines means less work, and we're all for that!
Domino Black Matte Flooring:
Visually Calming the Space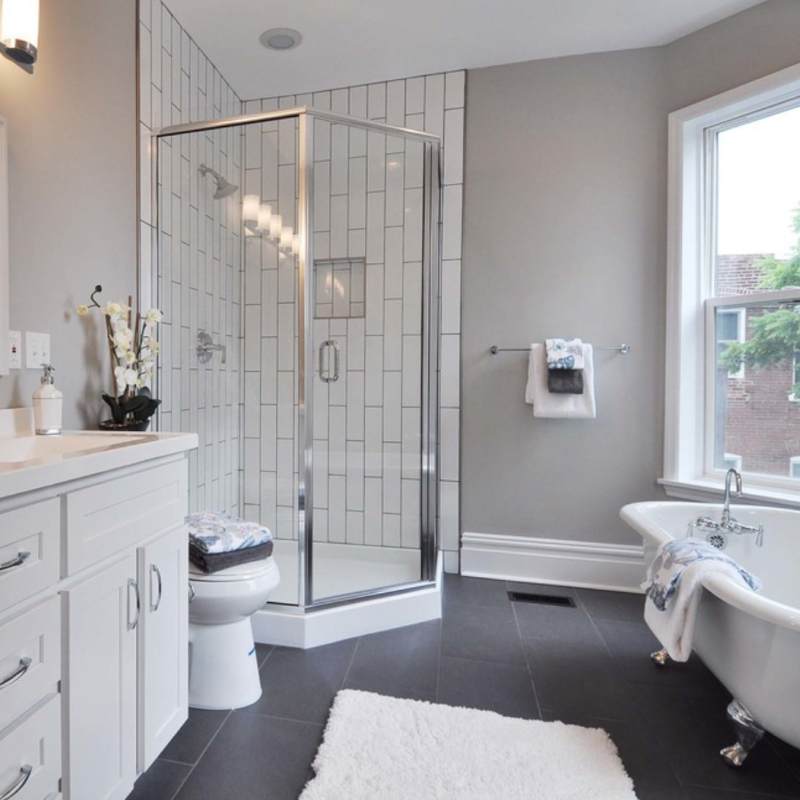 Get this look with MSI's Black Matte Domino Porcelain (Photo Credit: Houzz)
More homeowners today are creating soothing, minimalistic bathroom spaces that are literally a place to rest and relax — to unwind from the stress of the day and calmly prepare for the next. Large-format porcelain tile means fewer lines to break up the space visually, resulting in an overall calmer design. It's one of our favorite tricks to decorate a small room.
In this light and airy bathroom you can see the grout lines between the Domino Black Matte tiles, but they are subtle. It's even possible to match grout colors perfectly with the tile, creating the illusion of one solid slab.
An added benefit: Porcelain floors with matte tiles are less slippery than glossy tiles, so you can also relax when you're stepping out of the shower with wet feet.
White Domino Bathroom Walls:
The Beauty of Consistency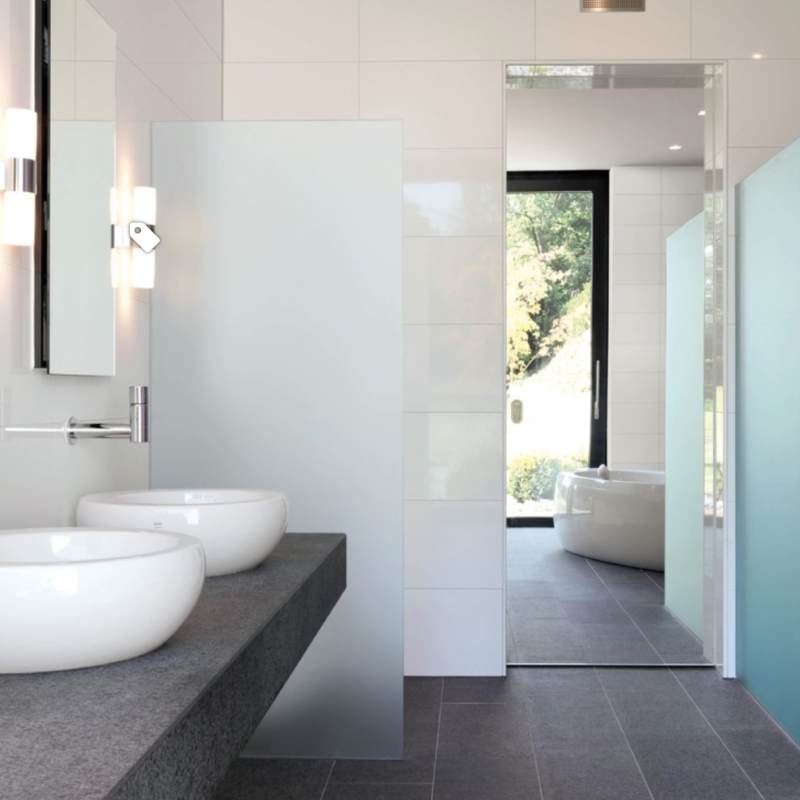 Create a similar look with MSI's White Domino Porcelain (Photo Credit: Houzz)
There's something to be said for consistency when it comes to room design; it ties spaces together, easing transitions, and making them look larger. If you thought that putting white porcelain tile on bathroom walls would result in a spare, institutional look, White Domino large-format tiles prove you wrong. The result is contemporary and stylish, especially when combined with large-format tile flooring in the same size and shape.
Domino Black Bathroom Floor:
Widening Small Spaces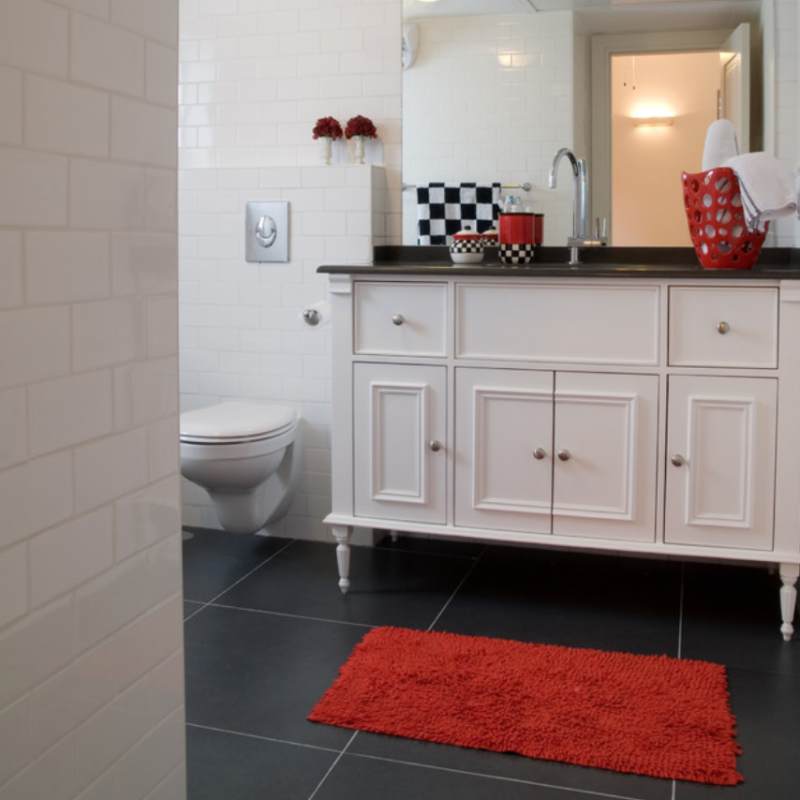 Recreate this look with MSI's Black Domino Porcelain (Photo Credit: Houzz)
Can you put big tiles in small spaces? Yes — we recommend it. Domino Black Porcelain is a large-format tile that can make small rooms appear bigger, because there are fewer lines to distract from the overall effect. This high-contrast, black-and-white bathroom demonstrates how lines can work in your favor, complementing instead of crowding, and creating a sense of perfect balance.
Domino Black Glossy Kitchen Floor:
Large Area Coverage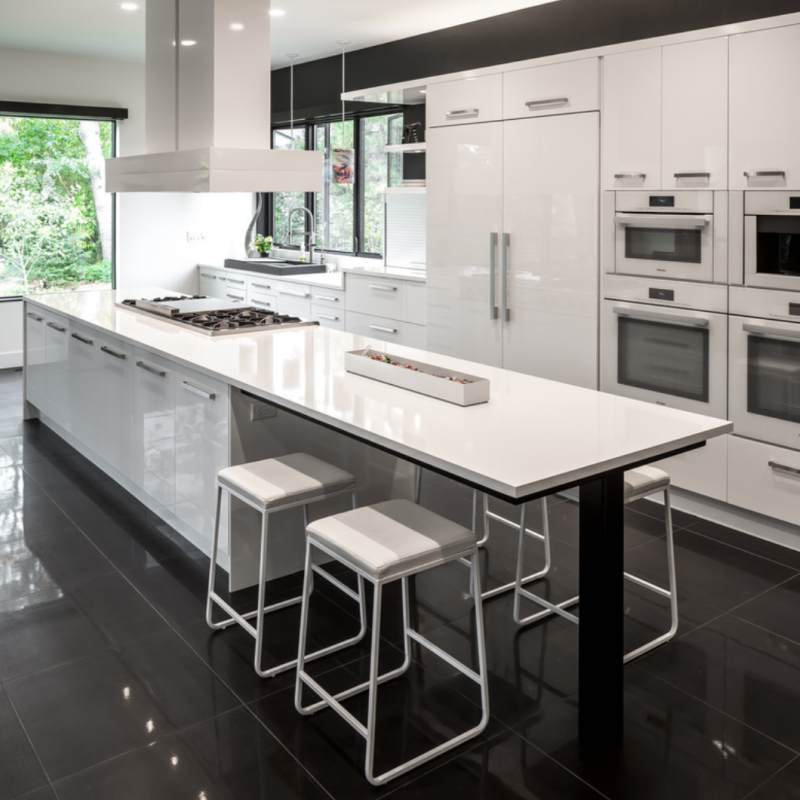 Get this look with MSI's Black Glossy Domino Porcelain (Photo Credit: Houzz)
Large-format tiles are ideal for large spaces, too. The reason is perfectly logical: The bigger the tile, the quicker the installation. Domino Black Glossy porcelain flooring in this elegant kitchen dominate the space, matching the reflective quality of the other design elements such as the countertop and cabinetry.
We don't have to tell you how tough MSI's Domino porcelain collection is and how well it retains that gorgeous glossy look, but we will remind you how much you'll appreciate those qualities in a high-traffic kitchen.
Visit MSI's Inspiration Gallery to see the entire Domino Collection, including these large-format beauties as well as other sizes and shapes that make the most of the classic black-and-white porcelain tile combo.
READ MORE ABOUT LARGE FORMAT PORCELAIN SLABS AND PORCELAIN TILE
A Porcelain Revolution: Stile Large Format Slabs
Bigger Is Better: Large Format Porcelain Floor Tile
Make A Statement with Large Format Porcelain Tiles