The Advantages Of Porcelain Pavers
March 15, 2017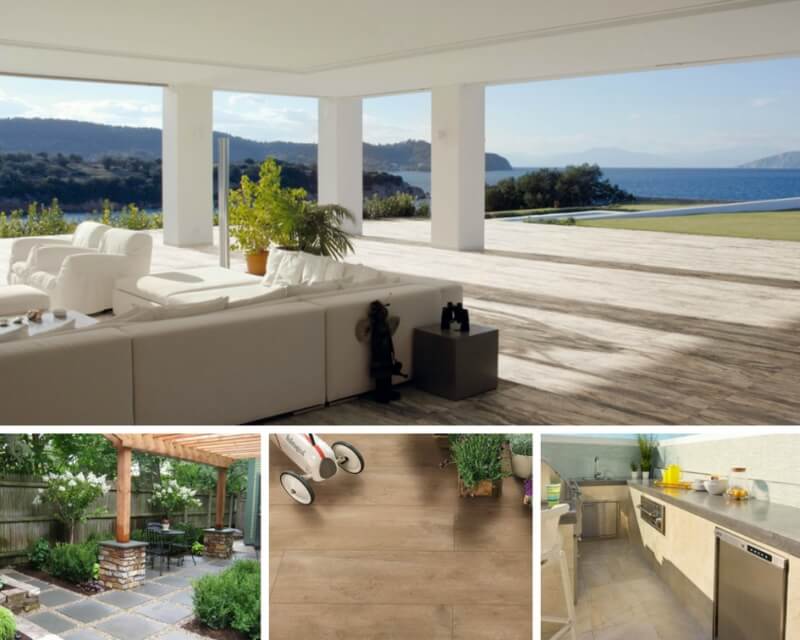 Porcelain pavers are chameleons that can mimic natural materials like wood and stone, all without cutting down a tree or digging in a quarry. Even better, porcelain pavers are tough, standing up to water and scratches that could wreak havoc on hardwood or granite flooring.
Remodeling on a budget (and who isn't)? Porcelain pavers cost $7-9 per square foot, while natural flooring materials can top $30 per square foot. That alone might make you take a second look at porcelain pavers. But if you still need more reasons to fall in love with porcelain pavers for indoor and outdoor spaces, here are five:
1. Porcelain pavers are made from an unlimited supply of kiln-fired clay, and are a "green" alternative to exotic hardwoods from depleting rain forests.
2. Porcelain is more durable than wood, laughing at water drips and makeup spills which are easily cleaned.
3. Porcelain, unlike stone, is no diva. No periodic sealing is required to prevent spills from becoming stains.
4. Modern pavers are fade resistant, keeping their color far longer than their ancestors.
5. Porcelain pavers can be rustic or elegant, depending on your tastes, and are far more upscale looking than gravel or concrete.
Lucas Betulla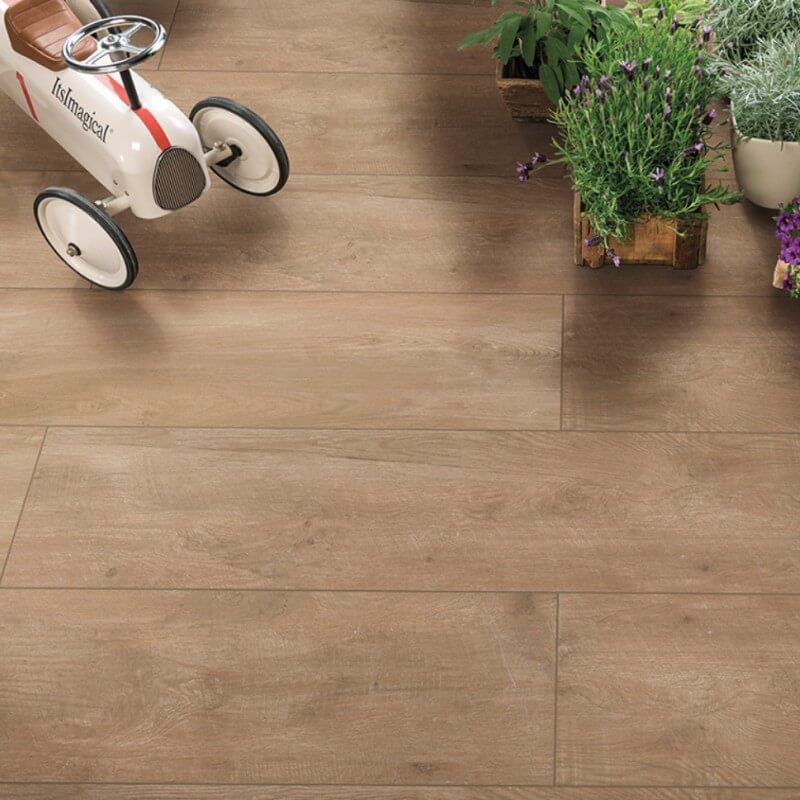 Featured: Lucas Betulla Porcelain Pavers
You have to bend down and touch Lucas Betulla Porcelain Pavers to be certain it isn't a subtle-veined wood. It is a glazed combination of browns and creams, with scattered dark brown "knots." Install Lucas Betulla in country kitchens, family rooms, and outdoor entertaining areas—basically any area where you want to create warmth. This porcelain paver that can stand up to anything your family can throw at it.
Tierra Ivory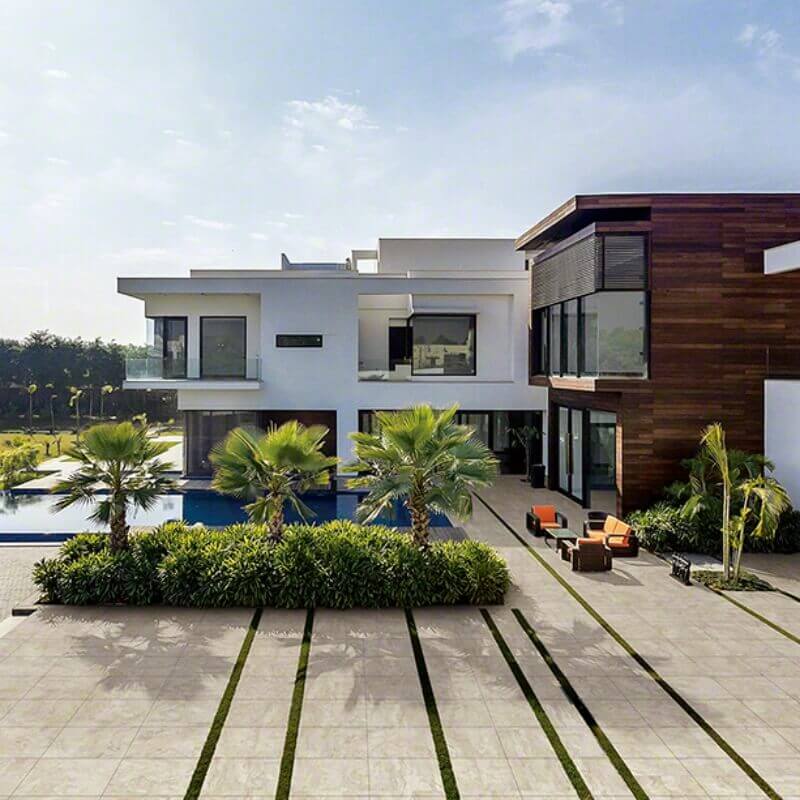 Featured: Tierra Ivory Porcelain Pavers
Tierra Ivory Porcelain Pavers combine beige and ivory tones to resemble the most expensive marbles. This paver adds warmth and luxury to kitchens with wood cabinetry, and creates stunning patios and walkways. Install close together to create a virtually seamless look.
Salvage Brown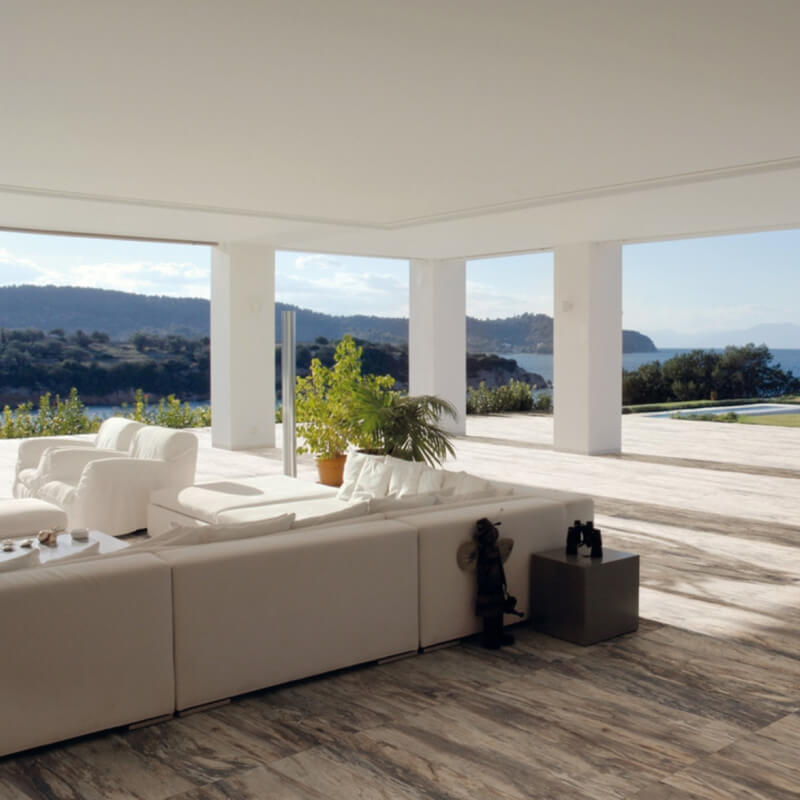 Get this look with MSI's Salvage Brown Porcelain Tile (Photo Credit: Houzz)
You'll think of a cozy wood cabin when you see Salvage Brown Porcelain Tile, which is perfect for use in your traditional or rustic home. The tile has the warmth of reclaimed hardwood, combining shades of brown, cream, and even a subtle green to create the look of old, natural grains and knots. This porcelain tile has a matte finish and creates gorgeous floors, accent walls, and even countertops.
Tierra Beige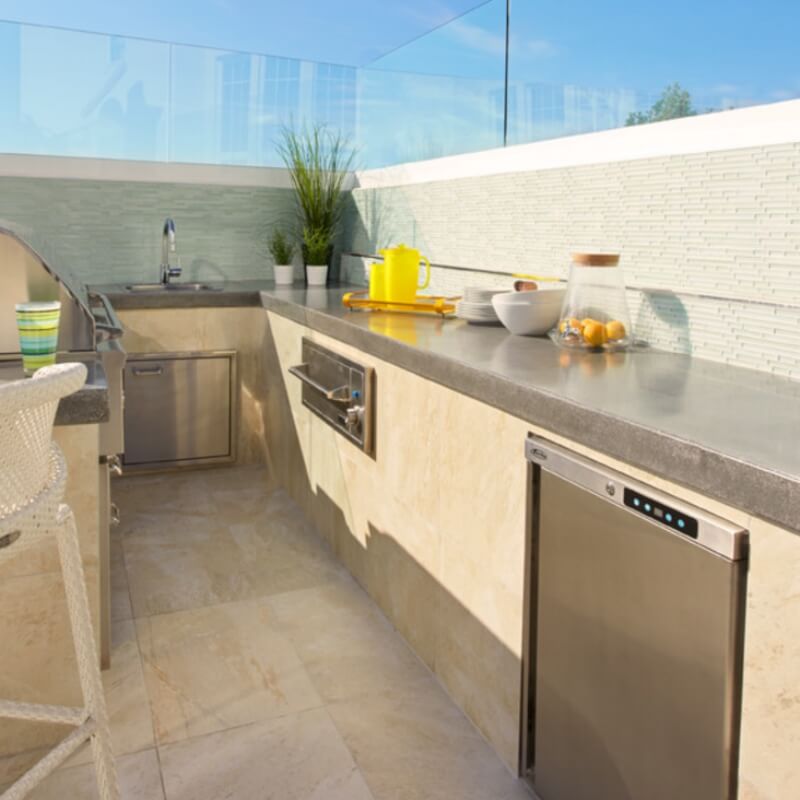 Recreate this look with MSI's Tierra Beige Porcelain Pavers (Photo Credit: Houzz)
This glazed porcelain paver combines beige and cream hues to evoke a soothing feeling wherever you install it. The calming colors warm up kitchens, even without a fireplace. Place Tierra Beige Porcelain Pavers in an outdoor entertainment space to give Nature something to envy.
Quarzo Gray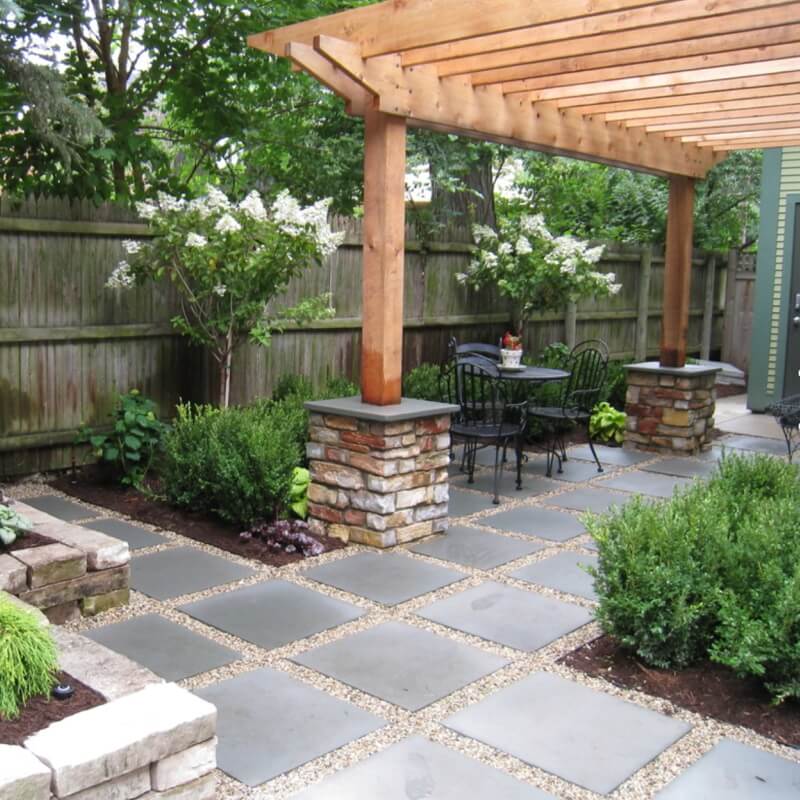 Create this look with MSI's Quarzo Gray Porcelain Pavers (Photo Credit: Houzz)
Quarzo Gray Porcelain Pavers mimic granite with its grey, brown, cream, and ivory swirls. Its glazed surface can easily handle water or barbeque spills, making it a great candidate for patios and outdoor kitchens. The ivory plays well in white kitchens with stainless appliances, and the browns complement a wide range of wood cabinetry. If you want to give your bathroom an outdoorsy feel, install Quarzo Gray.
READ MORE ABOUT OUTDOOR SPACES with PAVERS AND PORCELAIN TILE:
Porcelain Pavers Vs. Natural Stone Pavers
Your Guide to Pavers – Porcelain, Travertine, Slate & Quartzite
Praia Collection: Indoor-To-Outdoor Porcelain Tile
Outdoor Tile Guide — Porcelain, Slate, Travertine And Quartzite