Inspiring Bathrooms Featuring Stacked Stone
August 09, 2021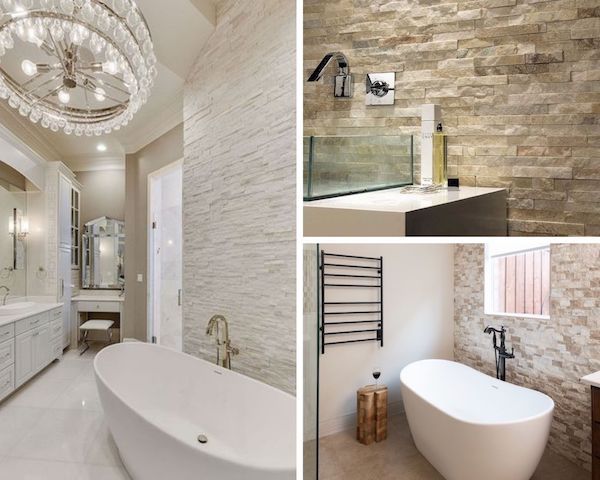 Although the bathroom may not be the flashiest room in your home, that doesn't mean it needs to be boring! Instead of opting for plain, painted walls, you can add depth and dimension into the space with a beautiful, stacked stone wall, backsplash, or shower surround. Along with the stacked stone's high-end appearance, it offers a multitude of benefits when used within a bathroom. To help you determine if stacked stone ledger panels are the right choice for your bathroom remodel, we've put together a list of the benefits of stacked stone, as well as a few of our favorite stacked stone options. Keep reading to learn more.
The Benefits of Stacked Stone
Not sure if stacked stone ledger panels are the right choice for your bathroom? Here are a few of the benefits you'll experience by installing stacked stone in your bathroom design:
Creates a Focal Point
Whether you choose to install stacked stone as the backdrop to the bathroom sinks or as a shower surround, there's no easier way to create an eye-catching focal point. It will be the first thing that any guests notice when they walk into the beautifully designed bathroom. Why opt for boring paint or bathroom tile when you can get the high-end look of stone at an affordable price point?
Long-Lasting, Stain-Resistant
Your bathroom faces a lot of grime and moisture, which means you need to be mindful about what elements you affix to the walls. You don't want to lean towards stone wall tile that is porous, causing it to become stained by absorbing water and dirt. Stacked stone is extremely durable and tough, meaning you can have peace of mind knowing your showstopping wall will continue to look as remarkable as the day it was installed.
Adds Depth and Dimension
One of our favorite parts of stacked stone panels is that the stones don't sit flush with one another. This subtle design feature allows the stacked stone to create a sense of depth and dimension in a space, no matter the square footage of your bathroom — taking the visual appeal of the bathroom to a whole new level!
Easy to Install
They say the best things in life come easy, and that statement has never been more true when it comes to stacked stone! Stacked stone comes in ledger panels that are easy to piece together and install with their interlocking design. This makes it easy for you to piece the panels together and create the high-end bathroom of your dreams in no time!
Create an Inspiring Bathroom with Stacked Stone
Now that we've covered why stacked stone is a great option for bathrooms, we're going to walk you through five of our favorite stacked stones that are sure to create an inspirational bathroom design.
Sparkling Autumn Stacked Stone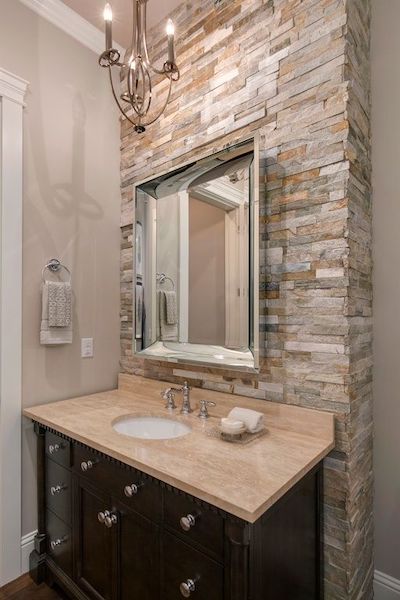 Photo Credit: @zillow on Pinterest
When you close your eyes and picture your ideal bathroom, what do you see? While some may opt for a clean, white color palette, others prefer warm, earthy tones. If you tend to lean towards the latter, Sparkling Autumn Stacked Stone panels are an option you don't want to miss! With soft gold tones complemented by subtle rusts and creams, this stacked stone is ideal for a variety of bathroom applications, including an accent wall or shower surround. You'll feel as though you're in an exotic cave surrounded by the earthy, rustic tones of Sparkling Autumn Stacked Stone panels.
Durango Cream Stacked Stone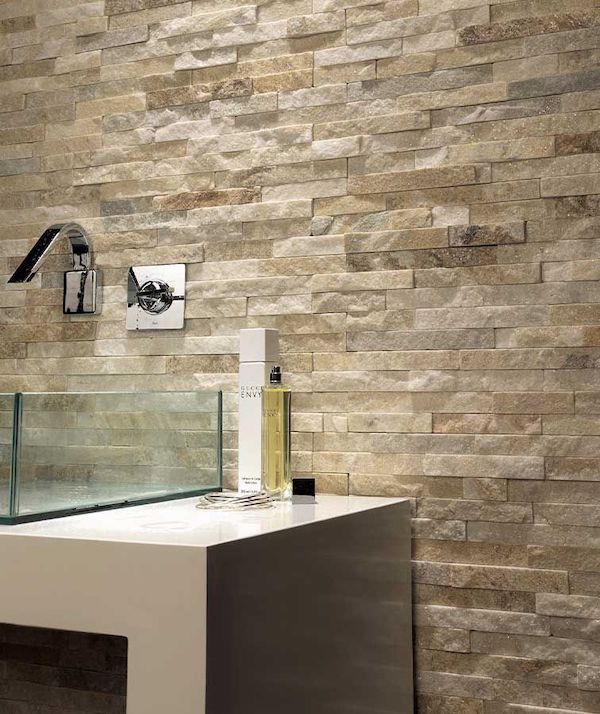 Photo Credit: @slatediscounts on Pinterest
Designing your bathroom is a lengthy process. From determining your overall aesthetic to piecing together every last detail, there's a lot that goes into the bathroom design. One of our favorite ways to spice up any space is to add a bit of texture that creates a one-of-a-kind visual appeal. For a timeless, yet remarkable stacked stone option, consider Durango Cream Stacked Stone. In a light beige, these stone panels add a stunning, high-end appeal to any bathroom ranging from contemporary to trendy aesthetics. With subtle texture on each stone, there's nothing quite like Durango Cream for your bathroom design.
Mayra White Stacked Stone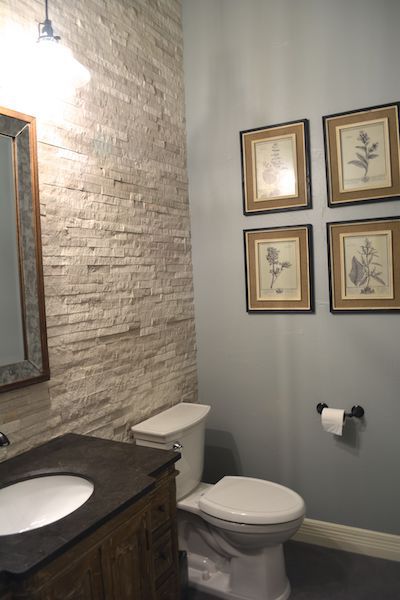 Photo Credit: @kristenrinndesign on Pinterest
It's a common misconception that white bathrooms will look sterile and boring. Instead, you need to combine the perfect white elements that pair together beautifully to create an elevated and intriguing space. Mayra White Stacked Stone panels allow you to create the clean and timeless look you're going for with some added flair! This limestone stacked stone creates a sophisticated backdrop amongst your bathroom, perfect as a shower surround, accent wall, or backsplash. There's never been an easier way to create a wow-worthy bathroom than with Mayra White Stacked Stone panels.
Arctic Golden Stone Ledger Panels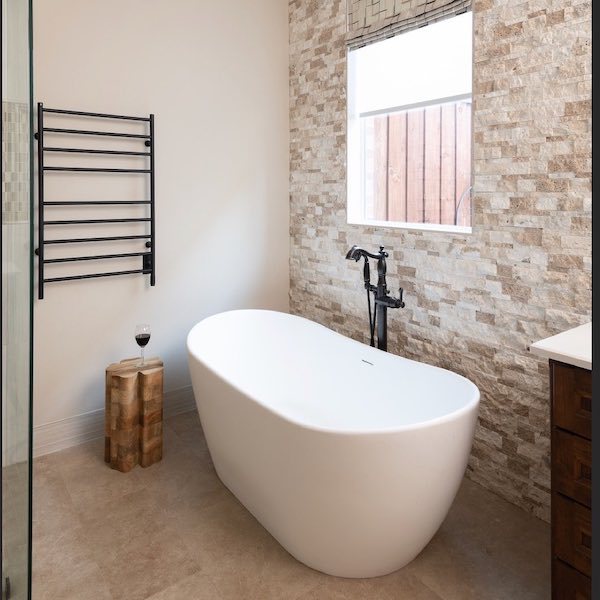 Photo Credit: @mhmliving on Instagram
From dark and moody to warm and inviting, there are a variety of design options available for the mood you're trying to achieve in your bathroom. To create a more inviting space, Arctic Golden Stone Ledger Panels make it easy to do just that. By blending together a mix of cool whites and warm creams, the stone tile seamlessly fits into a variety of spaces. Whether you're leaning more towards a modern bathroom design or more traditional, Arctic Golden Stone Ledger panels will create a stunning backsplash, accent wall, or shower surround that will leave you oohing and aahing day in and day out. You'll be happy with your choice of these beautiful natural stone ledger panels!