How To Make A Porcelain Tiled Bathroom Feel Cozy
March 09, 2018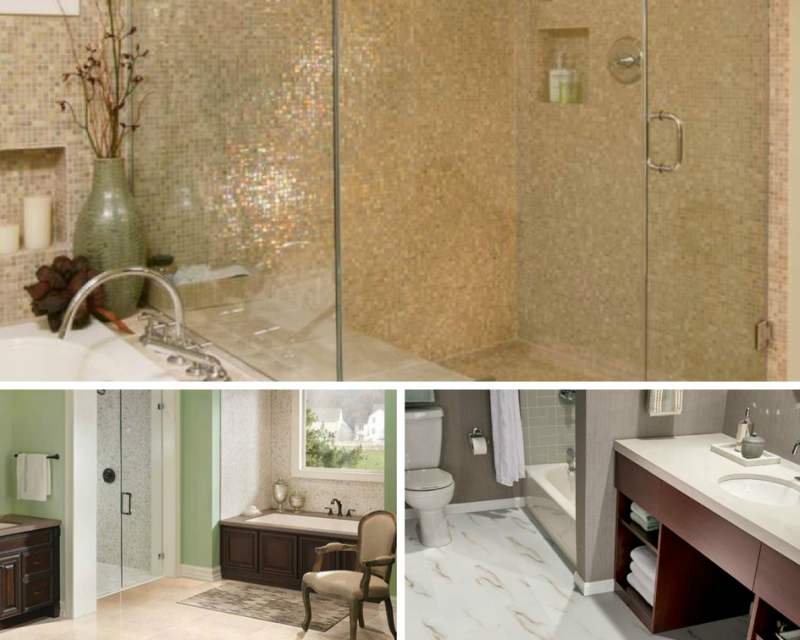 The bathroom should be a clean space where you can relax, but that doesn't mean it has to be cold and stark. Porcelain tile is gaining in popularity because of its durability and versatility. And although this elegant tile provides the warm look of natural stone, there are other ways to help transform your bathroom retreat into a clean and cozy place.
Here are some tips on how you can design your bathroom to be a comfortable spot you'll want to spend more time in.
Warm Tile Colors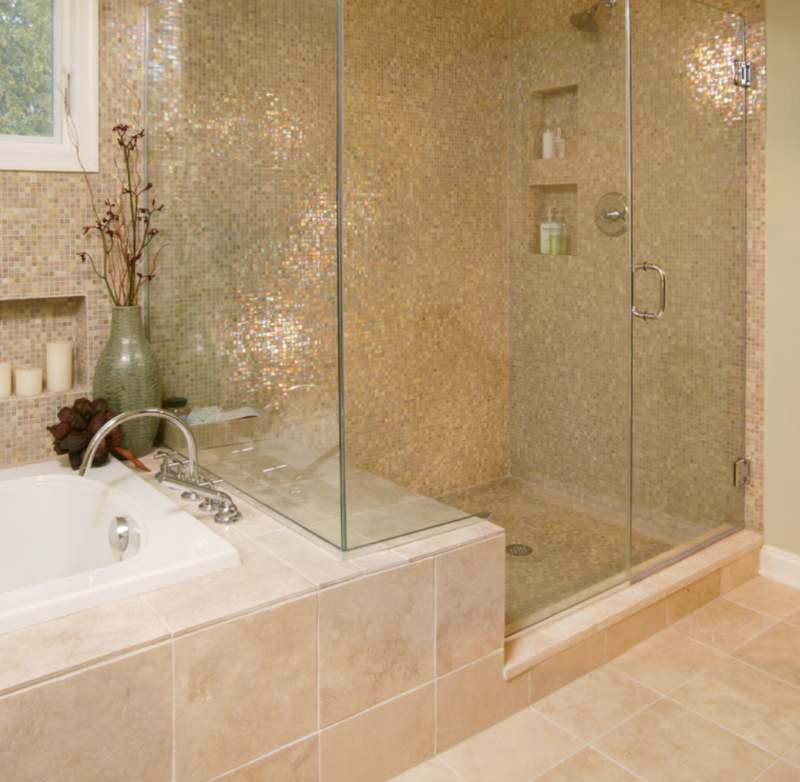 Create a similar look with MSI's Oro Aria Porcelain (Photo Credit: Houzz)
One way to create that cozy feel is to stick with warm tones. The innate warmth of natural stone is a result of its color variations, but you can also achieve the same warm look and feel of natural stone with porcelain.
Inspired by natural stone you'd find around the globe, MSI's Aria Porcelain Tile Collection includes porcelain in soft white marble-like tile with gold veining to warm caramel onyx-like tile. From the floors to shower surrounds, this durable option is perfect for the bathroom because it's easy to clean.
Porcelain is also tough enough for heavily used spaces like a small powder room to a large master retreat.
Natural Elements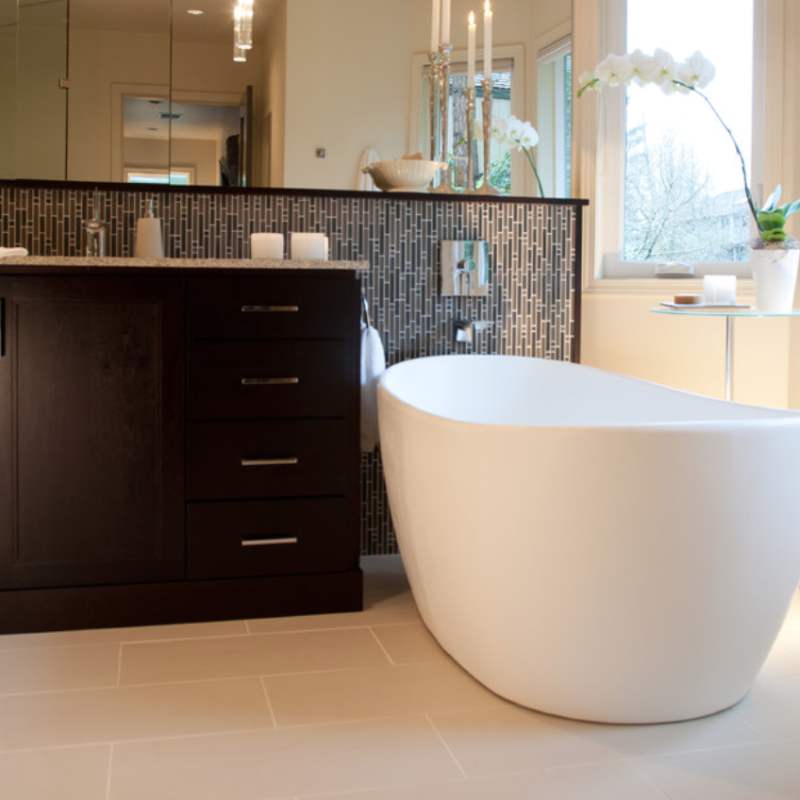 Recreate this look with MSI's Cremita Aria Porcelain (Photo Credit: Houzz)
Another way to create a cozy environment is by adding texture to your bathroom design by incorporating natural elements. Something large like a granite countertop or wood-tone vanities will have a big impact on the way your bathroom feels. But, the smallest of details can also create a sense of calm and comfort. Consider adding things like wicker baskets, a wooden stool, a vase with real or even faux foliage, or a simple sea sponge.
Plush Accessories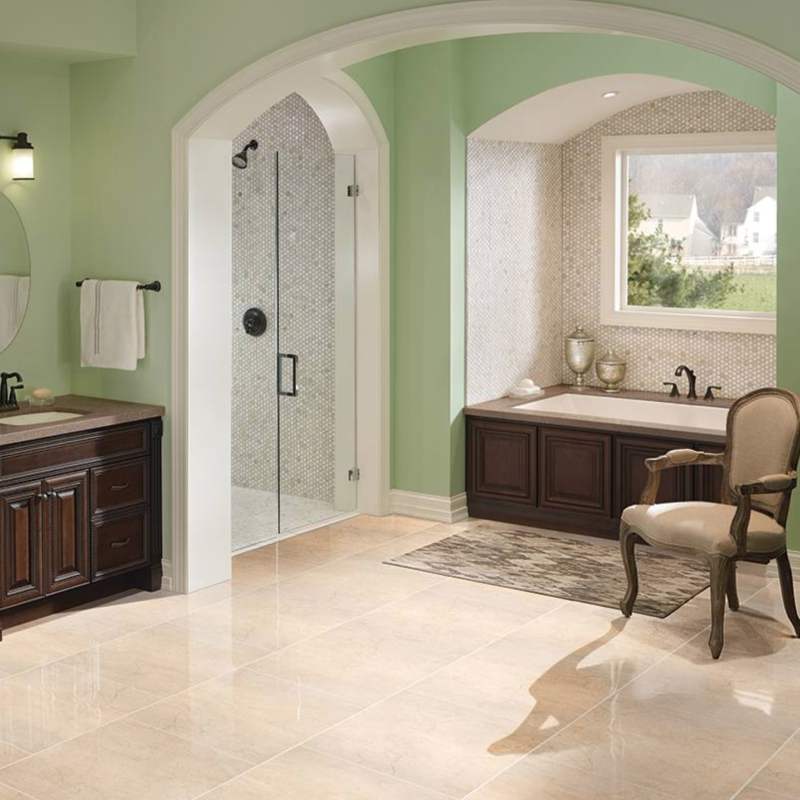 Featured: Cremita Aria Porcelain
Feel like you're living in a hotel by adding soft surfaces and materials! Your spa-like space will be even more inviting with a soft rug over your clean porcelain floor, and an upholstered chair or tufted ottoman is a great way to help you get ready in the morning. Of course, no bathroom is complete without fluffy towels and a thick, cotton robe! It's what you'll enjoy most after a relaxing soak in the tub. For classic all-white bathrooms, keep in line with the design by selecting all-white accessories.
Mood Lighting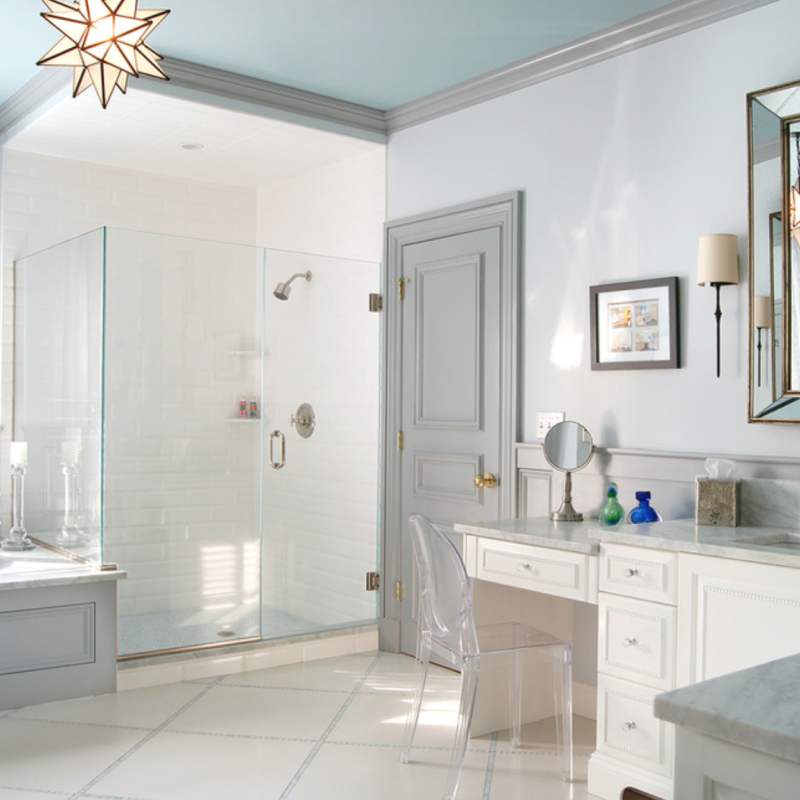 Create a similar look with MSI's Ice Aria Porcelain (Photo Credit: Houzz)
Set the mood right by controlling the ambiance with candles and lighting. Create an intimate atmosphere by arranging a variety of candles around the tub. Or, if you'd rather spend more time in the shower than soaking in the bath, then opt for a shower with mood lighting to help lift your spirits after a hard day's work. Pendant lighting, a glistening chandelier, or even wall sconces will help elevate your design, and switching out your light switches for a dimmer will take your bathroom to the next level.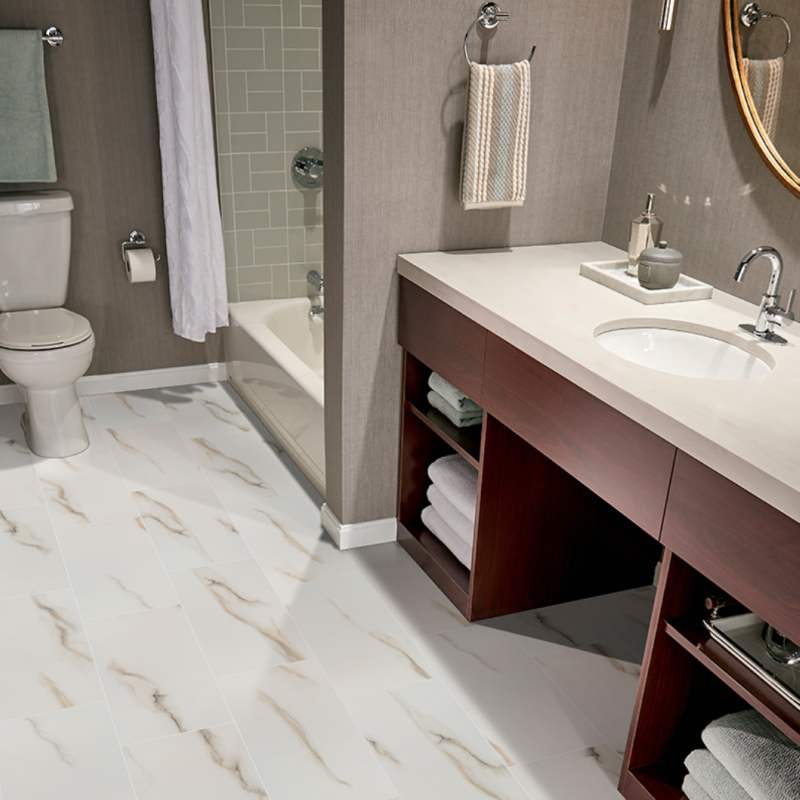 Featured: Bianco Aria Porcelain
Adding warm accents and natural details like these to a bathroom with porcelain floors will make your daily experience that much more enjoyable. MSI offers a variety of porcelain tile flooring and other natural stone options to help you create the cozy, inviting bathroom you've always wanted.
READ MORE ABOUT THE DIFFERENT TYPES OF PORCELAIN TILE
How To Choose Between Glazed and Unglazed Porcelain Tile