The Difference Between Sanded Vs. Unsanded Grout For Backsplash Tile
September 21, 2018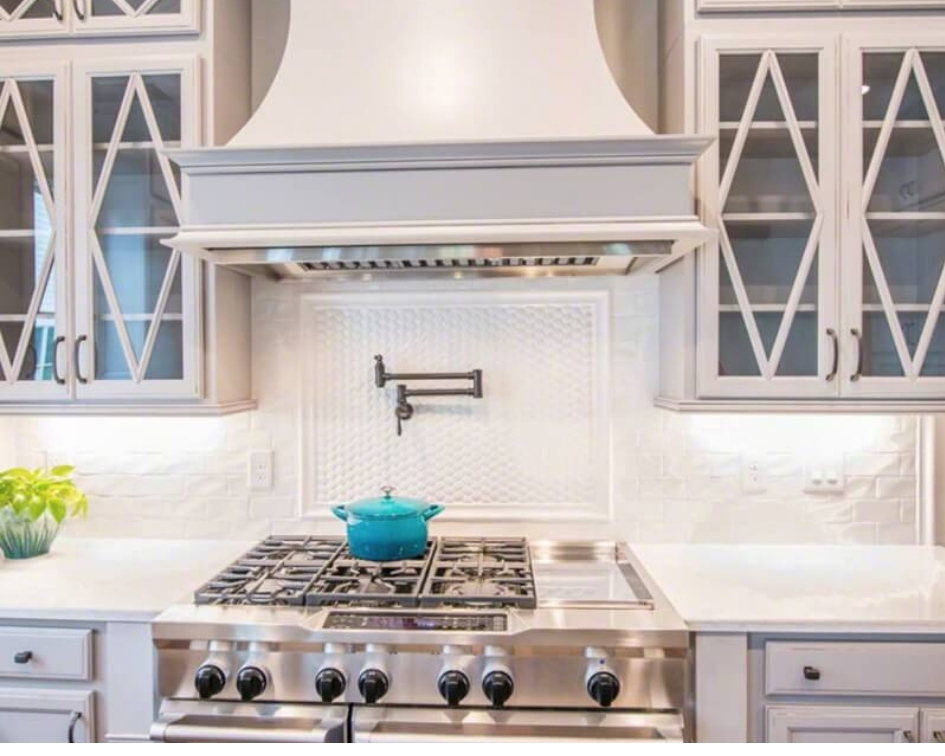 When you're reading the instructions for grouting tile, the first item on the list will be choosing the type of grout you plan to use with your backsplash tile. Choosing between the two types of tile grout — sanded vs. unsanded — is more than just a matter of personal preference. Unsanded grout costs a bit more, but it's also not about the price, or about which is better. Both grout types have specific applications.
Sanded Grout is the most commonly used type of tile grout, because it's well suited to most applications. It contains very fine quartz or silica sand grains; these act as a "filler," but more importantly, sand gives the grout additional strength. Over time, grout is prone to shrinkage or slight shifting; the sand makes it better at resisting cracks. Sanded grout is recommended for grout lines that are wider than ? inch, since it can be difficult to insert sanded grout into very narrow spaces.
Unsanded grout is most often used on vertical surfaces, such as a kitchen backsplash. Since wall tile installations with narrow grout lines are less prone to cracking, the extra durability of sanded grout won't matter. Unsanded grout is recommended for grout lines that are ? inch or smaller, which is typical of most backsplash tile installations. It is also recommended for glass tiles, metal tiles, and polished stone, because sanded grout can scratch them during installation and cleanup. It's easier to work with, and adheres better to vertical surfaces.
Therefore, the most important consideration is the width of your grout lines, which depends upon the type of tile you'll use. If you're using a pre-meshed mosaic, you will have no control over the size of your grout lines. Typically, backsplash tile made of glass, metal, or porcelain can be installed with smaller grout lines than natural stone or some types of ceramic tile. Follow the recommendations provided by the tile manufacturer regarding tile spacing.
Metallic Gray Subway Tile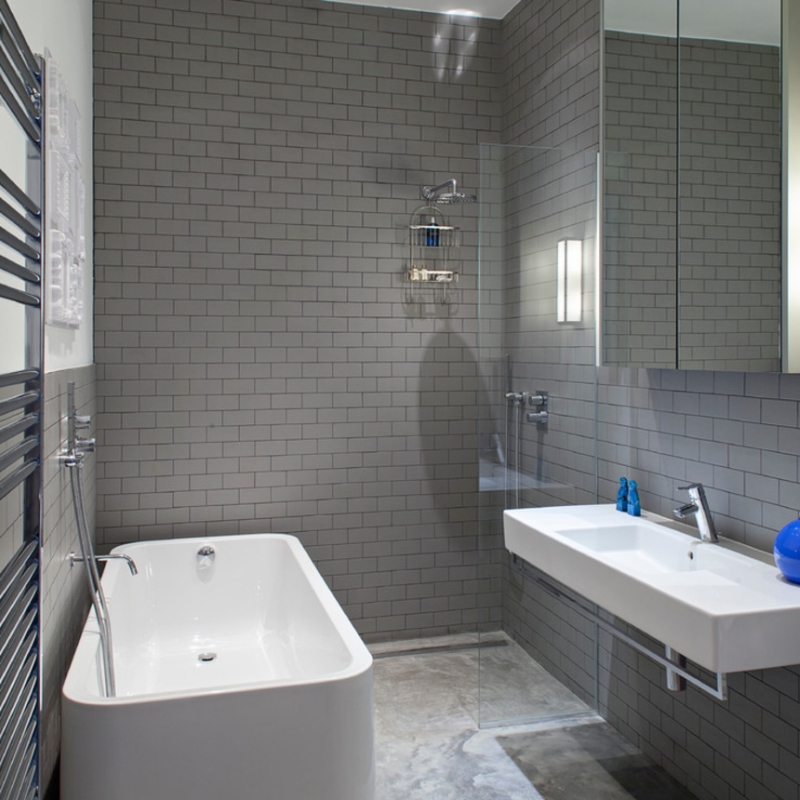 Featured: Metallic Gray Subway Tile 3x6
Subway tile has been around for more than a century and used everywhere, but Metallic Gray subway tile puts a whole new spin on it. Crafted of crystallized glass, the soft gray tiles have a subtle silvery metallic shimmer — just shiny enough to catch the light and reflect it for a sophisticated, decidedly upscale look. Use it for a bathroom or kitchen backsplash; you may love it so much that you'll want it on the entire room.
Ice Subway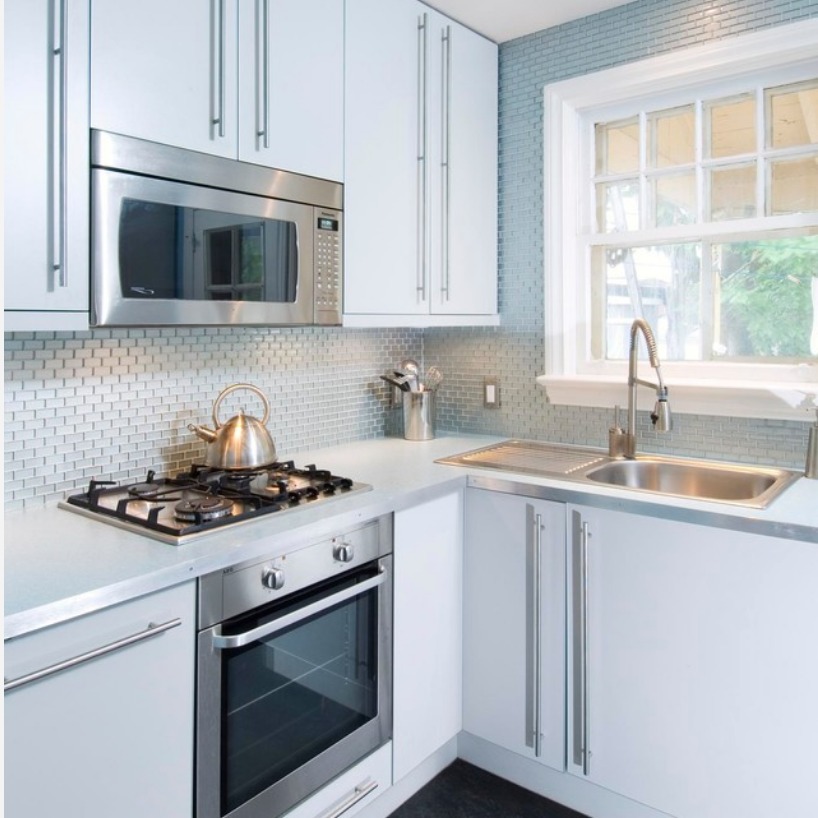 Get this look with MSI's Ice Subway 2x4x8 MM (Photo Credit: Houzz)
With a soft blue-gray shine, Ice Subway is another modern twist on an old favorite. This crystallized glass tile offers just a hint of color, making this elegant backsplash tile an easy mate to all-white kitchens or any other pale color you choose. It's a minimalist's dream, with just enough pop to make the room feel finished and welcoming.
Grigio Chevron Mosaic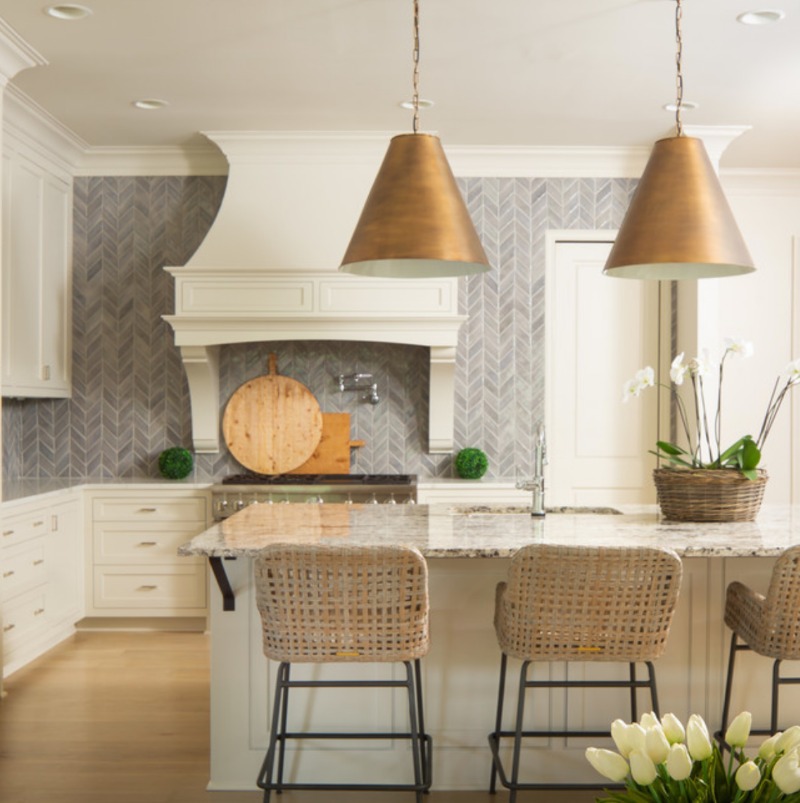 Get this look with MSI's Watercolor Grigio Chevron Mosaic 12x15 (Photo Credit: Houzz)
Porcelain tile that resembles wood has been a big trend of late. Grigio Chevron Mosaic looks superb in a parquet-inspired chevron pattern. The soft gray tones of this backsplash tile complement the pattern, adding a sense of movement without totally dominating the room. It looks great in small backsplashes, and even better expanded over an accent wall.
Eramosa Grey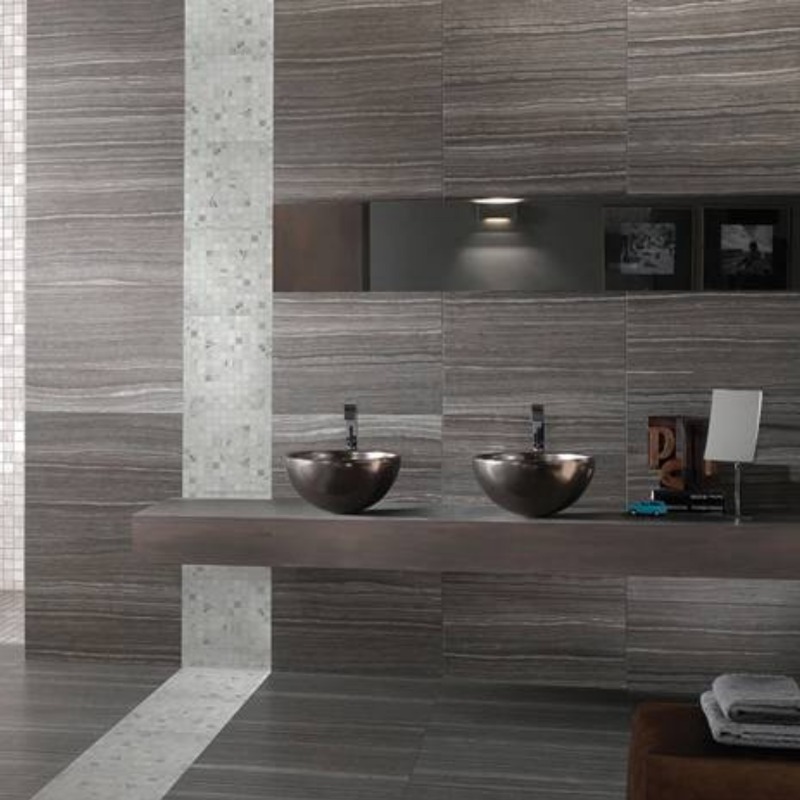 Featured: Eramosa Grey Porcelain Tile
Would you use wood as a bathroom backsplash? How about in the shower surround? With wood-look Eramosa Grey porcelain tile, it's not a problem at all. This nature-inspired tile is available in two plank-shaped sizes, so you can install it in modern-style rows as shown here, or staggered for a more traditional look. Matching grout enhances its realism.
Blocki Grigio Interlocking Pattern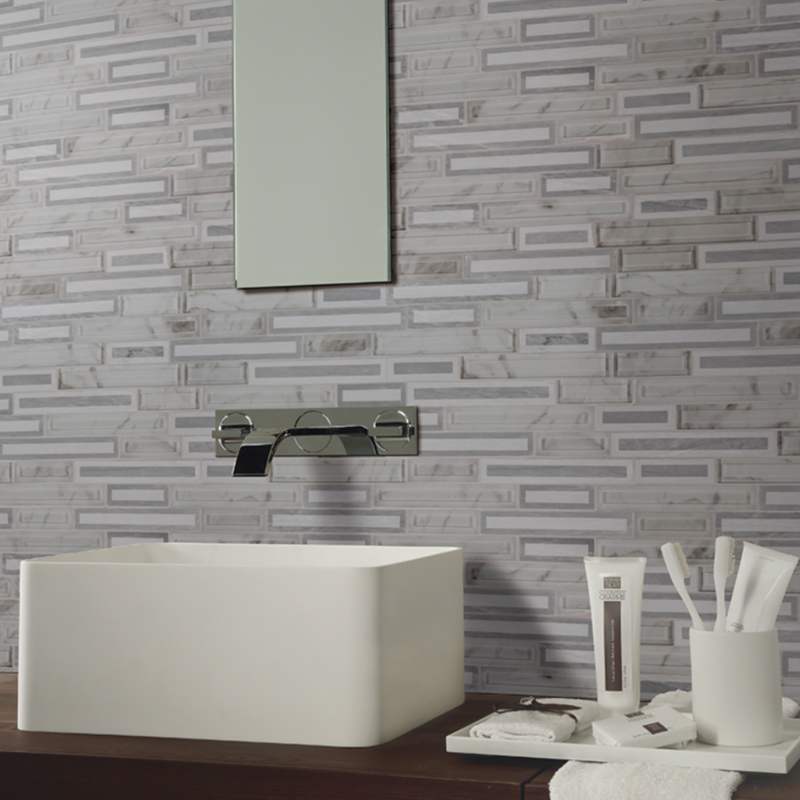 Featured: Blocki Grigio Interlocking Pattern 8MM
When you install Blocki Grigio Interlocking Pattern on your tile backsplash, you'll look like a professional interior designer. This creative, unique mosaic is a combination of glass and stone tiles in soft gray shades and is ideal for anyone who craves a sophisticated contemporary aesthetic.
Even the most complex-looking backsplash tile mosaics can be a DIY installation when you have the right tools — and the right grout. Choose your favorite tile first, then consider the ideal spacing for your backsplash designs, and the rest will be a simple matter of following instructions. You'll be a tiling pro in no time.
READ MORE ABOUT DIFFERENT TYPES GROUT
Sanded Vs. Non-Sanded Grout Backsplash
Tricks To Cleaning the Grout On Your Kitchen Backsplash