Popular
Wonder Walls
July 12, 2017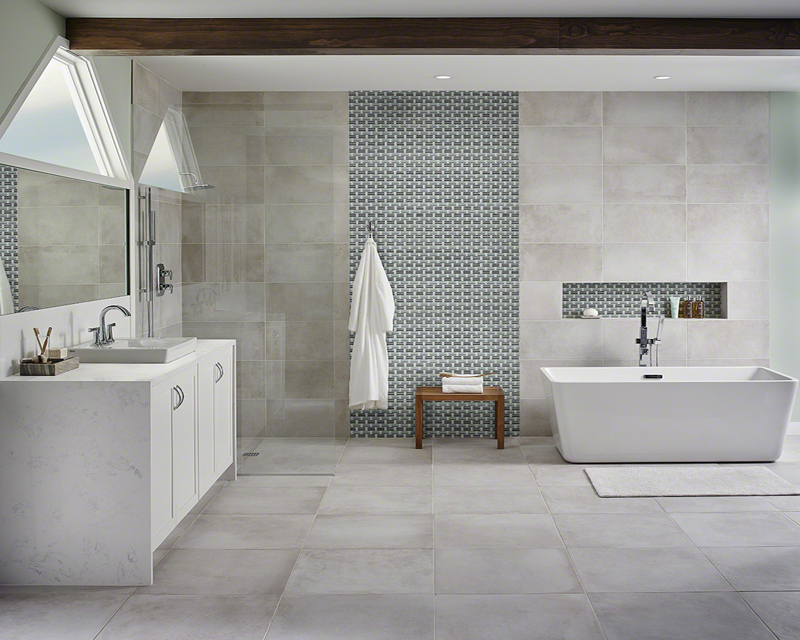 If we've learned anything this year it's that homeowners are trading in their paint brushes for accent walls with texture, dimension, and show-stopping style. Among our Top 5 Design Trends for 2017, feature walls are revamping interiors and increasing property value like never before.
From modest white subway tile and daring geometrics to recycled glass, wood looks, and metallics, there's a coterie of walls with refreshing aesthetics inspiring us right now. Combining innovative materials with bewitching styles, these gloriously versatile looks are infusing fresh energy into bedrooms, living areas, kitchens, and baths.
Walls designed to draw the eye can achieve the illusion of more space, give a room architectural focus, introduce a pop of color, and in some cases inject a dose of glam. With so many ultra chic looks making headlines, this impossible-to-ignore trend has sparked the imagination of even the most design-challenged among us. Here are seven of our favorite accent walls to inspire you.
#1. Follow the Brick Road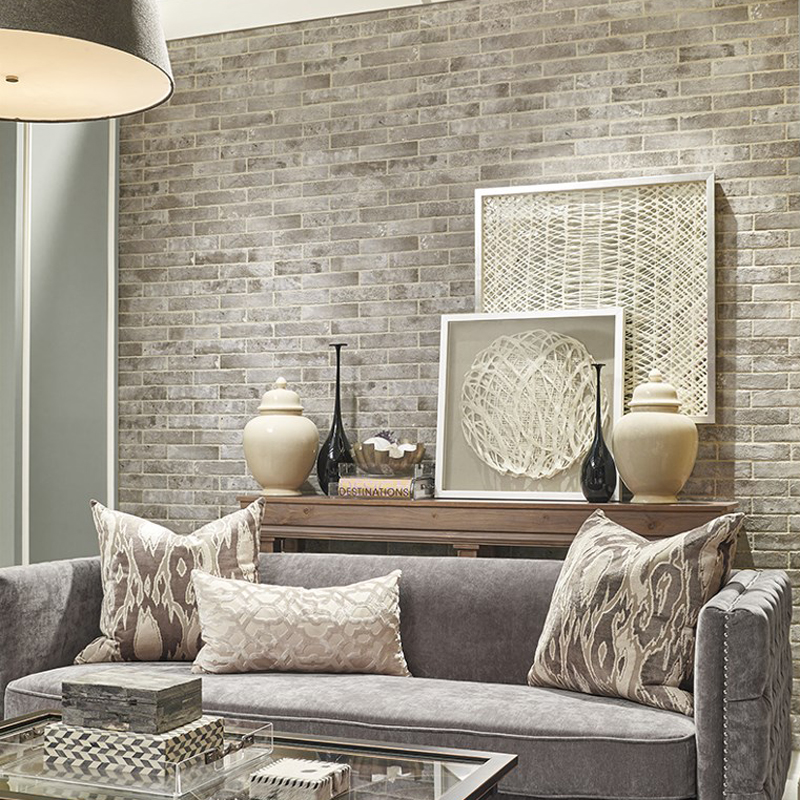 Brickstone Porcelain tiles (shown above in Taupe) get all the attention in this light-filled room.
Raw, edgy, and teeming with texture, we've been gushing about reclaimed brick-look tiles for some time now. Tiles that look like they were given a second life set a mood like no other. And it's not just the industrial loft vibe we love. It's how effortlessly they make a space look more interesting and relaxed. Best part? These timeless favorites (in traditional red and subdued neutrals) wake up any style décor. The porcelain brick variety beats the real thing for its no-fuss maintenance, easy installation, and affordability.
#2. Statement-Making Mosaics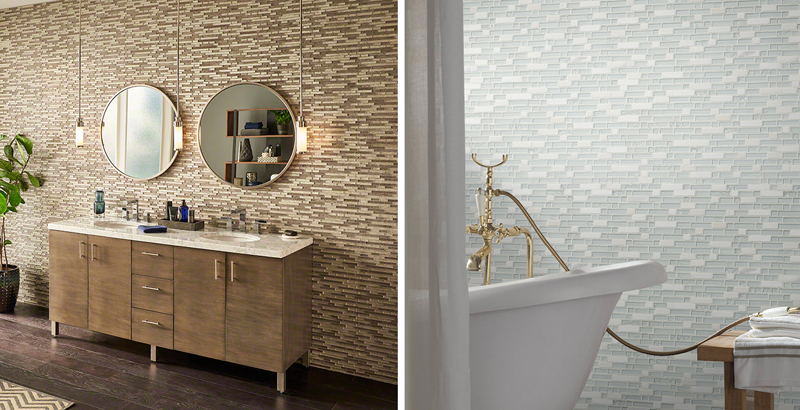 These dynamic highly textural mosaic tiles— with their varying lengths and depths—seem to jump off the wall. Luxe Interlocking Pattern Glass Tile (left), and Delano Blanco Mosaic (right).
Coveting high-impact accent walls that dazzle the eye and take your breath away? When taking tile beyond the floor, mosaics have an effortless way of making everything pop and transforming a room with over the top texture and luxury. From the vintage flair of multi-hued stain glass mosaics to the classic vibe of neutral handcrafted subway tiles to the modern day appeal of three-dimensional tile, achieving a fashion-forward aesthetic with mosaics is the epitome of chic.
#3. Natural Stone Sanctuaries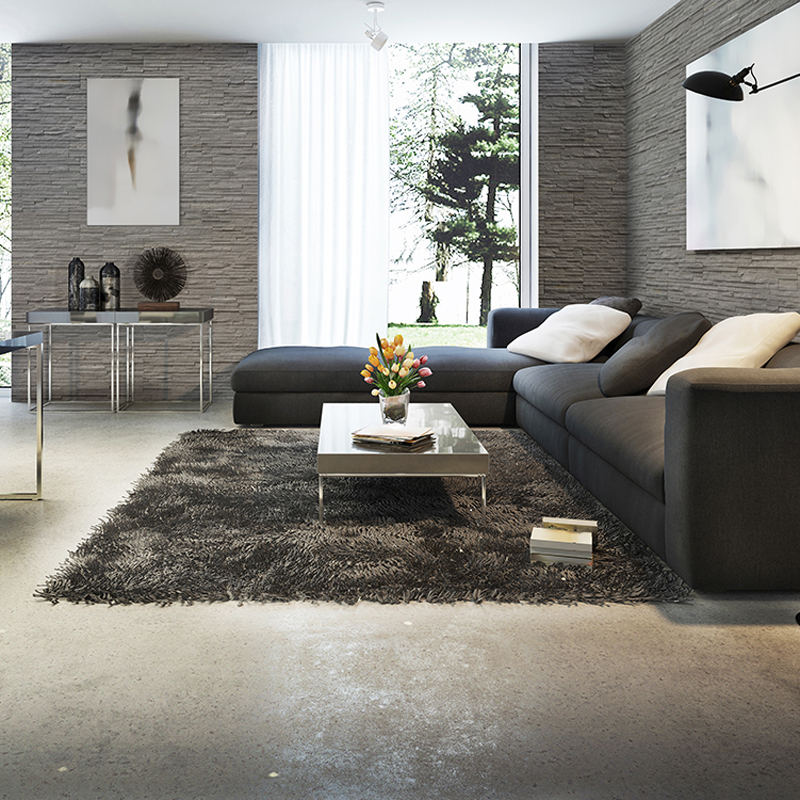 A rugged contrast to sleek white floors and contemporary furnishings, Brown Wave Stacked Stone Panels take center stage in this modern living space.
Our desire to bring nature indoors with organic elements may be centuries old, but the trend has ultra-modern allure – especially when it comes to stone accent walls. There's nothing like stacked stone panels and splitface wall tile to kick-start your connection to the natural world. Beyond their zen vibe and tactile appeal, these effortlessly cool accent walls provide natural continuity between interior and exterior spaces.
Have an open floor plan? Natural stone feature walls unify an aesthetic to create engaging, intimate spaces.
#4. Wall-to-Wall Gray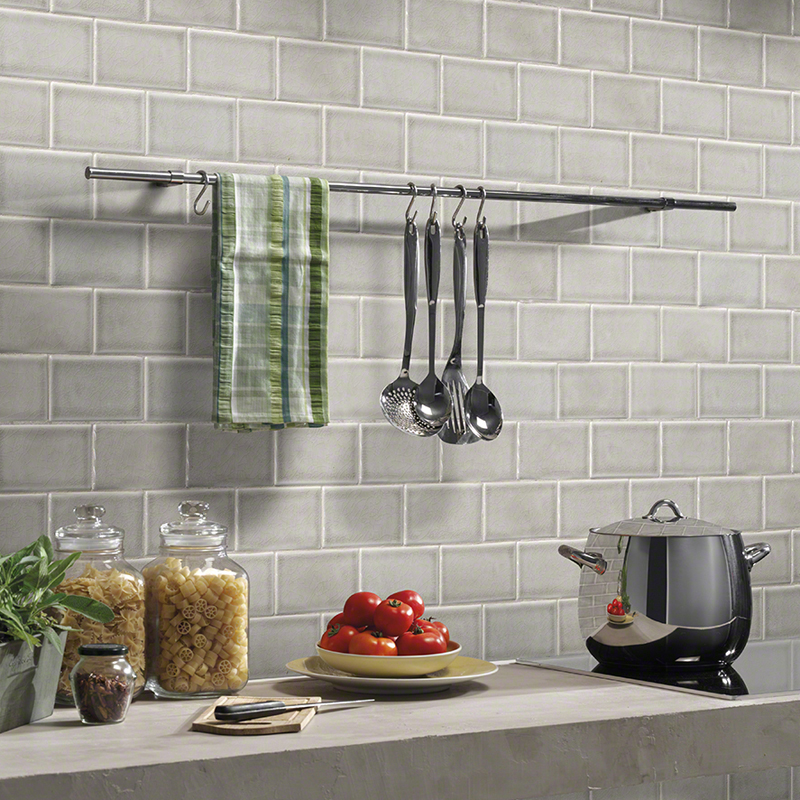 This kitchen backsplash turned feature wall in Dove Gray Ceramic Subway Tile might be all the motivation you need to cook at home.
Our love for all things gray naturally extends to accent walls. This super-versatile and trendy new neutral has a grown-up vibe that lends sophistication and modern simplicity to even the tiniest space. From barely-there silver to high-octane charcoal, its crisp clean looks are timeless yet contemporary, and oh so lovely on walls. Gray wall tile, cabinets, and countertops? A trifecta of pure bliss.
#5. Aglow with Glass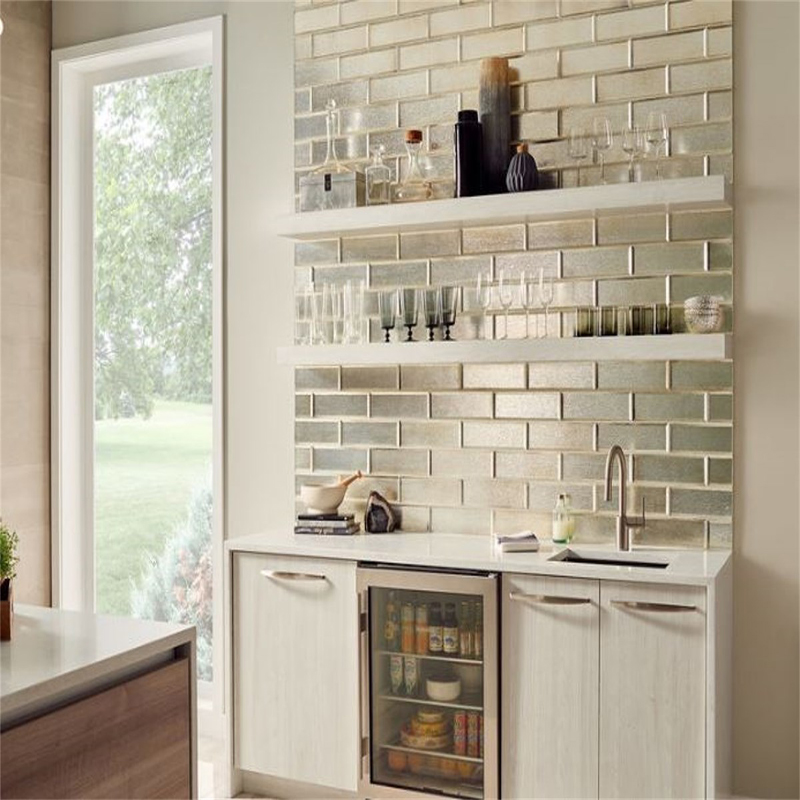 Silver Glisten Glass Subway Tile, white cabinets, and open shelving form an ethereal combination in this bar area – which looks like it glows from within.
Transforming a room's style from lackluster to high-fashion is easy as can be with glistening glass tile. Designed to wow with luminosity, we can't get enough of the clean modern sensibility of these iridescent gems. Up close and afar, brilliant wall treatments with a real metal look create luxe backdrops, perfect for entertaining. Light bounces off the subtle crackles in the glass of Silver Glisten subway tile, so mill around and bask in the glow.
#6. Dream Big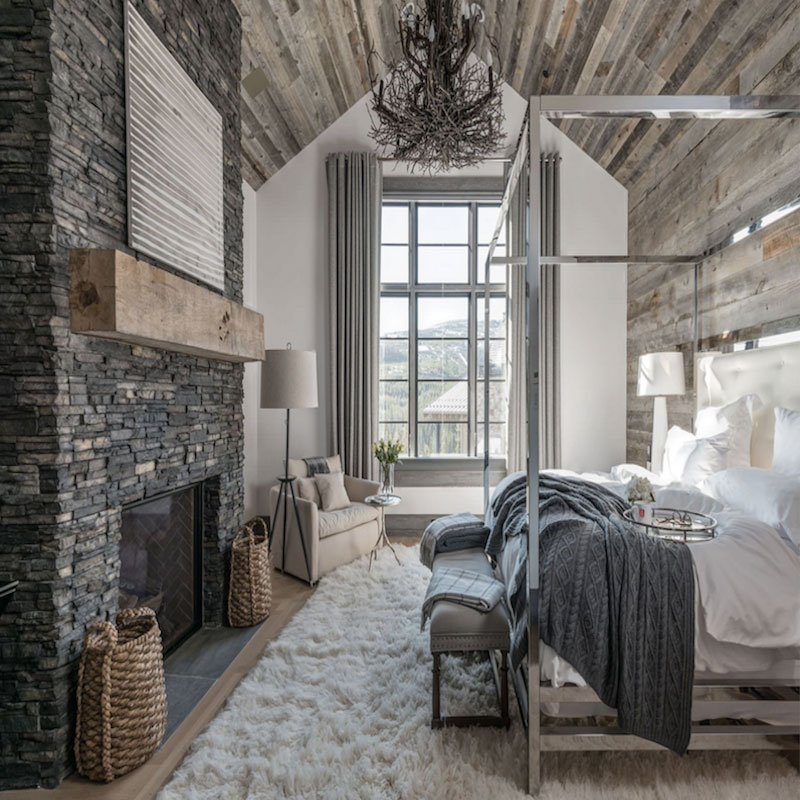 Featured: Houzz
This mountaintop en suite has a luxe, cozy vibe, thanks to the floor to ceiling stacked stone fireplace; barn wood arched ceiling/ accent wall; modern canopy bed; flokati rug; and cool color scheme.
Since it's private, bedrooms are a great place to experiment with texture and style. One of our favorite ways to anchor a room, define a sleeping area, and draw the eye is with wood plank tile that looks like it was salvaged from a barn. In sun soaked rooms, a darker shade behind the bed deflects natural light, creating a cozy, tucked-away feel.
#7. Small Spaces with Vision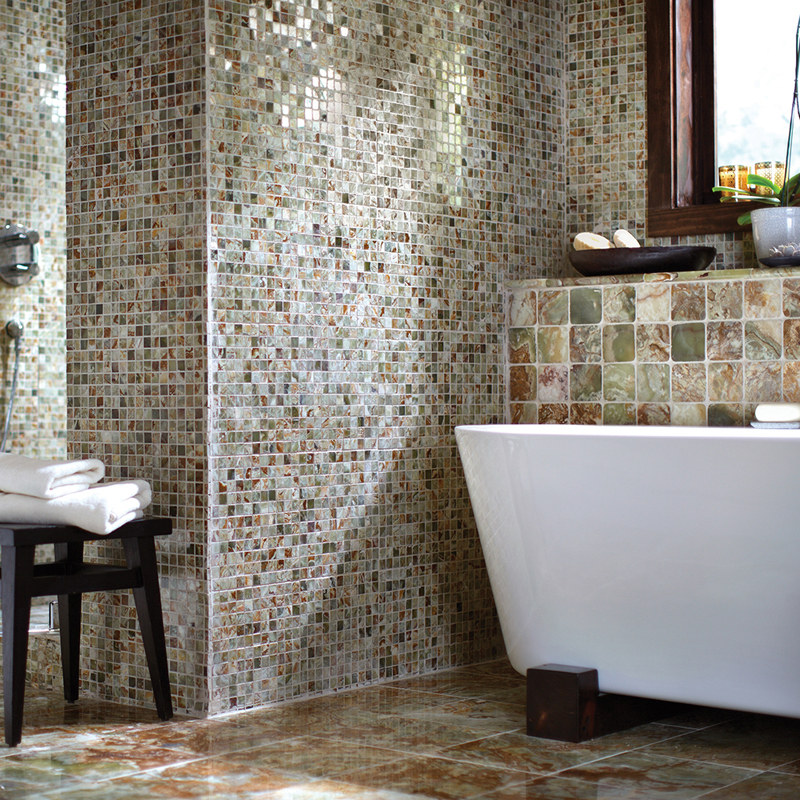 A match made in design heaven: Green Onyx tile in the shower area, Multi Green Onyx tile around the bath.
Even the smallest rooms in your home can pack a punch of texture, color, and personality. Make a space appear wider with large-format tile. Or create the look of a taller ceiling with a vertical subway tile treatment extended all the way up a wall. To achieve a super-luxe look in a tight area, white Italian marble walls and floors give the illusion of more space.
We've gotten to the point where we feel no room is complete without at least one eye-catching accent wall. Not there yet? For more inspiring wall treatments, peek at our Top 5 Design Trends for 2017.