7 Must-See Quartz Countertops That Look Like Natural Stone
March 11, 2019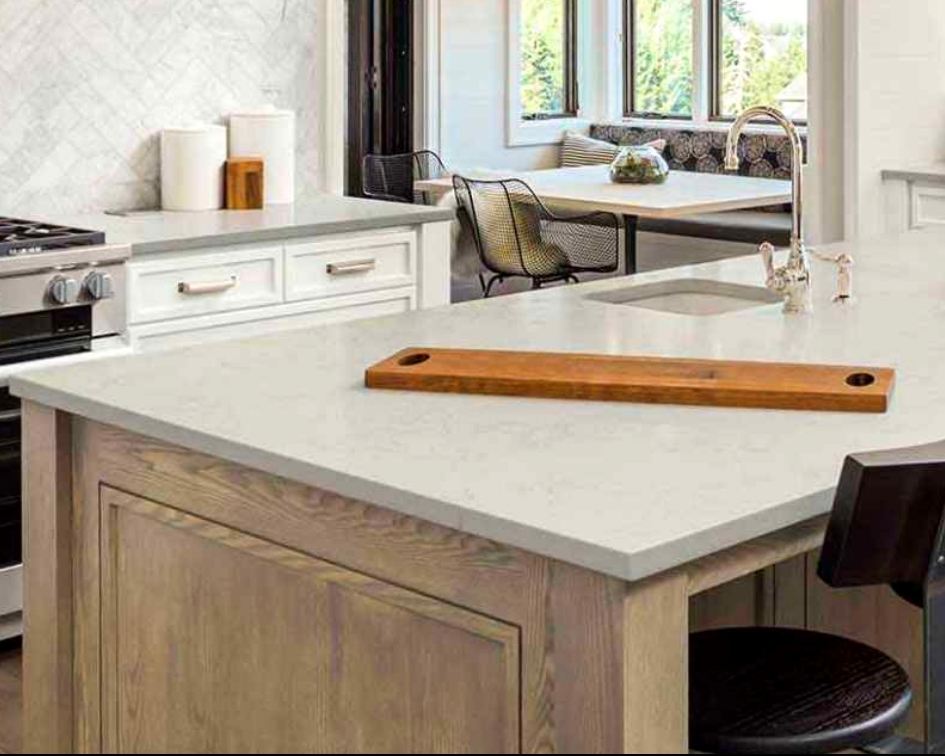 If your kitchen is the heart of your home, you need a durable, and beautiful countertop that can withstand the daily grind, and do it beautifully! Innovations in the manner in which quartz countertops are designed and manufactured have made it possible to create realistic natural stone looks in long-lasting and maintenance-free quartz. Here are seven of our favorite quartz countertops that genuinely look like natural stone.
There is just something about a white kitchen that says, "welcome home." White kitchens are timeless, but they can lean a bit sterile if they lack hints of color. That's why a white countertop like the beautiful Cascade White granite-look quartz in this kitchen is a perfect addition to the space! This quartz countertop adds character and makes the kitchen even more inviting.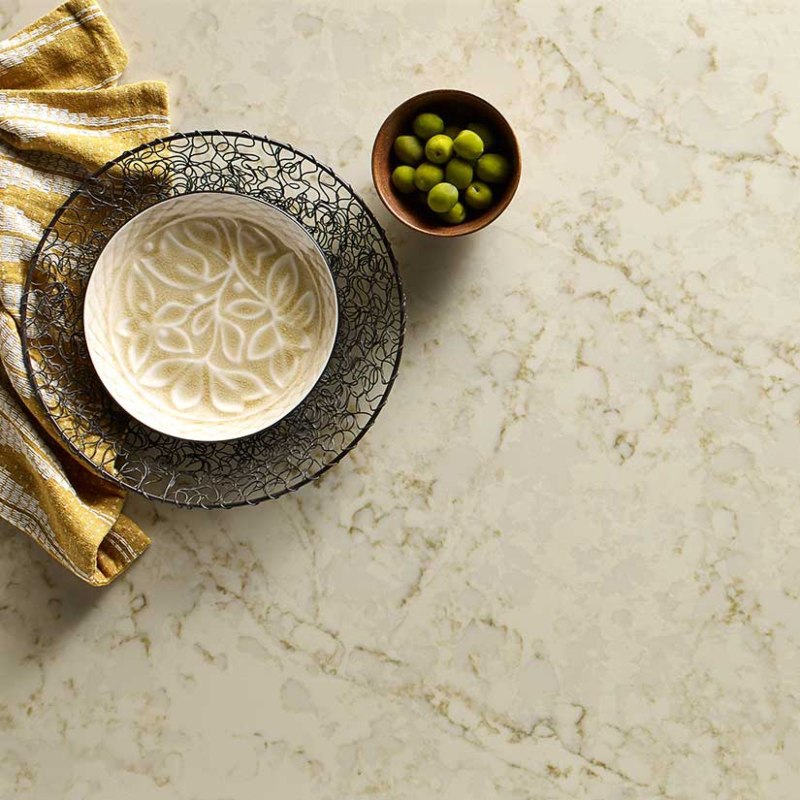 Featured: Calacatta Taj
Quartzite, not to be confused with quartz, is a natural stone with exquisite veining and shades and it is generally more expensive than quartz. Artisan designers have recreated the look of the most popular quartzite in our Calacatta Taj quartz slabs beautifully. Whispers of gold and green highlight nature's finest hours, all wrapped in a countertop that never needs sealing or maintenance.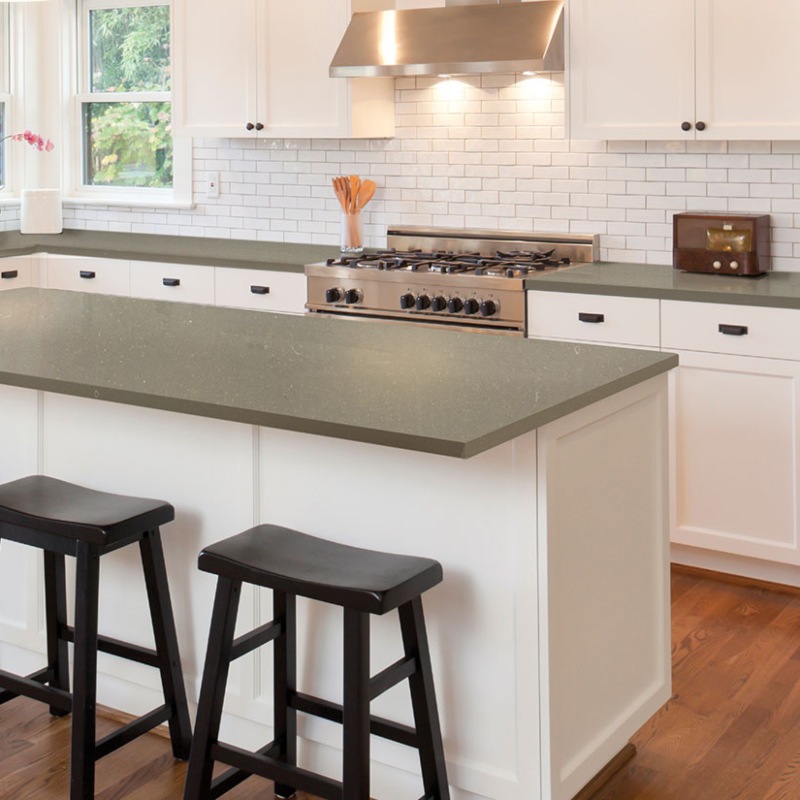 Featured: Fossil Brown
For a more contemporary aesthetic, many designers turn to low-variation limestone countertops. But natural limestone isn't suitable for every home and application. Our Fossil Brown limestone-look quartz is the perfect complement to this transitional kitchen; the countertops look simply divine set against the white cabinetry and subway tiles.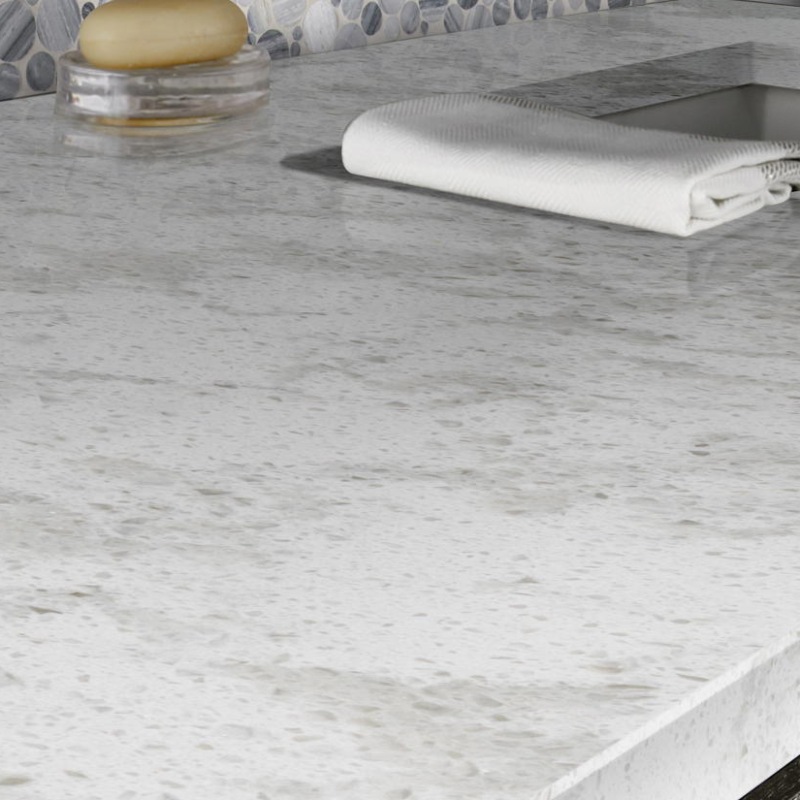 Featured: Pelican White
Another of our favorite white quartz countertops in our collection is our Pelican White that stunningly recreates granite's subtle inflections and veins. This quartz countertop has the flexibility to fit right in with traditional spaces or modern spaces, and it looks great with a variety of natural stone mosaic tile backsplashes.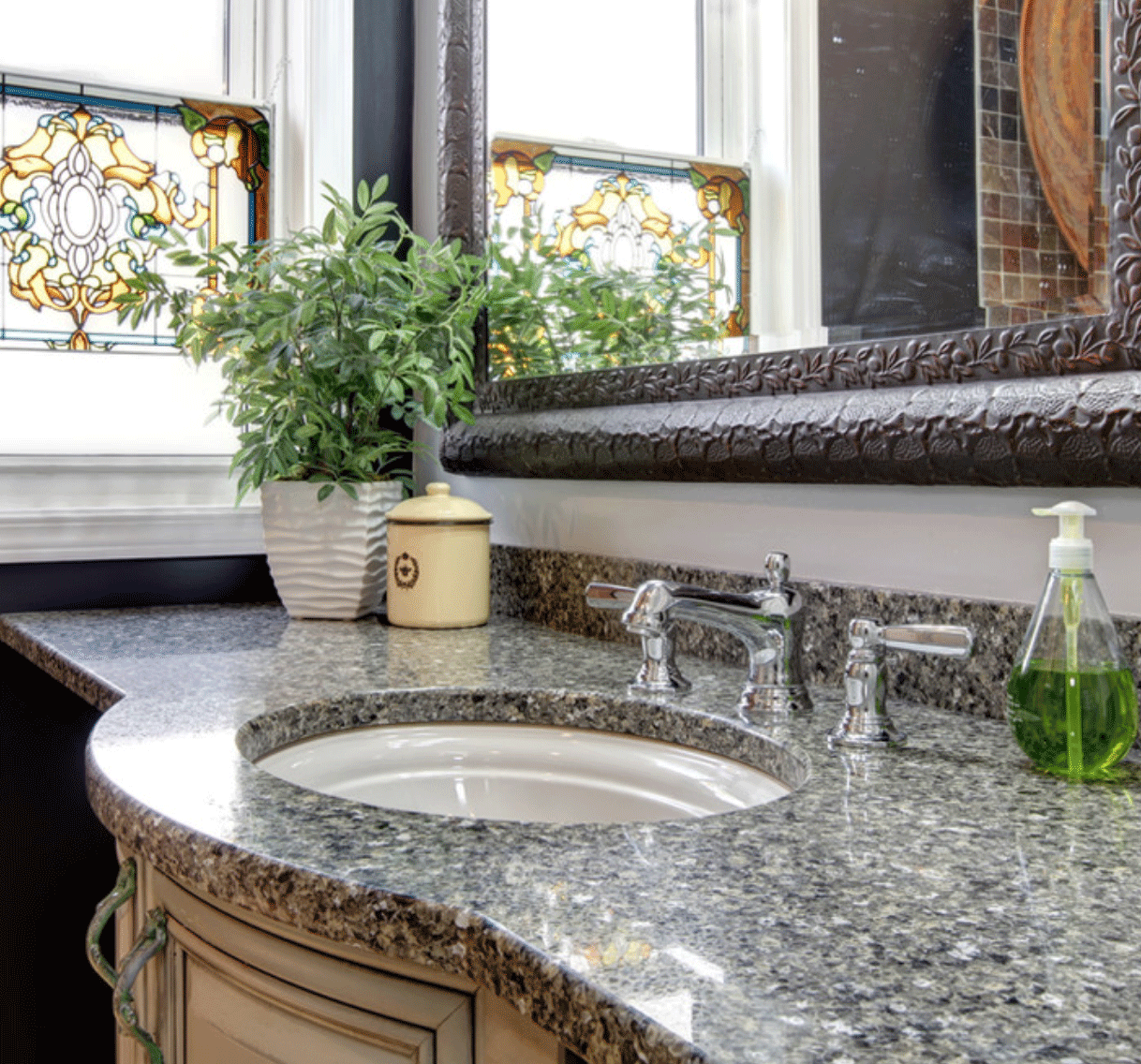 Create a similar look with MSI's Alpine White (Photo Credit Houzz)
If you love to bring elements of the outdoors indoors, our Alpine quartz countertop is an excellent choice. This granite-look quartz is composed of cool and warm neutral specks of silver, gunmetal, and pewter. Quartz is an excellent choice for bathrooms! Spilled beauty products and toothpaste dribbles won't leave a mark.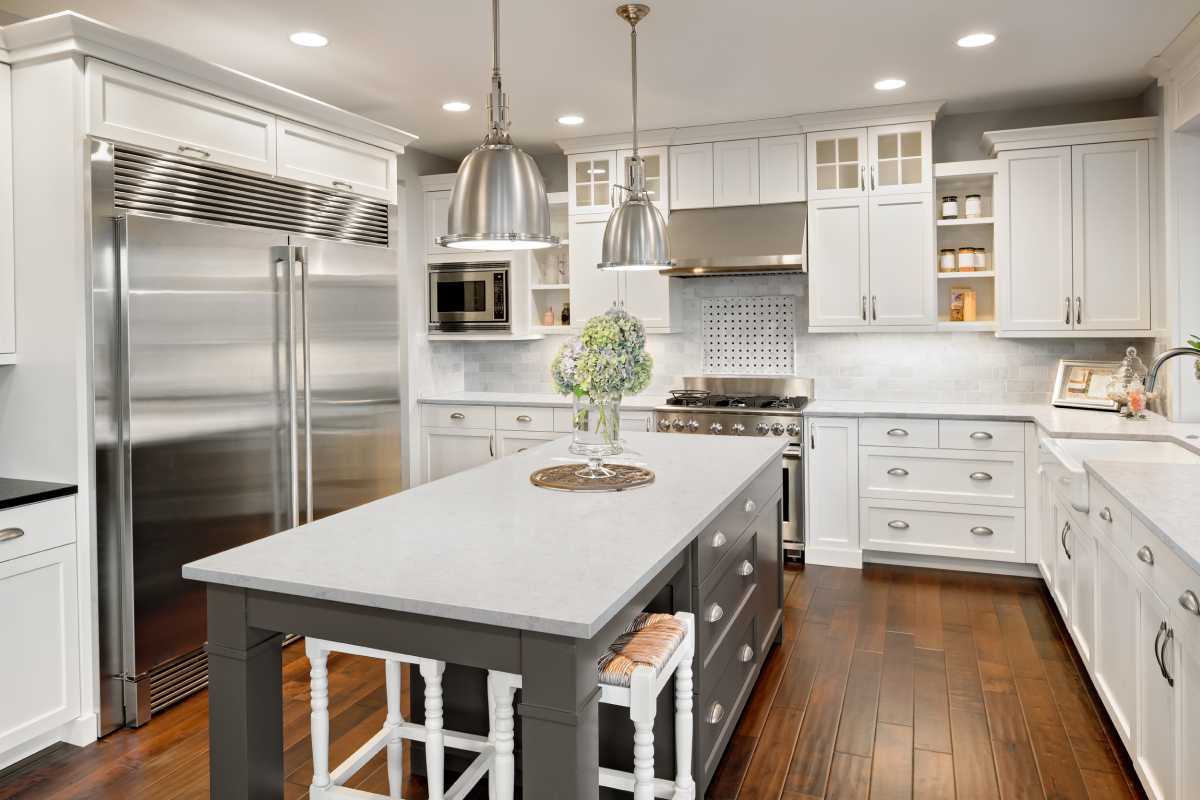 Featured: Mara Blanca
If your style is traditional with a hint of glam, our Mara Blanca quartz is a perfect choice to create a chef's kitchen ready for spills, spatters, and parties! The designer of this kitchen hit the mark beautifully, choosing a gray for the cabinetry on the contrasting island that is represented in the fairy-like veining of this stunning marble-look quartz. Explore all of our Q Premium white marble-look quartz countertops to find the one that speaks to your style!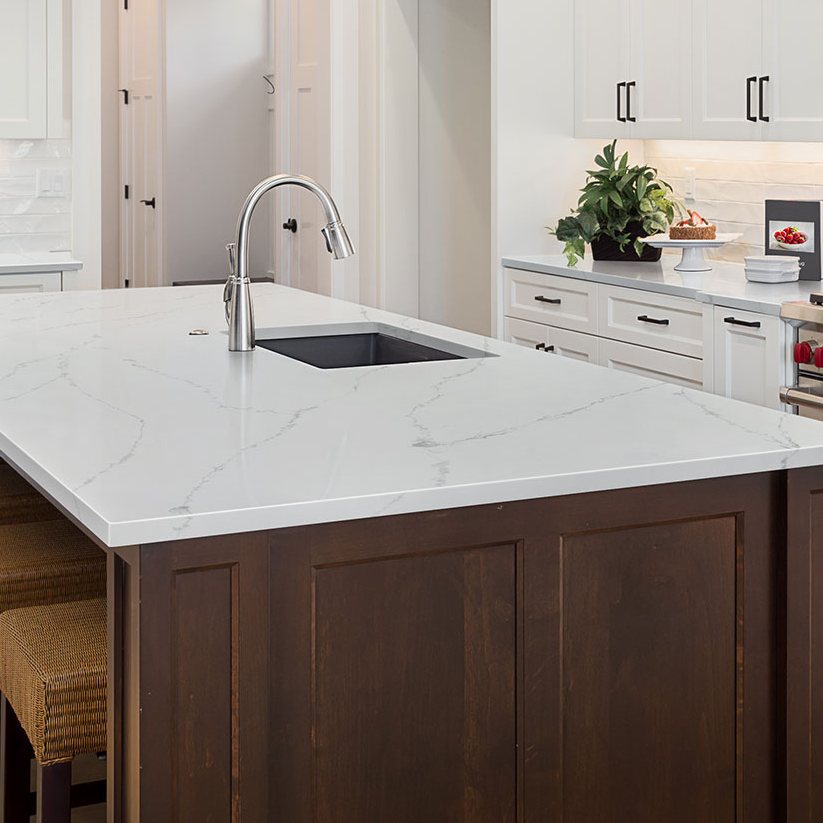 Featured: Calacatta Ultra
White marble countertops are luxurious, timeless, and expensive natural stones available today—and they require regular sealing to maintain their flawless nature. For busy kitchens where science projects are created, pies are made, and buffets are laid out, our Calacatta Ultra marble-look countertop is a regal substitute that perfectly mimics the character and stately charm of Calacatta marble.
Browse through our entire collection of Q Premium Natural Quartz colors and be inspired to create your perfect kitchen, spa-like bathroom, or other feature in your home from durable quartz. MSI's collection contains stunning white-marble looks, contemporary matte-finished slabs, natural granite and quartzite-looks, and even concrete looks to complement modern designs.
More About Quartz Countertops
What are the Pros and Cons of Quartz Countertops
Are Quartz Countertops Stain Resistant
Move Over Concrete Counters This is a Job For Quartz Countertops
Best Ideas for Quartz Countertop Vanities
You May Want to Choose a Quartz Countertop Over Marble After Reading This