Current Obsessions: 10 Reasons Why We Love Quartz Countertops
June 29, 2018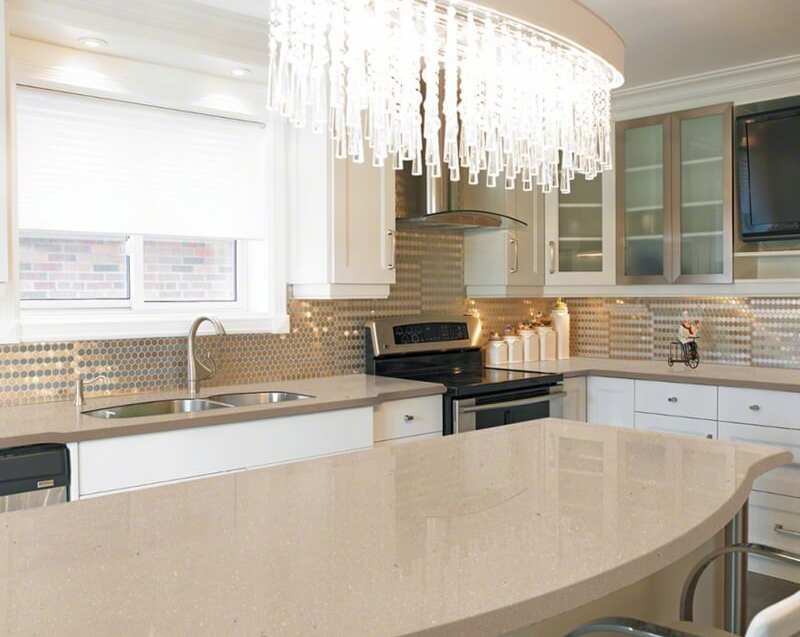 When it comes to choosing a counter for your kitchen or bathroom, you should seriously consider quartz countertops! It's a man-made surface comprised of natural stone, polymer resins, and coloring to create a spectacular product.
More homeowners and designers alike are picking this popular countertop because it's one of the top kitchen remodeling trends, and for good reason. Want to know why? We've rounded up our top 10 reasons to love quartz. Check it out!
#1. Mimics Natural Stone
Quartz is an engineered countertop that can look just like a number of natural stone options, including marble, granite, soapstone, and limestone. Since it's uniform in color and pattern, you'll also get a consistent look, too. Glacier White is a low-variation version of Carrara marble, one of the most popular types of natural stone. Its milky white background and feathery gray veining adds elegance to this kitchen.
#2. Available in Dramatic Colors
While some go for the quartz that looks like marble, others opt for a more dramatic look. Bright white is popular, as is concrete. Quartz also comes in several patterns with sparkly flecks for instant glamour! Midnight Majesty is a dark and dramatic countertop with contrasting flecks for sophisticated style. It's a perfect choice for a black-and-white design like in this kitchen.
#3. Priced Competitively
Quartz is a high-end surface that's comparable in price with other luxury materials. The cost ranges anywhere from $40 to $100 per square foot plus the cost of installation. But, if you compare it with marble, you could be saving thousands!
#4. Never Needs Sealing
One of the top reasons why modern quartz is in such high demand is because of its low-maintenance qualities. This solid surface won't ever need sealing, re-polishing, or waxing, unlike natural stone. Cascade White features layering of color for a gossamer look with its pattern made from milky whites and creams to muted grays, silvers, and taupes. These homeowners won't have to worry about water spots ruining the delicate pattern on their master bathroom countertops!
#5. A Green Material
You can feel good about choosing quartz because it's inherently eco-friendly. Not only is it made from an abundant natural resource, but the recyclable countertop also reduces waste because it offers a longer lifespan than any other countertop choice. This non-toxic material doesn't contain any hazardous substances either.
#6. Certified for Safety
Q Premium Natural Quartz from MSI has gone through multiple rigorous tests to be certified for your peace of mind. The GREENGUARD Indoor Air Quality Certification means that this material has low chemical emissions and contributes to indoor air quality. The National Safety Foundation International (NSF) certification means that your quartz conforms to strict safety standards for food equipment materials.
The Seal of the Kosher Trust (Seal-K) certification means that your surface is in line with Kosher products and operations. Finally, for interior designers or architects pursuing the Leadership in Energy and Environmental Design (LEED) certification, it also qualifies for LEED credits in some areas.
#7. Doesn't Harbor Bacteria
Especially when it comes to your kitchen countertops, quartz is an excellent option because it's a non-porous surface. Why should that matter you ask? It's a safe, hygienic countertop because it won't become a breeding ground for bacteria or other microorganisms. It also only takes a quick wipe with a damp sponge or a cloth with a little mild dish soap to keep it clean, so you won't need to use harsh chemicals to get rid of germs.
#8. Fast, Affordable Installs
Quartz is an affordable luxury that rarely has any imperfections because it's a manufactured surface. Since MSI is able to produce predictable, consistent products, they'll have less wasted material and, in turn, pass the savings onto you.
You'll also benefit by getting product faster for quicker and easier installations, even if it's a custom-shaped countertop for an island like in this kitchen. Whether it's this Pebble Rock quartz, a natural tone in warm beiges with hints of shine, or another product, choosing quartz will help you stick to your remodeling timeline.
#9. MSI's Lifetime Warranty
Quartz counters will last for years when properly maintained with just minimal care, but you can buy with confidence knowing that it comes with guarantees. Because let's face it, kitchen and bathrooms are the most expensive rooms to remodel!
MSI offers residential customers a limited lifetime warranty and commercial customers a 10-year warranty for its Q Premium Natural Quartz. To be on the safe side with your investment, choose a neutral like Sahara Beige. With a pale countertop like this parchment-hued one, you'll be less likely to get sick of it over many, many years!
#10. Extensive Color Selection
MSI offers an inspirational collection of quartz colors and styles that will compliment any design. With more than 75 options to choose from, you'll easily find the exact product you need for your next kitchen remodel, bathroom renovation, or new build. The wide selection includes everything from white, cream, and gray neutrals to more dramatic choices like ruby or black.
More on Quartz Countertops
Common Misconceptions About Quartz Countertops
Here's Why Quartz Countertops Are the Best Choice to Busy Families
Have You Considered Quartz Countertops for Your Kitchen Remodel
What Is It About Quartz Countertops That Has People Talking
Monochromatic Quartz Colors are the Perfect Canvas for Kitchen Creativity