Calculate Your Countertop Cost For 10 Popular Quartz Countertop Colors
May 12, 2022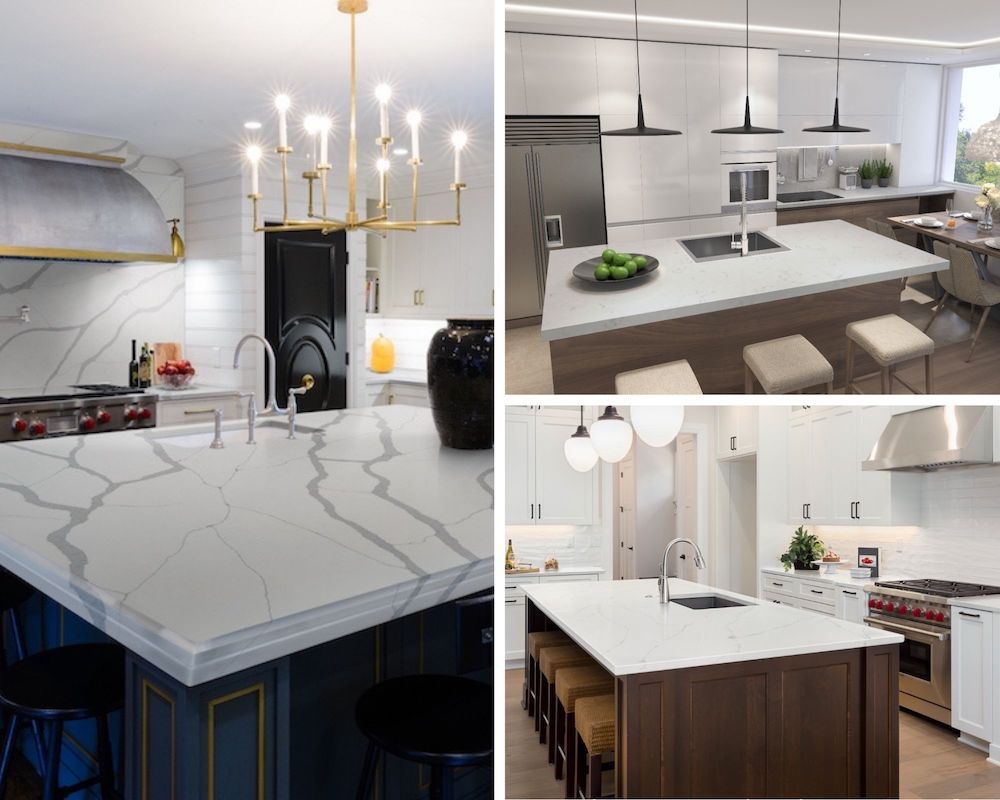 Installing a new kitchen or bathroom countertop can be a big investment — but few home-improvement projects provide as much return on that investment in terms of home resale value and your own enjoyment. Still, most homeowners have budgets for those projects, so it's important to know at the outset how much it's going to cost.
Prices vary, depending on the quartz countertop colors you have in mind. They range from relatively inexpensive and budget-friendly to quite expensive, depending on the style you choose, such as marble looks, concrete looks, and more. The price is also affected by the relative availability and demand for each color.
Homeowners should also remember that there are other factors which influence the final cost of a new countertop. Some of these include:
The type of edge treatment you choose for your countertop.
The number of cutouts needed during fabrication for sinks and other fixtures.
Any necessary repairs or additions to existing cabinetry.
Selection of a pre-fabricated countertop vs. a custom one.
Extra work needed such as plumbing or electrical.
Custom finishes such as honed or matte concrete quartz countertops
With that in mind, here are the average costs, including installation, for 10 of our most popular quartz countertop colors.
CALACATTA ALTO WHITE QUARTZ
Average Material/Installation Per Sq. Foot: $80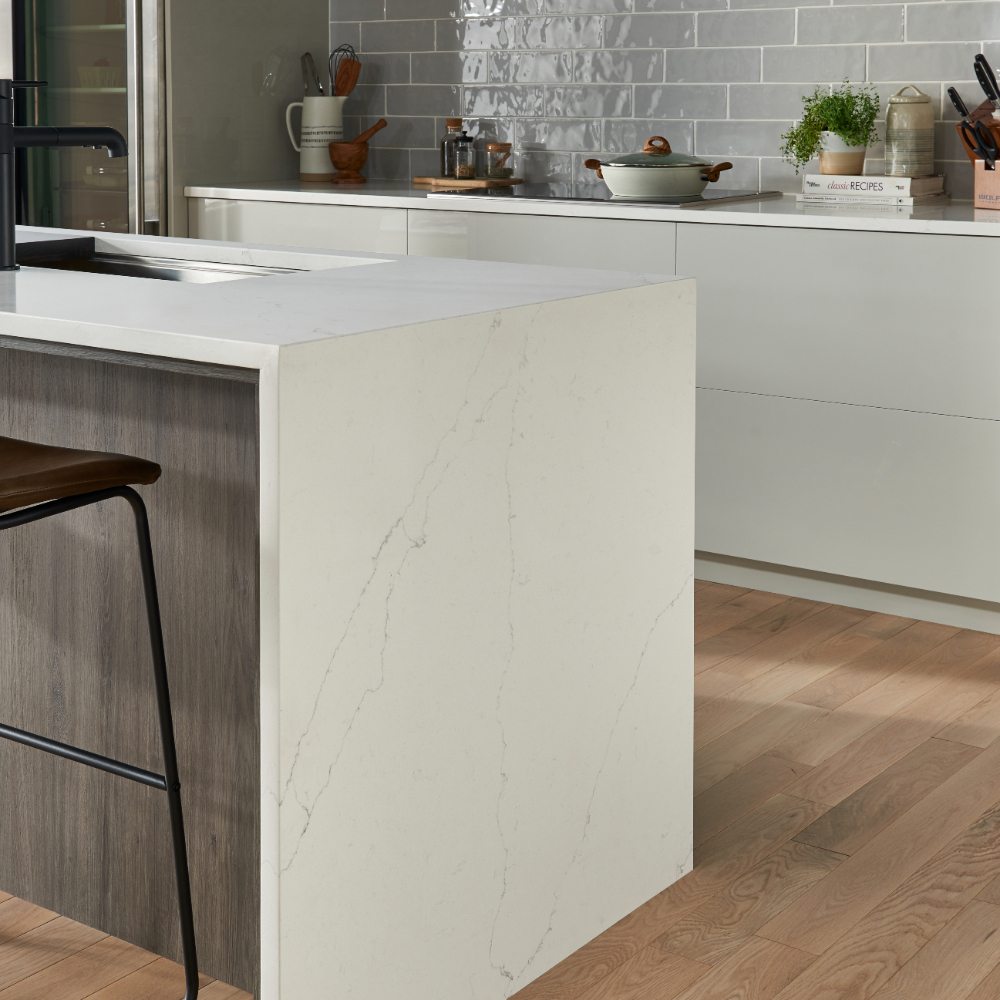 Marble-look quartz is extremely popular for both kitchens and bathrooms. That's because marble itself is a classic favorite, it goes with just about every style of décor and color scheme, and it gives a feeling of opulence to any room. Unlike natural marble, though, quartz is a breeze to care for. Calacatta Alto white quartz is a favorite, featuring subtle, thin gray veins on a soft white background. Since it's so easy to keep clean and fresh-looking, it's ideal for waterfall edges on countertops.
CARRARA BREVE QUARTZ
Average Material/Installation Per Sq. Foot: $70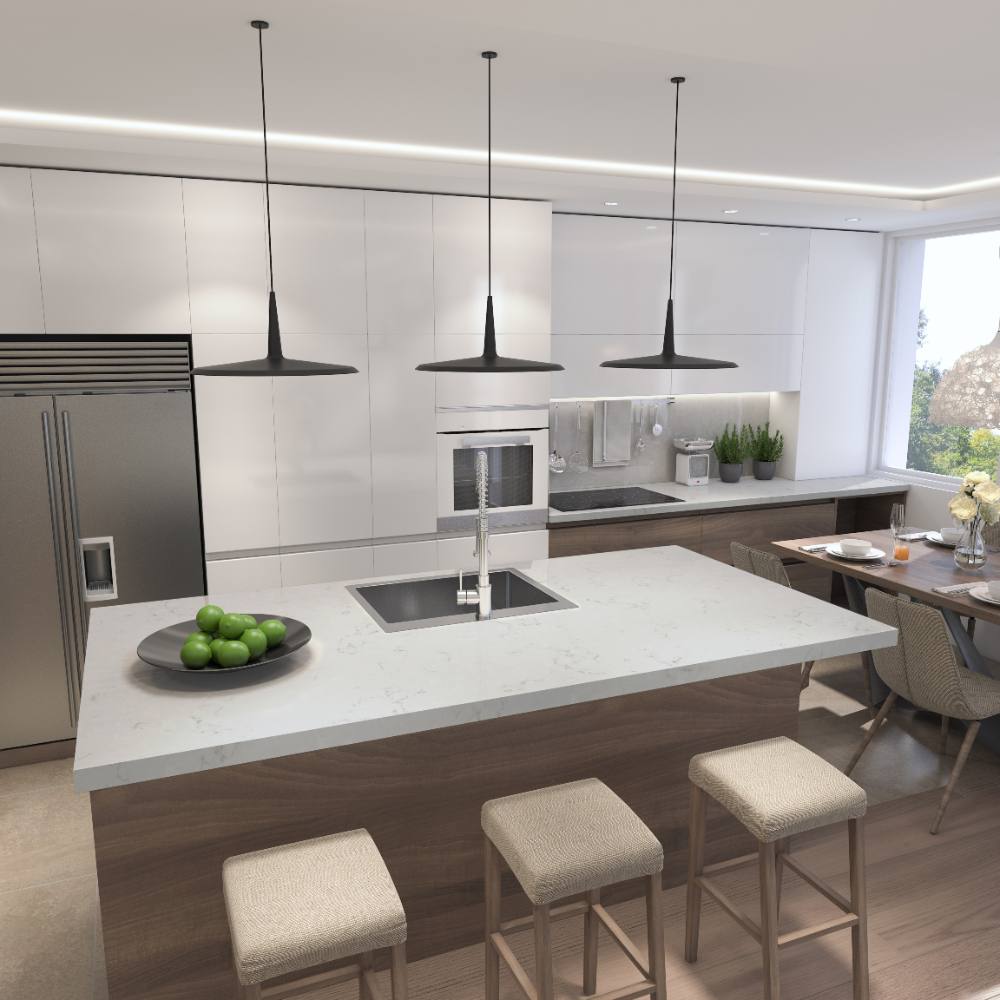 Whether your tastes range toward a rustic, farmhouse kitchen or a contemporary style, the all-white trend is still a popular choice. We're starting to see other colors return to white kitchens, though, particularly neutral shades such as gray and beige. Carrara Breve quartz countertops feature subtle veins of gray and gold to tie together those white cabinets, stainless steel appliances, and other decorative elements.
CALACATTA LAVASA QUARTZ
Average Material/Installation Per Sq. Foot: $80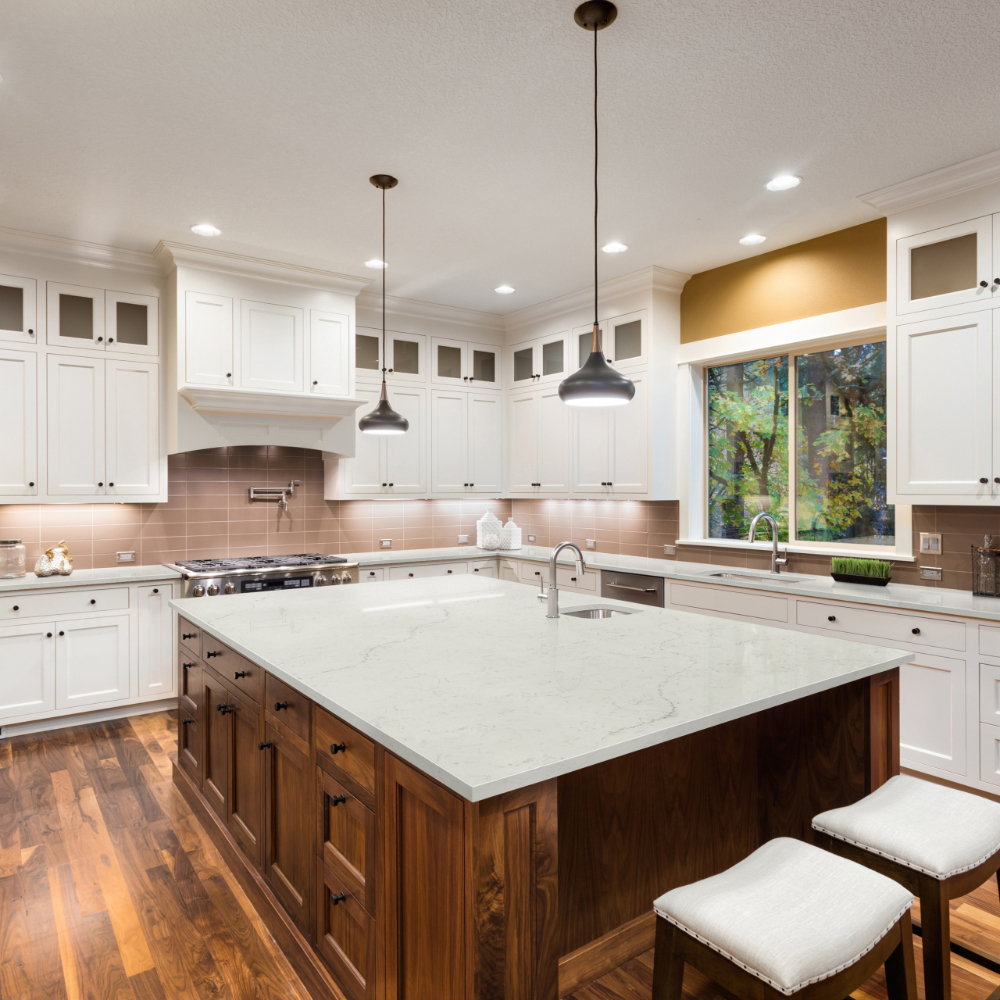 Not all white quartz countertops are created equal. When making your choice, consider your other surfaces, such as flooring and backsplashes, and whether you need a "cool" or "warm" tone as a complement. Calacatta Lavasa Quartz is a marble-look option that has a warm white background accented by short brown veins, and it goes well with browns and beiges.
CALACATTA MIRAGGIO GOLD QUARTZ
Average Material/Installation Per Sq. Foot: $90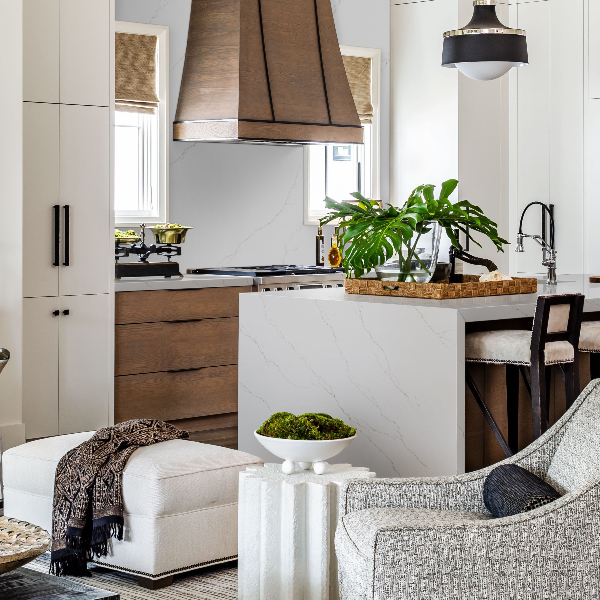 What makes Calacatta Miraggio quartz special? They are made with MSI's patented Lumaluxe technology, which enhances the brightness and vivid coloration of the countertop. Although all of our marble-look quartz is beautiful, this new formulation makes it look even more authentically like natural marble. A waterfall-edge countertop displays this white quartz with diagonal gold veining to its full potential.
CALACATTA SIERRA QUARTZ
Average Material/Installation Per Sq. Foot: $80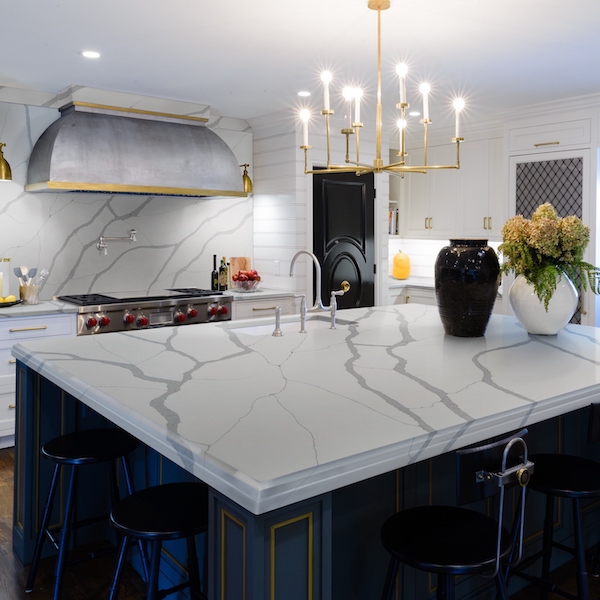 If you love the look of marble but want something a bit more dramatic for your kitchen remodel, check out Calacatta Sierra quartz. The cool white background is accented with bold, thick gray veining. Although we describe quartz countertops extensively, MSI's premium quartz is also a great choice for worry-free, easy-care backsplashes.
CALACATTA LUMOS WHITE QUARTZ
Average Material/Installation Per Sq. Foot: $80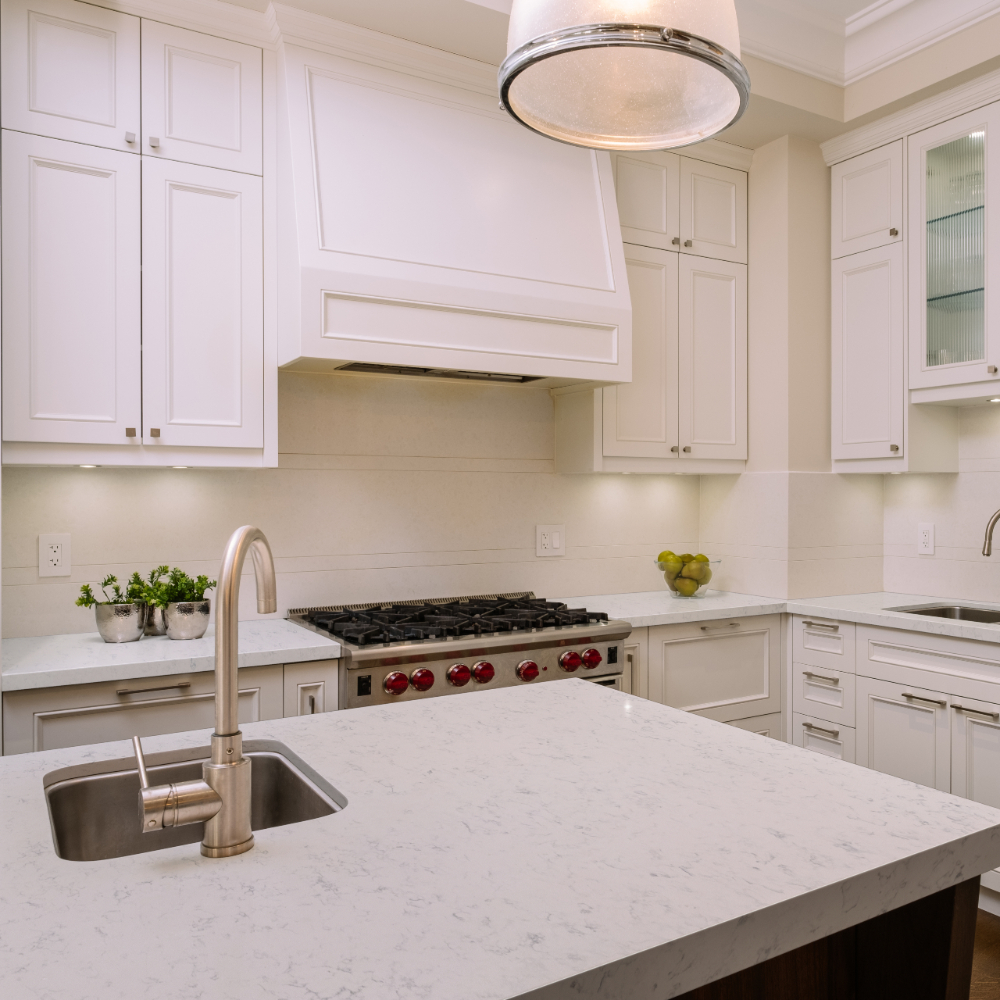 If the only thing keeping you from the airy, bright white kitchen you've been dreaming about is your concern over keeping it clean, a quartz countertop is your solution. Since quartz is totally waterproof and non permeable, it is highly resistant to stains — unlike the natural marble it replicates. Manufactured with Lumaluxe technology, Calacatta Lumos white quartz is a neutral white with subtle, wispy gray veins.
CALACATTA ULTRA QUARTZ
Average Material/Installation Per Sq. Foot: $80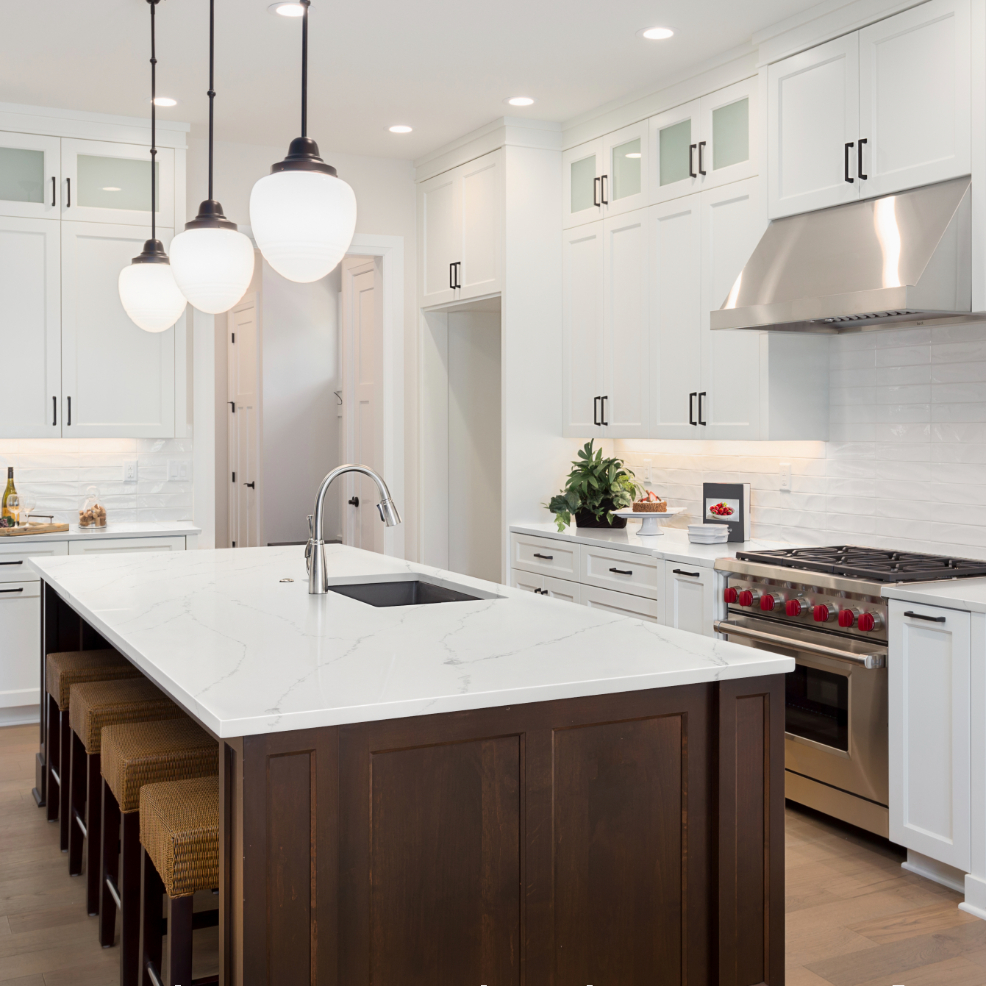 Homeowners desire marble countertops for a variety of reasons. They make any room look brighter, especially with a polished finish. They are opulent and versatile. A marble look quartz countertop like Calacatta Ultra quartz is your secret to having all of this with none of the work and worry. Show off the bright white and elegant gray veins on a focal-point center island.
CARRARA MARMI QUARTZ
Average Material/Installation Per Sq. Foot: $70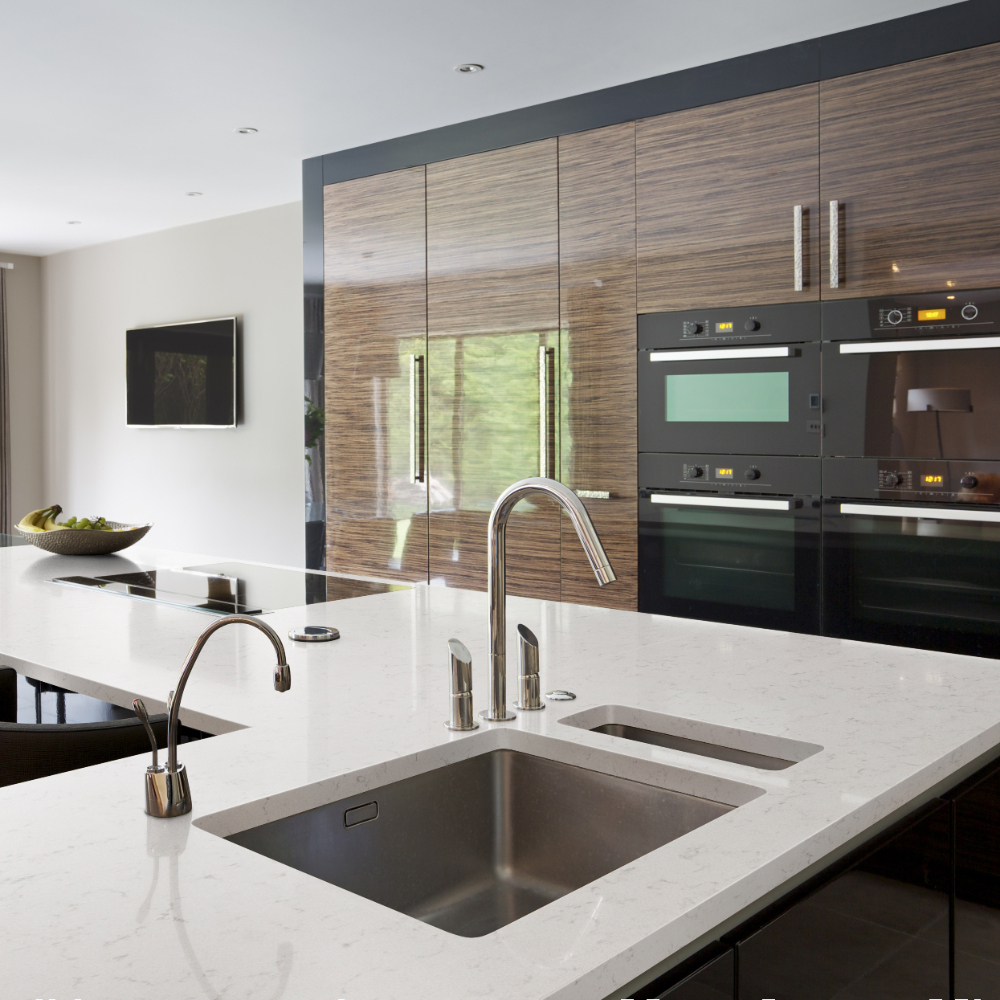 Since the quartz countertop cost varies, it can pay to compare your favorite colors objectively. You might find that investing in a lower-priced quartz slab allows you to spend a bit more on fabrication without breaking the budget. You can order specialized cutouts for sinks, cooktops, and other custom features that make your kitchen unique. Carrara Marmi is a premium quartz with soft gray veins on a bright white background, and it is typically available at a slightly lower price point than other options.
MARA BLANCA WHITE QUARTZ
Average Material/Installation Per Sq. Foot: $70
On this list, you've seen references to how durable and easy to care for a quartz countertop will be — but you might wonder what makes it so practical. For one thing, quartz is waterproof. Unlike natural marble, it never needs to be sealed. Marble may etch when exposed to acidic liquids such as orange juice, or become stained from spilled wine. With Mara Blanca white quartz, you can have the bright white and gray veining of natural stone without worrying about every meal or beverage.
CALACATTA BOTANICA QUARTZ
Average Material/Installation Per Sq. Foot: $80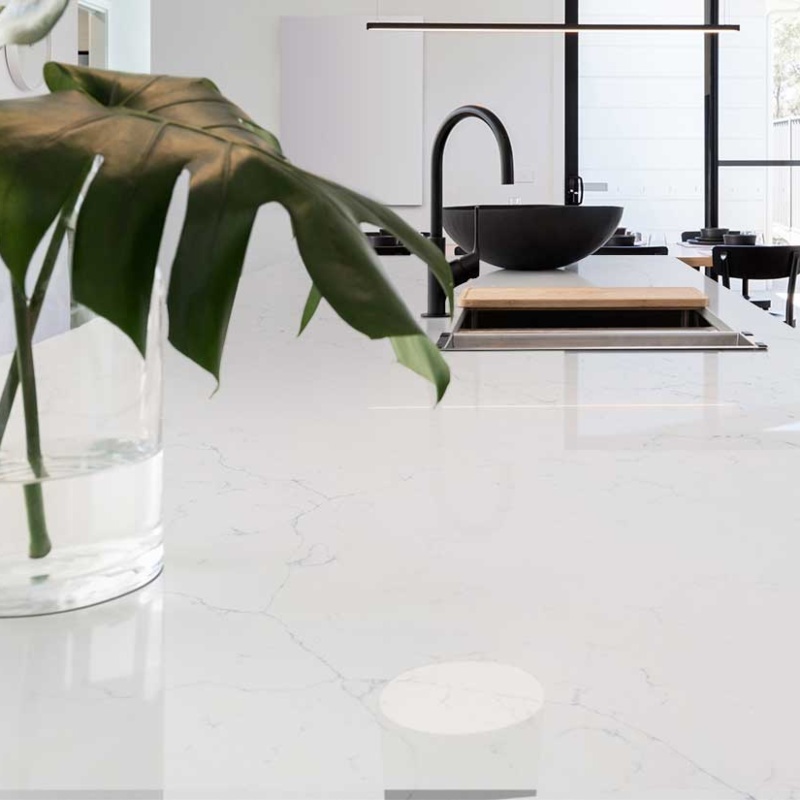 Although it's an engineered surface, a quartz countertop is manufactured using real stone — pulverized quartz crystals, along with other minerals and pigments that create unique quartz colors. That's why we can create looks like Calacatta Botanica quartz, which authentically replicates the look of fine Italian marble.
If you need assistance with deciding whether quartz is the right choice for your own kitchen or bathroom, give us a call or visit one of our showrooms. Our knowledgable staff will be happy to answer all of your questions.