Outdoor Oasis: Hardscaped Outdoor Kitchens 'The New Man Cave'
June 08, 2017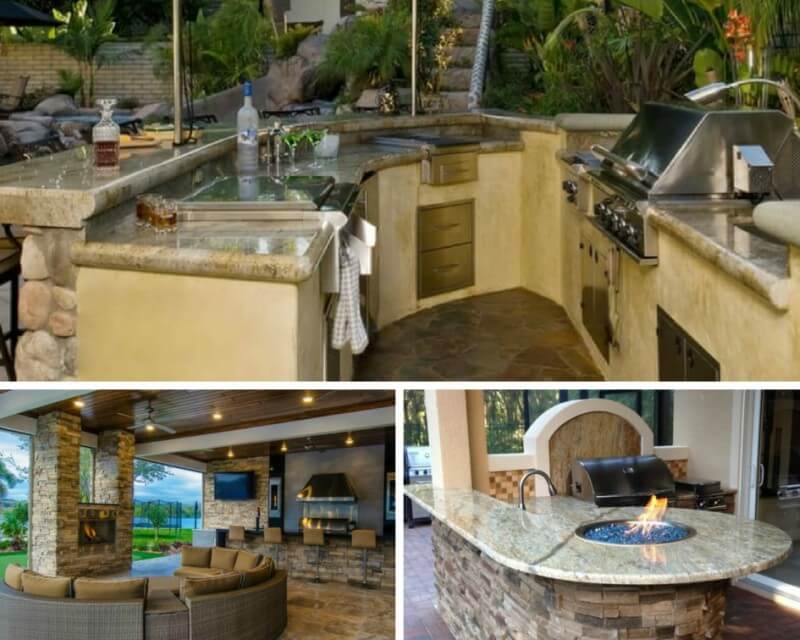 Man caves are no longer banished to the basement, decorated with buzzing fluorescent signs and smelling of musty odors. Today's modern man caves are designed as both a retreat and an entertainment area, and the backyard is the perfect spot for hangin' with the guys!
More men want to gather around an outdoor kitchen for a number of reasons – from being boisterous, to heating up the grill! With that in mind, here are some of our favorite hardscaping sanctuaries, plus insight into why these outdoor kitchens serve as the new gathering place for the modern man.
Boisterous Boys and Bold Design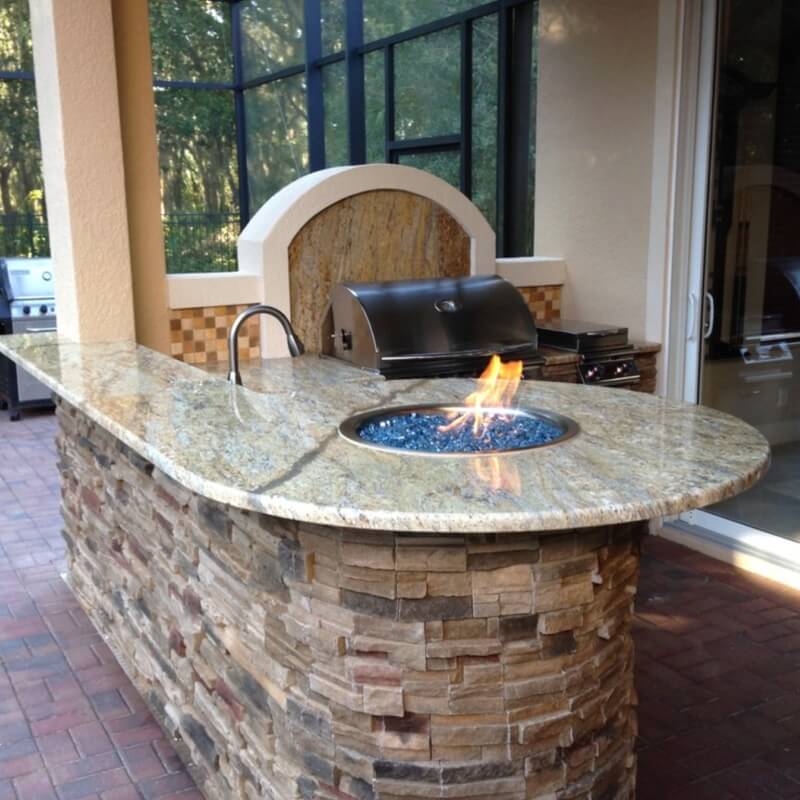 Featured: Yellow River Granite
Gentlemen, you might feel like your spouse has taken over the house, but this is your chance to make design choices that are as bold as you are! This outdoor kitchen features Rustic Gold stacked stone panels composed of earthy slate tones, Yellow River Granite, and a contemporary built-in fire pit with bright blue crystals.
And if you hang with a rowdy bunch, being outside is the perfect solution because you won't be waking up sleeping babies or knocking over knick-knacks with roughhousing and other shenanigans!
Ultimate Entertaining Area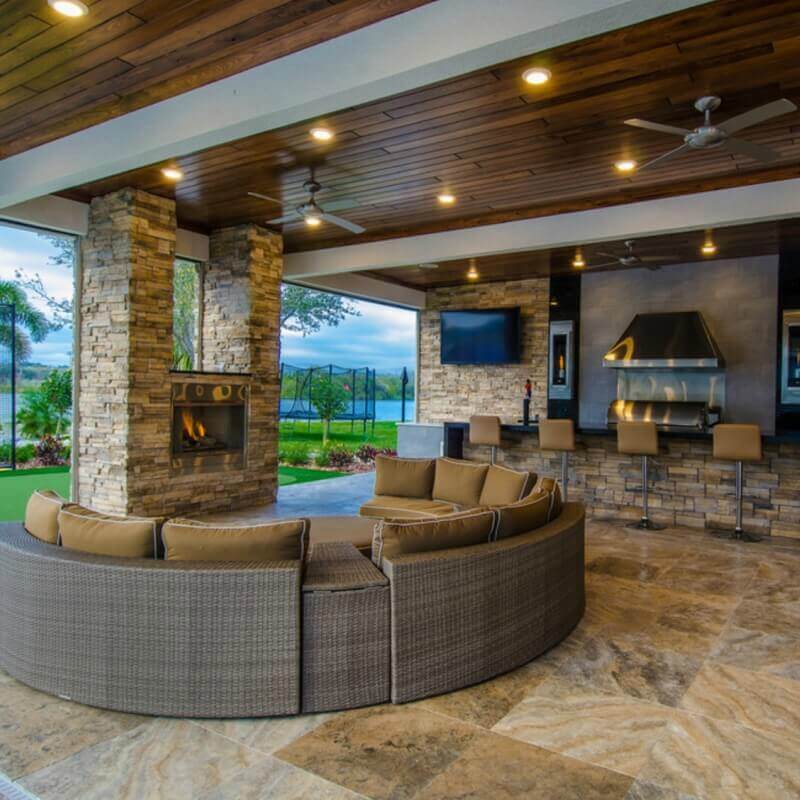 Get this look with MSI's Canyon Creek Stacked Stone (Photo Credit: Houzz)
This outdoor kitchen feels more like a sports bar than a typical man cave! It offers plenty of space for friends to watch the game, grab a drink at the bar, or chill on the sofa with a beer.
The ceiling fans provide cooling during the hot summer months, and the fireplace clad in Canyon Creek Stacked Stone provides warmth during cold winter nights. The natural stone with its warm golds and cool grays is carried throughout the room and give this space a contemporary rustic feel.
Tucked Away Sanctuary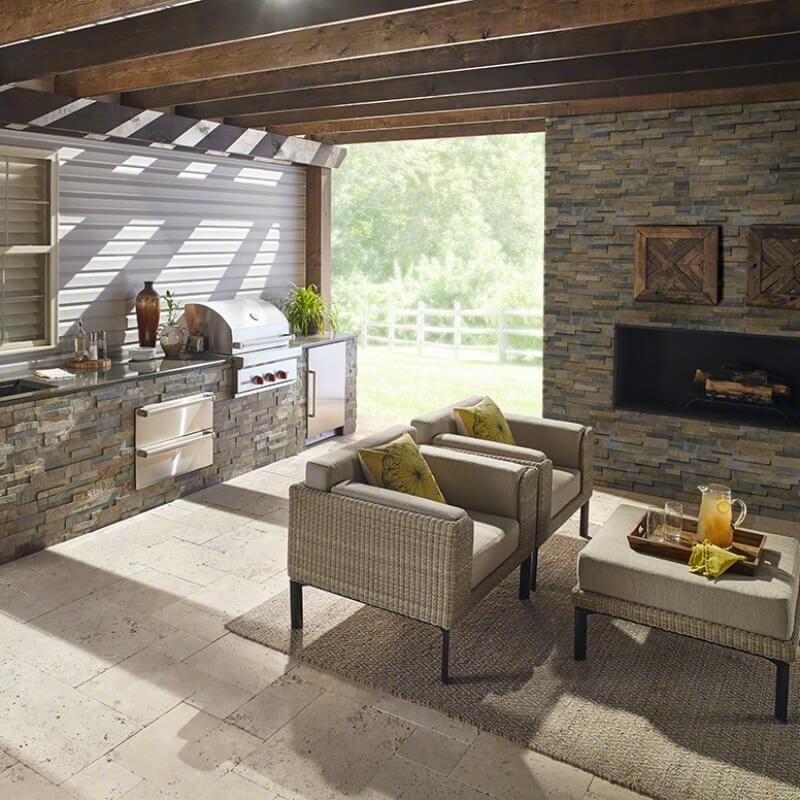 Featured: Tuscany Beige Travertine Pavers
You don't have to be a huge sports fan to want a man cave, and it doesn't have to take over your entire backyard either. If you're more of a low-key kind of guy, a more private space that's tucked away might be just right for you. This outdoor kitchen and lounge area feels more laid back thanks to its lighter neutral tones. The rustic wood beams, stacked stone fireplace, and Tuscany Beige Travertine Pavers give it an indoor, cozy feel.
Surrounded by Nature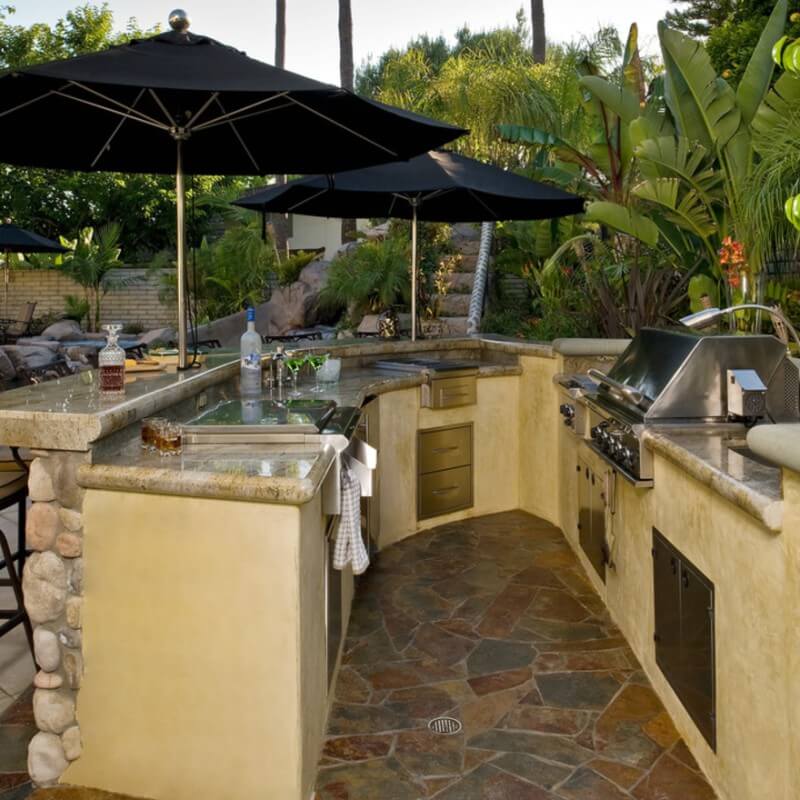 Recreate this look with MSI's California Gold Slate Flagstones (Photo Credit: Houzz)
Maybe you sit at a desk all day or commute for hours, so why not spend more time outdoors when you get home? When you gather with friends in the backyard, you can enjoy some fresh air and the relaxing effects of surrounding yourself with nature.
This outdoor kitchen mixes a variety of natural stones, including this random slate flagstone flooring in California Gold Slate Flagstones. Plus, a few martinis and a tropical, lush backyard like this one will help you loosen up after a long week of work!
Showing Off Cooking Skills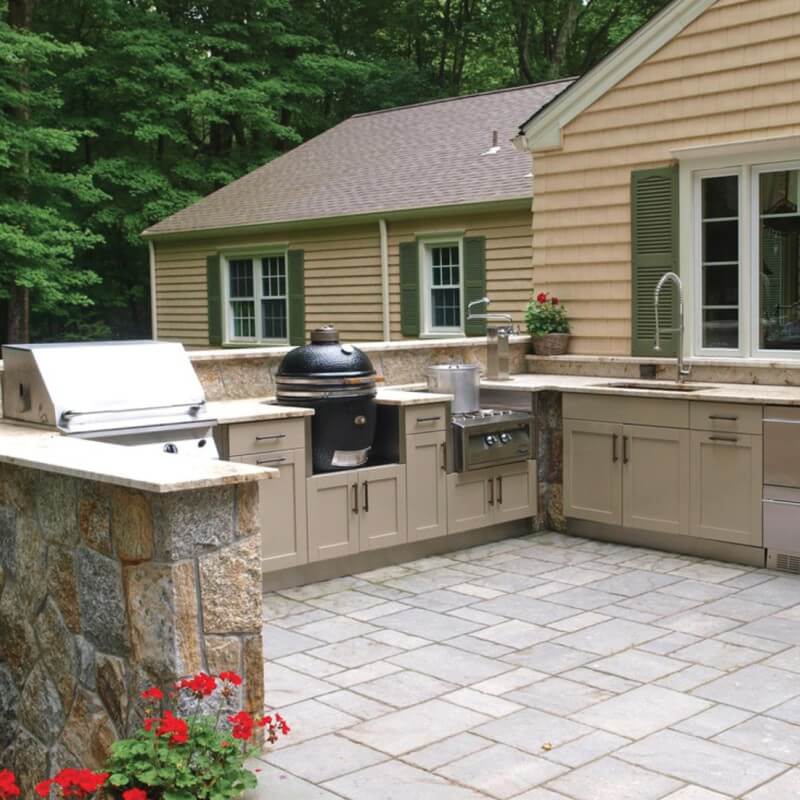 Create this look with MSI's Silver Travertine Pavers (Photo Credit: Houzz)
This spacious outdoor kitchen has everything you need to craft an amazing meal, so show off your cooking capabilities or have a friendly competition! It features must-haves like a stainless steel grill and a large sink, along with bonus add-ons like a smoker and a two-burner cooktop. The Silver Travertine Pavers, which mix light and dark silver with beige and gray tones, define the outdoor kitchen area and match well with the beige cabinets and stainless steel appliances.
Having a hardscaped kitchen with pavers is a durable space you can enjoy with friends and family for years to come. No matter if you're a messy amateur or a skilled grill master, you can cook up a storm just about any time of the year! When you're ready to move forward with your man cave design project, come to MSI to get started with your unique design.