Create Seamless Looks With Matching Stacked Stone And Pavers
September 17, 2021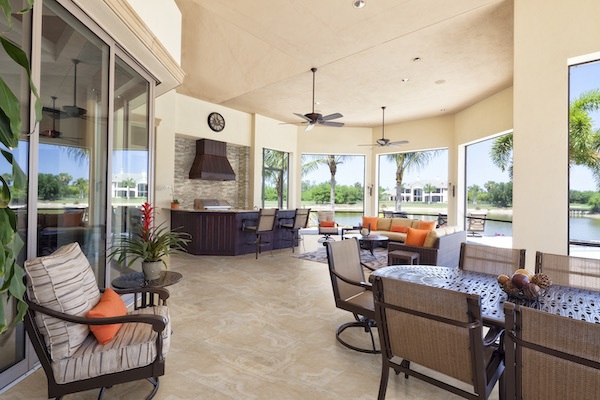 When choosing the various design elements for your home, you must consider how they will all come together to create a seamless appearance. Selecting stacked stone, pavers, interior wall colors, and other elements without envisioning how they will all work together can leave you with a space that feels disjointed. To make this selection process a bit easier, MSI's corresponding Rockmount Indoor and Outdoor Tile Collection offers a wide selection of floor tile, pavers, and stacked stone panels that all pair together seamlessly to create a cohesive backdrop for your home.
In this guide, MSI Surfaces will walk you through how to create a stylish and aesthetically pleasing appearance that flows seamlessly from indoors to outside.
How to Create a Seamless Aesthetic with Stacked Stone and Pavers
Pairing stacked stones and pavers can be a stressful task. Do you opt for contrasting color palettes for a dramatic effect? Or do you select natural stacked stone and pavers in the same hues for a cohesive design? Will choosing the same color for the walls and floor be too much of one color in the space? There are likely many questions running through your head, and we're here to help you create a seamless aesthetic with stacked stone and pavers.
The Rockmount Stacked Stone and Paver Collection offer a wide selection of stacked stone panels and matching pavers that enable you to create a seamless interior/exterior look. With a variety of textures and colors to choose from, you'll be able to find the perfect stacked stone and pavers to bring your vision to life. Carry your aesthetic from room to room by incorporating the Rockmount Collection as your interior flooring, outdoor patio tile, accent walls, fireplace surrounds, and more.
To help you find the perfect pairing that will enhance your design, we've put together four seamless combinations with matching stacked stone and pavers that are sure to be a showstopper in your next home design project.
Durango Cream Stacked Stone and Pavers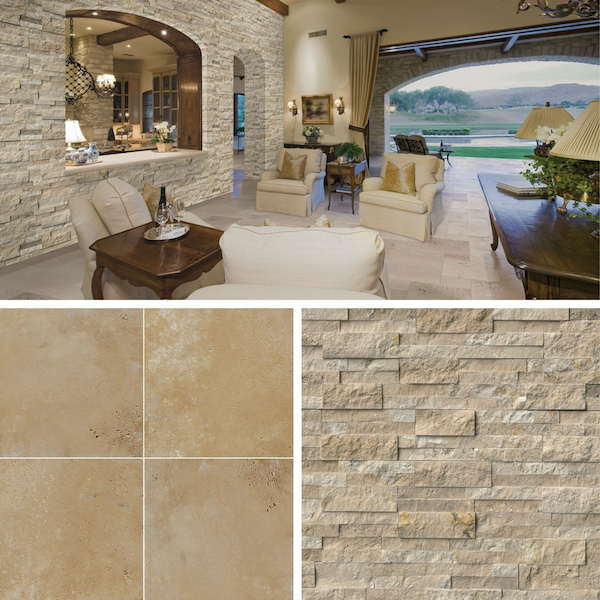 When designing an indoor/outdoor space for your home, you're likely envisioning hosting many gatherings with friends and family. You crave an area in your home where you can entertain so matter the weather, but want to make sure it flows beautifully from inside your home to the outdoors. Warm and welcoming is exactly what you get with Durango Cream stacked stone and pavers! Lining the walls with Durango Cream stacked stone, you'll be left with a space that boasts a stunning classic light beige hue with varied texture for added depth and dimension. These ledger panels pair perfectly with Travertine Durango Cream pavers in a matching beige color palette that is rich in character. While an ideal choice as your outdoor patio tile, travertine pavers work great indoors as well, allowing you to easily transition between the two spaces. You will be sure to wow anyone that walks into your home with this warm and welcoming pairing of stacked stone veneer and stone tile.
Mountain Bluestone Stacked Stone and Pavers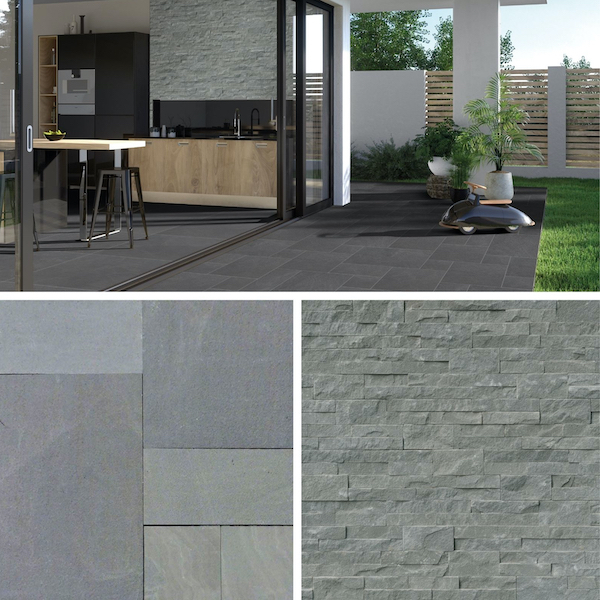 There's something about a natural stone in sleek gray tones that is sure to take a space from drab to fab. Its high-end appearance elevates the indoor or outdoor area, while the cool hues create a calming environment that promotes relaxation. If this sounds like the aesthetic you're trying to recreate in your home, look no further than Mountain Bluestone natural stacked stone that is ideal for accent walls and a variety of other applications in both indoor and outdoor capacities. The blueish gray tones stand out due to the added texture and dimension from the split-faced design, pairing beautifully with the sleek Mountain Bluestone pavers. These pieces of natural stone used as floor tiles are extremely durable, allowing them to be installed both indoors and outdoors while still retaining their beautiful appearance. Depending on the look you're trying to achieve, these pavers can be installed in creative patterns as the perfect complement to the stack stone panels.
Mayra White Stacked Stone and Pavers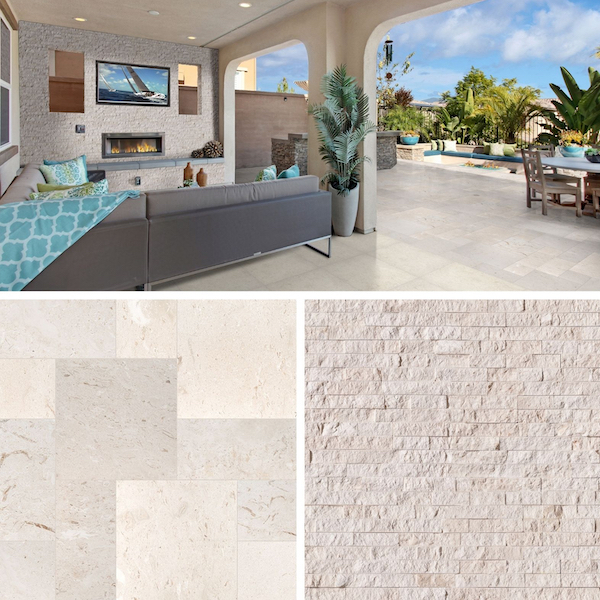 Whoever said luxurious things only come at a high price was wrong, very wrong. When your dream home aesthetic is upscale, you may be concerned about budget — but you don't need to be when you match Mayra White stacked stone and pavers together to create a one-of-a-kind indoor/outdoor area. Mayra White split-face stacked stone panels are created from genuine limestone and boast a gorgeous snowy white color that is high-end and timeless. Although white may seem sterile and boring, the randomly set stones add depth and interest that will capture the attention of anyone that walks into the space. Whether you want to install them as a stone wall, fireplace surround, or another application, you can't go wrong when pairing them with Mayra White pavers that have a tumbled finish that adds a hint of texture to this stone's innate natural elegance.
Cosmic Black Stacked Stone and Pavers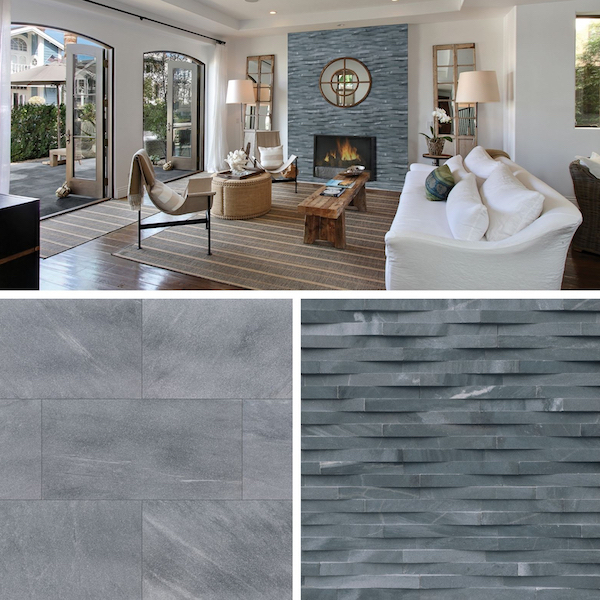 Sometimes you want to break the status quo when it comes to choosing design elements for your house. If that sounds like you, then we have the perfect recommendation for your home that is sure to set you apart from everyone else! Cosmic Black 3D Wave marble ledger panels feature a truly unique wave pattern with each split stone's placement, creating a dramatic black background for your home. Whether you install these distinctive tiles as an accent wall, backsplash, fireplace surround, or another accent feature, you'll be sure to wow all your friends and family. Plus, they pair perfectly with Cosmic Black pavers! Made from marble, this outdoor patio tile boasts varying dark tones of blacks and grays enhanced with eye-catching veining that creates the ultimate dramatic backdrop. No matter where you choose to install this bold stacked stone and paver combination, you'll be glad you did.
Deciding on the right natural stone ledgers and pavers for your home's indoor/outdoor areas can be a difficult decision, but with MSI Surfaces it doesn't have to be. After learning about your project goals, we can recommend combinations to achieve your desired look by pairing together beautiful stacked stone panels and pavers that complement one another to create your dream aesthetic.