Stacked Stone Fireplaces: The Perfect Addition To Any Living Room
July 10, 2023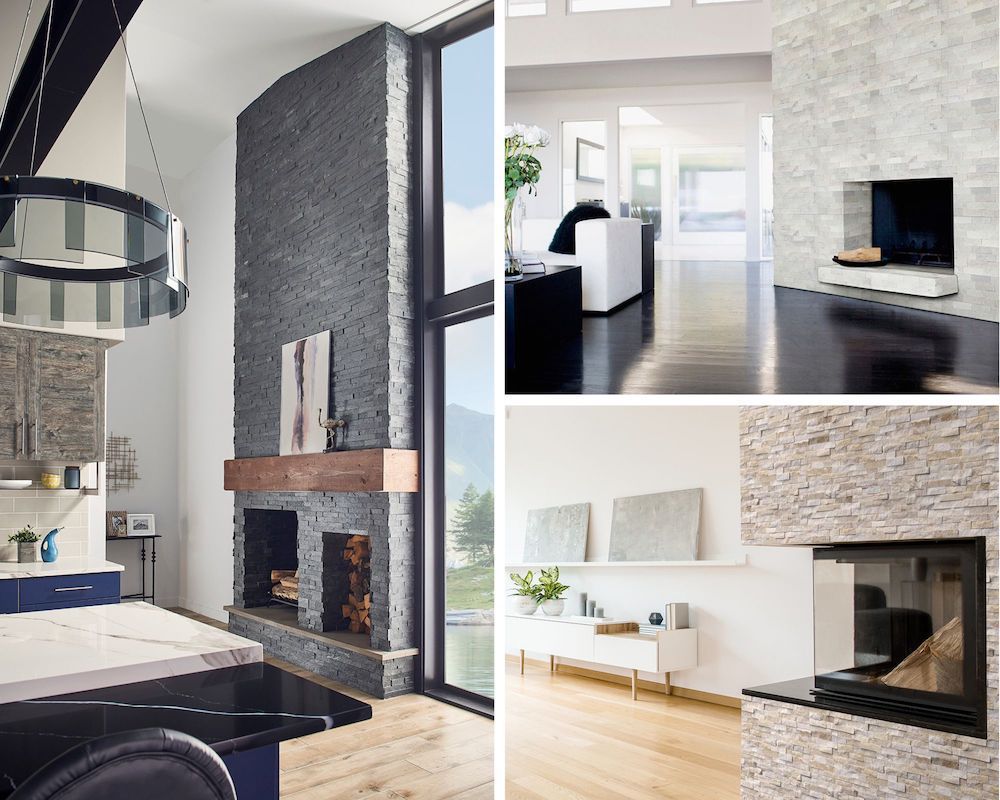 The fireplace often serves as the heart of the living room. Whether it's built for wood, gas, or electric, or it's merely decorative, the fireplace is a central gathering spot, and with a gorgeous stacked stone facade, it can be the focal point of your space.
Rustic yet refined, stacked stone offers the perfect way to imbue your home with style and a cozy, welcoming ambiance. Whether you opt for a small surround or a full accent wall to emphasize a vaulted ceiling, the right ledger panel design can create the visual interest you prefer.
You can even carry the look to other surfaces in your home, like a stacked stone backsplash or column corner, to create a cohesive aesthetic. Our Rockmount™ Stacked Stone Collection offers a range of stunning colors and configurations to suit every home and personal style.
Rockmount™ Stacked Stone Collection
Your home interior reflects your personality, and the design should make you feel comfortable and at ease. With the Rockmount™ Stacked Stone Collection, you'll have access to not only a range of styles that suit different architectural areas but colors and materials that speak to your unique aesthetic sensibilities.
Natural stone and porcelain options allow you to achieve the character that works for your household and lifestyle. You'll also enjoy wall tile of various sizes to suit your specific space requirements, with classic and contemporary varieties in marble, quartzite, and more.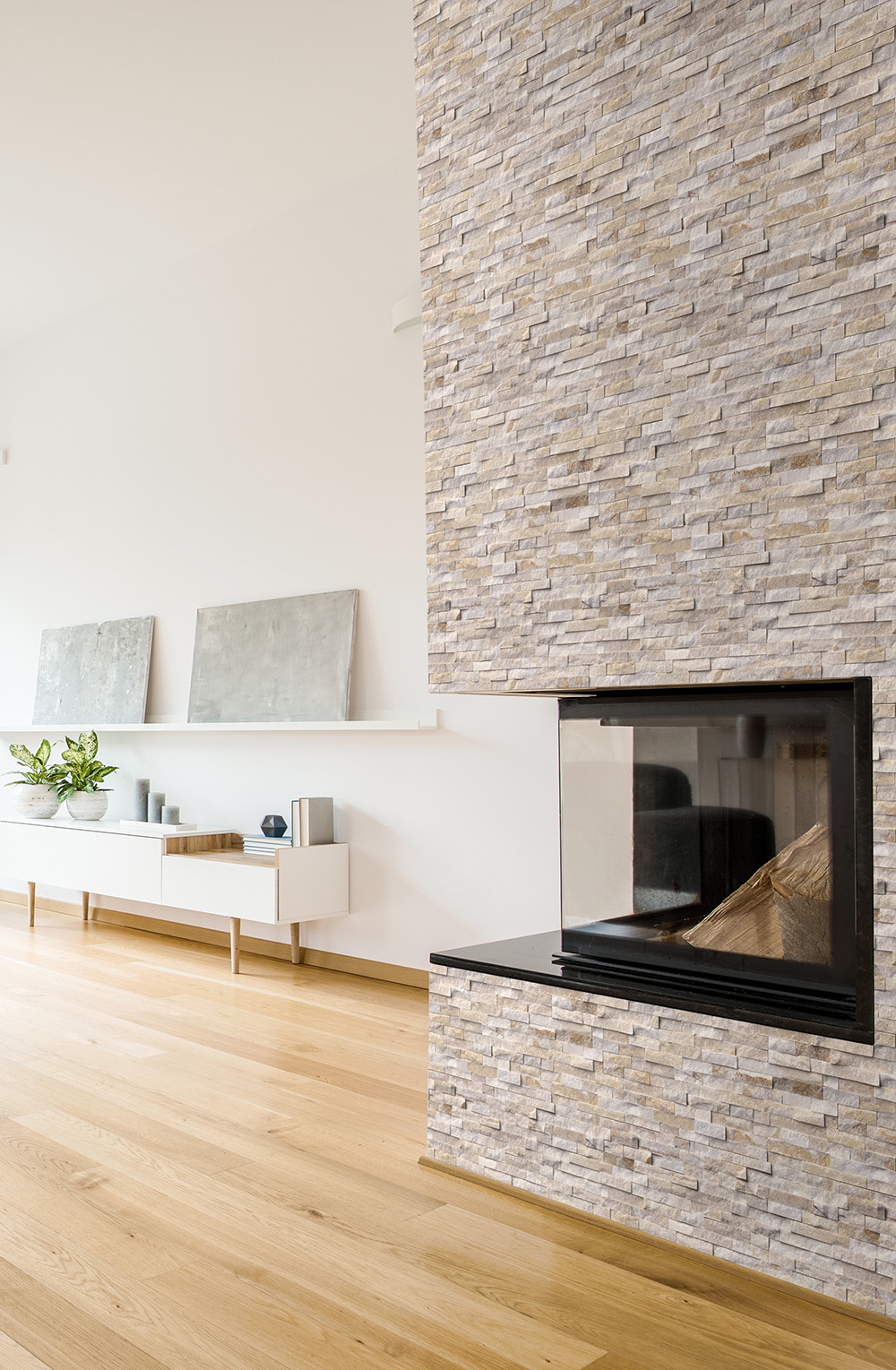 Trending neutrals are leaning toward a warm aesthetic, and Arctic Golden stacked stone in soothing quartzite is the perfect complement to rich wood tones and creamy palettes. With a beautifully balanced blend of cool whites and warm creams, this versatile natural stone offers a dreamy appeal.
It's ideal for a fireplace in any living room space, with a subtly textured, split-face finish that adds visual appeal without being too obtrusive. Both traditional and modern homes will benefit from this cozy upgrade.


It's hard to deny the striking intensity of a wintry landscape draped in a blanket of pristine snow. With stacked stone in Arctic White, you can capture the quiet tranquility of this setting and transfer it to your home interior.
This glowing white marble with a split-face finish contributes to an elegant and sophisticated interior and is particularly striking when used for a ceiling-height accent wall. The classic styling provides timeless versatility for any fireplace improvement project.


A stacked stone wall in deep, rich hues is both unexpected and elegant. If you're looking for a striking contrast to white walls or you want to complement a masculine design, Coal Canyon in charcoal gray quartzite will surely catch your eye.
This moody, split-face stone generates a statement style, and it's particularly breathtaking paired with rustic wood elements.


The pale, cool grays of our Cosmic Gray panels offer the ideal complement to modern and minimalist design styles, while a fresh refinement could calm the spirit and quiet the mind. Paired with crisp whites, this split-face marble delivers subtle dimension and soothing character to elevate any fireplace surround.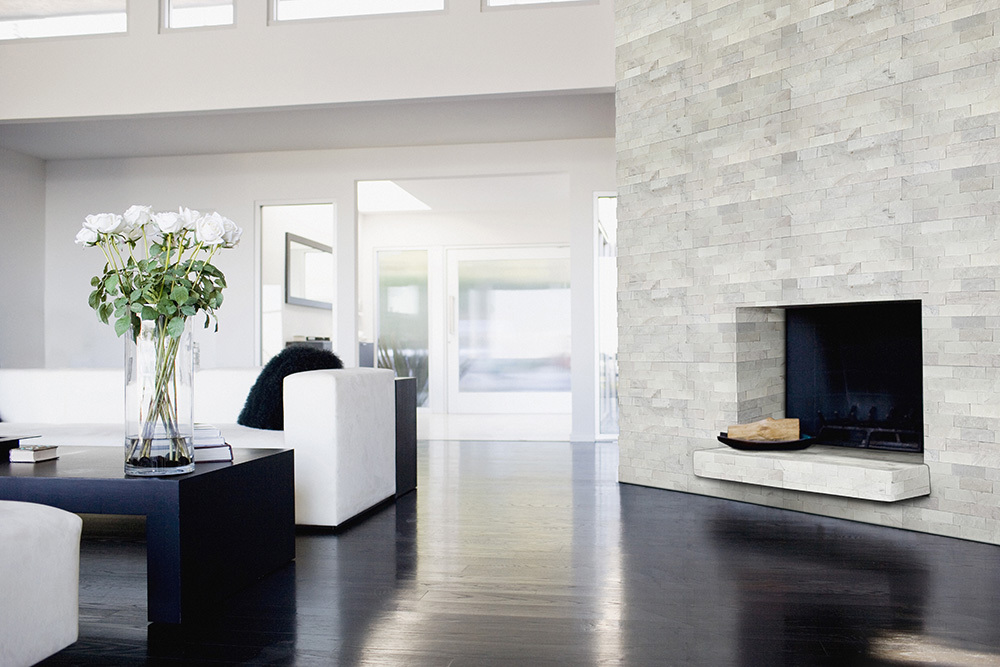 A certain aura of calm composure is associated with pure white marble, and Cosmic White perfectly captures this unique quality. The immaculate planes of this split-face material offer a subtle contrast to blond wood tones and add a hint of rough, rustic charm to contemporary interiors.
Choose the Perfect Stacked Stone to Complement Your Home
Adding rich texture and dynamic dimension to your living room space is easy with our expansive selection of stacked stone tile. With a range of stunning colors, luxe materials, and attractive finishes, the Rockmount™ Stacked Stone Collection offers the ideal complement to your inviting living room space.
Are you ready to transform your fireplace with a timeless design? Chat online now with an experienced MSI team member, contact an authorized dealer in your area, or visit an MSI showroom to explore your options.