Our Favorite Granite Colors For The Home Office
March 04, 2019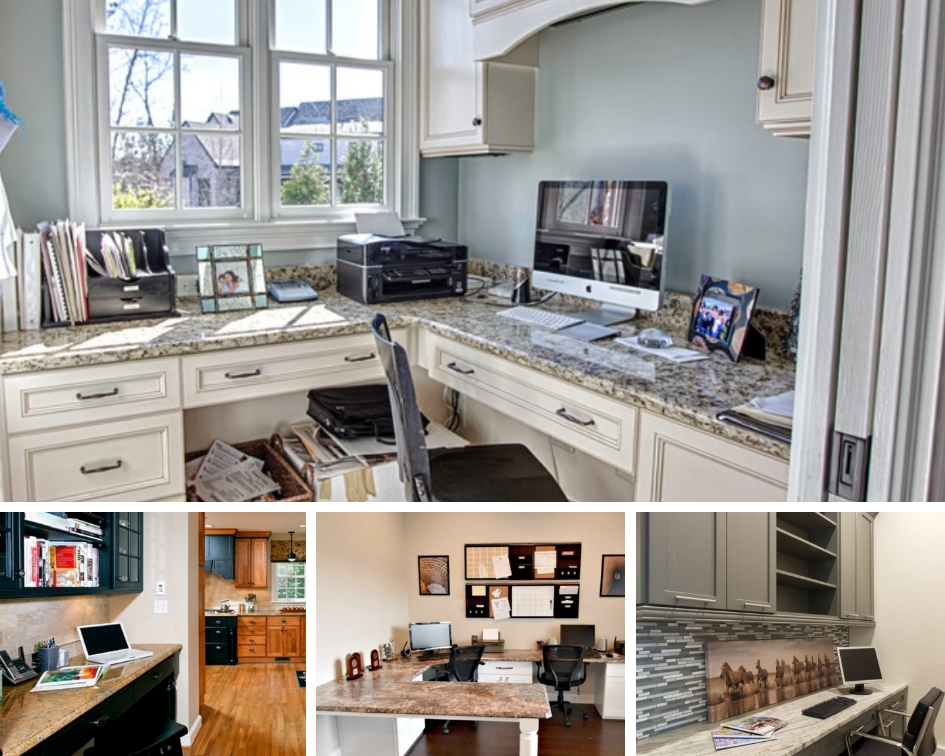 We all know that color in our home affects our mood, but what about our workspace? And make no mistake, we mean our literal workspace—the hard surface where you probably spend the bulk of your day sorting through important papers, writing and reading emails and answering important calls. The color and texture of our desktops have the capability of influencing how confident we feel about the quality of our work as well as how productive we are. This is not just holding ground for framed photographs of loved ones and cups of coffee; truly, our workspace can determine or motivation on the day-to-day.
Granite desktops affect the surrounding color scheme in addition to the surface feel. While once considered only for formal institutions like banks, granite proves to be a classy pick for the home office and workplace; because of this, we're going to explore some favorite granite colors to help you find the right fit.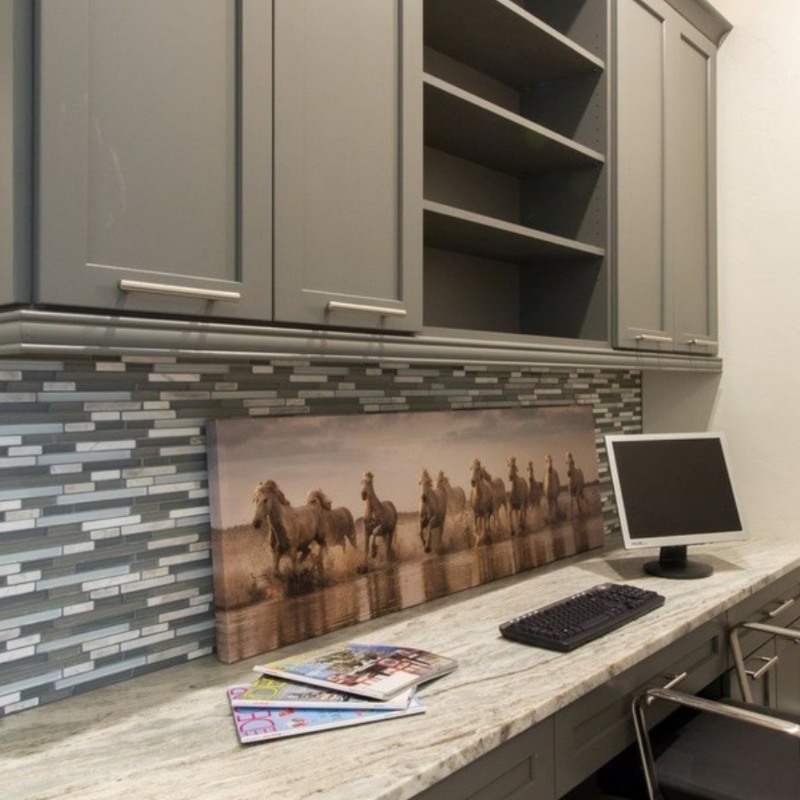 Create a similar look with MSI' New River White (Photo Credit: Houzz)
New River White Granite grabs our attention with its placating silver base speckled with vibrant red. This dynamic countertop pattern is imported from India and is praised for its versatility, known to be ideal for home offices and businesses. Furthermore, research has shown that the color red represents courage, strength, and excitement and can be a powerful motivating hue throughout a demanding workday. Who knows—incorporating crimson into your granite color palette could save you from overdoing it on the afternoon coffee!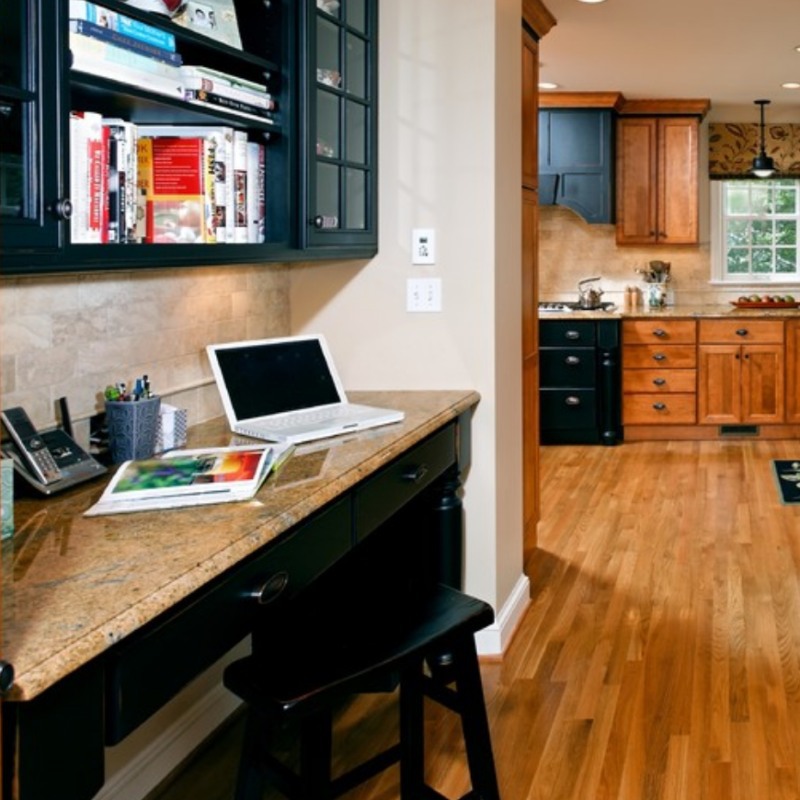 Recreate this look with MSI's New Venetian Gold (Photo Credit: Houzz)
If you're looking for a countertop with beige and golden tones, this New Venetian Gold Granite is right up your alley. This particular design integrates a slight veining of deep reds, grays, and browns, creating an elegant pattern suitable for a variety of granite counters.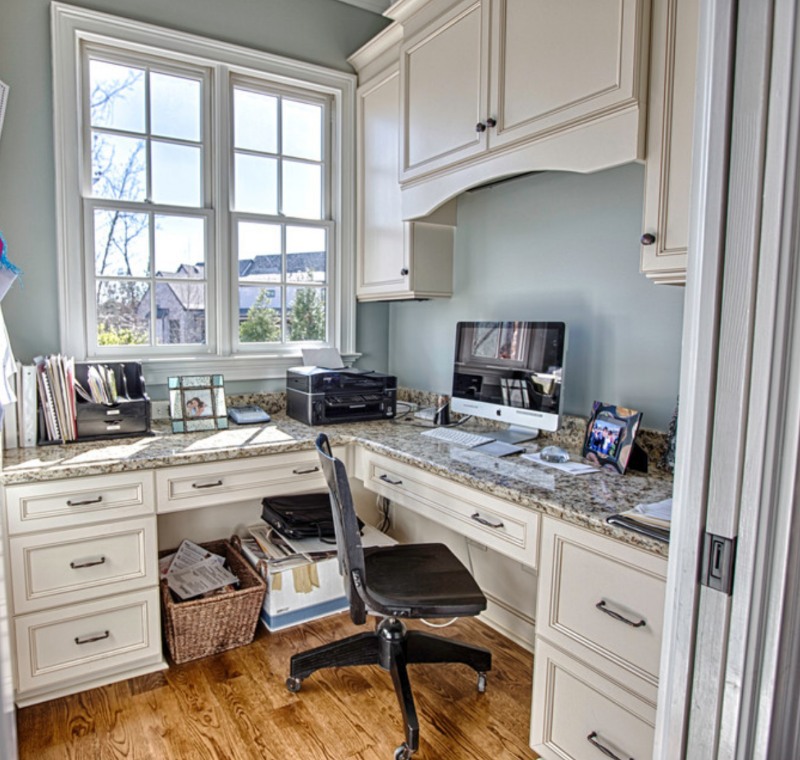 Create a similar look with MSI's Patagonia (Photo Credit: Houzz)
Patagonia Granite comes from Brazil, possessing a combo of enticing patterns unlike anything else ever seen. A blend of varied espresso tones and creamy white swirl harmoniously in an entrancing pattern. Sleek, modern, with an ability to transform a home office into so much more, this granite arrangement proves to be a premier option for those valuing natural stone and a unique design.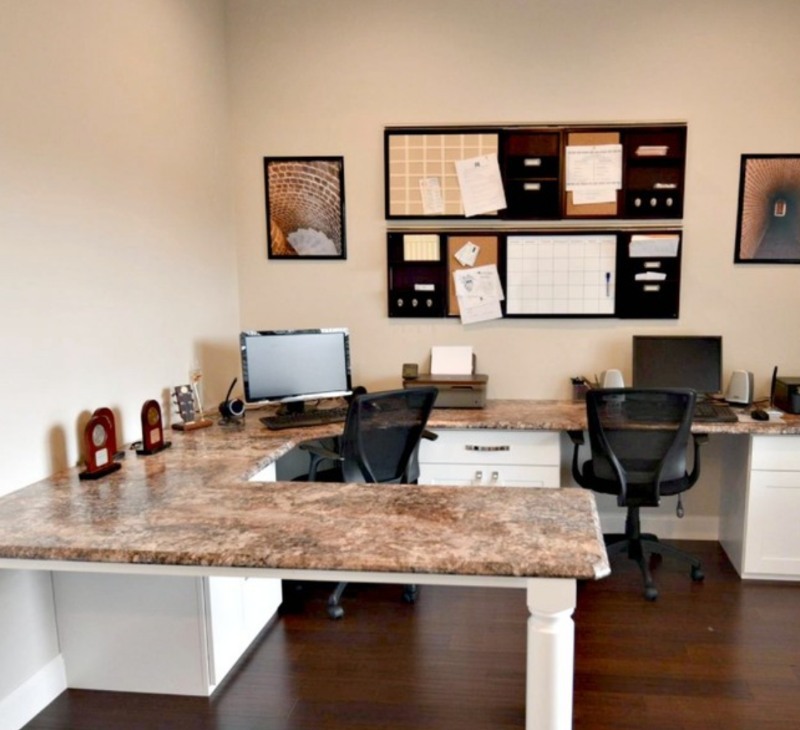 Create a similar look with MSI's Azurite (Photo Credit: Houzz)
Azurite Granite is another Brazilian granite counter with rich blues and creams and darker veining for a refined juxtaposition. Scientists who study color claim that blue represents intellectualism, as well as trust, logic, communication, and efficiency. Naturally, Azure Granite's exceptional pattern and blue undertones would be a great fit for any office environment given those bonus qualities!
In addition to the inherent value of MSI's vibrant granite color designs, the good news for those deciding on these for office spaces is that they are easy to clean. Granite countertops possess a particular presence of gravitas and professionalism, so if you work from a home office, these distinct designs can help your workspace be taken seriously. Take some time to explore the granite colors MSI has to offer and consider transforming your desktop with the natural warmth and character that granite provides.
Red More about Granite Countertops
5 Unbelievably Beautiful Granite Kitchen Countertops from Nature
Perfect Granite Countertops to Balance Dark Kitchen Cabinets
5 Natural Granite Countertops for Ultimate Luxury
Granite Combinations That Go Together Hand-in-Glove
READ MORE ABOUT GRANITE COUNTERTOPS
Is Sealing Granite Countertops Really Necessary?
Look-Alike Granite Countertops In Easy-Care Quartz
Natural Adaptability: New Venetian Gold Granite