Creating The Perfect Pair With Your Backsplash And Granite Countertop
March 30, 2017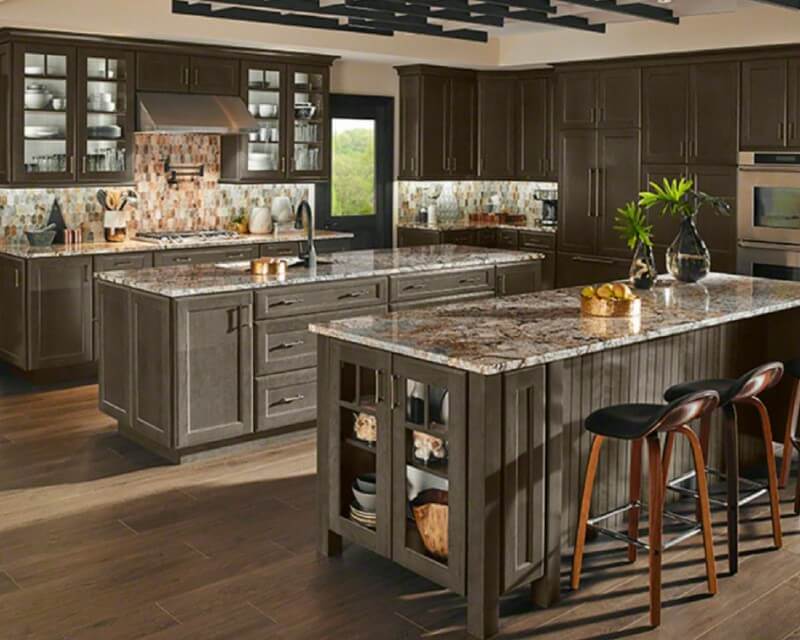 Peanut butter and jelly… peas and carrots… mac 'n' cheese… some combinations just belong together, enhancing one another's best qualities, creating a product even greater than the sum of its parts. MSI's most popular granite countertop pairings work just this way, the countertop and backsplash combining to create a stunning kitchen design.
What makes these pairings complementary? It could be the same color scheme interpreted in a different pattern, such as the contrast of flowing granite veins and linear mosaics. Perhaps it's the seamless transition created by the reflection of both granite's sheen and glass tile's dimensional polish. Or maybe it "just works." Here are some of our favorite combos.
Black Forest & White Carrara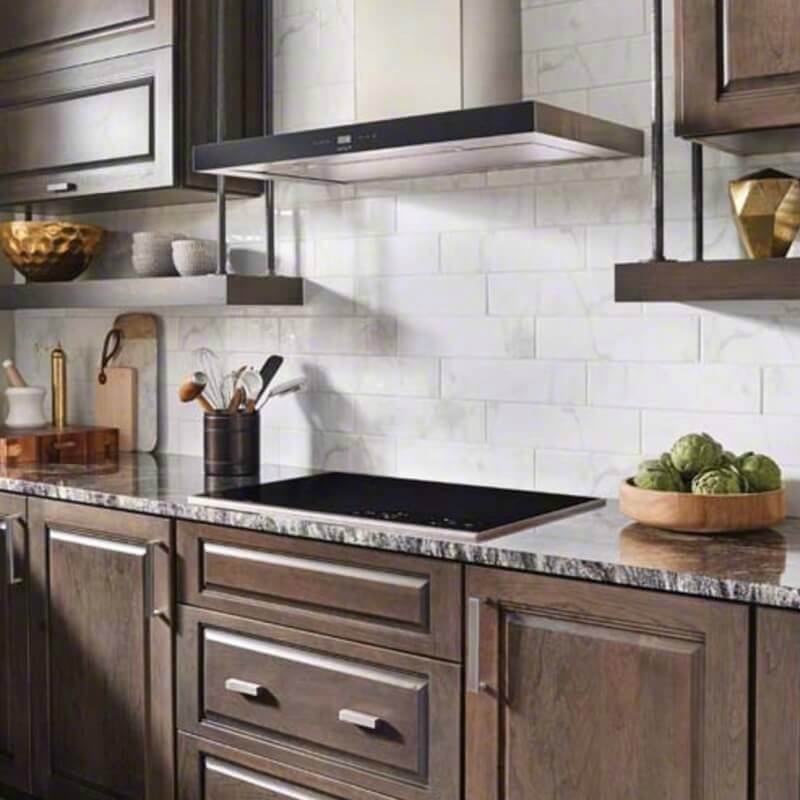 Featured: Black Forest Granite and White Carrara Subway
The timeless combination of black, gray, and white is shown in this kitchen scene, which features a Black Forest Granite countertop and White Carrara Subway Tile in the backsplash.
The subtle gray veining of the backsplash tile does not clash or compete with the granite's dramatic patterning, but rather enhances the white veining. The tile is inkjet-printed ceramic, and thanks to modern technology it's extremely hard to distinguish from real marble – except in your renovation budget.
Caravelas Gold & Taos Picket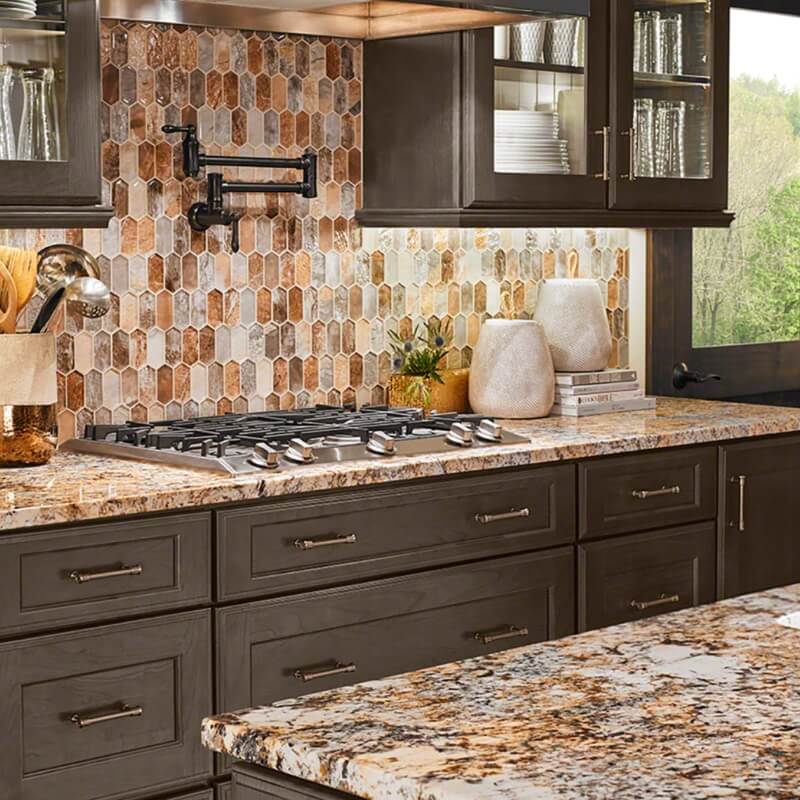 Featured: Caravelas Gold Granite and Taos Picket Mosaic
Containing nearly identical shades of brown, beige, gray, and white, the combo of Caravelas Gold Granite and Taos Picket Glass Tile Mosaic is a designer's dream. The dramatic patterning of the granite countertop demands an equally bold backsplash, and with the eye-catching picket pattern, this mosaic – with reflective depth and dimension – stands up to the task. The neutral shades of both are easy to match with cabinetry, furniture, and appliances.
Blue Flower & Keystone Blend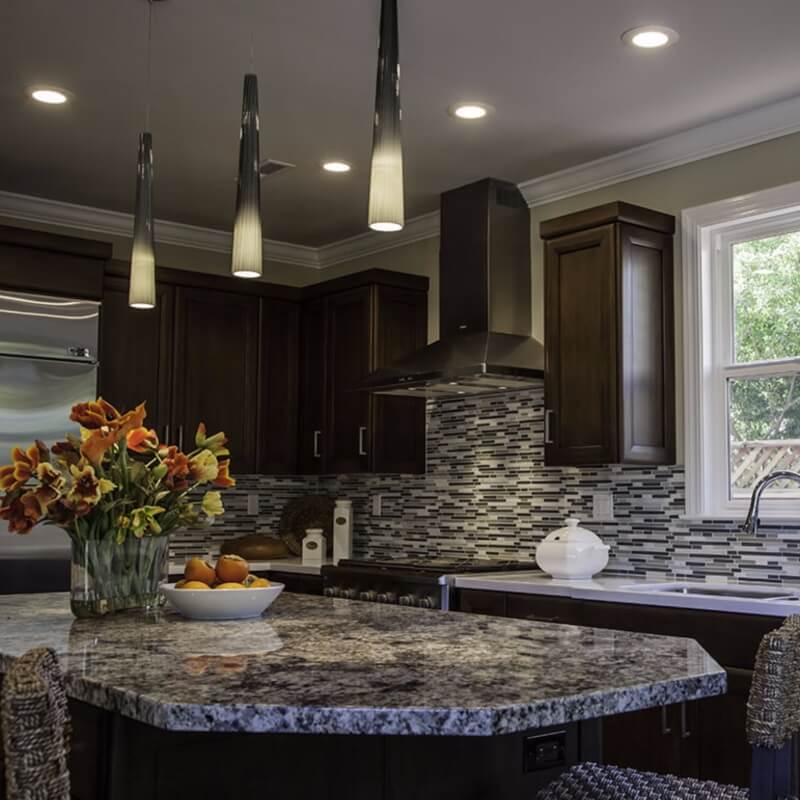 Featured: Blue Flower Granite and Keystone Blend Interlocking Mosaic
Blue Flower Granite features dramatic blue-gray swirls and crystals with accents of darker gray and pale white. This granite countertop easily becomes the focal point of the room in this gorgeous kitchen island.
In similar shades of pale- and blue-gray, Keystone Blend Interlocking Mosaic blends glass and natural marble. The combo might be overwhelming side-by-side, but with a bit of space between and plenty of solid-colored elements such as the cabinetry, painted wall, and solid white countertops, the effect is majestic.
Juparana Delicatus & Honey Caramel Onyx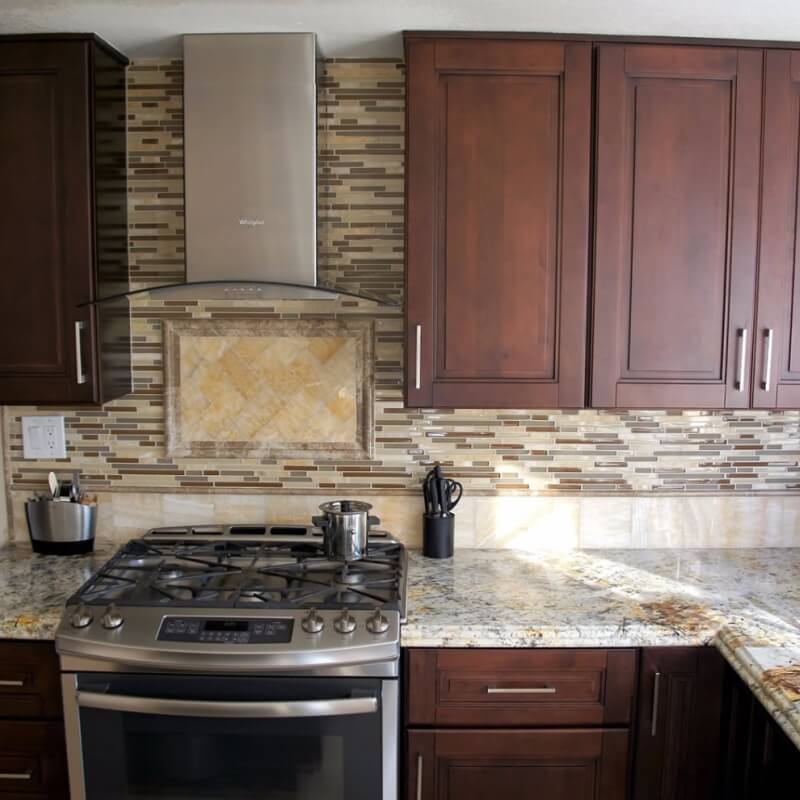 Featured: Juparana Delicatus Granite and Honey Caramel Onyx Interlocking Mosaic
High in contrast, Juparana Delicatus Granite features bold chunks and swirls of deep brown against a white background. Solid-colored surrounding elements are safe, but for a true "wow" factor, we love it paired with Honey Caramel Onyx Interlocking Mosaic Tile, a combo of glass and natural onyx.
As shown here, there's a lot going on, but it's easy to tone down with just a strip of subtly-patterned molding in between. Dark cabinetry completes the sophisticated design to perfection.
Brown Antique & Treasure Trail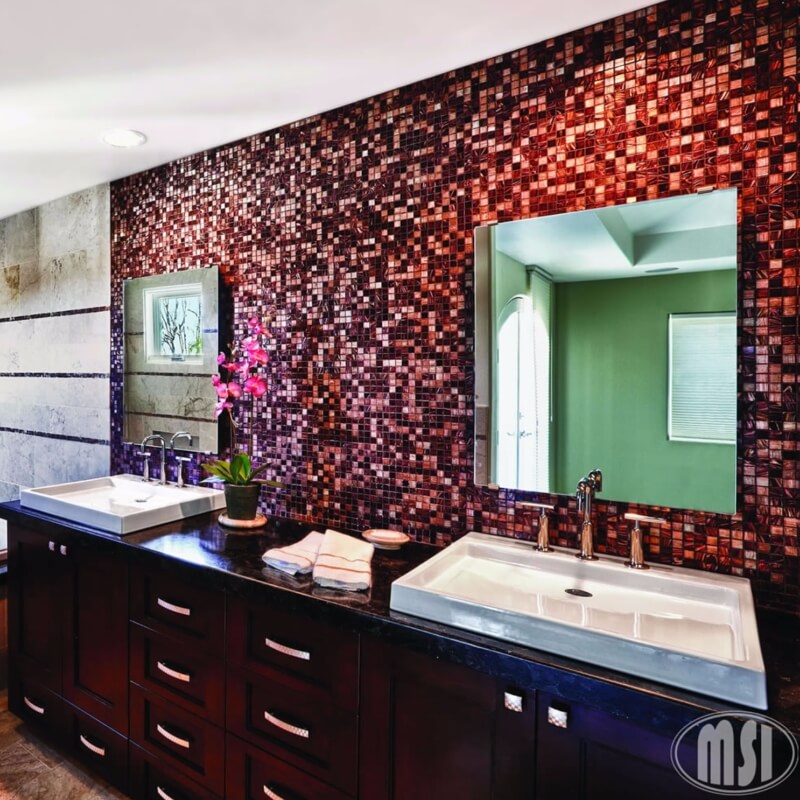 Featured: Brown Antique Granite and Treasure Trail Mosaic
Treasure Trail Mosaic backsplash tile is a bold element in this bathroom design. Its 2" square glass tiles have an iridescent sheen, in addition to the linear veins ranging from pale cream to dark brown. A high-variation countertop may be too much, even for this large space – but the subtle patterning of this antique brown granite countertop adds just the right amount of dimension.
Brown Antique Granite features a deep brown background with flecks of white and gray quartz crystal, and is shown here with a high-polish finish atop complementary dark wood cabinetry.
Assembling the perfect combo of backsplash and countertop is just like creating a high-fashion clothing ensemble. You'll need colors that complement each other, contrasting textures and eye-catching patterns in balanced proportions. We hope these featured combos will inspire you to try out some pairings of your own.
READ MORE ABOUT GRANITE COUNTERTOPS
Can A Granite Countertop Withstand the Great Outdoors?
Can You Use More Than One Granite Color For Your Kitchen Countertops?
Choosing the Right Edge For Your Granite Countertop
Color Crush On White & Gray Countertops
READ MORE ABOUT MSI BACKSPLASH TILE
7 Granite Slab Backsplashes For An Inspired Kitchen Design
The Progression Of Kitchen Backsplashes
The Right Way To Install A Metal Mosaic Backsplash Tile
Yes! The Right Backsplash Tile Can Completely Transform A Room