Color Crush On White & Gray Countertops
June 29, 2016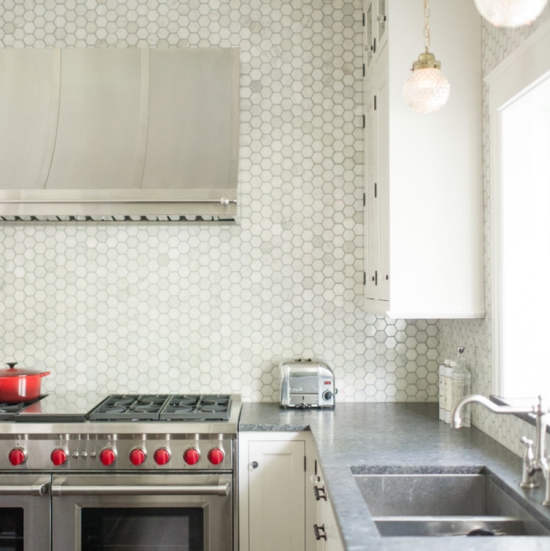 Craving a new countertop that evokes oohs and ahhs but doesn't totally steal the show? One that doesn't feel either too quiet or too loud? If so, white and gray veined granite countertops might be a perfect choice for you! Unlike strictly solid countertops, which can easily fade into the background in a kitchen with many beautiful surfaces, veined countertops can offer just the right amount of calming color and attention-grabbing dimension. Plus, with a variety of tones and pattern, ranging from light to dark and from heavily veined to subtly speckled, veined granite pairs nicely with almost any kitchen style.
To help you get inspired, here are five of our favorite white and gray veined granite countertops, plus ideas for equally impressive surrounding design details to complete the look.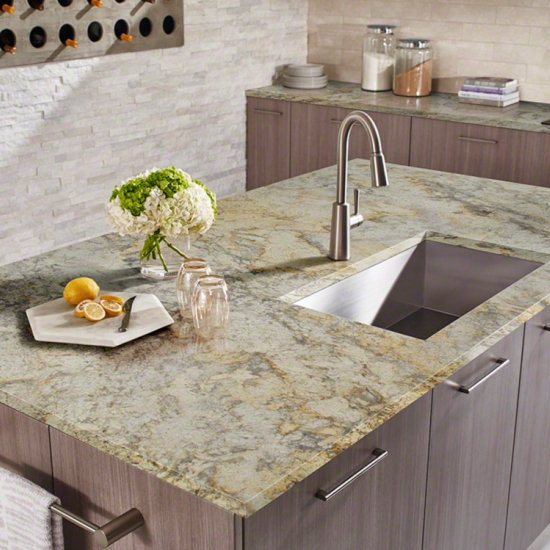 Featured: Aspen White Granite
1. The Earthy Look Do you love a natural color palette that is in tune with the great outdoors? If so, chances are you lean towards warmer tones. A white and gray granite with warm gold veins is the best of both indoor and outdoor worlds. Craving a forest or mountain feel with a bit of an edge? Pair warm granite counters with flat-faced wood cabinets for a style that feels organically modern, as pictured above. Brushed nickel hardware adds a contemporary flair that helps complete this look. Countertop to try: Aspen White.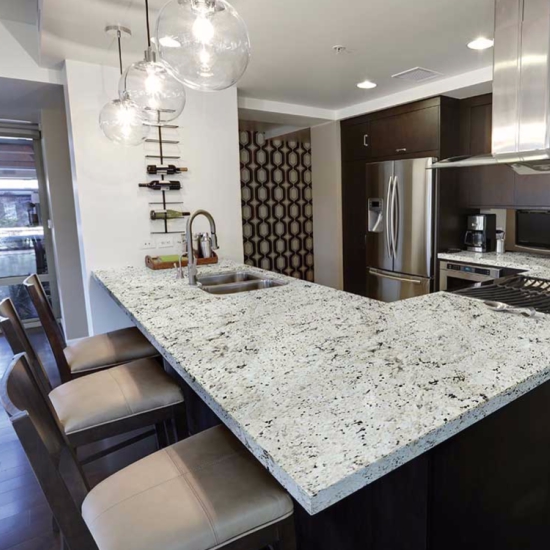 Featured: Snowfall Granite
2. The Contemporary Look Black and white palettes are currently all the rage and for good reason. This trend, which often contrasts bright whites with dramatic blacks, feels modern and fresh. It looks especially great in a kitchen with stainless steel appliances. When searching for granite counters that fit the bill, keep an eye out for a crisp white base and dark contrasting flecks with tones of ebony and charcoal. Dark cabinetry pairs well with this style, grounding the space and offering a neutral place for the eye to rest. Countertop to try: Snowfall.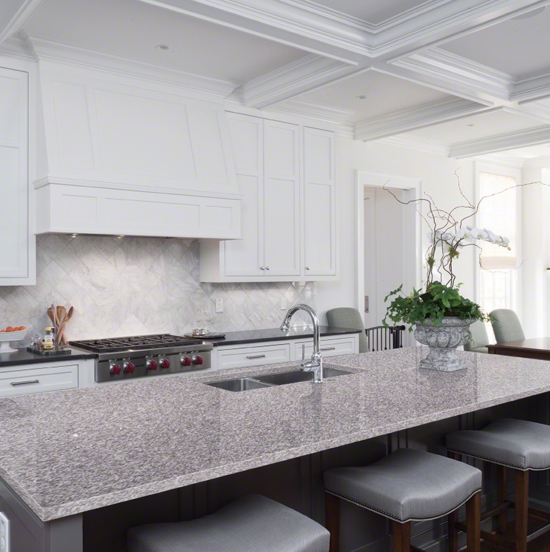 Featured: Jasmine White Granite
3. The Calming Look Do you prefer subdued patterns? Opt for granite with fewer contrasting tones. This quieter look is especially fitting for transitional kitchen styles that sit on that sweet spot between traditional and modern. To lighten up the space, pair the countertop with soft white cabinets and a Carrara marble backsplash that echoes the gray tones of the granite countertop, as shown above. Countertop to try: Jasmine White.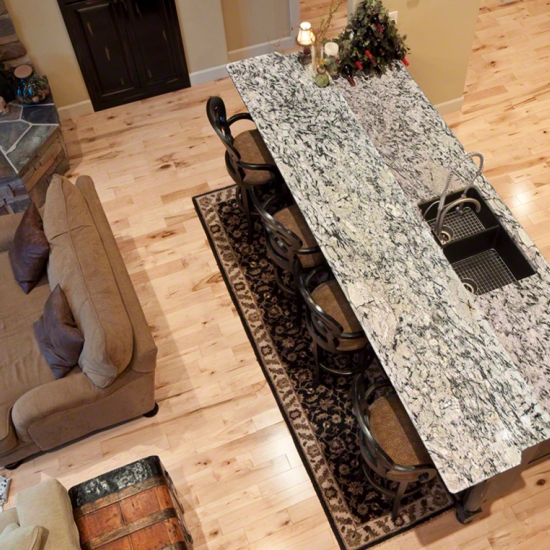 Featured: Ice Blue Granite
4. The Dramatic Look Another favorite for nature lovers is a dramatic granite slab that looks cut straight out of Yosemite. This type of design drama works especially well in large, open floor plan kitchens where intriguing design elements are needed to define the room. Pair this granite with natural woods for a rustic look, and be sure to subdue other surface spaces like backsplashes and walls to balance out the drama. Countertop to try: Ice Blue.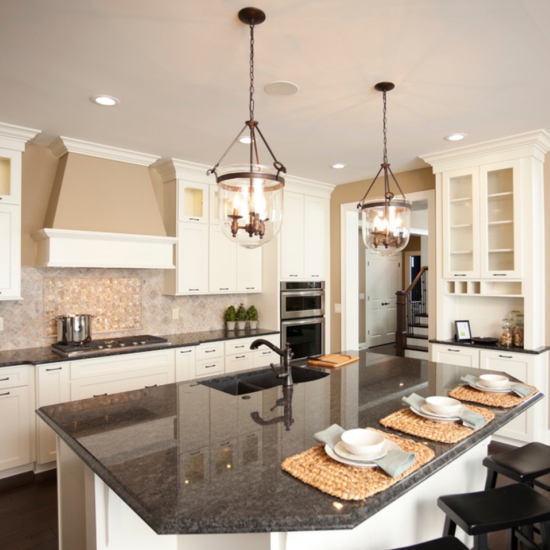 Featured: Ganache Granite (image source)
5. The Sophisticated Look There's something particularly pretty about mid-tone grays, which fall smack dab in the middle between black and white. White, creams and black accents all look equally at home in your kitchen when artfully placed next to this gorgeous granite color. Sprinkle in a few black accents, like the kitchen stools above, to give a bold contrast. Pair with serene creamy white cabinets to add a dose of sophistication and to lighten up the space. Countertop to try: Ganache.
READ MORE ABOUT GRANITE COUNTERTOPS
Can A Granite Countertop Withstand the Great Outdoors?
Can You Use More Than One Granite Color For Your Kitchen Countertops?
Choosing the Right Edge For Your Granite Countertop
Creating the Perfect Pair with Your Backsplash And Granite Countertop