Tips From The Trade: Are There Different Finishes Available For Quartz Counters?
May 02, 2018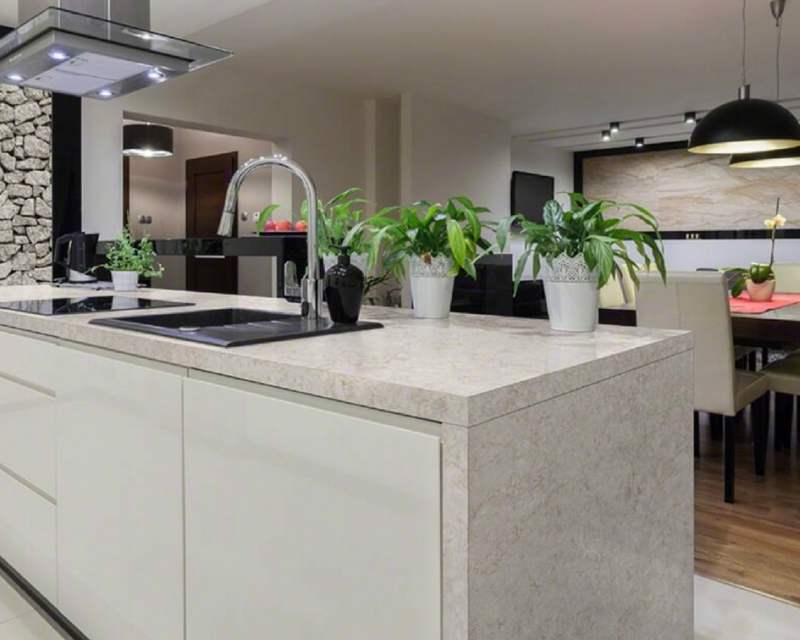 Polished finishes on countertops of any material have taken center stage for a long time. It's not surprising, because that glossy finish on quartz counters can look stunning in many applications. However, there are two countertop finish newcomers turning heads these days—matte finish and concrete finish.
MSI recently introduced these finishes for select colors in its modern quartz collection, and the trend has taken off. The question is, is a fresh finish right for your home? Let us help you decide.
Unlike a polished finish, a matte finish does not reflect light. Since contemporary kitchens and bathrooms often already have plenty of light sources—overhead lights, task lights, and even under-counter lights—this non-reflective finish may be easier on the eyes.
The softness of a matte finish also creates a pleasing contrast to the shine of stainless steel appliances, glossy backsplash tile, and other textures. Matte finish, called "honed" when applied to other materials such as granite, brings out a surface color that appears darker than it would with a polished finish.
Cashmere Oro Quartz
Cashmere Oro is one of our most popular quartz countertops available in a matte finish. Its soft, off-white color features subtle veining and provides a clean, minimalistic look that won't compete with other decorative elements. Here, it lends serenity to a modern kitchen with cool elements such as glacial glass tile, bright overhead lighting, and stainless steel appliances and accents.
Calacatta Verona Quartz
Calacatta Verona is a classic white quartz that looks like marble, its natural-looking pale ivory elegantly veined in gray. Although its light color gives it a natural sheen, the sun-kissed surface blends well with the warm, butter-hued walls and natural accents. It may look like natural stone, but unlike real marble, these quartz counters need no sealing and are easy to maintain.
Fossil Gray Quartz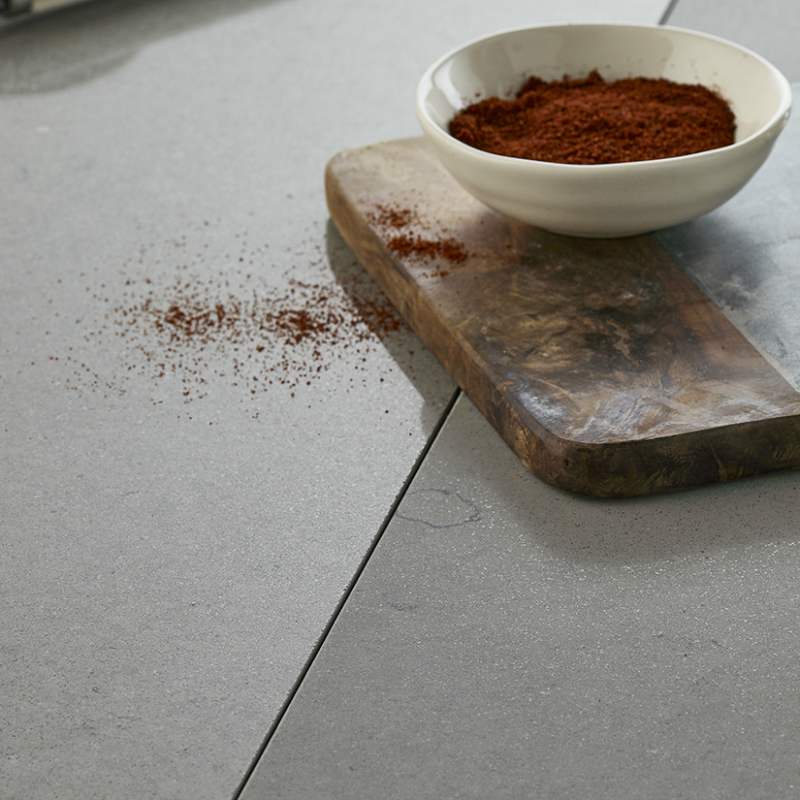 Featured: Fossil Gray Quartz
Fossil Gray is another MSI quartz available with a soft, matte finish. It offers a soothing, mid-tone gray, highlighted with subtle specks and veining. Its adaptability makes it a solid choice for both traditional and contemporary décor, the matte finish enhancing its resemblance to natural stone.
Like matte finish quartz, a concrete finish counter does not reflect light. However, in addition, concrete finishes have a soft, velvety texture that many find appealing. Similar to a matte finish, a concrete finish will slightly alter the color of the quartz as compared to the classic polished finish.
This finish is also referred to as "brushed" when referring to granite. However, while natural stone surfaces in this finish require more frequent sealing, quartz counters—even with a concrete finish—never need sealing to maintain their water- and stain-resistance.
Babylon Gray Quartz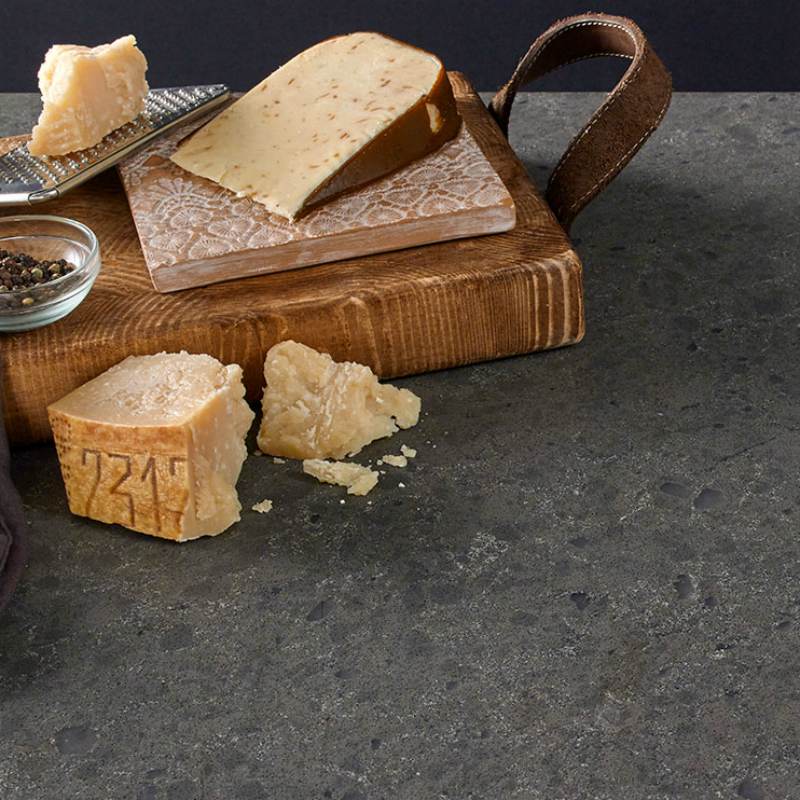 Featured: Babylon Gray Quartz
Babylon Gray quartz is dark gray with complementary tonal specks and splotches that add depth. With a trendy industrial concrete finish, it's a perfect fit for a contemporary countertop, bar, kitchen center island, or even outdoor living space.
Midnight Majesty Quartz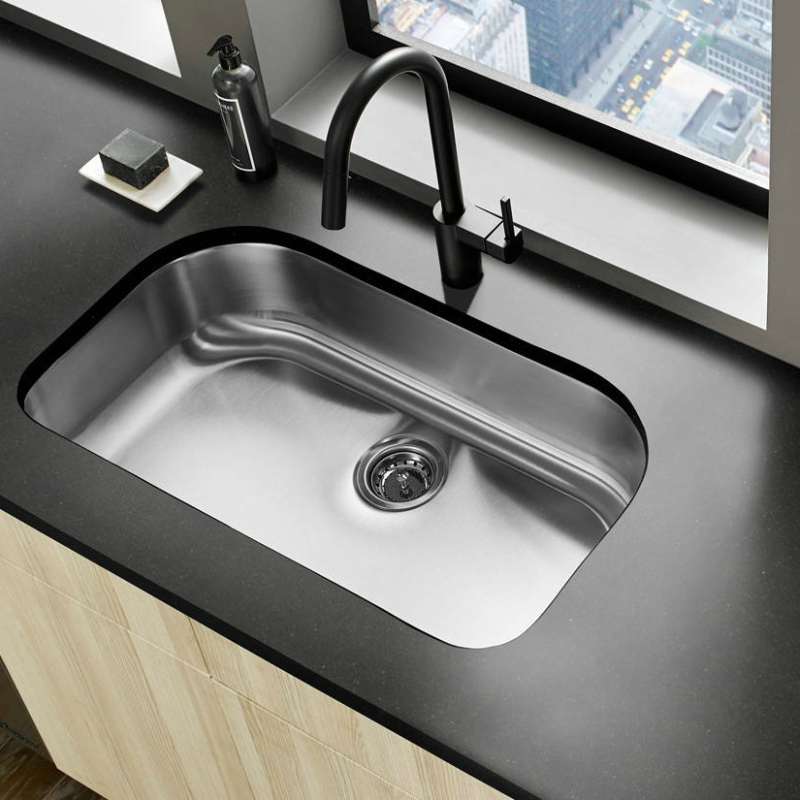 Featured: Midnight Majesty Quartz
Midnight Majesty is a study in modern black with white speckles, like a starry night sky. Here, the surface's concrete finish is masculine and elegant, anchoring the high-end, opulent look in this high-rise, with its large windows and dizzying city views.
Aside from the gorgeous new finish options, there are many other reasons to love quartz countertops. One huge benefit is the availability of pre-fab slabs, which may save you a bundle of money on your new countertop. Pre-fabs are made in many popular sizes and have pre-cut openings for sinks and other standard features. However, if you prefer a unique look, you may want to consider custom edging.
As with natural stone, quartz countertops can be given beveled, ogee, rounded, and other special edge treatments to suit your personal preferences. But perhaps the best reason of all to choose quartz is its durability and ease of care. Unlike natural stone such as marble, granite, or quartzite, MSI premium quartz never needs sealing. It is nonporous, resisting stains and spills, and needs only a quick wipe with a mild cleanser to keep it both hygienic and beautiful. It is tough enough to stand up to many years of busy family activities and meal preparation, resisting damage from scratches and chips.
Visit MSI's web gallery to see all our many quartz countertop colors, and get started on your own design with our visualizer tools . The various quartz finishes, along with the many different patterns, will allow you to create a look that's all your own.
More About Quartz Countertops
Create A Bold Look With 5 Dramatic-Veining Marble Look Quartz Countertop Colors
Modern Quartz Countertops Offer a Sophisticated Limestone Look Without the Worry
7 Reasons Why Homeowners Are Choosing Quartz Countertops
Which Quartz Counters Have the Best Veining?