The Best Sealing Options For Marble Countertops
February 03, 2019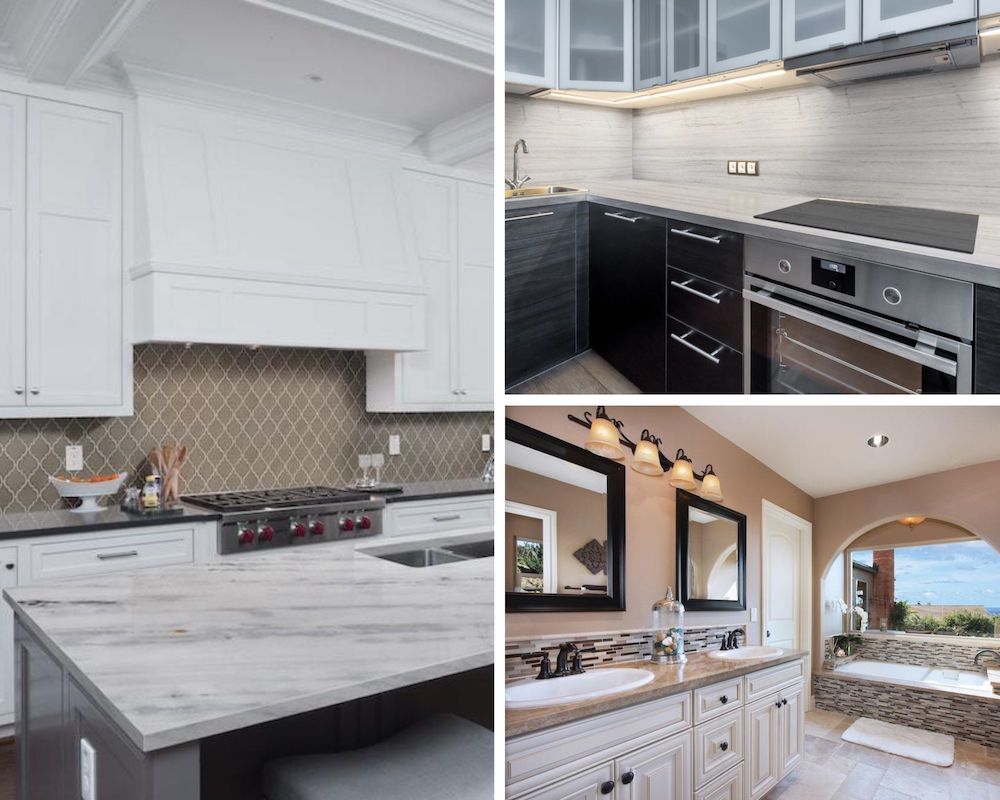 Marble is a high-end, natural material that makes for a dreamy surface. Yet, even though the calcium-based stone is strong enough for a countertop, it can also be soft and porous. This means that marble countertops absorb liquids that could leave stains, and to help minimize damage, they need to be sealed. With this in mind, you'll want to learn more about how sealers work and which ones are the best options for your marvelous marble.
Why Are Marble Sealers Necessary?
The right maintenance of marble counters helps preserve the stone's beauty, integrity, and value. Using a sealer is part of a system of care for any marble because the porosity makes it more prone to staining.
A sealer doesn't prevent stains from happening in the first place. Instead, it helps buy time from a stain settling into the stone's soft surface. Some sealers also offer some level of protection from etching, which results from acid reacting with the calcium carbonate and causes the surface to dull or etch like a scratch in the stone.
Sealing marble regularly is especially important for countertops because kitchens and bathroom installs typically include a sink, which means marble will frequently come in contact with water. Additionally, common things like coffee, fruit juice, oil, lotion, lipstick, and other cosmetics can penetrate into the pores of the stone if not wiped up quickly enough.
The water absorption rate is also affected by the stone's finish. Polished marble won't absorb as much liquids as unfinished marble because it had a lot of the pores removed during the finishing process, while honed marble will absorb more than polished marble but less than unfinished marble.
What Is a Marble Sealer?
Marble sealers are impregnable sealers that go below the surface and absorb into the stone. They are comprised of a liquid-based solvent, which could be water or chemical based, and a solid resin. The solvent is what penetrates the natural stone's pores, and once the solvent evaporates, the solid resin is left behind to fill up the spaces between the pores. Water-based sealers are more popular since they give off fewer fumes while drying and curing.
It's only job is to go beneath the surface in order to help prevent stains. However, it's important to note that an impregnable sealer won't completely seal the marble countertop, polish or shine the surface, protect it from wear and tear, or offer any etching resistance against anything acidic.
How Do They Work on Marble Countertops?
No matter if you have polished marble or honed marble, your countertop will soak up every bit of the sealer, so you'll need to apply it multiple times in order to get the maximum protection possible. The successful outcome of your sealed stone will heavily rely on the dry times suggested by the manufacturer, which is why it's so important to wait the right amount of time between coats.
Before applying a marble sealer, first open windows or turn on a fan so that there will be plenty of ventilation to help with any smells. Then, use a cleaner specifically made for marble by spraying the countertop and then buffing it dry using a soft cloth. A clean surface will get rid of any impurities that might mess up the sealing process. Next, pour some of the marble sealer into a container that is wide enough to fit a foam paintbrush. Paint all areas of the marble countertop using overlapping strokes, and let it sit for approximately 10 minutes. Buff away any excess sealer by rubbing the surface with a cloth using a circular motion, and continue to do so until any leftover sealer is completely gone.
When it's properly sealed, a marble countertop will show beads of water when wet. You'll also know that it's time to reseal your countertop again when water stops beading up on your marble surface.
Also, remember that cleaners, especially ones with harsh ingredients, will degrade an impregnating sealer and shorten the lifespan and effectiveness of the sealer. They shouldn't change the color of your marble either, but it's always wise to test the stone first before the first application in order to make sure that it won't darken it.
What Kind of Sealers Are Available?
The best option is to go with a water-based impregnating sealer. However, there are spray-on sealers that are quick and convenient, but they are generally not as effective as liquid application sealers. There are also sealers that are made specifically for polished marble and honed marble. Some of the popular brands include DuPont, Miracle Sealants, and MB Stone Care.
Which Qualities of Sealers Are Best?
It's best to choose an impregnable sealer for marble slabs that have low or no VOCs (Volatile Organic Compounds). Other things to look for include non-staining, heat-resistance, and acid-resistance features. Since many choose marble for the kitchen, the sealer will also need to be NSF/ANSI 51-2012 compliant so that it's safe for contact with food. Also, a product that provides excellent oil resistance is a key feature for a kitchen install.
Look for a sealer with a manufacturer-backed warranty. Some higher-priced products come with warranties that include up to 20 years, but it might require an authorized installer to apply the sealant in order for the warranty to remain validated. Some manufacturers may offer a lesser warranty, such as two or five years, when you do it yourself.
Depending on the type, marble countertops can be a pricey investment, so it's even more important to follow the care and maintenance needed to make it last. Sealer can be an added shield against potential stains from various substances, and even more so when the right product is chosen and it's correctly applied.
But, whether you select a specific sealer for your type of marble or a general one, remember that your marble won't be stain-proof. While sealing your natural stone is part of the required maintenance, it's really not very difficult to do yourself or have a professional come every few years or even decades.
If you need more information about marble upkeep, we can help! Please chat online with our team, visit an MSI showroom near you, or contact an authorized MSI retailer in your area.