How Do Quartz Countertops Compare To Calacatta Marble?
January 04, 2019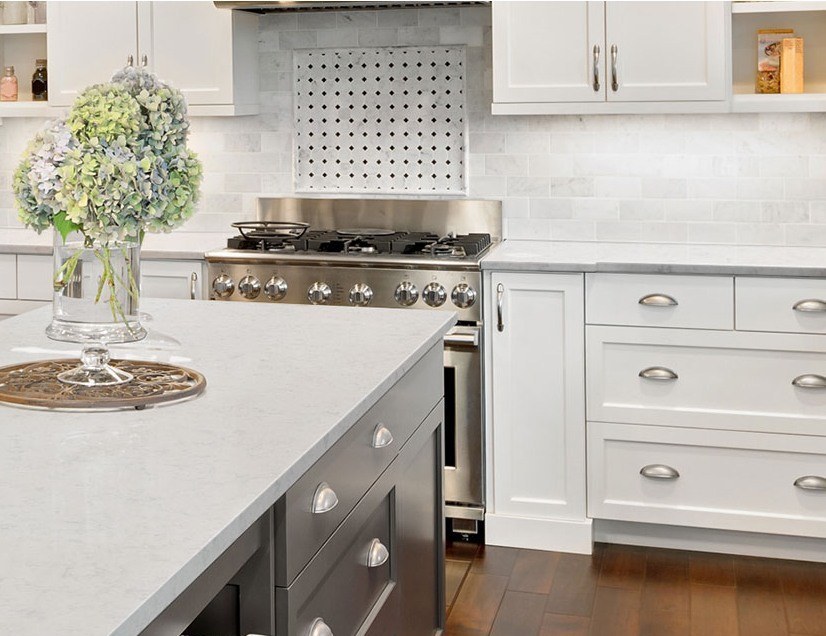 There's no doubt that marble is one of the most magnificent countertops available, as it gives a luxurious and elegant look to any kitchen or bathroom. And if you've been searching for Calacatta marble countertops online, then you've probably seen promotions for marble look quartz countertops as well. But can these man-made alternatives really provide the appearance and performance qualities similar to marble? Actually, quartz can offer the same classic look of Calacatta marble and so much more!
Hailed as one of the most desired stones in the world, Calacatta marble features a unique mix of bold veining in grays and golds across a crisp white background. Since it's a more rare marble than the common Carrara, the price reflects it as well. Or, you can opt for a more affordable alternative with quartz countertop products like Calacatta Classique. This engineered stone mimics the unique marble with its clean white background and striking gray through-body veining. It provides the same elegance and drama but without the high maintenance.
Marble countertops aren't ideal for every installation since the delicate stone requires a bit of cleaning and maintenance to keep it looking like new. That's especially true when it comes to a bright white marbles like Calacatta. The porous stone is prone to etching, staining, and showing watermarks, and acidic things like lemon, wine, and tomato juice will damage the soft surface. It also needs to be sealed and resealed on a regular basis. But with quartz that looks like marble, you don't have to worry about these maintenance woes because they come with almost no upkeep. The non-porous material features natural quartz strengthened by polymers and resins that make it stain and scratch resistant. It just takes some warm, soapy water to keep it clean, and you'll never ever have to reseal it, ever!
Calacatta marble is considered an enviable countertop, and it's admired for it's unique and natural pattern that only nature can create. The sophisticated surface also works well in very traditional to contemporary spaces. But that's also the case with marble look quartz. The man-made stone isn't just for modern rooms but can also be purchased for a wide variety of design styles. While it realistically imitates the distinct veining of Calacatta marble, quartz does come in the predictable patterns you see in showrooms or online samples. The consistency it comes with makes it easier to match up seams, unlike dealing with the random nature of marble that make those lines much more visible.
While these are just some of the popular reasons people choose Calacatta marble and the comparisons between the natural stone and its engineered doppelganger, you have to consider budget and lifestyle in addition to looks and maintenance. With busy families and working professionals, white quartz countertops make perfectly good sense as to why so many choose such a durable, low-maintenance countertop.