Check Out Our Hospitality Gallery For Hotel Flooring And Countertop Inspiration
April 27, 2022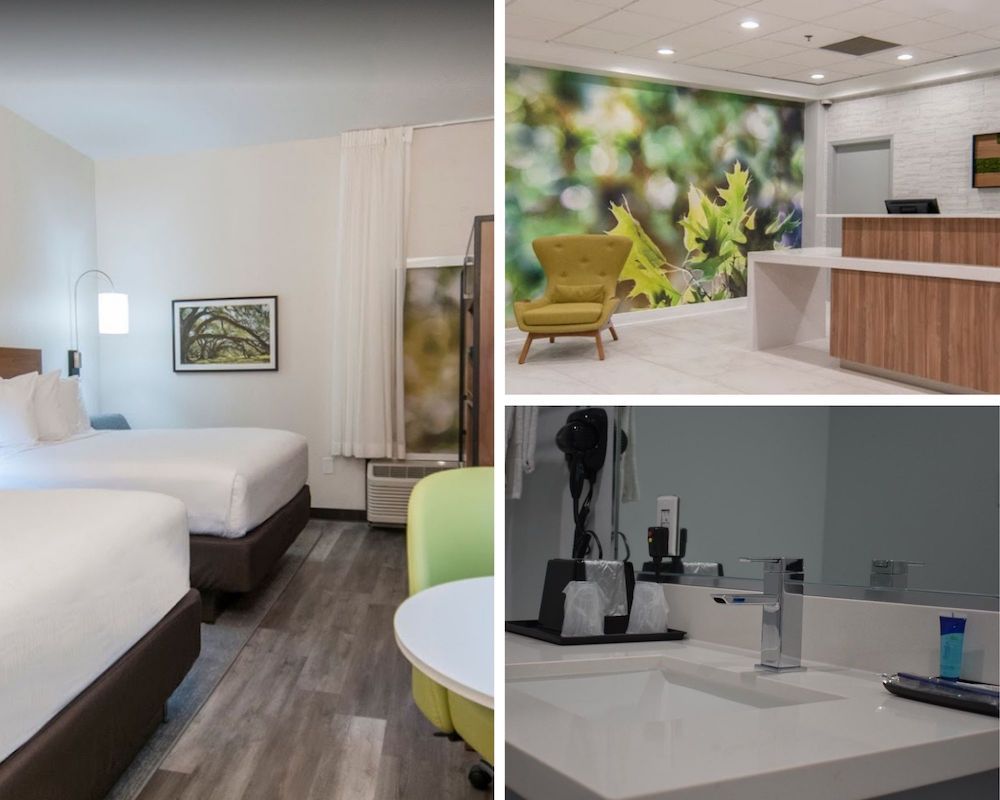 In the hospitality industry, first impressions are everything. From the second your guests enter the lobby until the moment they depart, you need to wow them to turn them into repeat customers. Once they return home, you want these guests to be post-vacation word-of-mouth ambassadors for your establishment. To accomplish this, it's essential to incorporate breathtaking hotel flooring and countertops throughout your hotel.

At the same time, you want premium surfaces that are affordable, durable, and easy to maintain. In the MSI Hospitality Gallery, we've assembled a vast collection of options that meet these criteria. There you can browse photos of these premium surfaces in awe-inspiring hotel settings. Read on to learn more about our best-in-class flooring and countertops and how their benefits go far beyond their irresistible looks.
QUARTZ COUNTERTOPS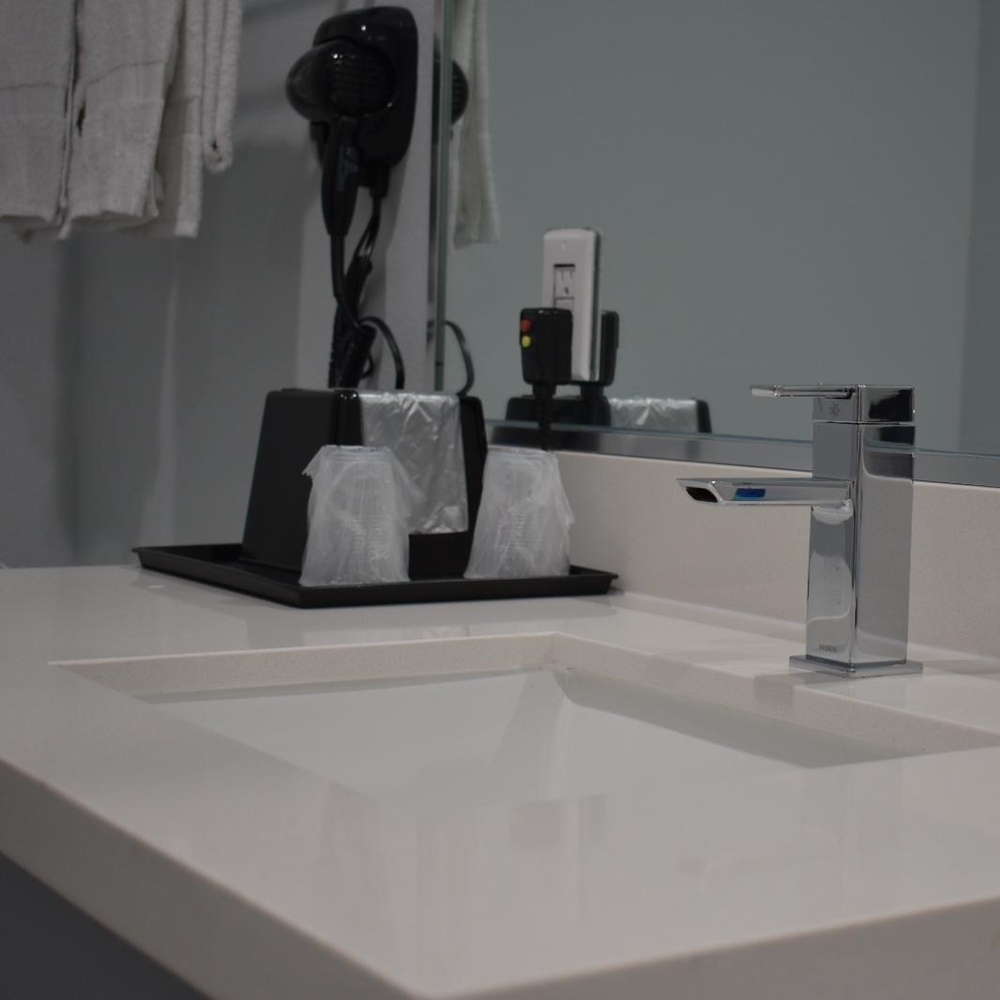 From the check-in counter to the hotel bar to the privacy of your guests' rooms, countertops are peppered throughout your establishment. Choosing beautiful and functional countertops is an easy way to upgrade the overall vibe of your hotel. When looking for the ideal countertops that meet your unique needs, a great place to start is our extensive collection of luxurious quartz countertops.
It's hard to go wrong with the Snow White Quartz vanity countertops pictured in this sleek bathroom scene from our Hospitality Gallery. After a long day traveling or sightseeing, these premium quartz countertops inform your guests that cleanliness, style, and comfort are of the utmost importance at your establishment.
The snow white background of this countertop speaks to a timeless style ideal for room designs from traditional to modern. They work well in bathrooms, entryways, and a wide array of other spaces in your hotel. And their use doesn't stop with countertops. Available in 2 cm and 3 cm slabs and prefabricated options, this white quartz is great for flooring, backsplashes, accent walls, showers, and more.

Pairing style with practicality, these premium countertops cost much less than the authentic stone they mimic so well. In addition to being stain-resistant and easy to install, they are highly durable and require little maintenance to keep them looking as great as the day they entered your hotel.
For further countertop inspiration, browse through the MSI Hospitality Gallery.
MARBLE COUNTERTOPS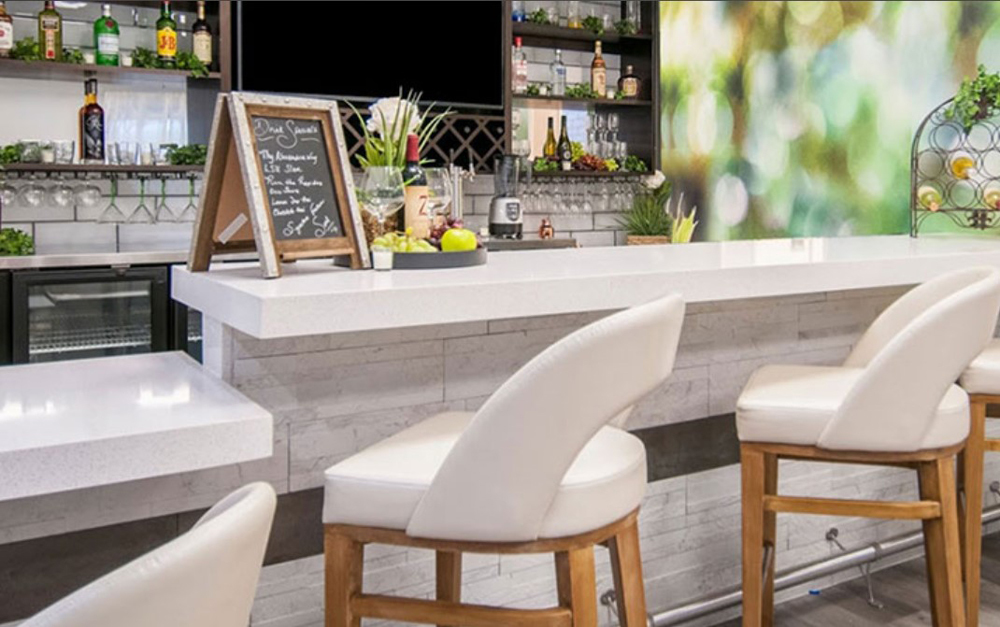 For thousands of years, people have used marble to elevate their spaces. It is timeless but always in style. It is elegant and represents status, wealth, and good taste. Today, marble is used throughout the hospitality industry in creative ways. And while it represents great wealth, it is no longer specific to the upper class. While today's marble countertops are more affordable, they deliver just as much or more luxury than the marble of bygone eras.
The White Carrara Marble countertop pictured in this bar setting from our Hospitality Gallery is exactly what you need to elevate any area of your hotel. Use it in your lobby bar to keep your guests, and their money, in your establishment rather than a watering hole down the street.

Carrara Marble is an iconic Italian marble that features shades of white and gray. It's a fascinating combination and can hold one's attention for hours. It's the type of premium surface that reveals a new pattern or another characteristic every time you return to it. The way it works with the white subway tile backsplash, white chairs, and other elements of this hotel bar create an enchanting and welcoming scene.


PORCELAIN FLOOR TILE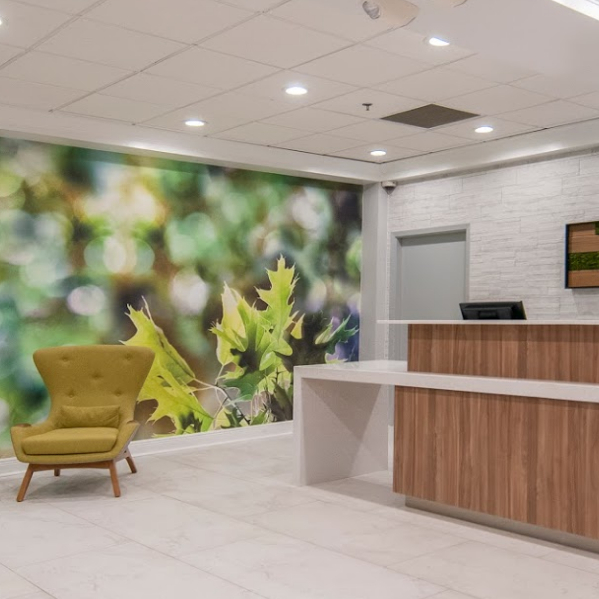 Porcelain floor tile is a wonderful choice for your hotel. Due to its extreme durability, it is ideal for high-traffic areas like hotel hallways, restaurants, and lobbies.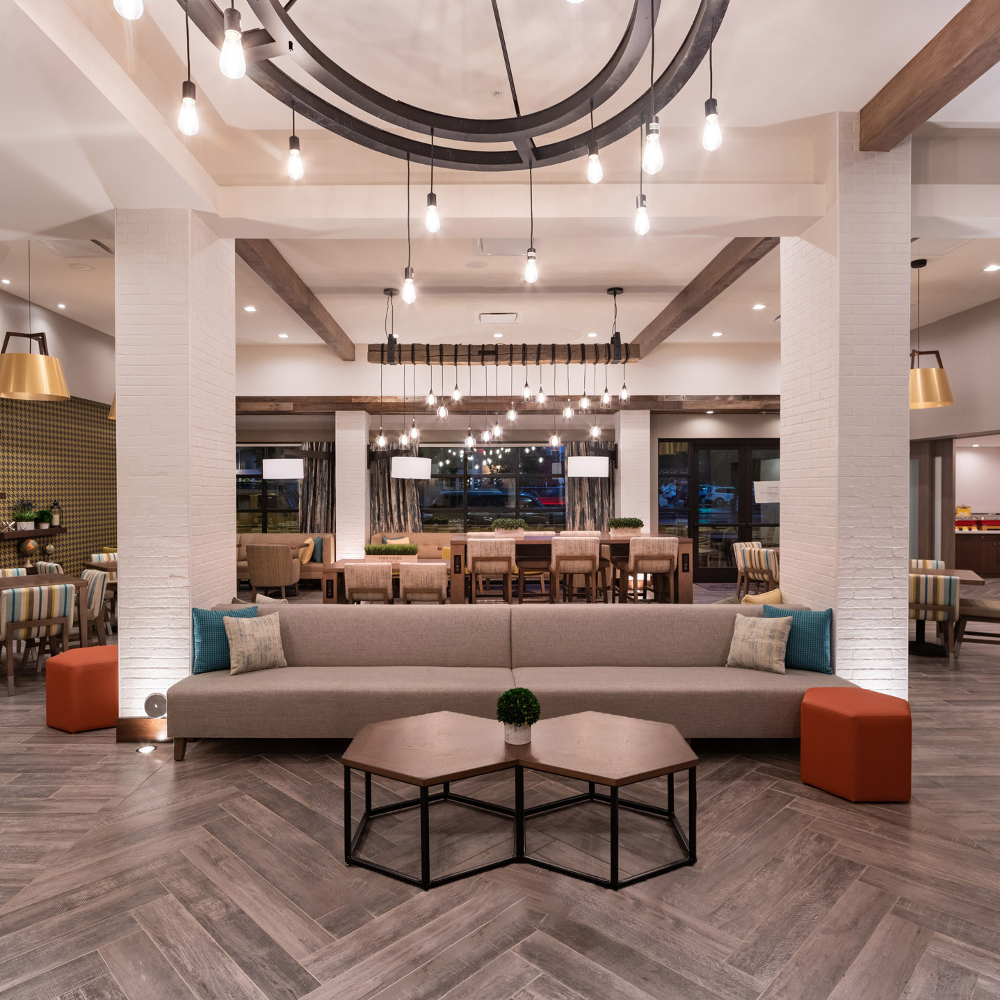 Take a look at the Antoni Gris Porcelain Wood Tile in this charming scene from our Hospitality Gallery. It delivers the sought-after look of authentic wood but without the headache of sealing and ongoing resealing. It costs much less and will far outlast the real thing. Its chic weathered gray color with detailed shading and graining is straight out of the dreams of even your most particular guest. It's easy to install, scratch and water-resistant, and works well for floors, backsplashes, countertops, and accent walls.
If you'd rather capture the look of natural stone in a porcelain floor tile, check out this stunning Praia Carrara Porcelain Tile in this lobby setting. This marble look tile mimics elegant white marble down to the finest detail. Its delicate gray veining and matte finish make it an ideal selection for an unforgettable first impression.
Praia Carrara provides all the benefits of a durable porcelain tile without any of the upkeep of authentic stone. In addition to flooring, you can use it for shower surrounds, accent walls, countertops, and any space you're looking to add high luxury. This particular tile is available in various sizes, from 2x2 to 12x24 to large format 24x48 tiles. For more inspiration, take a deep dive into our Hospitality Gallery.
LUXURY VINYL FLOORING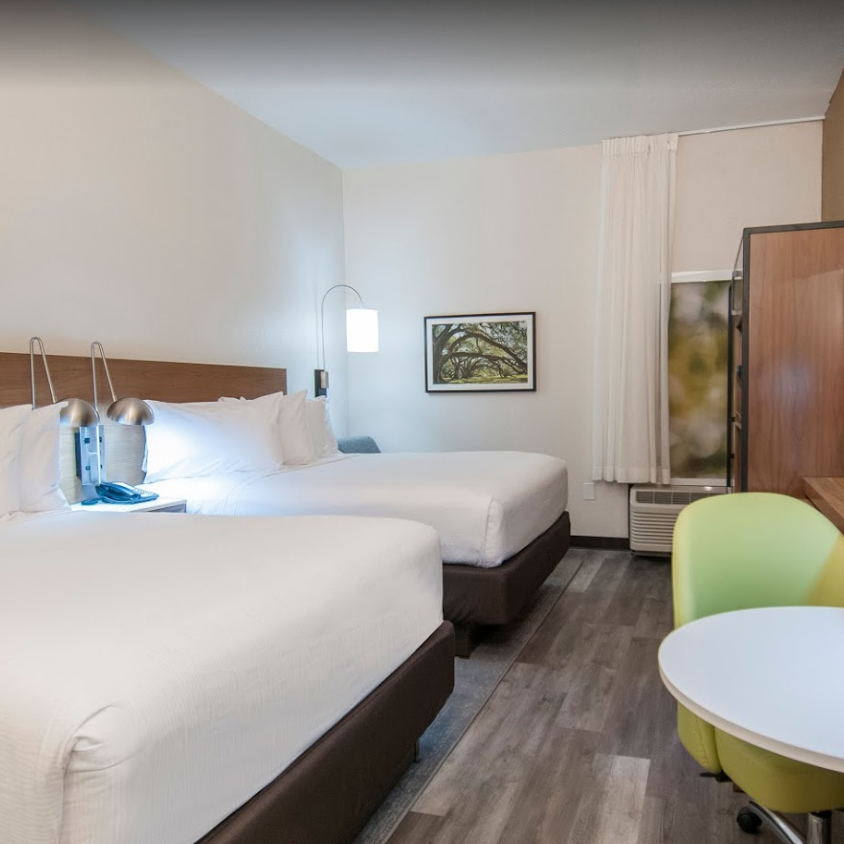 Luxury vinyl flooring is a leading choice for hotel owners, managers, and designers. Its ability to deliver the look of authentic stone or natural wood for a much lower price point is just part of its allure. Like many of the options we've covered today, luxury vinyl flooring is stain resistant and waterproof due to its non-porous nature. Often, it is installed with a multiple-layer underlayment that serves as a sound dampener. This is an excellent benefit for hotel owners since the last thing you want is sound traveling from one guest's room to another.
This picture from our Hospitality Gallery reveals how even a smaller hotel guest room can be lavish and welcoming with luxury vinyl tile like these Katella Ash Luxury Vinyl Planks. The planks use understated gray tones and knots and graining to capture the look of real hardwood. The difference is these planks don't require regular sealing, are easy to install, and stand up to the wear and tear of hotel life for decades.
When a guest visits your fine establishment for the first time, it may be your only chance to impress. With the right premium countertops and flooring, making a great first impression is a breeze. As previously mentioned, we encourage you to browse our Hospitality Gallery at your leisure to find the best fit for your hospitality needs.
READ MORE ABOUT HOTEL AND HOSPITALITY SURFACES:
Hotel Flooring And Countertops For the Perfect Hospitality Bar Design
Hotel Flooring: Which Luxury Floors Are the Easiest to Maintain In High Traffic Areas
Stylish And Durable Quartz Hotel Bathroom Countertops
5 Ways Hotel Designers Are Using Modern Quartz to Enhance Their Look
Learn More About Hotel Products From MSI
Hotel Flooring And Countertops For The Perfect Hospitality Bar Design
Check Out Our Hospitality Gallery For Hotel Flooring And Countertop Inspiration
Hotel Flooring And Design Trends For 2022 And Beyond!
5 Hotel Bathroom Countertop Design Ideas That Your Guests (And Housekeeping Staff) Will Love