7 White Granite Countertops For A Modern Look
September 13, 2021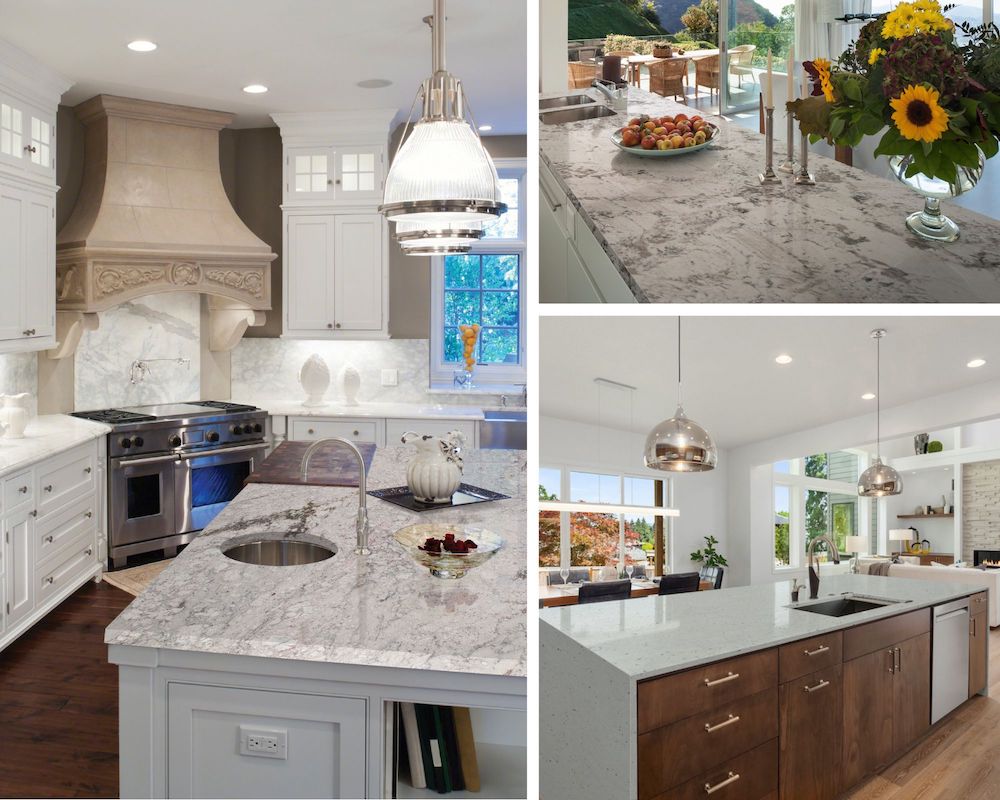 With an industry worth around $30 billion in the US, granite is one of the most popular countertop materials on the market. This makes sense when you consider that it's a durable 6-7 on the Mohs hardness scale. White granite countertops are therefore long-lasting and appealing for many years.
Today, we're going to take a look at some white granite counters styles that MSI has to offer. Read on to learn about seven timeless slab designs that you, your family, and your guests are sure to love.
Pitaya White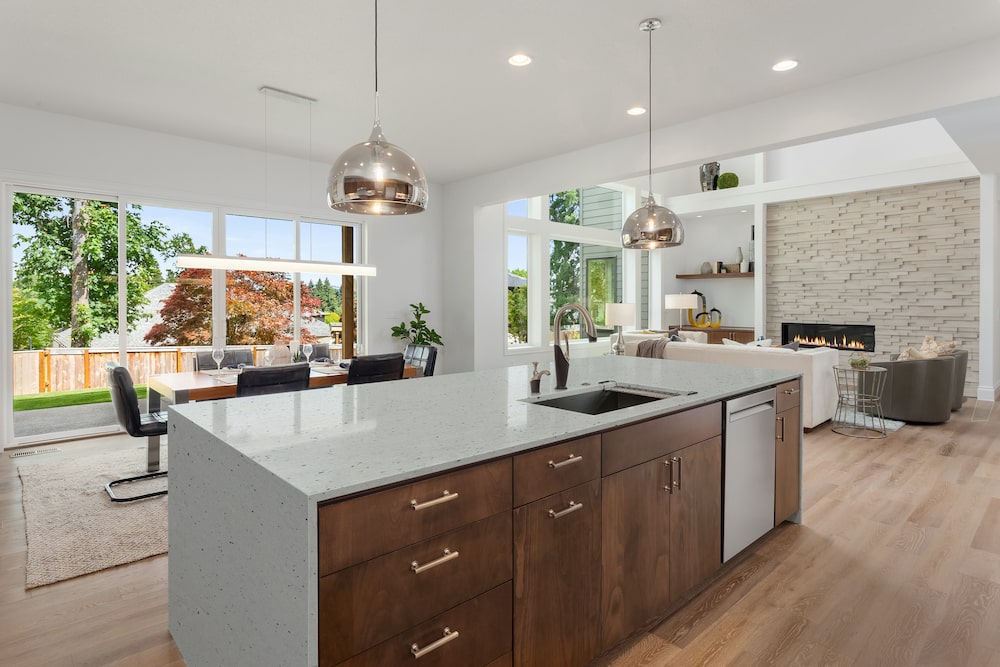 Pitaya White Granite Countertop
The first of our white granite colors is Pitaya White. Note that 'white granite' colors are not necessarily pure white but are usually mixed colors in gray or beige tones. In the case of Pitaya, the slab doesn't just have light gray accents but is also littered with appealing black freckles.
The dark speckles are an amazing way to keep your countertops interesting and unique. They also have brightly polished finishes so that the dots stand out under any type of lighting.
Colonial White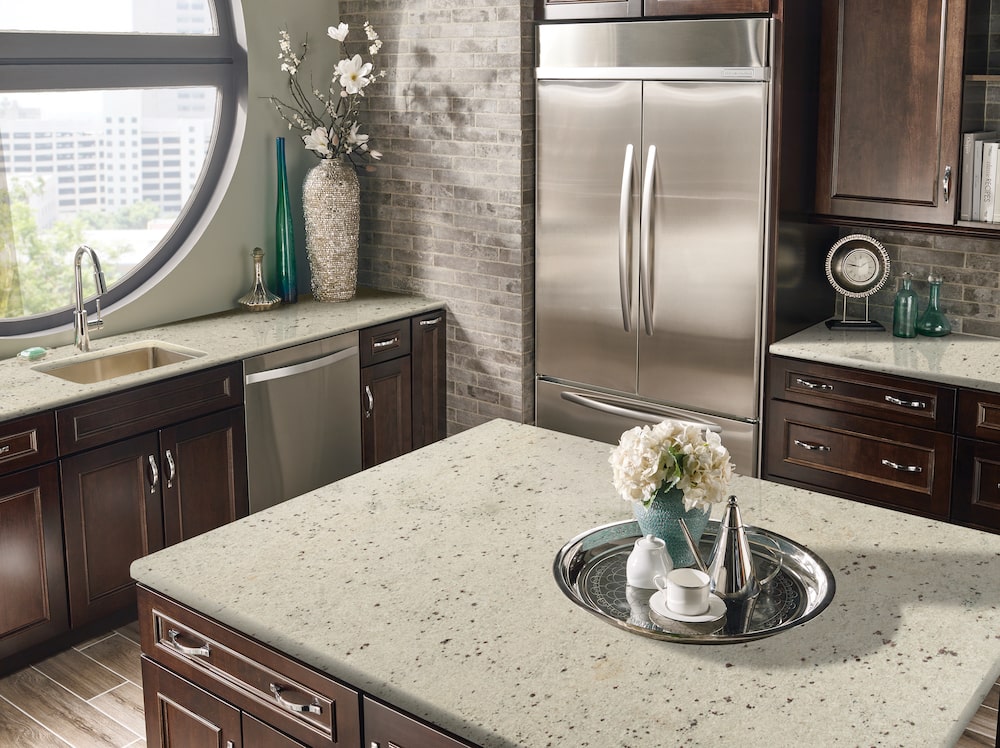 Colonial White Granite Countertop
Colonial White is similar to Pitaya, but it's geared towards kitchen designers who prefer warmer hues. The creamy white backdrop is almost yellow and may appear as such in the right lighting. However, it also has little flecks of lighter hues throughout it for a more organic appearance. Like Pitaya White, this option has dark specks scattered throughout the slab. However, rather than a pure high-contrast black, Colonial White features larger brown dots. They fit in perfectly with the warm aesthetic of this countertop option.
Arctic Valley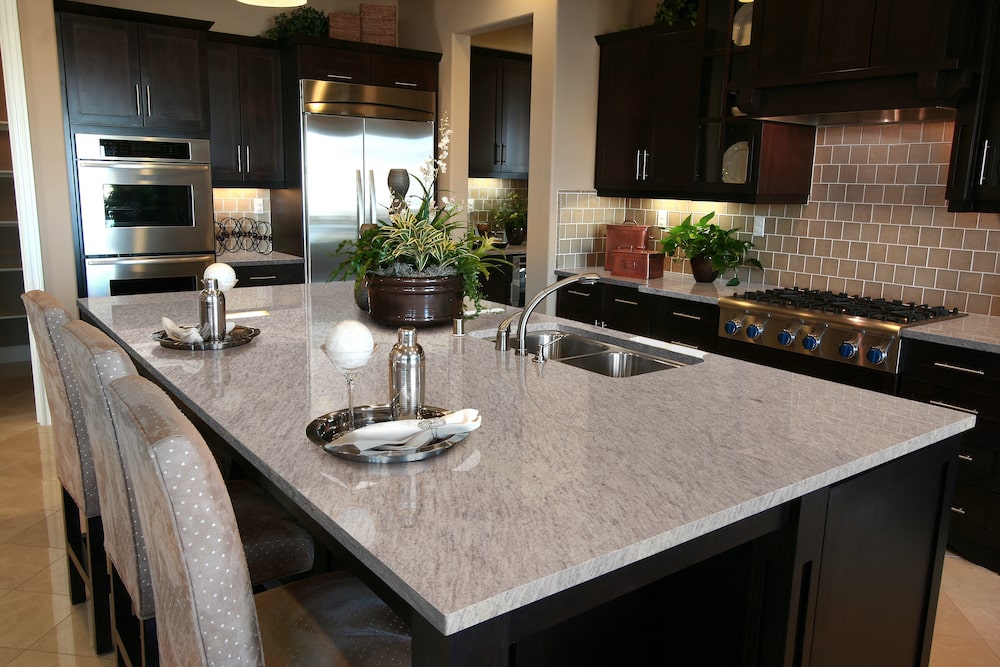 Arctic Valley Granite Countertop
Another of our timeless countertop materials, Arctic Valley granite, is grayer than it is any other color. While it has a dark white background, the organic gray patterns and delicate swirls give it a unique appeal. This high-variation slab can also be used as a backsplash tile rather than simply a countertop. Since it contains black speckles within its design, you may like to pair an Arctic Valley backsplash with a Pitaya White countertop. However, there are a wide variety of backsplash/countertop combination possibilities, so keep an open mind and decide which you personally like best.
Avalon White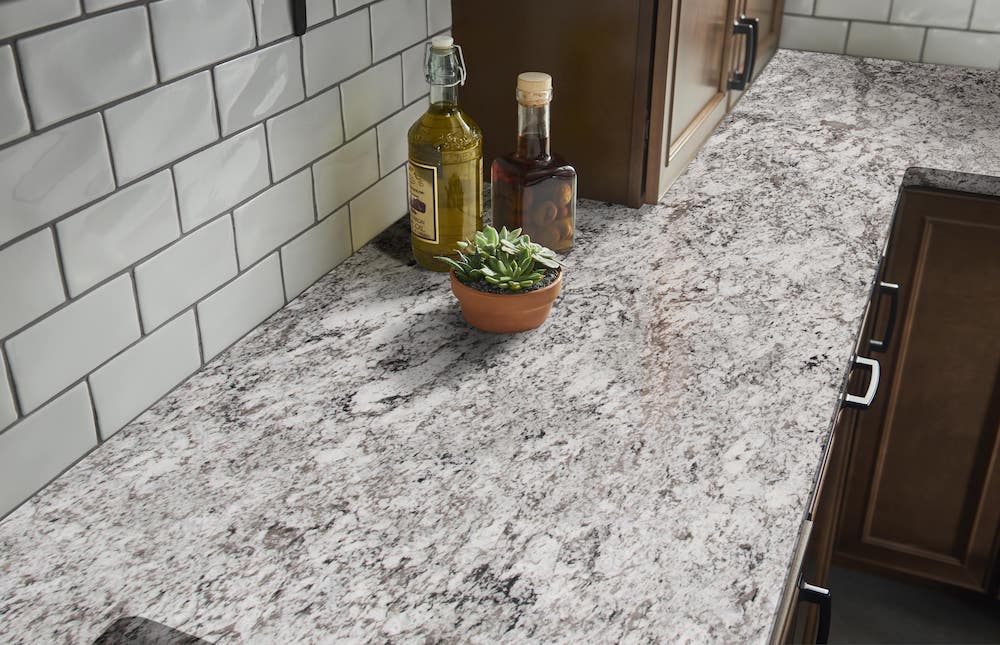 Avalon White
All of our stone countertop options can be used as backsplashes, but there are other applications for them as well. They make great accent walls, fireplace surrounds, and even flooring. Avalon White works perfectly in all of these locations. These kitchen countertops feature a plethora of high-contrast hues. The creamy white background is soft and inviting, but the patterns are what make the slab stand out. Gray, brown, and black swirls are scattered across the slab for a unique contrast. Avalon White is an amazing countertop or backsplash choice in rooms that lean into vintage or antique decor. Its traditional marble-like appearance makes it pair well with soft lighting and heavy wooden cabinets.
Bianco Romano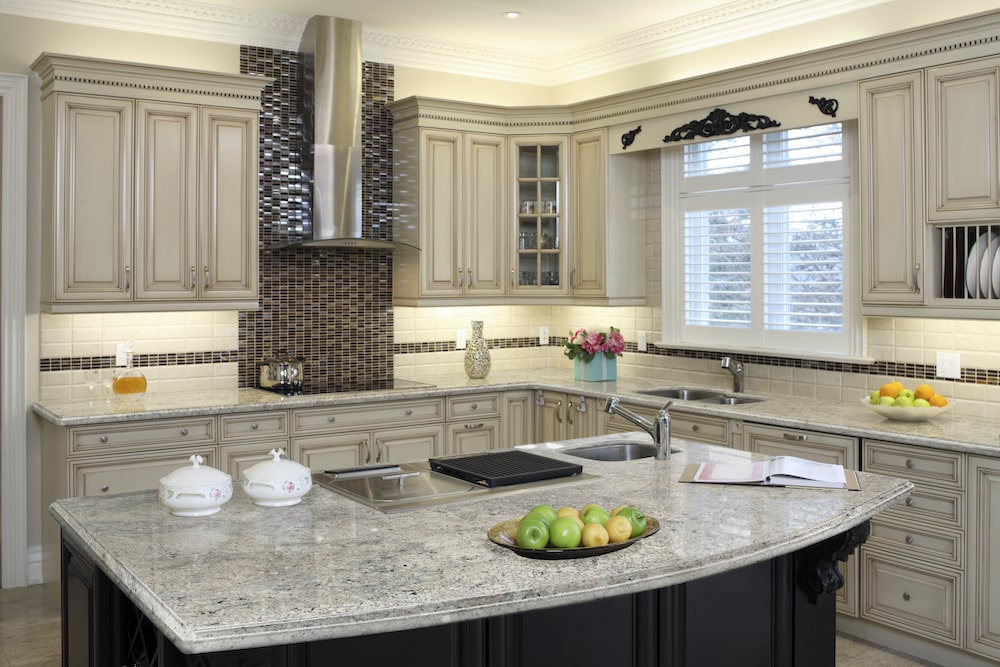 Bianco Romano Granite Countertop
Looking for something a little more contemporary for your kitchen remodeling? Want to lean into icy-cool hues that look awesome under fluorescent lighting? Bianco Romano is the answer. This slab is primarily a cool white color that's so white it's almost icy. It has thin gray veining to provide the appearance of a natural iceberg. It also has tiny black specks throughout the slab for contrast and a little extra personality. Bianco Romano is also popular because it's subtle. All of the veins, speckles, and accents are small. It's the patterns that make the slab one of the more interesting options in MSI's inventory.
Gray Nuevo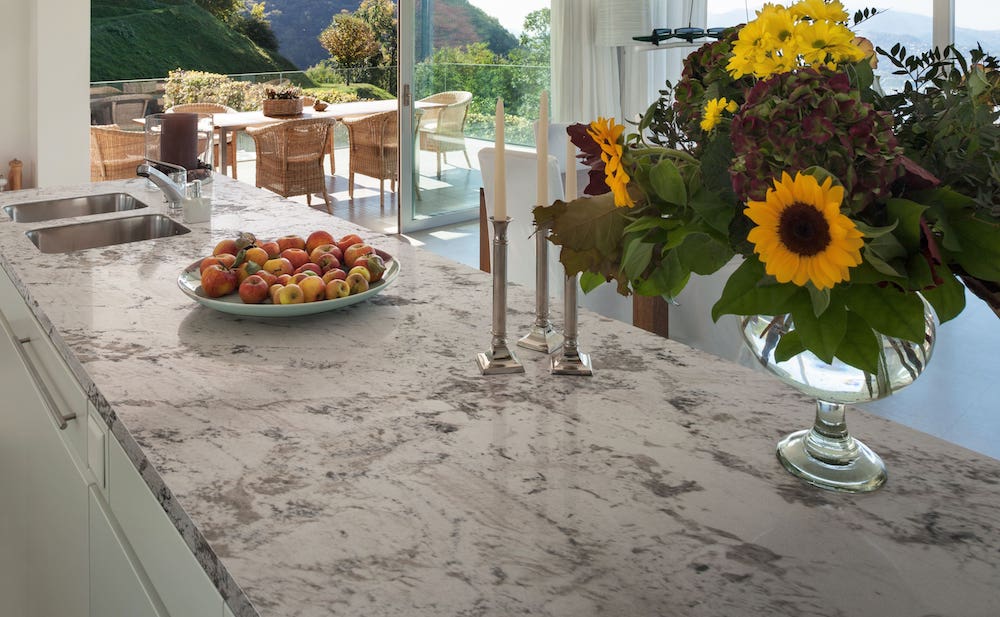 Gray Nuevo Granite Countertop
While it's far from black granite, Gray Nuevo is the white granite countertop option that contains the most black. The creamy white backdrop has patches of dark browns and grays throughout. However, the black patches and speckles provide even more contrast than the many other hues. This timeless slab is perfect for waterfall islands because of its unique appeal. Viewers will never truly know everything about the slab because of its intricate design. There will always be something new to notice. If you're considering engineered quartz vs. granite natural stone, you may enjoy Gray Nuevo. While it has the appearance of a quartz slab, it's completely natural and just as durable. For all of these reasons, it makes an excellent addition to any kitchen.
New River White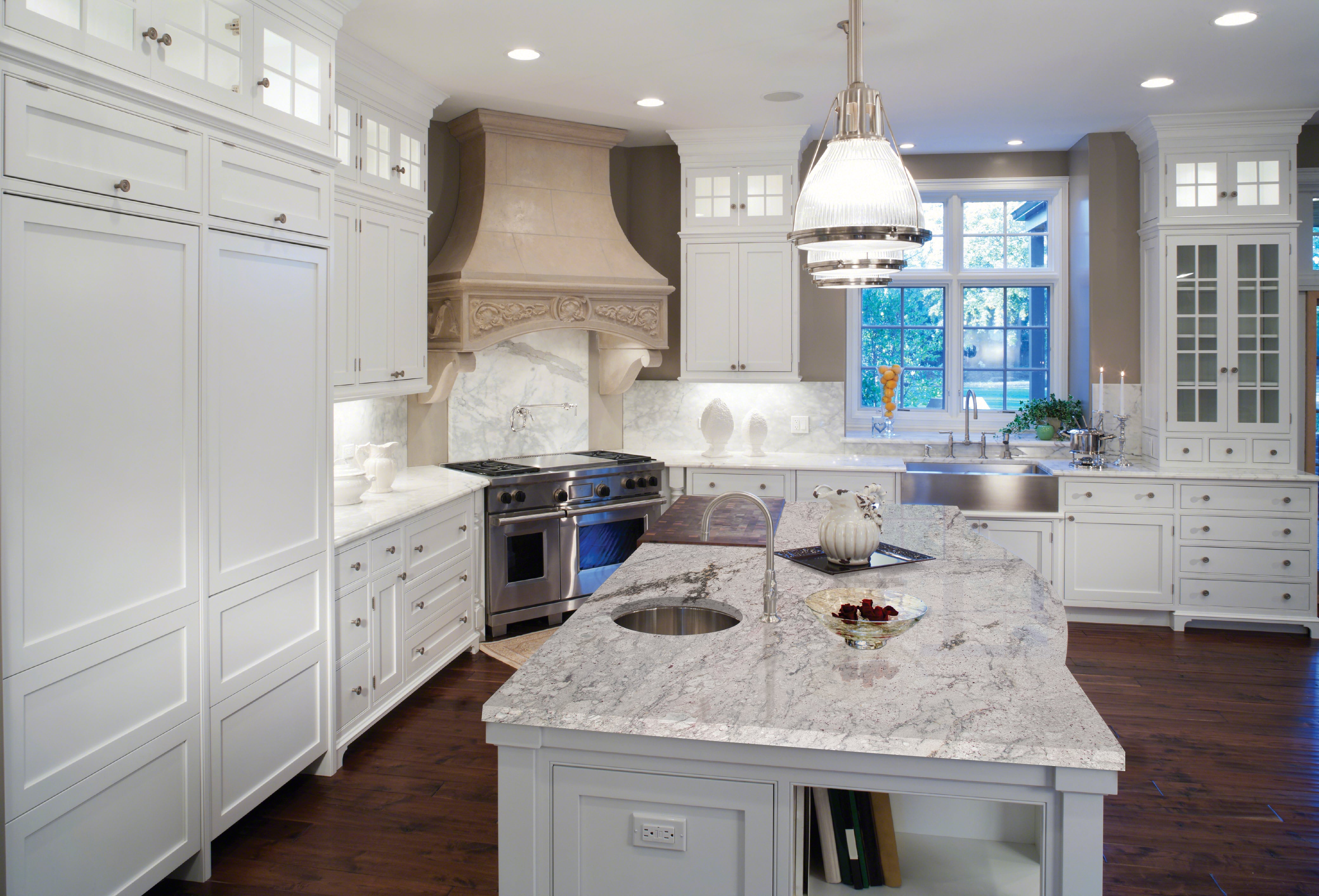 New River White Granite Countertop
Finally, New River White is a marble-look granite that's both white and gray. While it appears cream-colored under bright lighting, it also can look gray from a distance or in dimmer rooms. However, the best thing about this slab is the riverlike pattern that it boasts. You will find long, thick veining in a variety of browns. These colors provide excellent contrast with the white patches scattered across the countertop.
To see what New River White- or any other slab style- will look like in your home, check out our granite visualizer tool. This will help you feel more confident in your kitchen renovation decisions because you will know exactly what to expect. Additionally, since it's free to use, you don't need to worry about putting down any money to see what a countertop looks like at home.
Consider Installing a White Granite Countertop Today
Now that you know about the white granite countertops available to you, it's time to get started. Check out our kitchen visualizer tool to see what one or more of these styles will look like in your home. You can also find an MSI authorized dealer near you, visit an MSI showroom, or simply chat online with one of our helpful representatives.
READ MORE ABOUT GRANITE COUNTERTOPS
Granite Vs. Quartz Vs. Quartzite — How to Choose the Right Countertop
Choose the Perfect Granite Countertop with MSI's Slab Selection Process
8 Unique and Exotic Granite Countertop Colors From MSI
Our Most Popular Natural Stone Countertop Choices: Marble, Quartzite, And Granite