New Arterra Nolitan Collection Of Matte Porcelain Pavers
January 23, 2023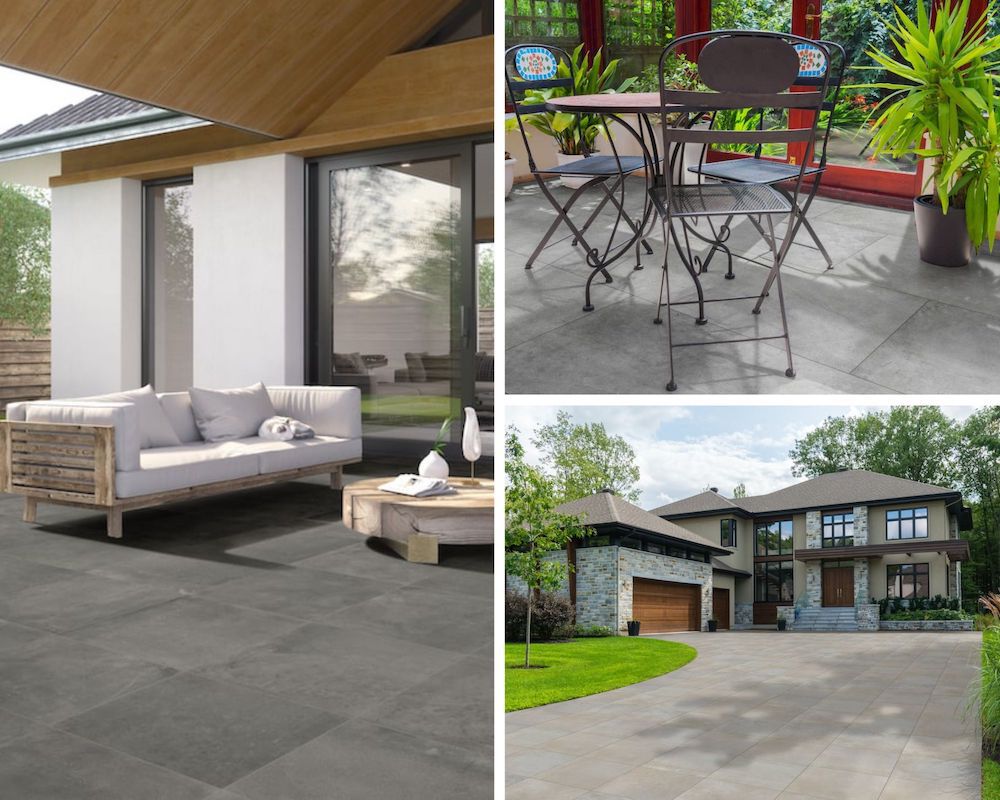 More homeowners are turning to the backyard in search of square footage to add to their usable living space. Outdoor living spaces — complete with areas for cooking, dining, entertaining, lounging, and playing — have become popular home upgrades, and choosing the right porcelain pavers for your project can impact the long-term success of your design.
You want pavers that complement your overall aesthetic and add an air of timeless sophistication. Practical considerations are also a concern, especially if your region has fluctuating weather conditions. You need materials that can withstand sun and rain, and if you're like most busy homeowners, you prefer minimal maintenance.
MSI's Arterra Premuim Porcelain Pavers meet your functional expectations while satisfying your aesthetic preferences. With the new Nolitan collection, you'll enjoy elegant, versatile designs with a modern, matte finish.
Beauty You Can Bank On
When planning to overhaul your outdoor space, you want to create a natural oasis conducive to rest and relaxation. This process starts with a seamless arrangement of landscaping and hardscaping elements.
The Arterra collection offers a wide selection of porcelain pavers that can be set directly on grass, into sand, or over a concrete bed (with mortar). Porcelain pavers add stunning appeal when creating a stepstone path, adding stable footing to a fire pit area, or installing patios for dining and lounging.
With colors and textures meant to mimic the look of natural stone, Arterra Nolitan pavers make for a timeless and unobtrusive addition to any outdoor space, from patios and decks to terraces and walkways. The matte finish offers a subtle complement to your overall design, and you can choose from a range of tile sizes and configurations to suit your personal style.
Nolitan Carbon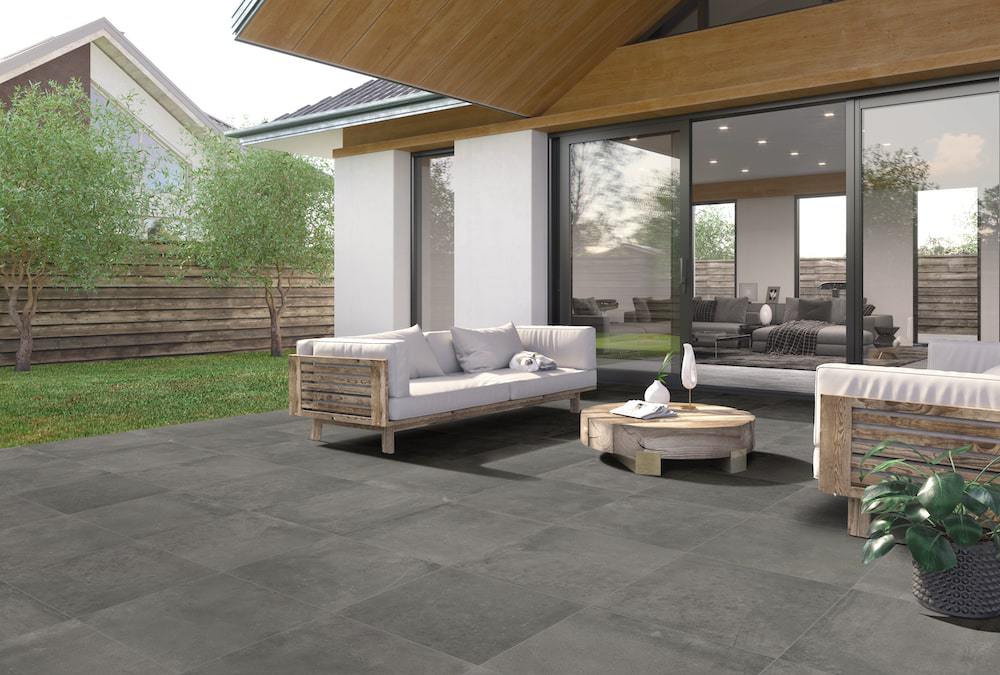 Masculine and moody, Nolitan Carbon pavers in charcoal gray deliver statement style with subtle appeal. With an appearance similar to slate, these dark pavers are a lovely addition to lush landscaping and heavier building materials like brick, stone, and rich, dark wood. However, they also make for a stunning counterpoint to a lighter stucco exterior.
Nolitan Sand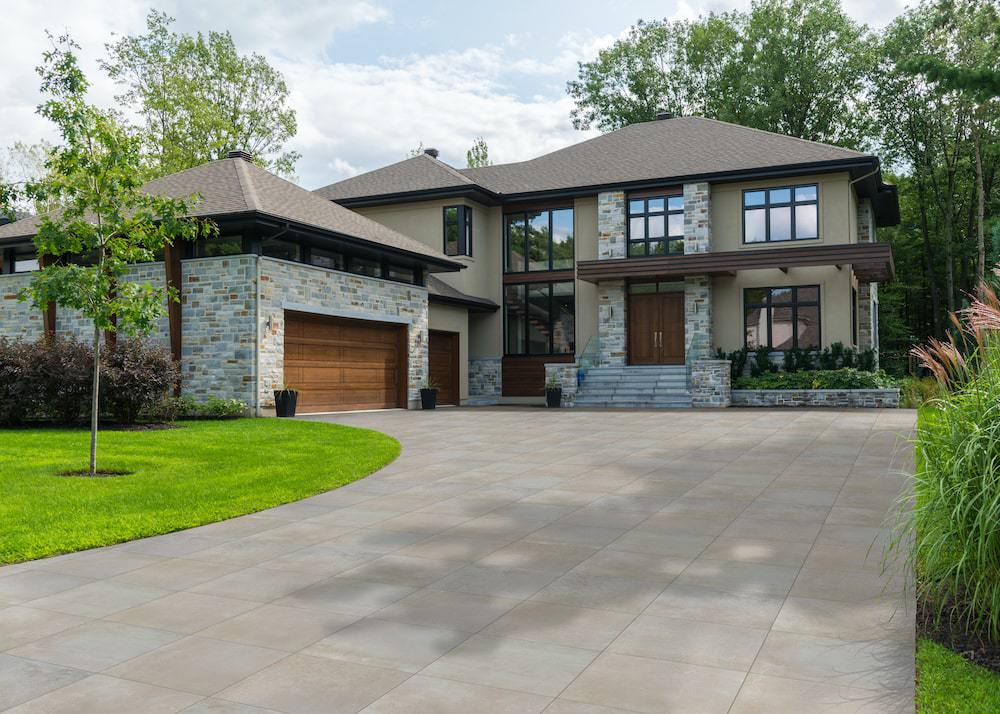 Nolitan Sand pavers are right up your alley if you love bright, open spaces. Beige and taupe tones stand out against the greenery and help create the Zen-like yard space you crave. These pale pavers also look fantastic surrounding a sunny pool area.
Nolitan Smoke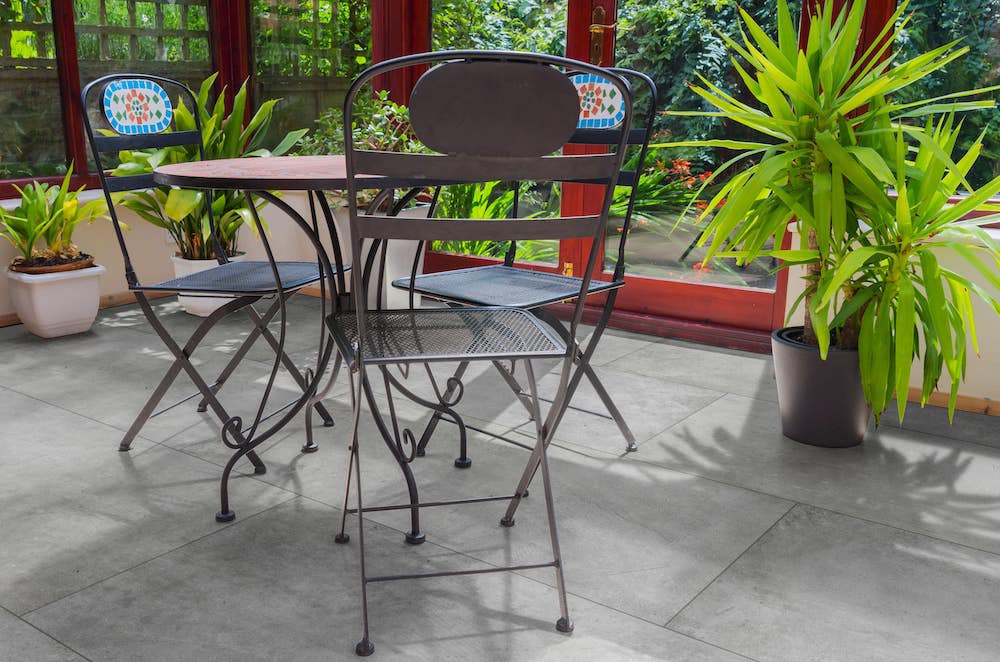 The gradient of grays featured in Nolitan Smoke pavers, ranging from dove to steely hues, offer an upgrade to typical concrete, along with variation that mimics the appearance and appeal of natural stone. This design is ideal for modern spaces, adding subtle charm to casual patios, fire pits, and pathways.
Benefits of Choosing Arterra Pavers
You already know that porcelain pavers can add beauty and style to your exterior living spaces, but this outdoor patio tile also offers many functional benefits. So, what practical advantages will you enjoy when you choose Arterra Nolitan pavers for your home upgrade? Let's take a look!
Connecting Indoor and Outdoor Living Spaces
One of the most popular trends in home improvement over the last several years has been finding ways to create connections between the inside and outside. This could include adding sliding or French doors or creating entire window walls that roll up to remove barriers between your living space and nature.
Another great way to connect the indoors and outdoors is with tile and flooring options that merge the spaces, creating visual continuity. These tiles create a cohesive feel throughout your property and help blur the lines between interior and exterior living spaces.
Resilient Surfaces
When choosing between different flooring materials, such as porcelain and ceramic tile, your primary concerns are probably function and durability. Porcelain pavers deliver both!
The clay used for porcelain is more refined than ceramic. It is fired at a higher temperature to create a final product that's strong and resilient with minimal porosity, particularly following glazing. As a result, porcelain pavers are resistant to staining, UV fading or discoloration, extreme heat and cold, and physical impacts.
These pavers are designed to hold up to daily wear and tear in high-traffic areas, not to mention a wide range of weather conditions, and remain attractive and intact with minimal care and maintenance. It's no wonder porcelain has become such a popular choice for indoor and outdoor applications.
Slip-Resistant Technology
There are many options when choosing products for your indoor and outdoor spaces, but when it comes to safety, there's one important reason to opt for porcelain pavers: slip-resistant technology.
MSI Arterra Pavers feature proprietary ZeroSlip technology that reduces the danger of slipping at all times, whether the pavers are dry or wet.
This feature makes them an excellent choice for any outdoor area — especially spots with a high risk of slip and fall accidents, such as pool decking. When peace of mind is a top priority, Arterra premium porcelain pavers exceed industry standards for safety.
Easy Care and Maintenance
Choosing the right materials for your home includes considering how they fit your lifestyle. For example, if you're like many busy homeowners, the last thing you want to do is waste time scrubbing grout lines or dealing with stain removal.
Arterra porcelain pavers require minimal care and maintenance thanks to their stain-resistant design. A simple spray with the garden hose should do the trick for regular cleaning, although household cleaners are also acceptable for indoor and outdoor use.
A pressure washer will get the job done in a jiffy if you want a deeper seasonal or yearly clean. Just follow recommendations for suitable pressure to prevent harm to joining materials.
Lifetime Warranty
When you install porcelain pavers from the Arterra collection, peace of mind is part of the package. With a lifetime residential warranty (or a 10-year commercial warranty), you can rest easy knowing your flooring is built to last.
When you're ready to choose the perfect porcelain pavers for your home improvement project, connect with the creative and experienced professionals at MSI via live chat on our website, or find an authorized dealer near you.
LEARN MORE ABOUT PORCELAIN PAVERS
Are Porcelain Slabs The Best Option For Your Shower Renovation
Arterra Porcelain Pavers: Durable And Low Maintenance
Living Alfresco With Arterra Porcelain Pavers
Stylish Soreno Porcelain Pavers And Tiles With Zero-Slip Technology