Popular
Trend To Watch: White Marble Countertops
February 15, 2016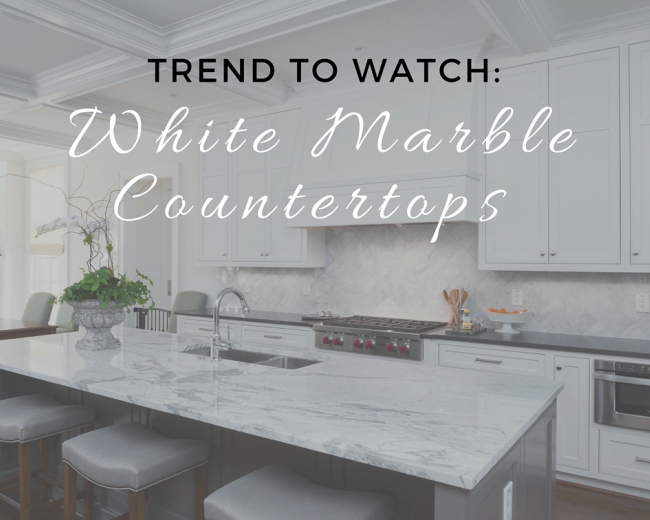 The use of marble in art, architecture and design dates back thousands of years – think Athen's Parthenon and Michelangelo's David. Now in 2016, this enduring stone is getting new life in home décor. Interior designers and design-conscious homeowners are reimagining marble in the home in refreshing and inspiring ways. We're seeing more and more white marble countertops, tile, and accessories like lamps, table settings – even toothbrush holders. Discover why we love this timeless material and how you can use white marble to create a stunning space that's all your own.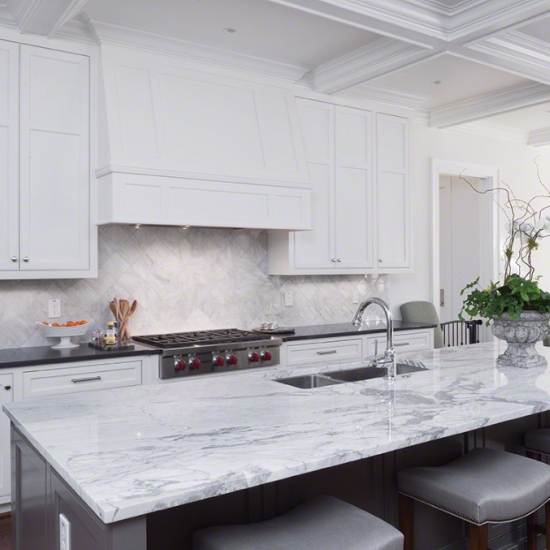 Featured: Statuary Venato Marble
A Designer's Dream
"People are falling in love with white marble again because it's beautiful and style neutral," says Emily Holle, MSI's Design and Trend Expert. "Browse Pinterest for ideas and you'll find kitchens and bathrooms ranging from contemporary to cottage… A sleek kitchen with a statement island and waterfall edge or white marble accents sprinkled in a classic style powder room."
With home décor colors trending toward whites and grays, white marble has become a natural choice for designers. Coupled with a neutral color palette, white marble makes a small space appear larger and creates a quiet drama unlike any other countertop surface. All-white marble rooms inspire feels of lavishness and elegance.
Featured: Carrara White Marble
Perfect Pairings
We're also seeing white marble paired with rustic wood planks or monochromatic concrete looks for a high contrast impact. The casual vibes of wood – think wood planks or a butcher's block – plays off of marble's splendor to create a low-key glam that's not over-the-top. Incredibly versatile, white marble is the perfect foundation to design a stylish space that reflects your personality.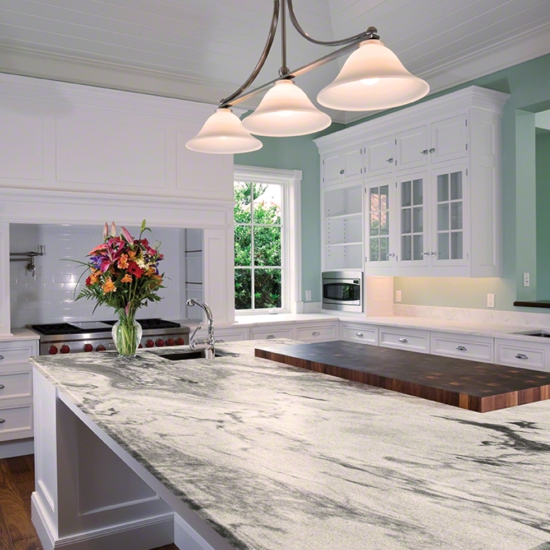 Featured: Augusta White Marble
Color It Art
Fashioned by Mother Nature herself, every slab of white marble is a distinctive work of art. There's an astonishing variety of white marbles found all over the world – each with its own unique look and colorway that cannot be replicated. There are marbles are crisp and white with simple veining, some with dramatic lightning-like veining, and others that are full of swirl and movement like you see in Avalanche White.
"As a leading natural stone importer, we've been able to bring in white marbles from across the globe that are soft and subtle, dramatic and bold, and a wide variety of hues," says Holle. "We now supply over 40 gorgeous and distinct white marbles to suit any design style."
Here's a peak at our newest additions:

Absolute White, Avalanche White, Calacatta Black, and Statueritto
Honed or Polished?
Polished marble makes for shimmering, light-reflective countertops with a high-end appeal that complements traditional kitchens and spa-like bathrooms. Honed marble countertops have matte surfaces, which are less likely to show etching or scratching. They're an excellent choice for more casual designs and busy workspaces. Without any surface treatment, all marbles will eventually hone down to a beautiful patina.
Beautiful and Practical
Marble countertops may be perceived as hard-to-maintain, but in reality, they're more durable than most people think. After all, they've endured eons of weathering. Experts consider marble's softness an advantage because it allows surfaces to be re-honed or re-polished to treat etching, scratching and staining.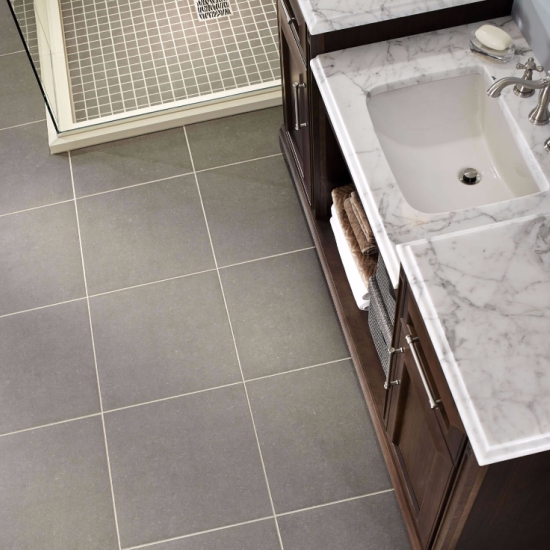 Featured: Calacatta Vagli Marble
Sealing is key to retaining the beauty of a white marble countertop. Over time, some stains will fade on their own and become a part of your white marble's natural beauty – a beauty that is prized by today's designers, homeowners, and our design expert, Emily Holle.
"I appreciate marble's incomparable beauty so much so that I'm happy to live with the aging," says Holle. "When I travel in Europe, I see white marbles that have been around for centuries. Eventually, all white marbles develop gorgeous patinas. They become pleasingly worn...much like a pair of your favorite worn in leather boots!"