Popular
Gold With Envy: A 2021 Trend Story
May 06, 2021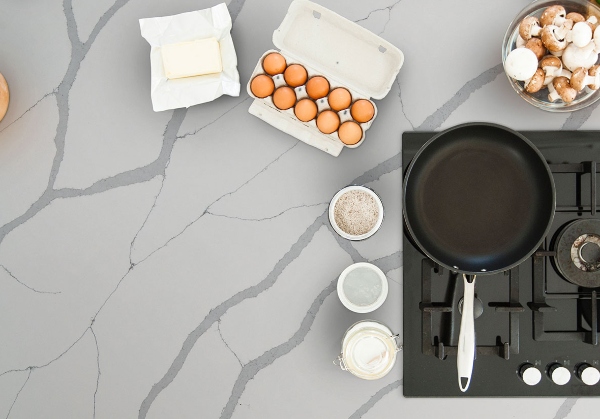 Color affects our senses in powerful ways. In 2021, interiors awash with golden shades feel like spring itself. And if any color story can help brighten the mood of the past fifteen months, it's the warm, comforting hues of Gold with Envy – one of this year's Top 5 Hard Surface Design Trends. A nod to Mother Nature, the perfectly pale aesthetic soothes the eye while connecting us to the natural world.
From minimalist tone-on-tone concepts to beautifully layered spaces, shades like platinum, champagne, blonde, and caramel return this year in more significant ways. The Scandinavian-inspired universe of neutrals swings classic one moment – and modern the next, adding warmth and richness to contemporary and traditional interiors alike.
Here, There, & Everywhere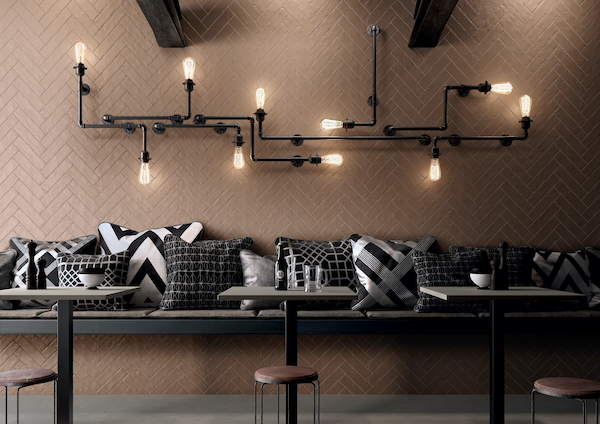 Add instant warmth with a style statement wall treatment – clad in Brickstone Putty -
immediately elevating this lounge area.
Warm white quartz countertops— featuring honey-hued veins—perch atop blonde kitchen and bath cabinets, offering the fresh crispness we adore without the chill. For natural stone devotees, the golden undertones in quartzite and marble provide their signature allure. Underfoot, limestone and the pale wood looks in Everlife Luxury Vinyl Flooring/porcelain tile collections create rooms that feel open and expansive. Cream & white decorative tiles pair with brushed brass finishes for a sophisticated effect. Tile inlays lend texture, dimension, and interest to big and small spaces. Together, these Gold with Envy surfaces bring nature's warmest hues into the 2021 spotlight.
Playbook Elements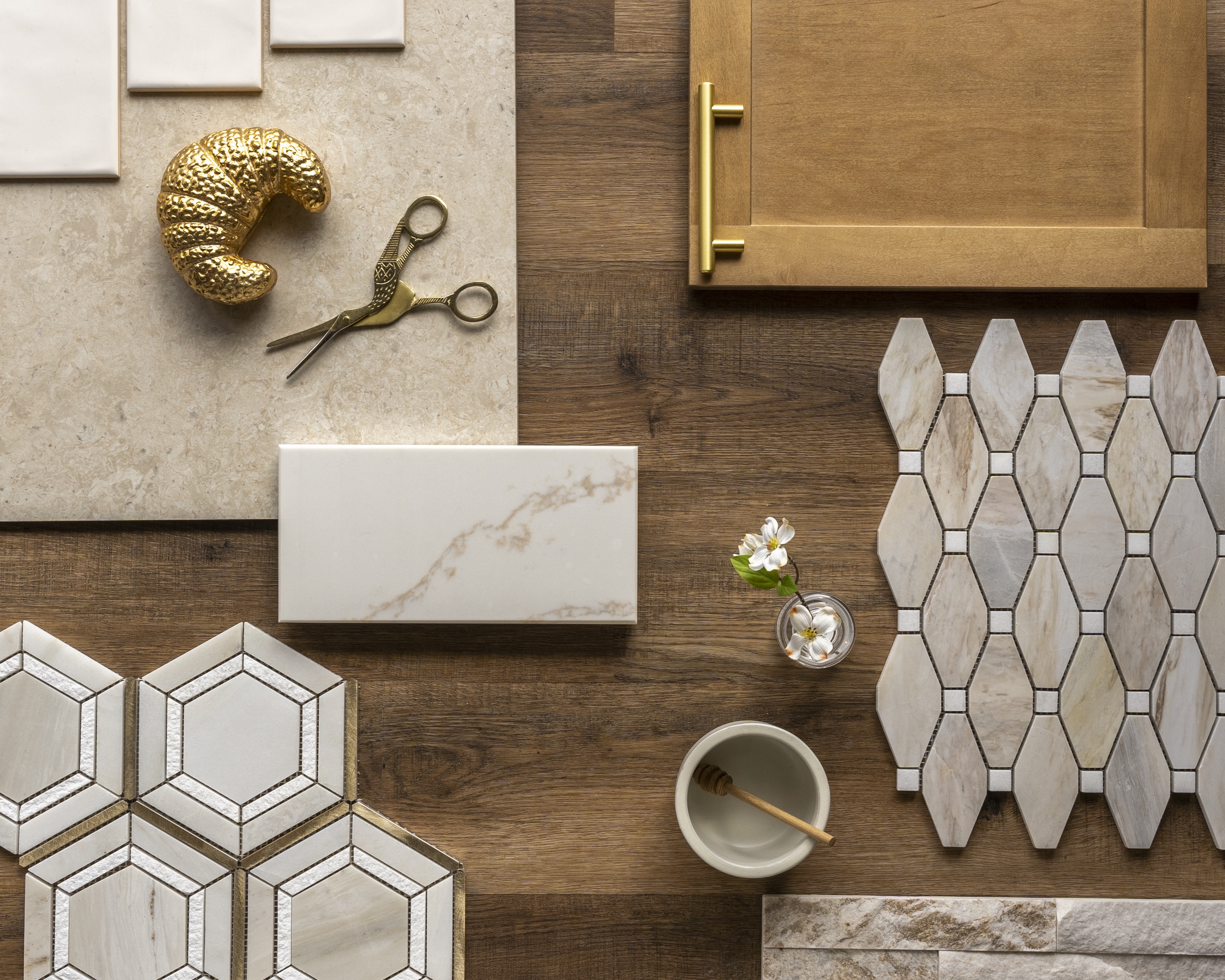 From creamy quartz with caramel veins to rosy wood tones on planks and cabinetry, our mood board elements –
steeped with clean, classic shapes - cast a dreamy golden glow.
1. Wood-toned LVT and porcelain planks lean golden and toasty.
2. Warm white quartz and quartzite shades -complete with tawny veins— dominate countertops.
3. Against wood tones, cream and white decorative tile add subtle contrast to walls and backsplashes.
4. Limestone and Calacatta quartz lookalikes are a simple choice in the pale & earthy color story.
5. Brushed brass hardware, lighting, and accents keep the Gold with Envy palette warm and welcoming.
Land the Look: One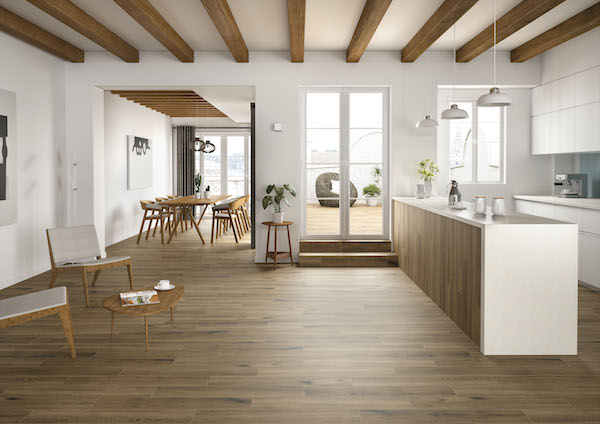 Details make the look: Antoni Café porcelain planks complement this pared-down kitchen/dining area.
The first noticeable thing about a Gold with Envy room is that it's easy on the eyes. Its soft, warm palette ranges from white to mid-tone woods to create calm, inviting sightlines --you feel better just by looking at it. Like it is here, the trend is at its best in simple and uncluttered rooms with an abundance of natural light. Slimline furniture and ample breathing room between zones enhance the airy, unfussy look. Flat-panel cabinets and a waterfall quartz island continue the clean lines.
Achieve the look with our favorite surface choices.
Countertops: Calacatta Mirragio Gold, Perla White Quartz, and Calacatta Arno.
Floors: Antoni Café, Glenridge Saddle Oak, and XL Cyrus Fauna
Land the Look: Two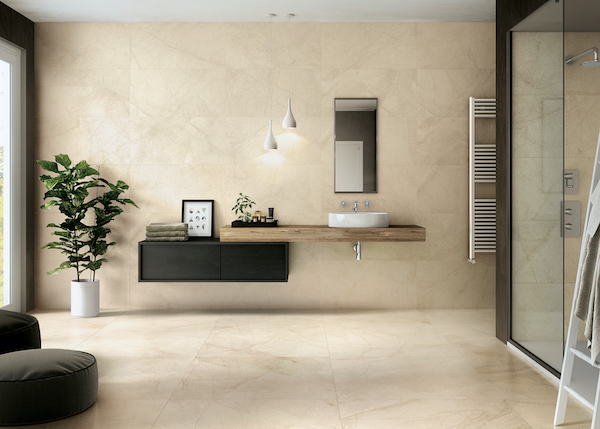 A floor-to-wall treatment like no other, Livingstyle Cream Porcelain tile sets a tranquil tone in this spacious bath.
From the floating vanity to the oversized tile with beautiful movement to the retro pendants, this modern bathroom proves that you can use edgy materials without compromising warmth. More and more, homeowners are reinventing dated spaces by bringing low-maintenance porcelain tile up the wall. A lovely contrast against the tile's sandy hues, plants dial up the Zen-like vibe of the room. A low-profile chair in the corner provides a cozy spot for resting before heading out into the world.
Achieve the look with our favorite surface choices.
Floors: Livingstyle Cream Porcelain, Monza Marbello tile.
Wall Tile: Braxton Saddle, Canyon Cream, Brickstone Putty, and Tuscany Ivory wall tile.
Land the Look: Three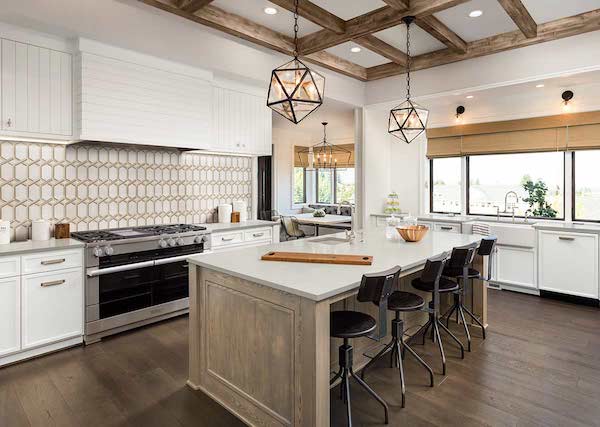 Overlooked no more, backsplash tile, like Royal Link marble above, packs a sophisticated punch.
Thanks to modern details and dramatic textures, backsplash tiles give architectural focus to casual and elegant kitchens alike. It's why many designers find inspiration for their rooms from a dynamic backsplash –Royal Link included. Whether it's geometric, stacked stone, or subway tile, 2021 is all about creating timeless, eye-catching statement walls in Gold with Envy colors. After the challenging year we've had, bright and cheery spaces– like this one– are a tonic for the senses.
Achieve the look with our favorite surface choices.
Backsplash: Royal Link, Verona Gold, and Medici Gold Pattern
Countertops: Quartzite Allure, Perla White Quartz, and Shell White Quartz
Floors: Andover Bayhill Blonde, Glenridge Reclaimed Oak, and Antoni Café
Land the Look: Four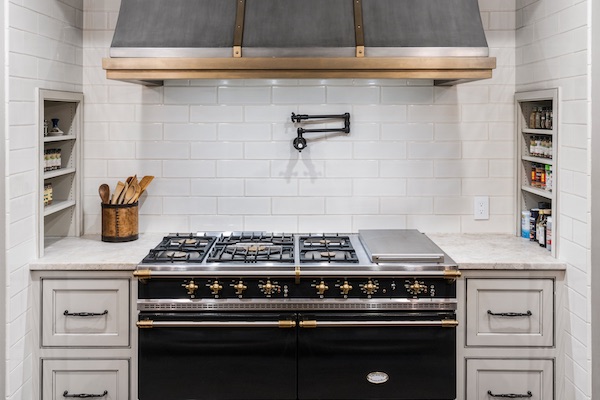 Whisper White subway tile, Quartzite Allure counters, and upscale finishes conspire to give
this cook nook its rich, modern aesthetic.
This Instagram-worthy space may be small, but there's plenty to admire. From the handcrafted oven hood and industrial-style range to the quartzite counters and subway tile, a blend of contemporary and classic details creates a crisp, chic look. Built-in shelving and the pot filler make it extra functional. Whether homeowners are remodeling an entire kitchen or just the backsplash, our lineup (handpicked by our design team) will give their space the attention it deserves.
Achieve the look with our favorite surface choices.
Countertops: Quartzite Allure, Calacatta Classique, and Calacatta Marble countertops.
Backsplash: Whisper White, Urbano Crema and Hyde Studio Starlight.
A Guiding Light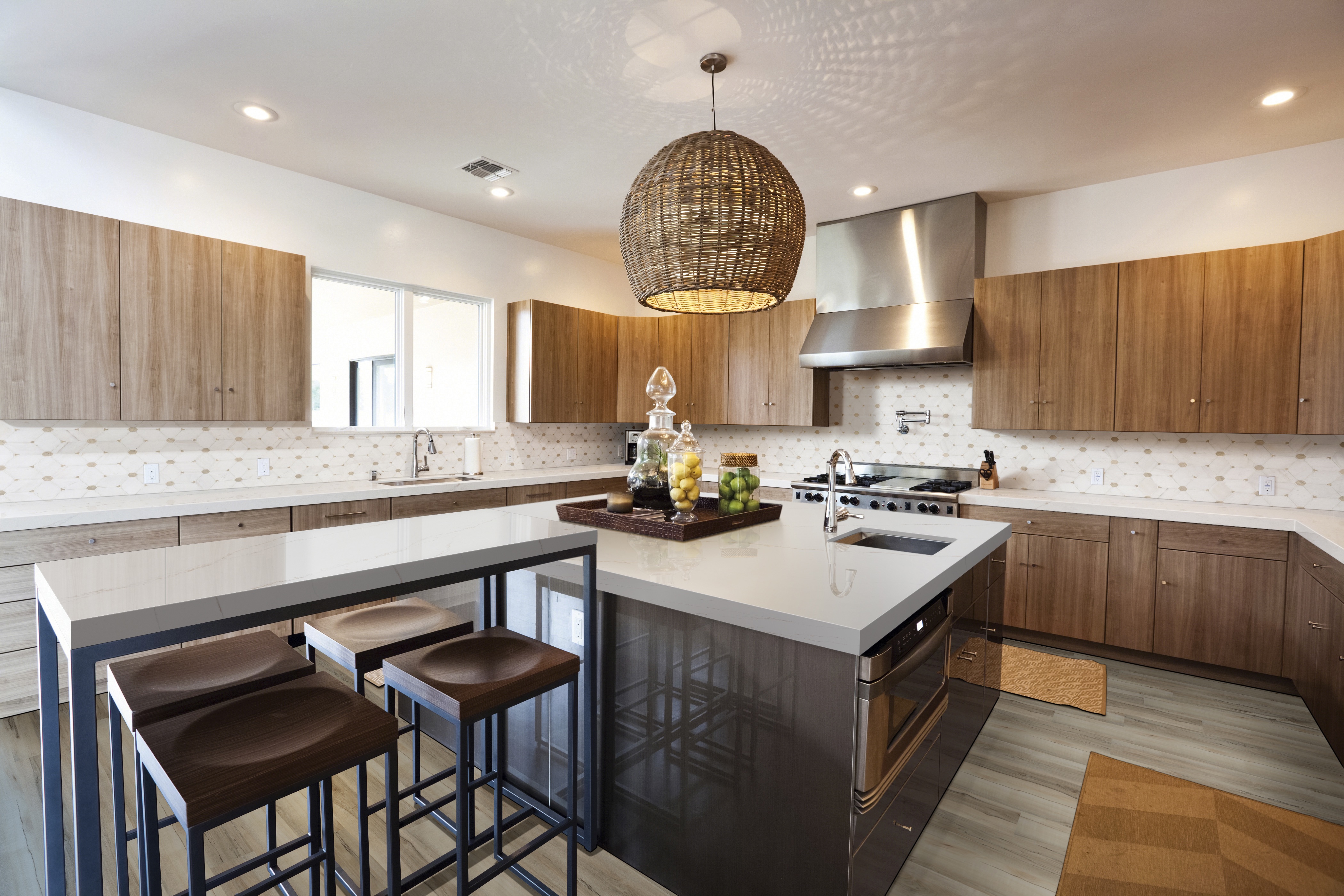 Designed to please designers and family chefs alike, surfaces in this hardworking kitchen are worry-free
without compromising style - with Calacatta Arno quartz countertops.
From city lofts to tucked-away farmhouses, our Gold with Envy lineup is full of inspirational ideas to help transform outdated interiors into on-trend dream spaces. And like most things, quality reveals itself over time. We curated the surfaces in our Lookbook for both instant and long-lasting appeal—a must for boosting home values.
If you try one of our 2021 surface trends in a project, tag us on Instagram - #msisurfaces. We love seeing your designs pop up on our feed.