5 Show Stopping Rooms Featuring Encaustic Tile
April 27, 2022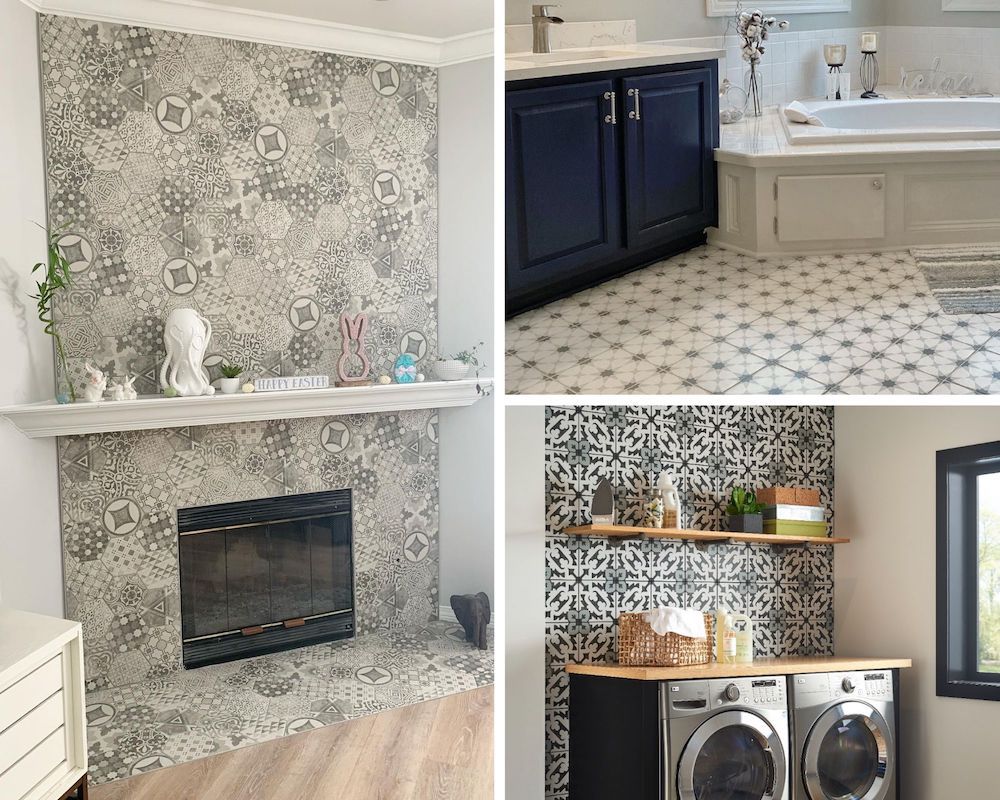 Trends in home decor come and go, but some trends are returning classics that will stand the test of time. One such trend is patterned tile — but decorators and homeowners are taking this trend one step further by using encaustic tile to create stunning backsplashes, accent walls, floors, and more.
So what is encaustic tile? It's patterned tile, but unlike modern ceramic tile that has a design printed on the surface, the pattern is incorporated into the tile itself. It won't wear off or fade. Encaustic tile is manufactured with different colors of clay that create stunning patterns, whether they are simple or intricate.
Encaustic tile similar to the types available today has been used since the early 19th century, primarily in public buildings, churches, and other impressive structures. Because of this association, it has a classic, old-world look. Some patterns do evoke the spirit of times gone by — a perfect complement to historical homes. Other patterns are contemporary, ideal for new construction or modern renovations. One of the reasons it's making a comeback in today's homes as wall tile and flooring is because modern technology has improved the manufacturing process and given it a modern vitality.
Here are a few of MSI's new encaustic tile patterns, installed in beautiful rooms to inspire your own designs.
BLUME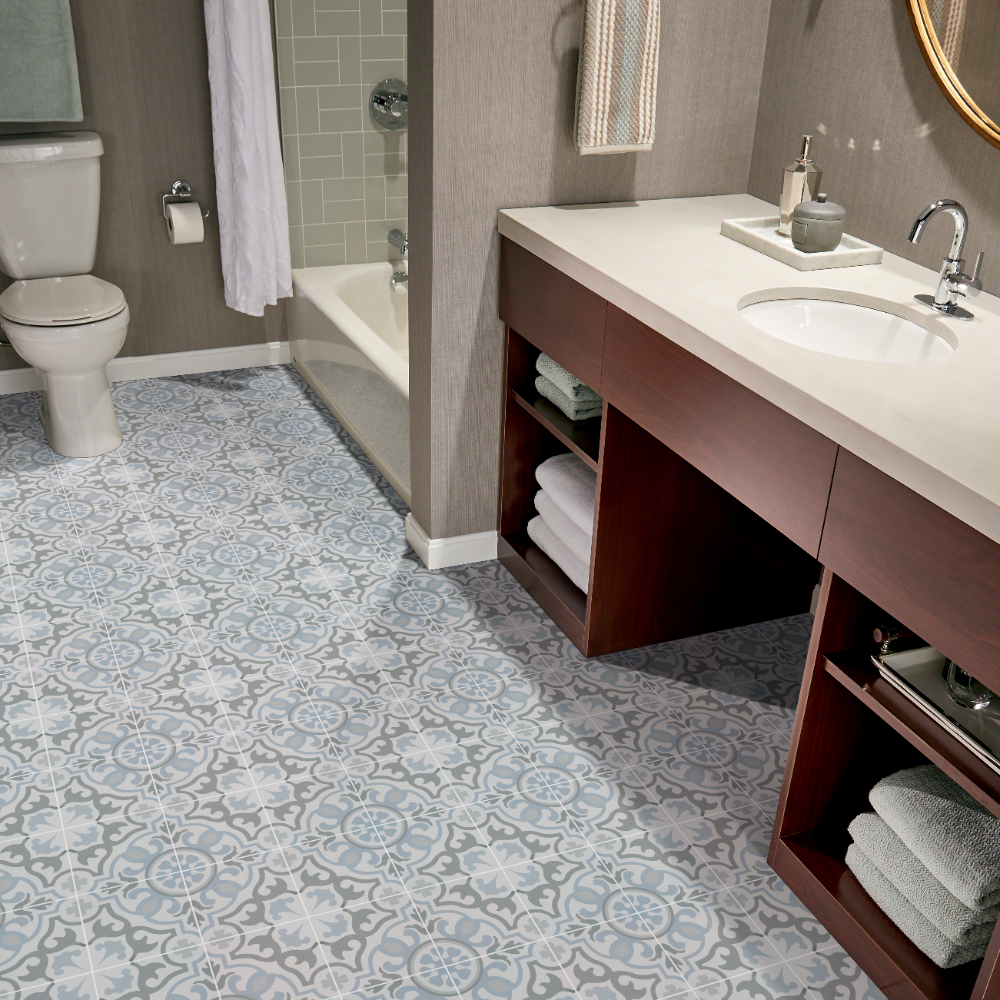 Intricately patterned Blume encaustic tile features an eye-catching pattern of neutral gray, beige, and cream. Fit four of them together to create the full circular motif. As shown here, encaustic tiles are excellent flooring options. Not only is this porcelain floor beautiful, but they're easy to keep clean and hygienic. They are durable enough to install in high traffic areas, and will stand up to frequent scrubbing. Since the colors are neutral, it's easy to match them up with just about any other surface decor you have in mind, such as walls, cabinetry, and even accessories.
MIXANA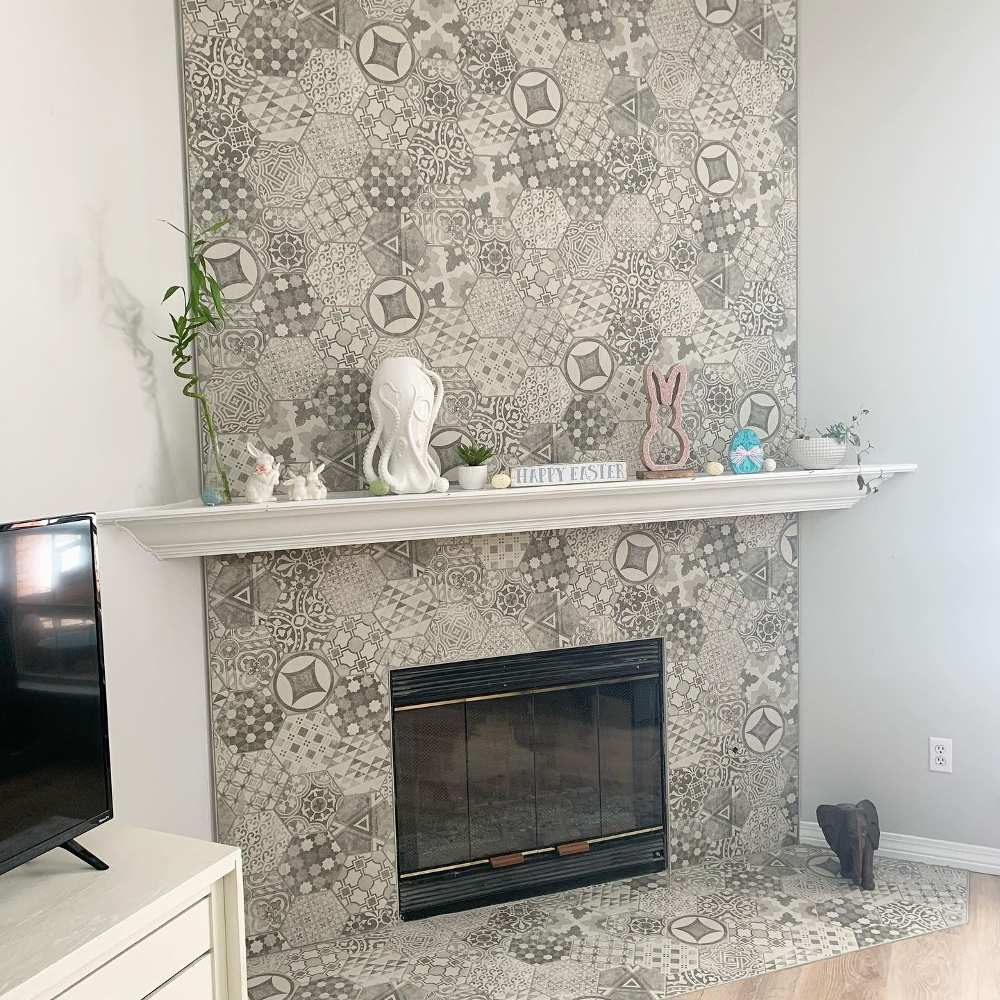 Photo Credit: @renovationflooring on Instagram
Featuring soothing tones of beige and grieve, Mixana tile is a hexagon-shaped encaustic tile that comes in a set of several different patterns. Install them randomly together to create a patchwork look that is creative and artistic. Because of the subtle coloration, this unique combination of patterns won't clash or overwhelm the room. Since encaustic tile is durable and water-resistant, they can be installed just about anywhere — kitchen, bathroom, mud room, and more. Since it's completely glazed and water resistant, you can even install it in your shower. It's also heat resistant, so you can create an unforgettable Mixana fireplace feature wall, such as the one in this photo, without worrying about heat damage.
BRINA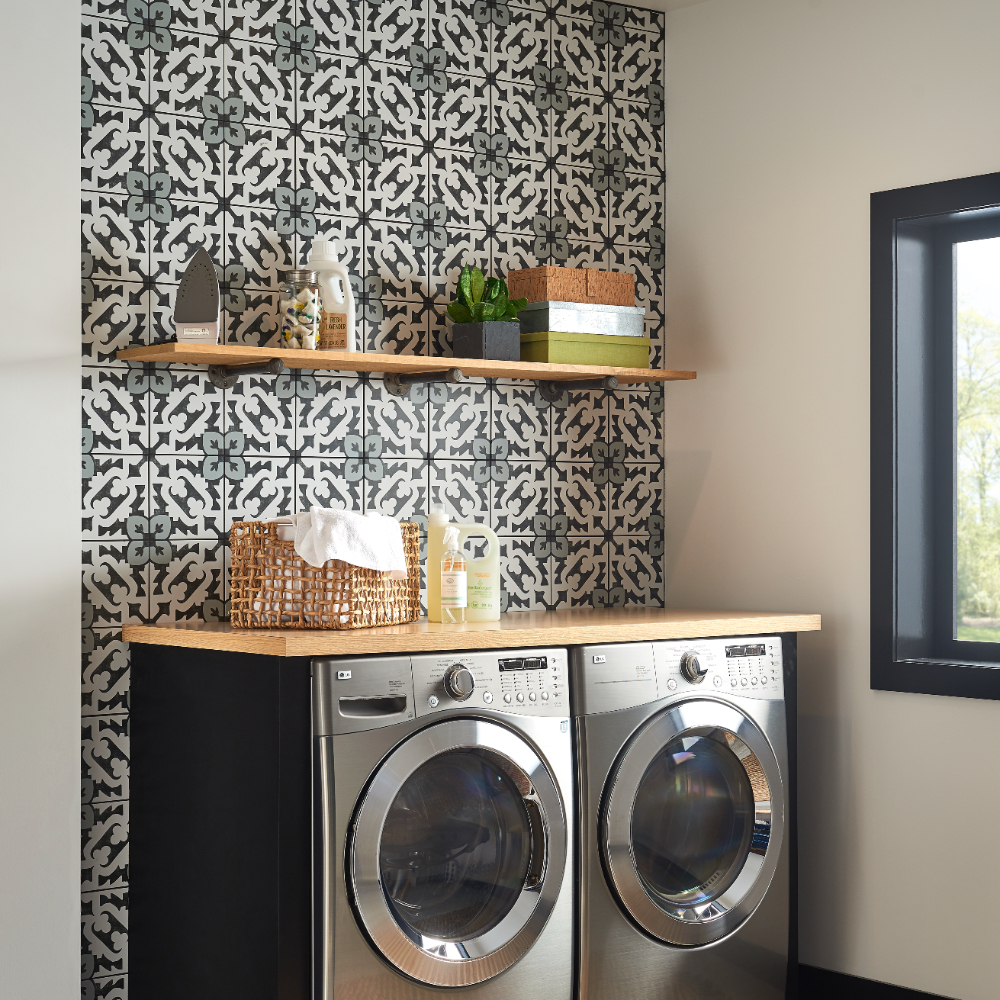 This bold combination of black, white, and gray creates a look that is full of character and personality. Brina encaustic tiles have the look of exotic, hand-painted tiles, and are glazed with a heavy-wear matte finish that makes it maintenance-free. This porcelain wall tile pattern will take any space to the next level — including outdoor living spaces, because it's durable enough to stand up to the elements. A bold selection like Brina looks best in proportionally smaller installations, such as backsplashes, accent walls, or the outdoor hearth shown here. But that small space will make a huge impact!
ZANZIBAR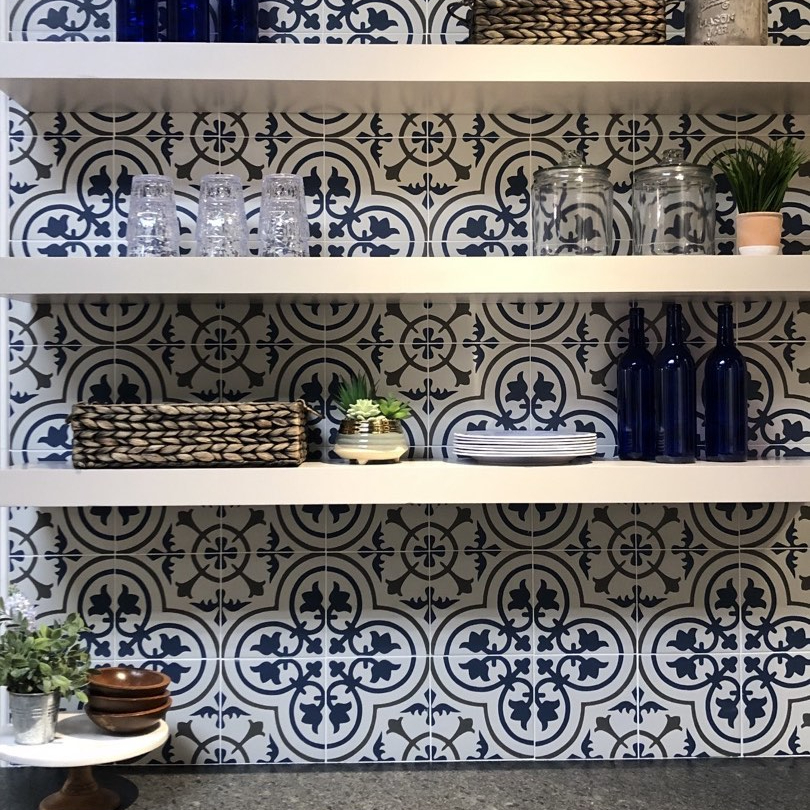 Incorporate some color into your interior designs with Zanzibar encaustic tile. It features vivid blue and gray on a soft, creamy-white background. It has a matte finish and looks like expensive, custom-made, hand-painted ceramic tile. Like other types of encaustic tile, it's water-resistant and belongs just about anywhere you need to add a bold touch of personality. Tile patterns such as this are ideal for kitchen or bathroom backsplashes. As shown here, Zanzibar is lovely on an accent wall behind a set of floating shelves.
ZOUDIA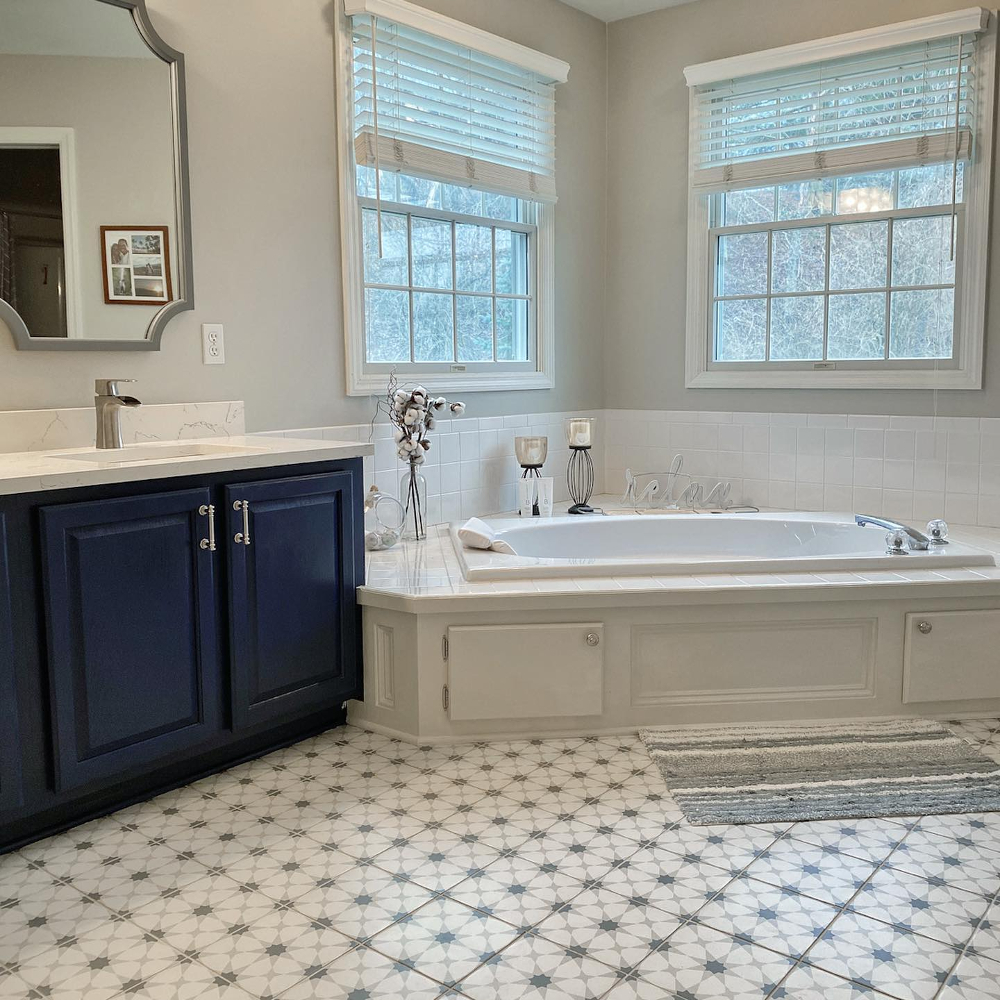 There's nothing new about patterned tile flooring — at least not until you install Zoudia encaustic tile. It looks amazing installed in large areas to showcase its geometric star pattern of neutral white, light beige, and gray. This stylish bathroom displays Zoudia to its best advantage as floor tile , installed diagonally to complement the corner bathtub and balance the light, restful colors throughout the room. With water-resistant encaustic tile there's no need to worry about splashing bath water. Its matte surface is somewhat slip-resistant, so it's also appropriate flooring for areas such as home entryways, kitchens, and laundry rooms.
Along with the ideas shown here, you should also consider different uses for tiles such as these. They work well as borders, as long as you use enough of them to make the most of their gorgeous patterning. A "rug" made of encaustic tiles and surrounded by plainer, complementary tiles is another creative option.
We hope that, by now, you've started to think about an area (or two, or more) in your house that would look fabulous covered in one of these amazing encaustic tile patterns — or another choice from our wide selection. Whether they are installed in a small space as an accent feature or focal point, or in a large area such as entire wall or floor, these tiles pack a lot of stylish punch.
Need help deciding which type of tile to install, or have questions about any of MSI's products? Feel free to contact us or visit one of our showrooms.