Everlife Waterproof Flooring Collection From MSI
December 07, 2021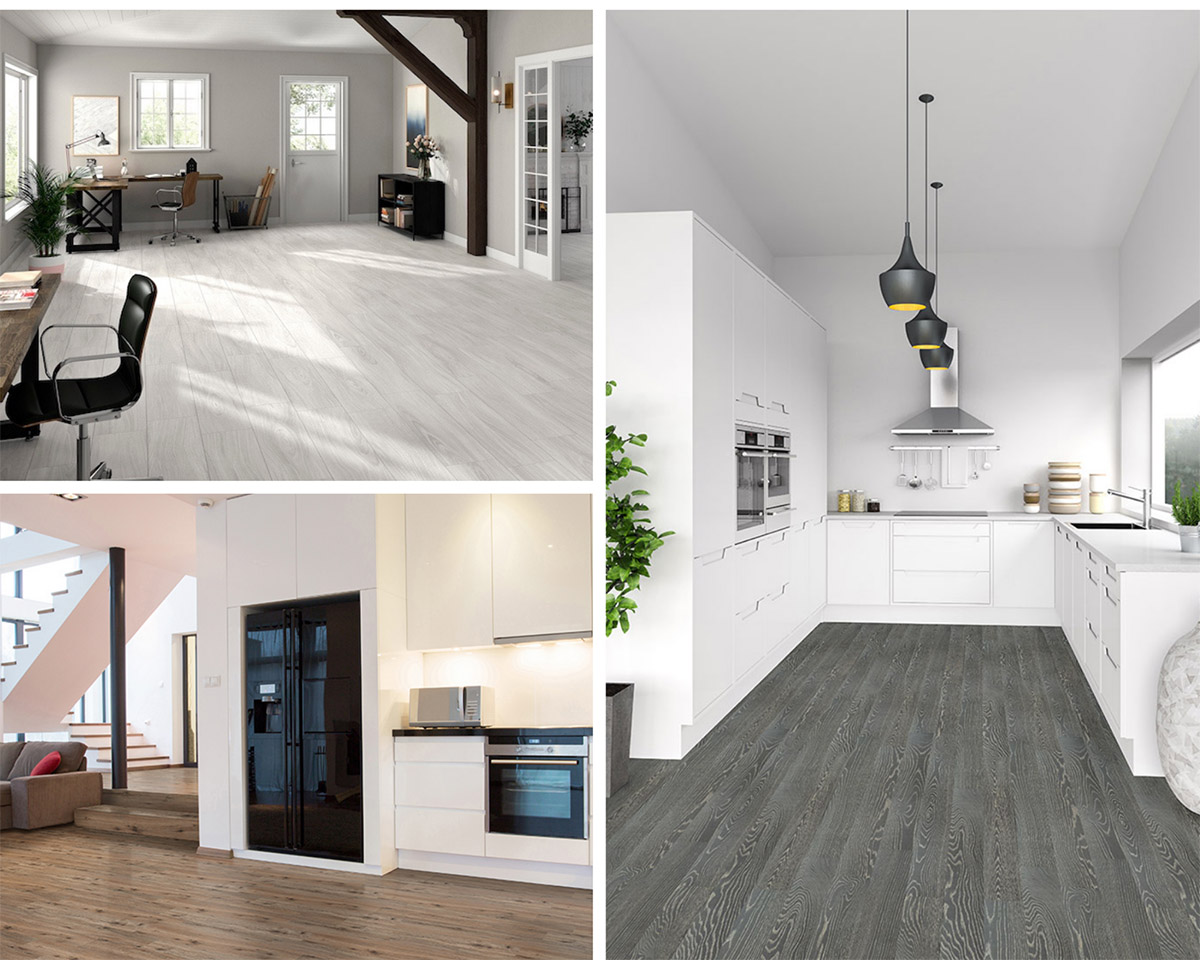 Sure, you want your home's flooring to be affordable, look spectacular, and require little to no annual maintenance. Equally important, though, is the durability of the flooring you choose. How comfortable is it underfoot? To what potential damages is it resistant? Is it waterproof flooring?
Thankfully, MSI's Everlife Waterproof Flooring Collection offers a wide selection of H20-friendly flooring that is 100% worry-free and waterproof to protect your investment from spills, pet accidents, and so much more. Let's take a look at what the impressive Waterproof Flooring Collection has to offer.
LUXURY VINYL TILE
If you need an easy install over existing flooring, MSI's Rigid Core Luxury Vinyl Tile provides the ideal thickness required for the project. This quality collection delivers thorough stability and dent resistance, so your floors retain their beauty and last longer. Using the proprietary CrystaLuxTM technology, this waterproof vinyl plank flooring offers industry-leading toughness against scuffing, wear and tear, and fading.
Included in the Everlife® LVT collection are the industry-first indoor LVT-outdoor pavers from MSI's Arterra® collection. Use these to create a seamless transition from indoors to outdoors.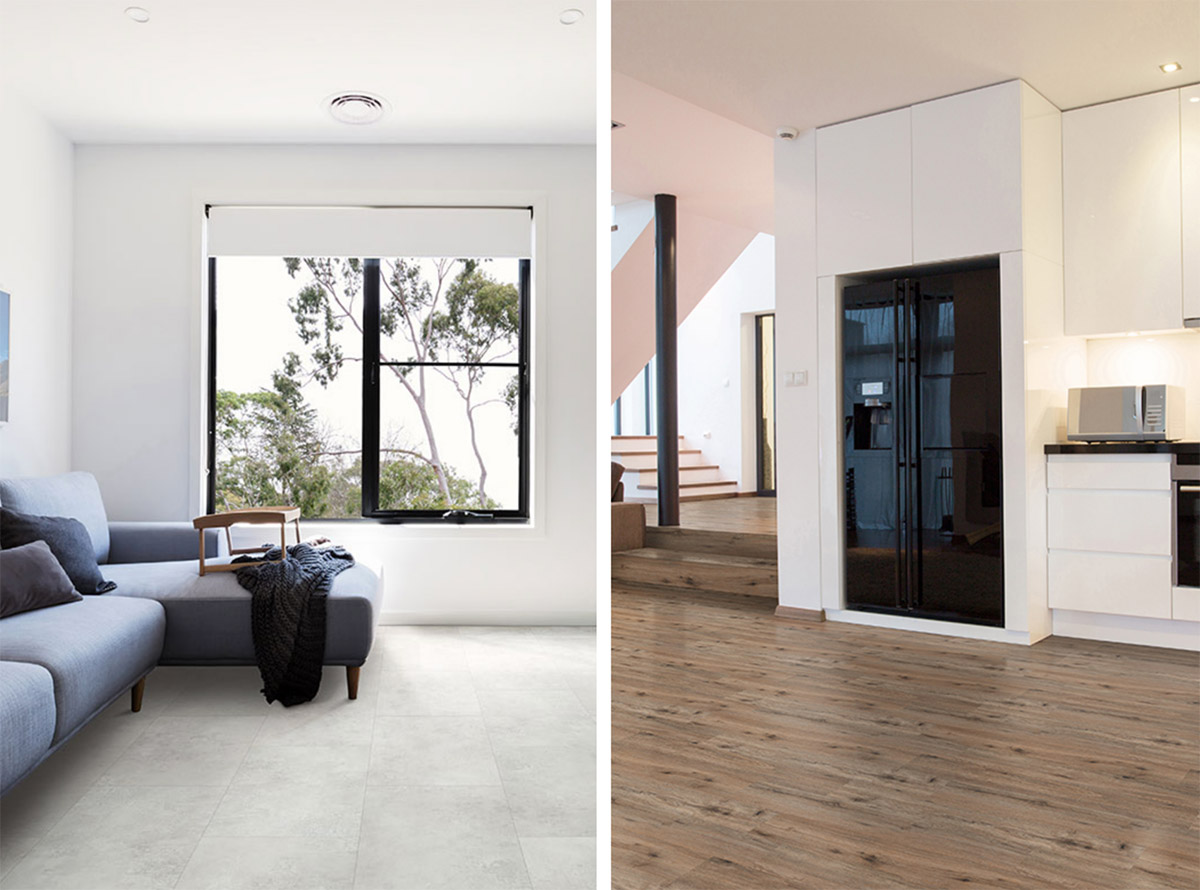 The Mountains Gray LVT pictured on the left features subtle clouds of grey and greige tones to create an authentic natural stone look that is affordable, easy to care for, and 100% waterproof. It's a chic look that is always on trend and always ready to wow your guests. To complete the package, this flooring comes with an MSI exclusive finish that matches the texture of real stone.

On the right, we have Fauna LVT. These luxury vinyl planks use brown tones and dark brown knots and graining to deliver an authentic wood appearance. Not only do you get the look of natural hardwood flooring for a much lower price, but these planks are also 100% waterproof and dent, scratch, and stain-resistant. When used in a residential setting, they come backed by a lifetime warranty and work well in any indoor area.
WOOD FLOORING
The Everlife® Waterproof Wood Woodhills Collection uses hand-selected and crafted first-rate wood flooring that combines MSI-proprietary engineering with artisan craftsmanship to create premium surfaces that last. This luxury wood is equipped with a stone core and pre-attached acoustic and comfort pads to not only keep your flooring comfortable but quiet as well. The collection is available in 11 colors and is 100% waterproof, so it will retain its beauty while keeping your home beautiful for years to come.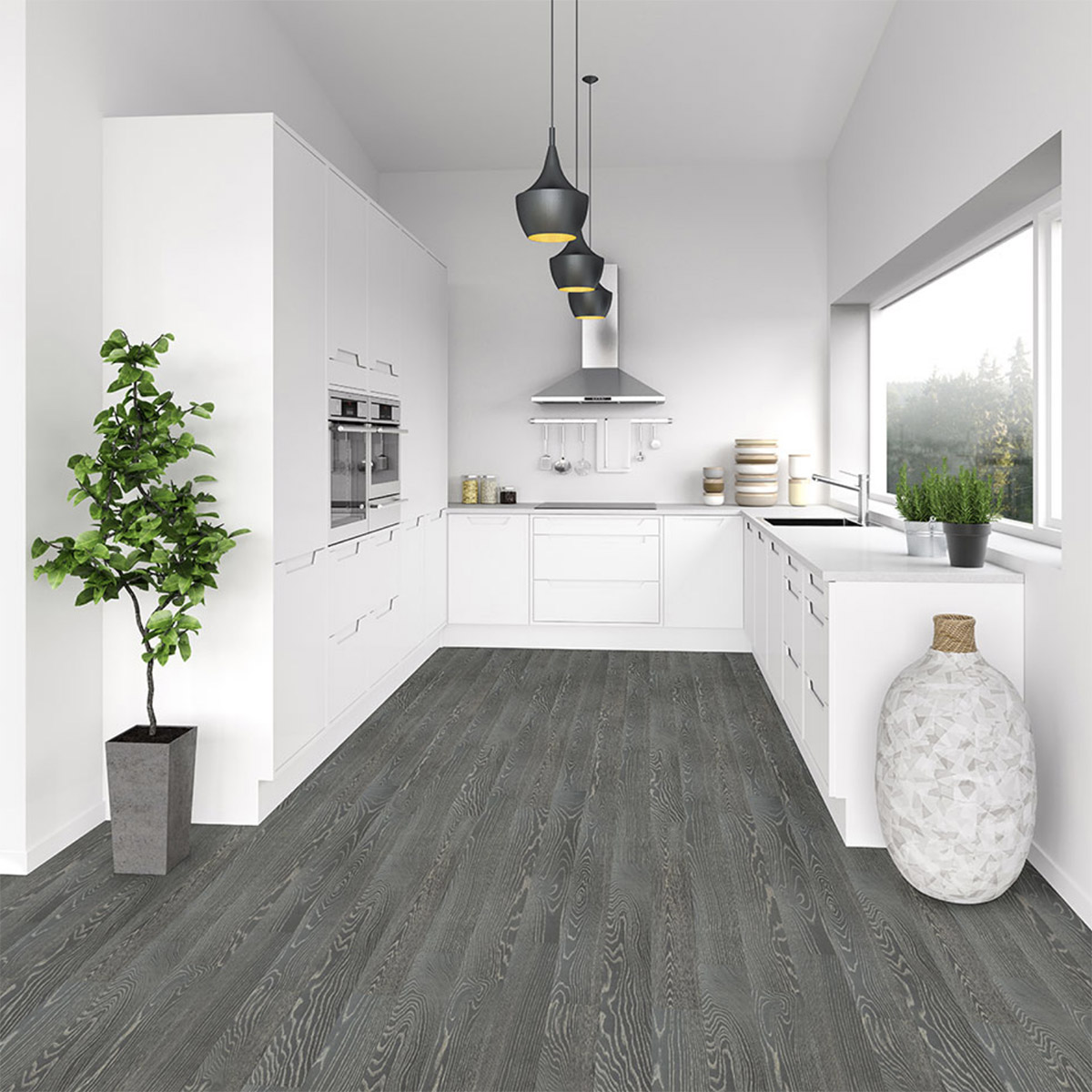 The Liora wood flooring pictured here features captivating grey hues and subtle knots and graining and a genuine wood top to create a waterproof wood flooring that is next to impossible to resist. Seen here as kitchen flooring, it's clear how Liora wood instantly upgrades the space.

This waterproof hardwood flooring comes with a wear layer that protects your investment against wear and tear and scratches. Perfect for kitchens, living rooms, entryways, bathrooms, and bedrooms and backed by a lifetime residential, 20-year light commercial, and 15-year commercial warranty, it's hard to go wrong when you opt for flooring from MSI's Everlife® Waterproof Wood Woodhills Collection.
WATERPROOF FLOORING
The Smithcliffs Waterproof flooring boasts patent-pending, DryLuxeTM waterproof technology throughout the entire flooring. These hybrid rigid core floors come with ultra-thick 2MM premium acoustic and comfort pads that keep your flooring quiet and comfortable and save you time and money during installation. This stunning waterproof laminate flooring is resilient and durable and will certainly upgrade any space it graces.

This collection comes in seven gorgeous colors for flexibility in your design scheme. Smithcliffs Waterproof flooring is an excellent choice for light commercial and residential applications. It provides high-quality scratch resistance to ensure your flooring brings joy to your household for many years.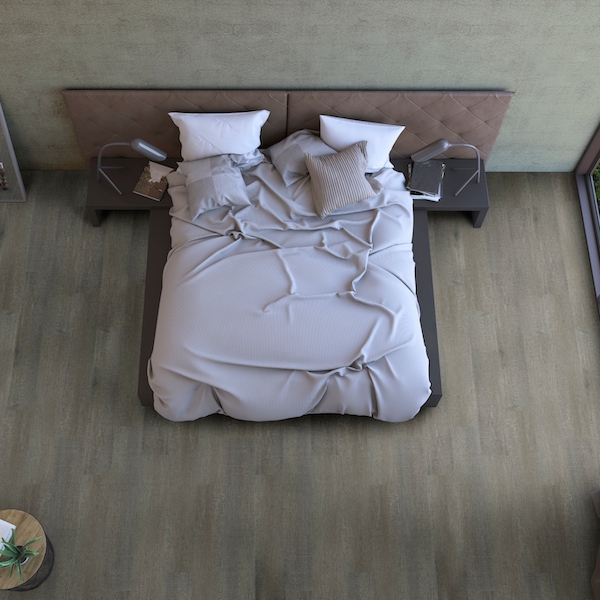 Pictured here is Emridge Hybrid Rigid Core Flooring™ from the Everlife® Smithcliffs™ Collection. This laminate flooring uses hazel hues with subtle knots and graining to create an authentic wood look in a 100% waterproof flooring. It features a 50% improved scratch protection compared to vinyl and utilizes CrystaLux Ultra™ technology to guard against dents, scratches, and stains. Additionally, its super-high density fiber core makes this flooring highly durable.
Finally, its patented tight locking system makes it easy to install, and the flooring looks fabulous in living areas, bathrooms, bedrooms, kitchens, and beyond.
PORCELAIN TILE
Everlife Waterproof Flooring's porcelain tile is sophisticated and versatile. Since these tiles are designed for wet or dry, indoor or outdoor use, you can use them to create that highly sought-after seamless indoor-outdoor transition. Equipped with ZeroSlip™ technology, this flooring offers excellent slip resistance for that added peace of mind, especially with kids or grandkids running around your property. These tiles are available in glazed, unglazed, high-gloss and refined, or you can have them textured to mimic natural stone.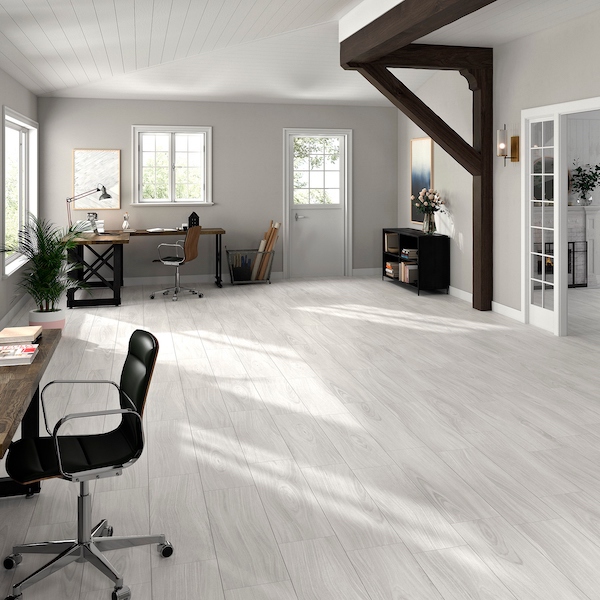 This Blanca Porcelain Wood Tile utilizes long linear veins in cool white to gray hues against a neutral background to produce a luxurious wood look flooring without the high price, unneeded worry, and regularly required maintenance. The 10x40" large format planks cut down on grout lines to create a more seamless, soothing look. This porcelain tile works well in both residential and commercial spaces.
CERAMIC TILE
Due to its seemingly limitless potential, ceramic tile gains popularity by the day for use in residential and commercial spaces. This waterproof flooring comes in numerous sizes and features rich textures and shades. Combining quality with durability, these premium ceramic tiles create the look of Italian, Chinese, and Spanish design at a low price point that will bring a smile to your face and keep your bank account healthy. These tiles use advanced design procedures to get you that coveted natural stone look for less.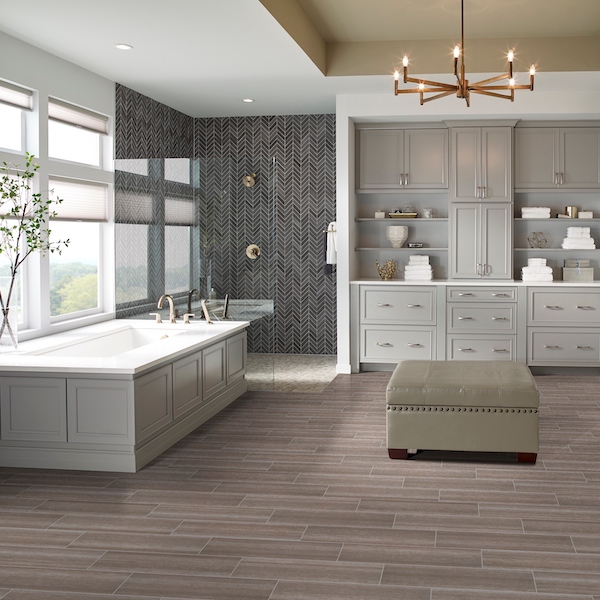 Check out the way this Turin Taupe Wood Look Tile brings this luxurious bathroom together. The ceramic tile features a warm taupe tone in a fine hardwood pattern. It's easy to clean with no required maintenance. Use it to create exquisite floors, backsplashes, shower surrounds, accent walls, countertops, and more.
No matter which product category you choose, you win every time with the Everlife Waterproof Flooring Collection from MSI. These maintenance-free products never require resealing or conditioning, and they deliver the sought-after looks you desire with increased protection and durability for less money.
Please browse the entire Everlife Waterproof Flooring Collection at your leisure and contact us with any questions you may have.
Learn More About Waterproof Flooring
8 Waterproof and Worry-Free New Shades Of Luxury Vinyl Tile
Waterproof Vinyl Flooring Buying Guide
9 Waterproof and Slip Resistant Porcelain Floor Tiles