Waterproof Vinyl Flooring Buying Guide
August 10, 2021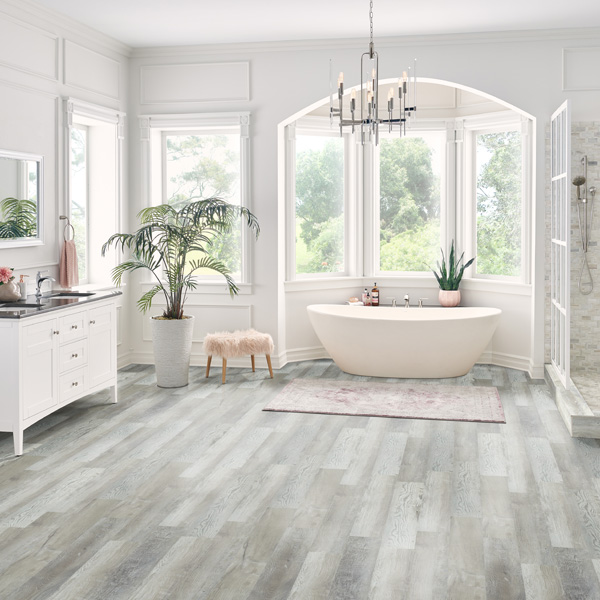 Like you, many homeowners are eager to add beautiful wood or stone-look vinyl flooring to their abodes. That's because vinyl has become one of the most popular flooring choices, and for lots of stellar reasons.
We've come up with an in-depth guide full of helpful and informative details on vinyl flooring so that you can make the best decision for your space. But, before you start tearing up your carpet or old tile, you'll want to learn about the characteristics, style choices, and installation methods of waterproof vinyl flooring.
Get ready to increase your knowledge and excitement for your new waterproof floors!
What Is Waterproof Vinyl Flooring?
Vinyl flooring is partly comprised of polyvinyl chloride, or PVC. This durable plastic makes up one of the several layers that comprise the planks or tiles.
There are multiple options for waterproof vinyl, but not all options are going to give you the moisture-resistance you need. Before we get into the different types of flooring, let's discuss some key commonalities among all vinyl planks and tiles.
Waterproof Vinyl Flooring Thickness
The thickness of vinyl flooring is measured in millimeters. Previously, vinyl planks with a hefty thickness indicated that your flooring would be sturdier and stronger. Yet, a newer technology has changed the need for super thick floors with the creation of stone-plastic composite (SPC) vinyl flooring. Since the core is created from a stone-plastic composite, it's an extremely durable option that comes in thin planks, so you get the strength without the bulk.
Since thickness doesn't always indicate sturdiness, you shouldn't always go with the thickest flooring. One of the most important factors regarding the density of vinyl is to choose flooring that matches with your existing floors to keep everything as level as possible without a noticeable transition.
Waterproof Vinyl Flooring Wear Layer
One of the most important features of your new waterproof vinyl flooring is the wear layer. This durable coating is the outermost layer and helps protect your vinyl floors from things like scratches, scuffs, dents, and even stains.
There are different ratings for how thick the wear layer is, and it's measured in mil, not millimeters. A rating of 6 mil, 12 mil, or even 20+ mil for high traffic areas is suitable for residential use. A rating of 12 mil is suitable for light commercial use, while 20+ mil is commercially rated and best for businesses with high traffic areas.
Whether you have rough and tough kids or pets to constant foot traffic, the thicker the wear layer the longer your vinyl flooring will last. Choose the thickest one that your budget allows no matter if it's for a residential or commercial project.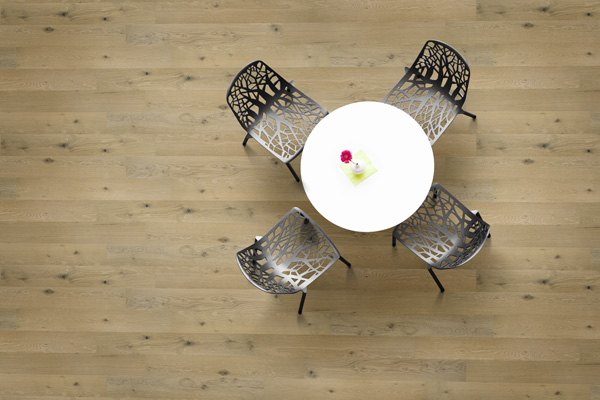 Underlayment for Waterproof Vinyl Flooring
Some luxury vinyl products come with an attached underlayment. If your flooring doesn't, then adding one will help with sound dampening, protect the subfloor, and make it softer underfoot. Both foam and cork underlayment options are common picks. However, they do come in various thicknesses, and adding underlayment or even one that is too thick could void your warranty. Please make sure to check with your manufacturer first before adding an underlayment.
Types of Waterproof Vinyl Flooring
Initially, you may think all vinyl is the same, but there are some critical differences in terms of its construction. Vinyl flooring is, for the most part, water resistant, with new and improved technologies creating floors that are more resistant to water and moisture than they have been in the past.
With three main categories available, you'll learn about luxury vinyl planks (LVP), stone-plastic composite vinyl planks (SPC), and wood-plastic composite vinyl planks (WPC).
Luxury Vinyl Planks
Luxury vinyl planks have a rigid core construction that's very durable. Luxury vinyl is available in the easy locking system or glue-down installation methods. Interestingly, there are even some luxury vinyl peel-and-stick types, but it should be noted that there isn't an industry standard for what defines "luxury" in luxury vinyl. Typically, LVP includes a durable wear layer, a realistic design, a thick vinyl layer, and attached backings that are not included on all LVP products.
Most luxury vinyl planks are 100% waterproof, but it may vary per brand or installation method. LVP is a strong material that can handle the everyday wear and tear from kids, pets, and high traffic. They come in a wide range of design styles, including realistic wood or stone looks as well as decorative designs. DIYers of any level should be able to install the easy interlocking planks, yet professionals are recommended for glue-down planks because of the more intensive subfloor prep and longer installation time.
Wood-Plastic Composite Vinyl Flooring
Wood-plastic composite vinyl flooring is 100% waterproof luxury vinyl flooring. What sets this product apart is its waterproof core that combines wood with plastic. The four-layer WPC vinyl construction is extremely tough yet flexible enough to offer a little give below your feet.
It can be installed in any room or level of the home, including wet areas like kitchens, bathrooms, and laundry rooms as well as basements. Because of its thick construction, it can be installed on top of imperfect subfloors. It's one of the most popular choices for commercial installs because of its sturdiness.
Stone-Plastic Composite Vinyl Flooring
Stone-plastic composite vinyl flooring is another 100% waterproof option. The difference between SPC and WPC vinyl flooring is the core. This rigid core features a super dense stone-plastic core, so it's very tough. But, because of its strength, it won't provide as much softness as WPC.
SPC vinyl planks can also be installed anywhere because of its waterproof properties, so it can easily be installed in wet areas or basements. Its durability and rigid core make it ideal for commercial spaces or other high-traffic areas, and heavy furniture isn't likely to dent or damage the flooring, which makes it an even more ideal option.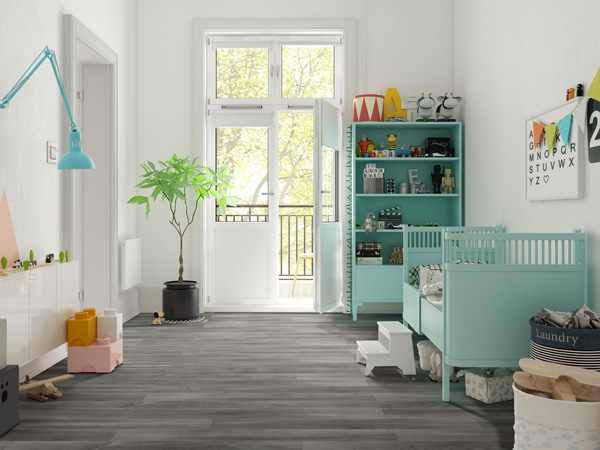 Styles of Waterproof Vinyl Flooring
No, vinyl flooring doesn't all mimic wood! It actually comes in a wide spread of colors, styles, and designs. It's a very versatile flooring option; you'll be able to choose from wood looks, stone styles, or decorative patterns. That means there's something for every design aesthetic!
Wood-Look Waterproof Vinyl Flooring
Yes, wood-look vinyl planks are definitely a popular style when it comes to vinyl flooring. One of the biggest benefits of luxury vinyl tile is the look of real hardwood without the worry of warping or maintenance required by actual wood.
Wood-look waterproof vinyl comes in various shades and wood-inspired types that mimic maple, oak, teak, hickory, and many more. You can also choose from light blondes to gray tones to rich hues, and in addition to the coloring and patterns making you do a double take, the textures will have you completely convinced. From more simplistic styles to beachy vibes to super rustic, there's something for your modern and contemporary to coastal to farmhouse designs.
Stone-Look Waterproof Vinyl Flooring
Luxury vinyl stone looks are available in both floor tile and plank form. Natural stones, such as travertine to slate, are becoming more popular in plank form, and it gives a twist on these mimicked natural materials that are considered more traditional. You'll even see concrete styles in vinyl flooring, which is perfect for those wanting something super industrial or majorly modern. Soon, you can expect to see more stone planks taking over some of the wood-look market.
Decorative Waterproof Vinyl Flooring
When a space needs something more distinctive or bolder than hardwood or natural stone styles, look to decorative vinyl planks. These waterproof flooring options come in such a wide variety, from geometric patterns to metallic looks to stained glass styles. It's an excellent choice for someone who doesn't want to stick with neutrals, as it will definitely set your residential or commercial space apart from the rest with the unique designs, colors, and patterns.
How to Install Waterproof Vinyl Flooring
There are a few different installation options, which is great since each home or business may require a different type of flooring and install. The main installation methods to choose from are interlocking, glue-down, and loose lay.