8 Waterproof And Worry-Free New Shades Of Luxury Vinyl Flooring
December 23, 2021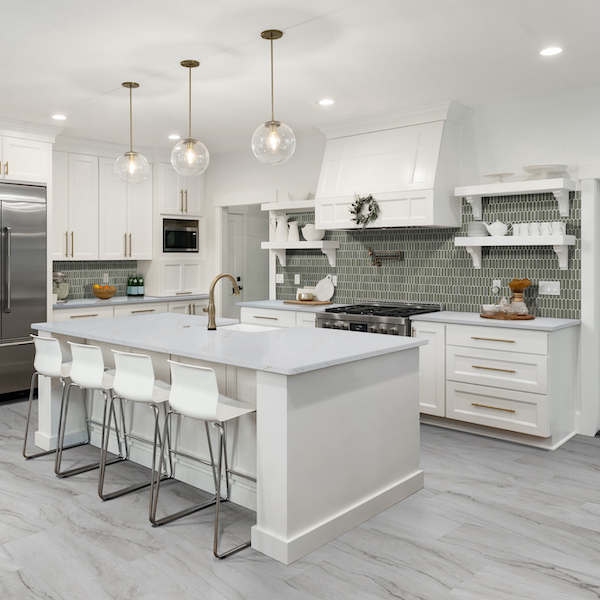 It's always exciting when two of our widely popular collections release new shades of Luxury Vinyl Flooring. This time we have new wood look colors from our first-rate Cyrus® Series and Prescott Collections and new natural stone looks in our popular Trecento Collection. Both collections are Rigid Core and use a simple click installation with a tongue and groove structure. This means you won't need adhesives and that the job is an easy one for a knowledgeable DIYer.
Since Rigid Core is thicker than other luxury vinyl flooring options like Flexible LVT, they offer more durability, added comfort, and will last longer.

This article will explore these new shades and the overall benefits of luxury vinyl flooring. We'll cover why luxury vinyl flooring is a superior choice to the surfaces it mimics and more. Read on and enjoy the new color show!
WOOD LOOKS
A huge advantage of Rigid Core luxury vinyl flooring is its incredible durability compared to hardwood flooring. Installing authentic wood floors in kitchens, bathrooms, and other moisture-prone areas is a bad idea since natural wood is highly susceptible to moisture. On the other hand, Rigid Core Luxury Vinyl Planks deliver the stunning look of hardwood flooring in these areas without the worry, thanks to its waterproof nature.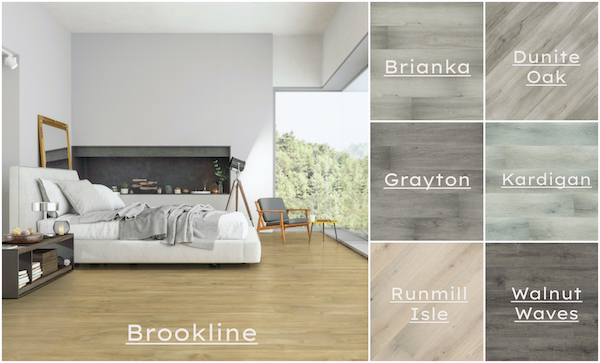 The Cyrus Luxury Vinyl Plank Collection boasts luxury vinyl plank (LVP) options where the possibilities seem endless. Cyrus® 100% waterproof wood-look vinyl plank flooring comes equipped with the protective CrystaLux™— a wearlayer that stands between your investment and the everyday spills, scratches, sun damage, pet accidents, and indentations that life throws your way. On top of all this, these tiles are backed by a lifetime residential warranty.

Other luxury vinyl tile benefits include easy installation, a pre-attached backing for additional quiet and added comfort underfoot, and low maintenance upkeep. If you opt for real wood flooring, you're looking at a higher price tag, ongoing sealing, more wear and tear, and less comfort.

One gorgeous new shade available in the Cyrus® and Prescott® Series (like all colors in this section) is Dunite Oak™ Luxury Vinyl Planks. It's an attractive mix of gray and beige hues with light knots and graining that genuinely captures the look of real hardwood. Use this floor tile to take an indoor area to the next level at a highly affordable price.
Brookline™ Luxury Vinyl Planks bring warmth to a room with its golden color, understated graining, and soft knots. Not only that, but it's challenging to tell the difference between this LVP and the real wood it mimics. Additionally, it features a patented locking system for easy installation even over existing flooring. Bring the golden light indoors with this flooring gem.
Grayton Luxury Vinyl Planks add a delightful air of mystery to your space with smoky gray hues and subtle knots and graining. Its wood look captures the contemporary and timeless at once. All you need to do is take one look to imagine the possibilities.

For a luxury vinyl tile with a softer gray look, check out our Kardigan Luxury Vinyl Planks. Featuring light gray tones and cream and blue-like hues, this flooring captures the coveted on-trend look of reclaimed wood at a much lower price with less required upkeep.
When it comes to luxury vinyl planks care and maintenance, you come out ahead whenever you choose luxury vinyl tile over the real thing. This is certainly true with the mesmerizing Runmill Isle Luxury Vinyl Planks. This new color uses sophisticated blonde hues with subtle knots and graining to deliver a statement-making authentic wood look.
Closing out our new wood look luxury vinyl plank shades is the handsome Walnut Waves. Luxurious brown tones come together with soft graining and understated knots to create a gorgeous, moody wood floor look.
NATURAL STONE LOOKS
Like the Rigid Core Cyrus® Series, our Trecento Luxury Vinyl Tile Collection uses a CrystaLux™ wearlayer to guard against daily threats to your stunning flooring like sun damage, pet accidents, spills, scratches, and indentations. It captures the irresistible look of natural stone in a more durable luxury vinyl tile that's priced much cheaper and requires less upkeep. Use it throughout your home or light commercial space to create a difficult-to-top look.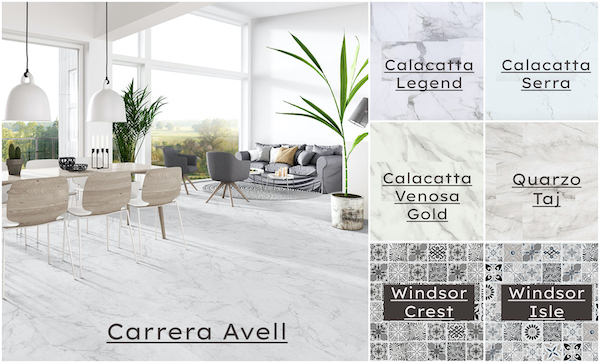 Capturing the look of natural stone in a Rigid Core Luxury Vinyl Tile is something MSI has undoubtedly mastered. A case in point is our Calacatta Legend™ Luxury Vinyl Tile which utilizes a vivid white background and smoky gray veining to create a chic waterproof vinyl flooring that delivers the look of smooth polished marble for less.

You won't need to worry about ongoing sealing when you select Calacatta Serra™ Luxury Vinyl Tile over more costly authentic stone. Calacatta Serra™ adds charm and style to your space with subtle clouds of gray veining against a creamy white background. This one is sure to impress anyone who enters your home.
Add some dazzle to your space with the new Calacatta Venosa Gold™ Luxury Vinyl Tile. We use an MSI exclusive polish to give these gems the look of polished marble, but it doesn't stop there. A bright white backdrop combines with abundant golden veins to create an authentic stone look like no other.

As you can see, all of the colors above are exciting and alluring for their own reasons, while all share the same benefits of Rigid Core Luxury Vinyl Tile. Other new shades to check out are Carrara Avell Luxury Vinyl Tile with its cool white backdrop and chic silvery gray veins; Quarzo Taj Luxury Vinyl Tile, which uses an ivory background and understated gray veining; and the incredible Windsor Crest Luxury Vinyl Tile that combines white and black floral patterns in a variety of shapes.
The real challenge isn't choosing luxury vinyl tile for your flooring needs—it's selecting which style and color are best for you. With so many to choose from, it's hard to know where to begin. We'd love to help. Please browse this guide to luxury vinyl tile, and don't hesitate to contact us with any questions.
Learn More About Waterproof Flooring
Everlife Waterproof Flooring Collection from MSI
Waterproof Vinyl Flooring Buying Guide
9 Waterproof and Slip Resistant Porcelain Floor Tiles