The Best Quartz Countertop Edge Options For 2021
February 10, 2021
Remodeling a kitchen or bathroom is always a challenge — there are so many choices to make, such as cabinetry, flooring, appliances, and fixtures. And then there's the countertop to consider. Granite, marble, and quartz are all great choices. But once you've narrowed it down to a gorgeous, durable, easy-care quartz countertop, there's one more choice you need to make: the edges.
While choosing an edge profile for your new countertop seems like a small detail, it's anything but insignificant. After all, it's the details that can turn a nice kitchen or bath design into an exceptional one. The perfect edge for your countertop can have a massive impact on the room's overall style!
Here's why it's so important, especially for quartz countertops. You might have noticed that, while every slab of granite, marble, or other natural stone is unique with its own one-of-a-kind combination of colors and patterns, quartz countertops are engineered premium surfaces so they are consistent in pattern and color.
When ordering a natural stone counter, in fact, you really need to go to the slab yard in person and pick out the exact one you want to install. This is part of natural stone countertops' charm, but it can also be a hassle. It can actually be a big consideration in your choice between quartz vs. granite. If you order a Rolling Fog quartz countertop, for example, it doesn't matter which slab arrives at your house. You know it will be the same cream-and-white swirl pattern that you saw in the showroom.
Despite the consistency in quartz countertop colors — or because of it — most homeowners will want to customize their countertops somewhat. They enjoy tailoring the final look to their own personal style. The right edge treatment can contribute to the room's appeal, whether it's traditional, rustic, contemporary, or modern — and the wrong one can detract.
Calacatta Verona Quartz
Fortunately, we're offering some tips on which edge to choose, starting with the most popular countertop edges for 2021.
Square Edge
Although a square edge profile is simple, it's anything but plain or basic. A square edge is a good choice for just about any decorating style. It's especially popular in kitchens or baths when the countertop has a bold, dramatic pattern. Homeowners also choose this design when they want other elements to become the room's focal point, such as a special mosaic tile backsplash, dramatic faucet, lighting, or unique appliances.
You can also choose a slightly rounded, eased edge for your countertop so the edges aren't so sharp. Not only can this prevent injuries, especially when you have young children, but it can also protect the edges of the countertop from damage.
Beveled Edge
A beveled edge on a countertop has been compared to classical stone architecture, and it's a great way to add a little extra charm without getting too fancy. It's also a good choice for most decorating styles from traditional to contemporary, with the added effect of reflecting light off the counter from a different angle. A beveled edge is an angle cut into the top corner of the countertop. This, too, can be customized with different degrees of bevel, such as 1/2-inch, 1/3-inch, and 1/4-inch designs, all slightly rounded to eliminate sharp edges.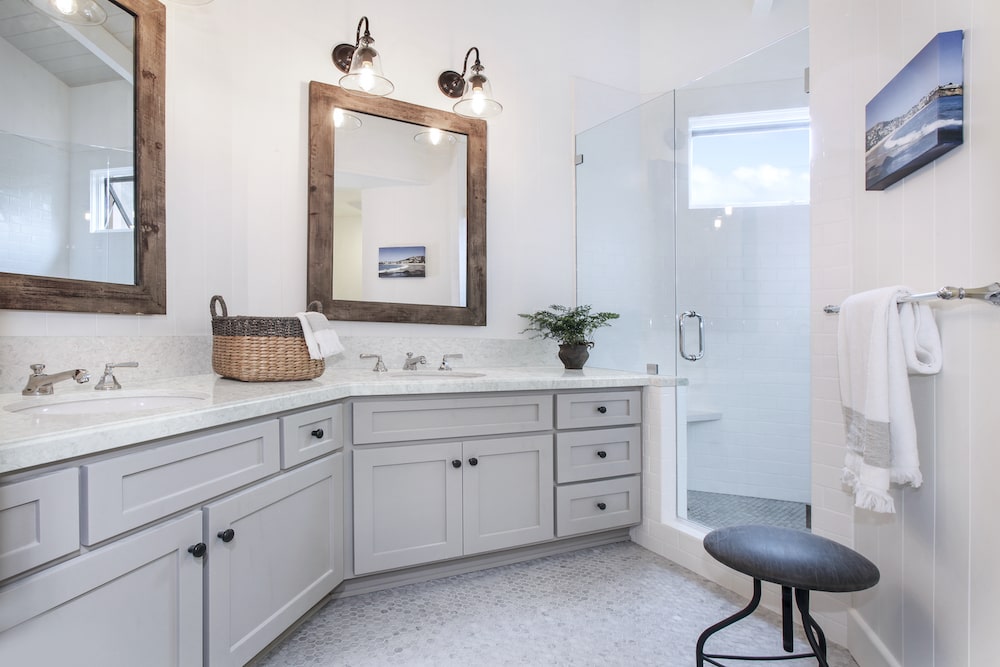 Rolling Fog Quartz
Bullnose Edge
Also called a rounded edge, the bullnose edge is one of the most popular countertop edge designs, particularly for bathrooms. It creates a soft profile rather than sharp edges, contributing to a warmer, more inviting ambiance. Another big benefit of bullnose edges is that they are easier to clean than more complicated edge treatments. Rounding out edges can make the countertop appear thinner, so it's more effective on quartz slabs that are thicker, such as 3 cm. vs. 2 cm. You can also choose a half-bullnose edge, on which only the top edge is rounded.
Mitered Edge
A mitered edge looks very much like a square edge, but the difference is that there's actually an extra strip affixed vertically to the edge so that the slab appears thicker. It is an excellent focal point for a modern design aesthetic and makes the entire room look more luxurious and high-end.
This is also referred to as a waterfall edge, which can be anything from an inch or two to a larger slab that runs all the way down the side of the cabinetry to the floor.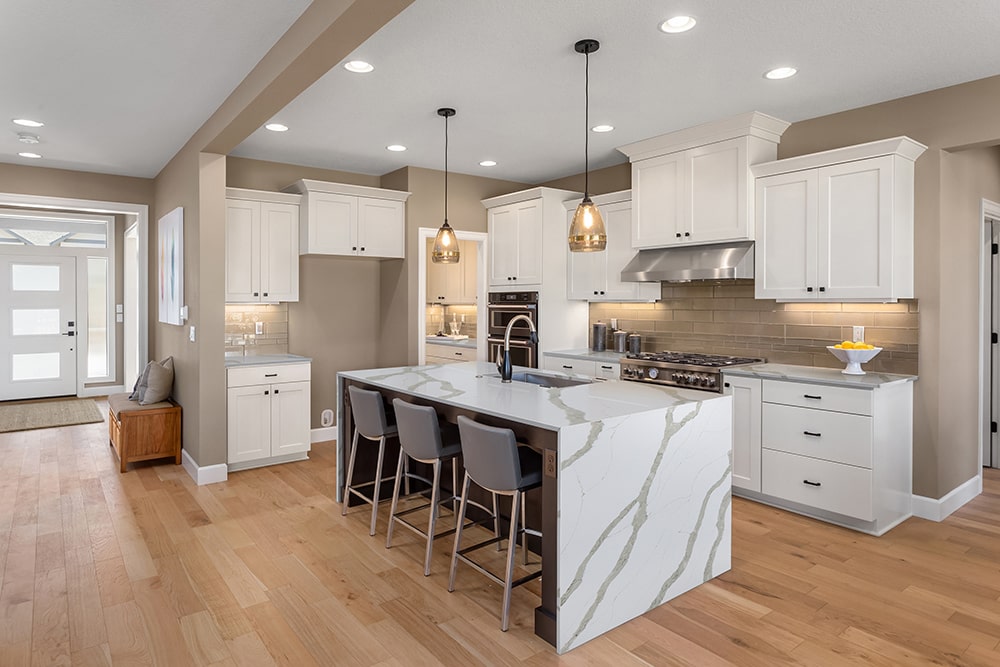 Calacatta Bali Quartz
Elaborate Edge Designs
More elaborate edge designs are generally considered traditional. If you are going with a Victorian, Colonial, or other classical looks, an elaborate countertop can provide a welcome touch of elegance. After all, a quartz countertop is a high-end, premium surface, so you should make the most of it! The only drawback to edge treatments like these is that they can be more difficult to keep clean, as dirt can collect at the edges of each curve. Some options:
Ogee: Two curves that create an S-shape.
DuPont: A straight drop that flows into a rounded curve.
Cove: A curved recess is incised into the top edge, followed by a straight edge beneath.
Triple Pencil: resembles three pencils layered on top of each other, angling outward.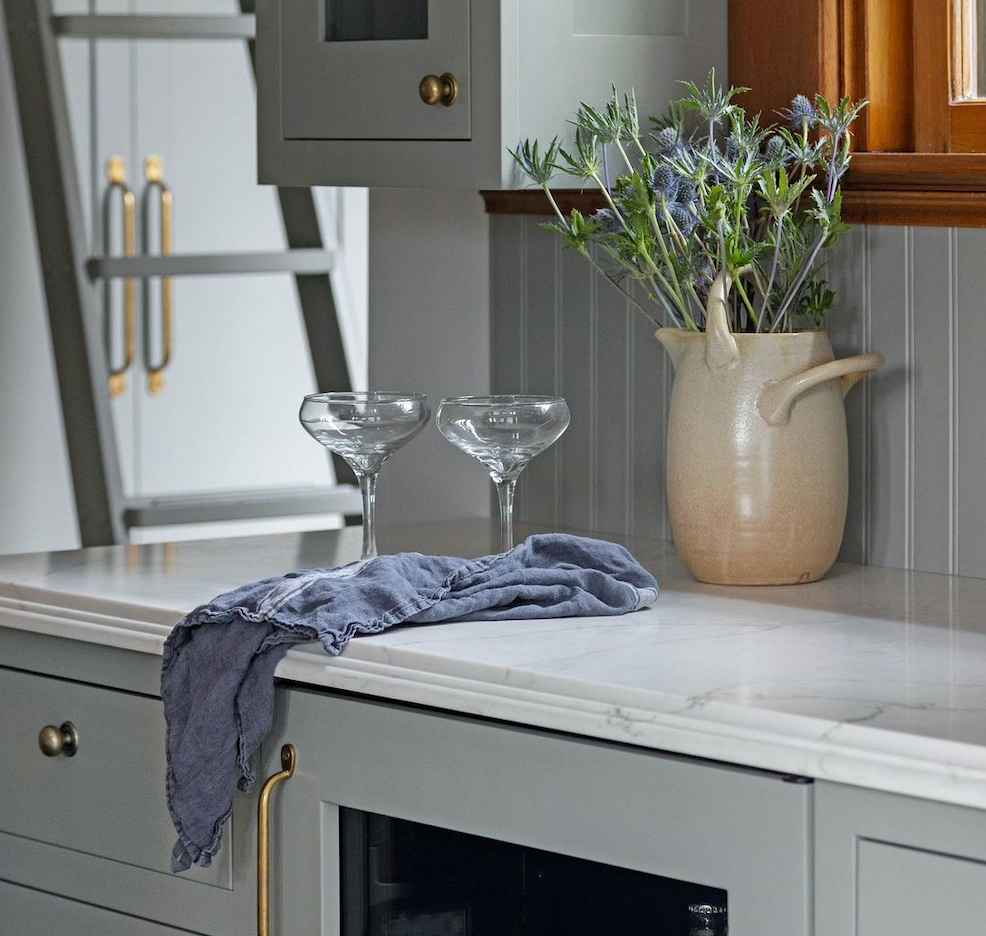 Calacatta Valentin Image Source: @elliotmeyersdesign on Instagram
It's hard to decide which countertop edges are best for your kitchen or bath design, simply based on this printed description. That's why we offer the Edge Visualizer Tool. Using this, you can select your favorite quartz countertop color along with the cabinetry and flooring you prefer, and try out the various edges to see how they really look when installed.
It's amazing how much the smallest details can affect the larger look and feel of a new room design, but a countertop edge can do just that. Best of all, although the edge treatments mentioned here are on-trend for 2021, they are also popular classic designs that will stand the test of time.
There's so much more to explore when it comes to choosing your perfect quartz countertop edging, so let's get started! Please chat with us online, visit an MSI showroom near you, or contact an authorized MSI dealer.
More on Quartz Countertops
Warm Quartz Countertop Colors Create A Welcoming Space
Why Quartz Countertops Are A Popular Choice for Reception Areas and Hotel Vanity Countertops
The 10 Most Popular Quartz Countertop Colors For 2021
5 Reasons to Consider Quartz Countertops