Q & A: Popular Questions About Premium Natural Quartz
May 20, 2013
Q™ Premium Natural Quartz is the latest in discerning countertops from MS International, the leading distributor of flooring, countertop, wall tile, and landscaping products in North America. Q™ Premium Natural Quartz countertops are exceptionally made and wonderfully suited to surfaces throughout the home, but quartz countertops themselves often remain a mystery to homeowners, as information about quartz is less plentiful than that of commonly discussed materials like granite and marble. Addressing the most popular consumer questions will highlight the distinct advantages of quartz and show you why Q™ quartz should be a part of your home.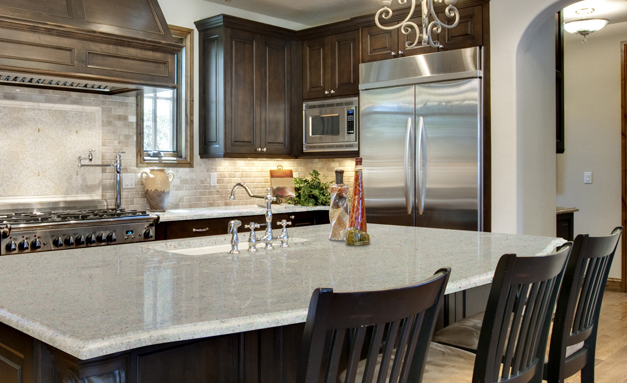 Q: How are Quartz Countertops made?
Quartz is one of the most common minerals on earth and is second only to diamonds as the strongest mineral in the world. However, unlike other minerals or natural stones, quartz is improved by man-made methods to create durable countertops. Quartz is mined from veins, ground up, and fused with polymer resins to create a material that is as hard as it is nonporous.
Q: What are the advantages of Quartz countertops?
Quartz shines. Without the need for finishing or sealing, quartz countertops have a natural luster that complement today's demand for sleek, sophisticated surfaces.
Quartz is stylish. Solid quartz counters can create endless lines that seem to enlarge spaces and draw the eye. A solid gleaming black quartz or white quartz countertop creates striking contrast against accents like wall mosaics or textured cabinetry. For those who love variation, MSI also offers sekelections of Q™ quartz with granular patterns that are strikingly similar to granite!
Quartz is incredibly durable. Extremely hard and nonporous, quartz countertops are ideal for kitchen and bathroom environments. Impervious to stains, quartz surfaces can stand up to heavy demands.
Quartz is extremely low maintenance. In fact, other than normal cleaning of food debris, spills, or dust, quartz countertops do not require maintenance at all. No sealing. No re-polishing. No reconditioning.
Q™ is clean. Because it is smooth with very low porosity, the surface is unsuitable for bacteria and microorganisms to harbor and grow. Quartz is a very hygienic choice - and makes cleanup even easier in the kitchen, as the majority of household cleaners are safe for use.
Q: How is Q™ Premium Natural Quartz different from other natural quartz?
Not all quartz countertops are manufactured the same. Some manufacturers add natural stone products or glass to the resin for variance or to change the pigment. Others combine antibacterial chemicals to the stone. The ratio of quartz to resin may also vary. MSI's Q™ Premium Natural Quartz countertops are more than 90% quartz, backed by a lifetime residential warranty, and are distinguished by a certification from The GREENGUARD Environmental Institute (GEI) as a green choice:
• All Q Premium Natural Quartz surfaces are low-emitting and contribute to healthier indoor environments.
• Reduce indoor contaminants such as mold spores, pesticides, & chemicals.
• Environmentally sustainable
• Safer for your family
If your question is what countertop material is best for your busy home, the answer is quartz! MSI's Q™ Premium Natural Quartz is currently available in 23 distinctive, modern selections from solid contemporary colors to eye-catching, granular patterns. Explore the all the advantages of quartz for your next project!
Read More About MSI's Q™ Premium Natural Quartz:
Go Green with Q™ Premium Natural Quartz Countertops
Q™ Premium Natural Quartz Brings Easy Care to Today's Busy Households