On-Trend Backsplash Tile To Create An Enviable Kitchen Backsplash
September 27, 2021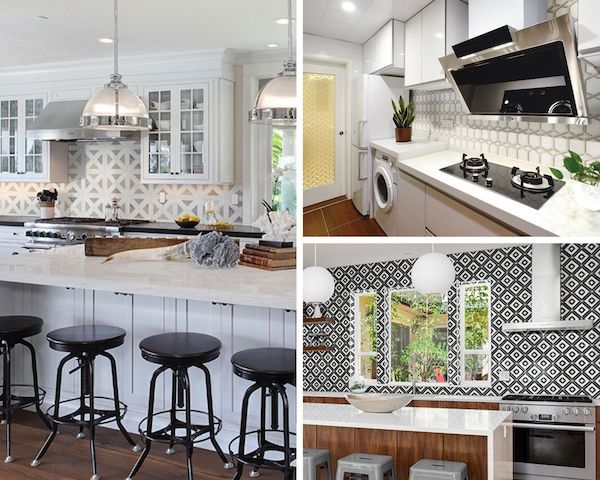 If you're in the midst of a kitchen renovation, you've probably had to make a lot of decisions. From designing the layout of your new kitchen to picking out the details like the flooring, countertops, cabinets, and backsplash tile, there's never a shortage of decisions to be made. Although choosing your kitchen backsplash may not seem like the most important choice on your list, it plays a big part in the overall look and feel of the finished space. To help you narrow down your wall tile options, we've outlined several factors to consider and provided a few recommendations that match nearly any kitchen design.
Factors to Consider When Selecting a Tile Backsplash
When choosing the perfect tile for your kitchen backsplash, there are a lot of factors to consider. Not only do you need to consider the amount of tile you will need and how that impacts the overall cost, but you'll need to decide between several backsplash designs and materials. Let's take a look at everything you need to consider when selecting a tile backsplash for your kitchen remodel.
Budget
One of the most important factors to consider is your budget. Understanding your budget before you begin looking at the different options available to you will ensure you only consider tiles that you can afford. The square footage of the area that requires backsplash tile as well as the material you choose can impact the overall cost of the materials.
Material
Once you narrow down your budget for the kitchen backsplash tile, it's time for the fun part — selecting the tile! Consider the overall kitchen design and aesthetic of the space when looking through the wide selection of tile options. From natural stone to glass backsplash tile and everything in between, you can find the materials that help bring your desired look to life.
Shape
Are you looking to create a high-end kitchen that is sleek and modern? Or are you envisioning a funky vibe with some added flair? Backsplash tile comes in an array of shapes and sizes, allowing you to add your own personality to the room. Tile patterns range from rectangles in a classic subway tile pattern to hexagon or chevron shapes that create a unique design. You may even find that you're a fan of three-dimensional wall tile for some added dimension and depth!
Color
When determining the color of your backsplash tile, you will also want to consider the room's overall color scheme. Is the backsplash going to be the main focal point of the room that stands out against your white kitchen? Or will it be a complementing feature that allows another aspect of your kitchen design to shine? If you're working in a kitchen with small square footage, it is recommended that you opt for a lighter color that can help make the room appear larger. The larger the space, the bolder you can go with the color and tile pattern.
Cohesiveness
Last but certainly not least, you need to consider how the backsplash tile you select works with the entire space. The tile should tie together the entire room, being a cohesive part of the kitchen design. Using our backsplash visualizer you can see how the patterned tile works with your existing kitchen cabinets, floors, and countertops.
Creating an Enviable Kitchen Backsplash
Here are a few of our favorite backsplash tiles that will elevate your kitchen aesthetic.
Waterjet Cut Mosaic Backsplash Tile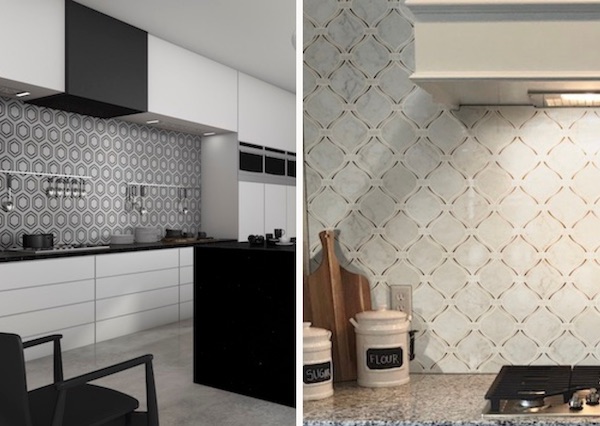 Close your eyes and picture your dream kitchen. What does the backsplash look like? Whether you've been envisioning rectangle, square, or hexagon tiles (or another shape altogether!), our newest waterjet cut mosaic tile in glass and marble can deliver. For a sophisticated backdrop to your high-end kitchen, you may be a fan of Royal Link backsplash tile that features a white marble background accented with a unique interlocking link pattern. The unique pattern offers added interest and dimension into the space, creating a beautiful focal point for your kitchen made from mosaic pieces. However, that's not the only tile you can rely on to add understated elegance to your kitchen. Another favorite of ours is Marbella Diamond wall tile that features classic white marble accented by touches of gray marble in a unique elongated diamond pattern. The subtly patterned tile comes in a neutral tone that seamlessly blends into nearly any space, allowing the rest of your kitchen to do the talking while providing a beautiful background.
3-Dimensional Backsplash Tile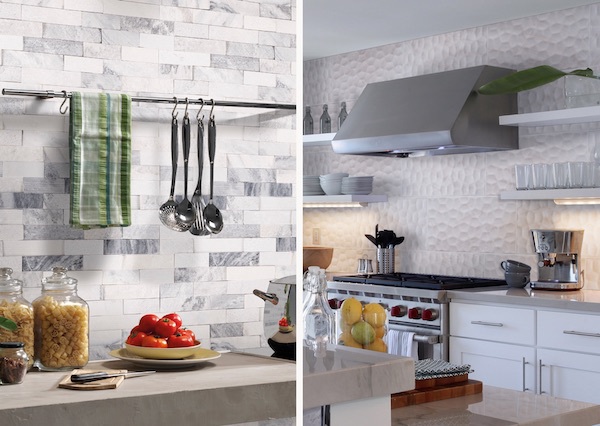 You've heard the phrase "go big or go home" — let's do that with your backsplash tile! Your tile doesn't have to be boring, you can use it as a way to liven up your kitchen. Having a funky backsplash doesn't mean you need to opt for a crazy tile pattern or bold and vibrant color scheme? Instead, consider three-dimensional tiles that add both depth and dimension into your space. A clear frontrunner for three-dimension tile is Adella Viso Gris large-format ceramic tile, made from marble with a soothing and elegant pattern. Even with crevices throughout the satin finish tile, it's extremely easy to clean and durable so you can rest easy knowing it will look great for years. If you want some color instead of a white backdrop but are still looking for something subtle, you may like the icy white and silvery gray tones of our Alaska Gray Multi Finish Stacked Stone Panels. The split face backsplash tile will add a unique character to your kitchen!
Geometric Pattern Backsplash Tile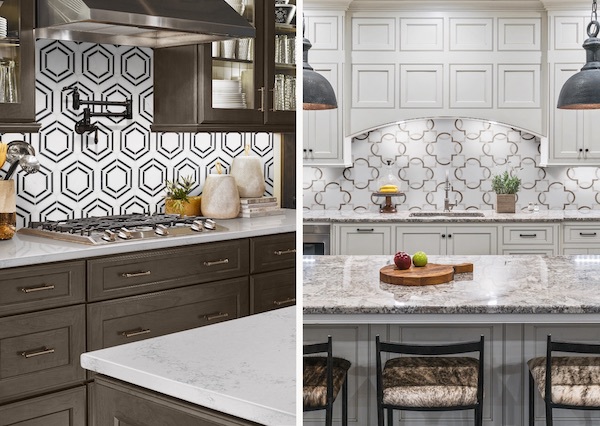 Your kitchen backsplash doesn't have to be boring! Instead of selecting a single-colored tile that creates a plain backdrop for your kitchen, opt for a geometric patterned tile that can liven up the space! For a modern pattern, install Georama Nero Polished tile in black and white marble for a sophisticated appearance. The hexagon tiles are playful while remaining elegant, perfect for a kitchen backsplash or even as an accent wall, countertop, or flooring. If modern tiles don't match your desired aesthetic, Bianco Quatrefoil tile might be more up your alley. These tiles boast a classic white marble background that is enhanced by a classic quatrefoil pattern in light and dark brown. This distinctive geometric pattern is sure to be a crowd-pleaser!
Encaustic Pattern Backsplash Tile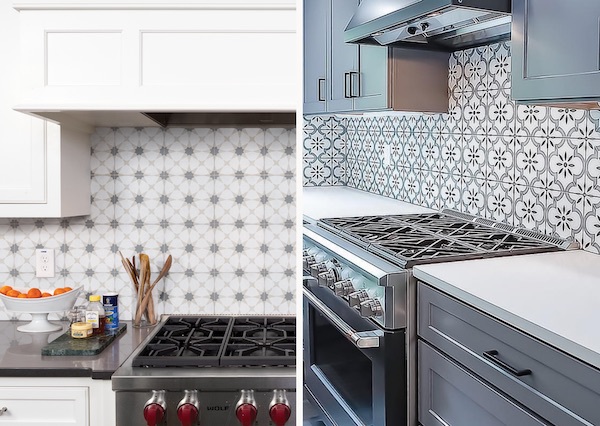 From cozy farmhouse-style patchwork looks to more contemporary patterns in on-trend gray and white tones, you'll be sure to find a backsplash tile you like from our encaustic pattern backsplash tile collection. If you want a backsplash that is both trendy and timeless, look no further than Zoudia Porcelain Tile from our Kenzzi Collection. With a creamy-white background that is accented with an enchanting gray and beige geometric star pattern, it's no wonder this is a top pick from homeowners looking to lighten up their space! Its playful pattern pairs beautifully with a variety of kitchen color palettes and designs. For a bolder tile, consider Azila Porcelain Tile that boasts a snow-white backdrop that is enhanced by black and gray floral print with subtle geometric influences. The subdued color palette allows the pattern to do all the talking by adding character and dimension into your space!
Deciding on the best backsplash tile for your kitchen can be a difficult decision, but with MSI Surfaces it doesn't have to be. After learning about your project goals, we can recommend a few tile options that will bring your vision to life
READ MORE ABOUT MSI BACKSPLASH TILE
Unique Backsplash Tile Shapes That Catch The Eye
Msi's Kitchen Visualizer - 4th Room Scene With Backsplash Designs
Our Top 10 Bold And Blue Backsplash Tiles