7 Quartz Colors That Look Like White Marble
August 10, 2021
Marble is one of the most beautiful materials in any home, and why wouldn't it be? It's classy, elegant, and timeless. Unfortunately, this also makes it costly, so marble quartz colors are a good alternative.
The average home renovations cost about $46,748. Because this is such a high figure, it's important that homeowners make every penny count with durable, quality, and elegant materials.
When looking to install new countertops, marble-look quartz is likely the right choice for budget-minded homeowners. These slabs give you all the visual benefits of marble in low-cost and durable quartz. Read on to learn some of the best marble-look quartz options that MSI offers!
Calacatta Leon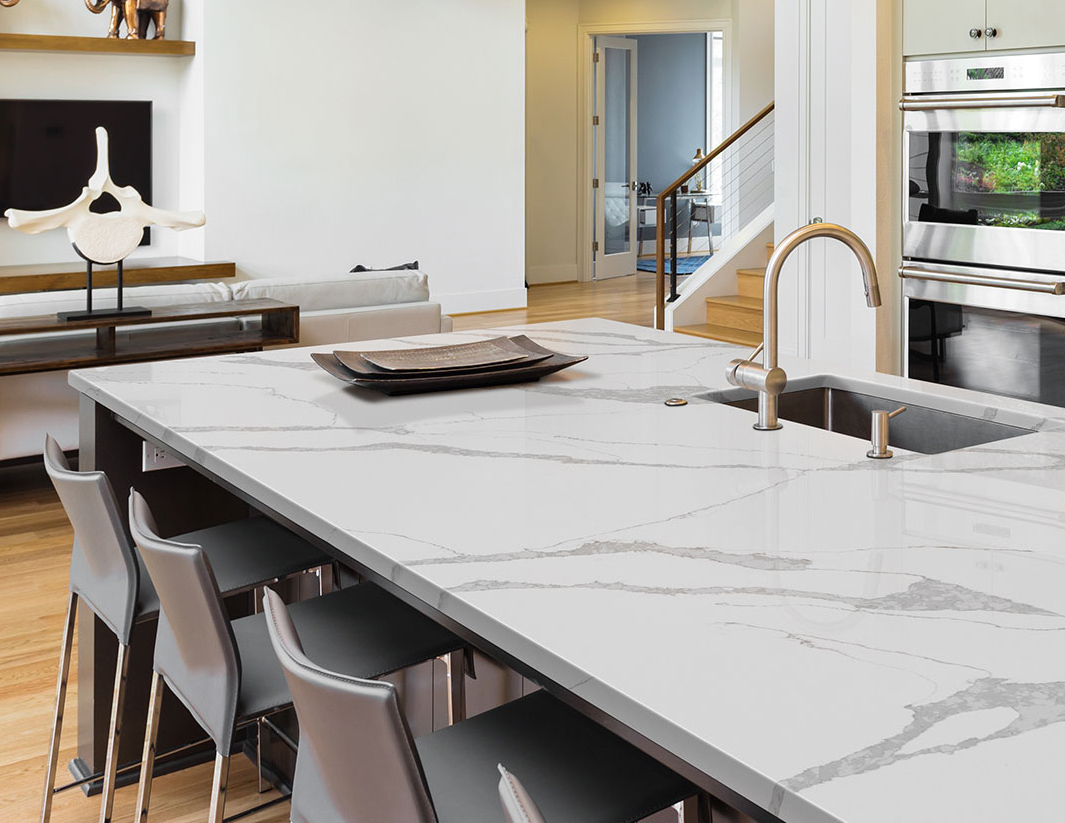 While marble premium surfaces have many benefits, quartz is slightly more durable. It's non-porous, which means that it won't stain after a spill. It also is more resistant to cracking than marble is, so you don't need to worry about cracks after chopping vegetables.
If you aren't committed to the high value that marble offers your home, quartz is a less expensive alternative.
Calacatta Leon engineered quartz is one of our classic marble-look options. It features a soft, warm white backdrop with large gray veins. The veins are thick and have a nice contrast with the primary hue, so your space is sure to stand out.
Calacatta Ultra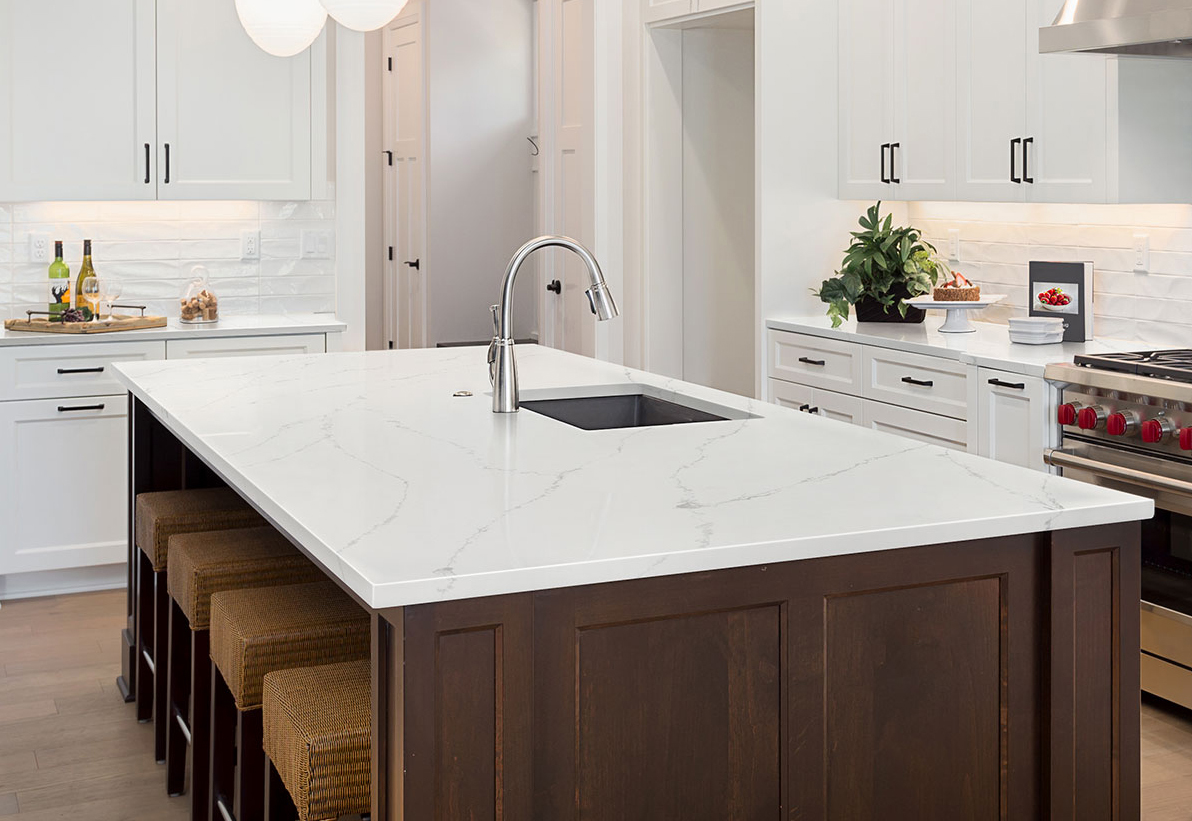 Looking for quartz countertops that have slightly subtler veining? Calacatta Ultra has your back.
This beautiful slab is made up primarily of a cream color. Its warm hue pairs amazingly with cozy decor schemes that have soft lighting. You can also pair it with red, orange, or yellow trim to bring out the best of its shade.
The gray veining on Calacatta Ultra is also slim and organic. This means that your countertops won't be the statement piece that they would be with Calacatta Leon. Instead, they'll seamlessly blend into any room and add a feel of elegance to an otherwise incomplete space.
Calacatta Montage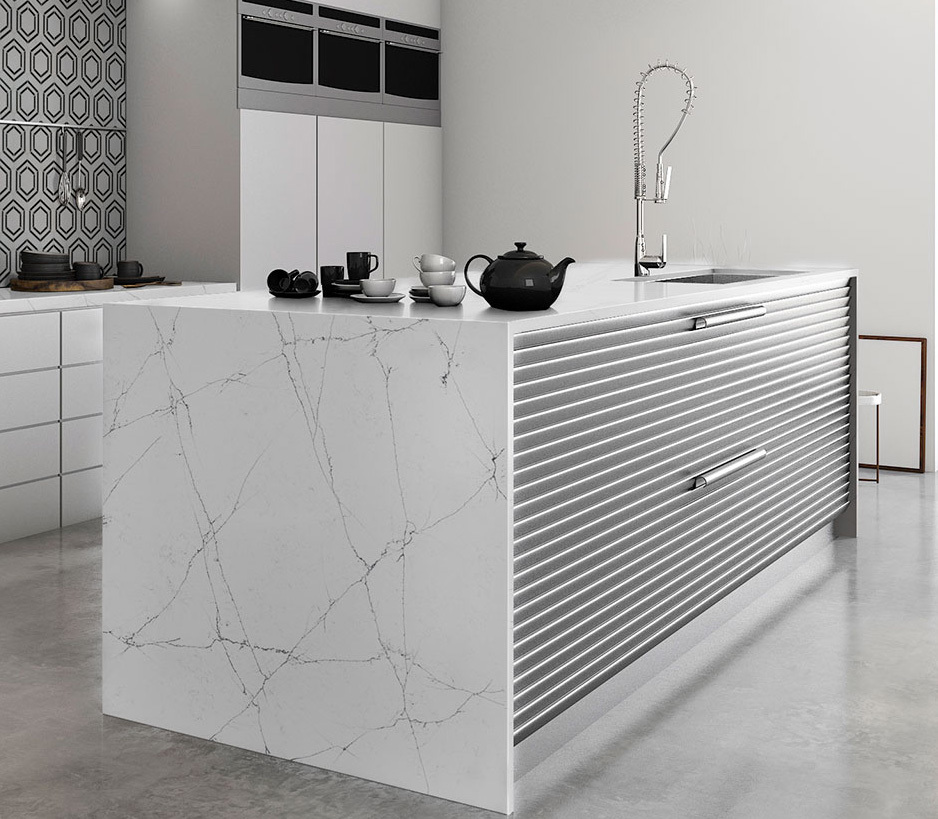 If you're looking for an elegant and high-end modern design, Calacatta Montage may be the right option for your space. This slab has a white background so dark that it's almost gray. This gives it a soft feel that its other Calacatta counterparts can't emulate.
Additionally, the veining on these slabs is incredibly dramatic. The thin dove-grey lines are organically sprinkled throughout the surface in overlapping lines. This style is sure to stand out in any decor scheme and be the envy of all who see it.
Like all of our other quartz slabs, Calacatta Montage is the perfect choice for multiple applications. Whether you simply want new countertops or are looking for a gorgeous accent wall, backsplash, or flooring option, this is a design to keep an eye on.
Calacatta Vicenza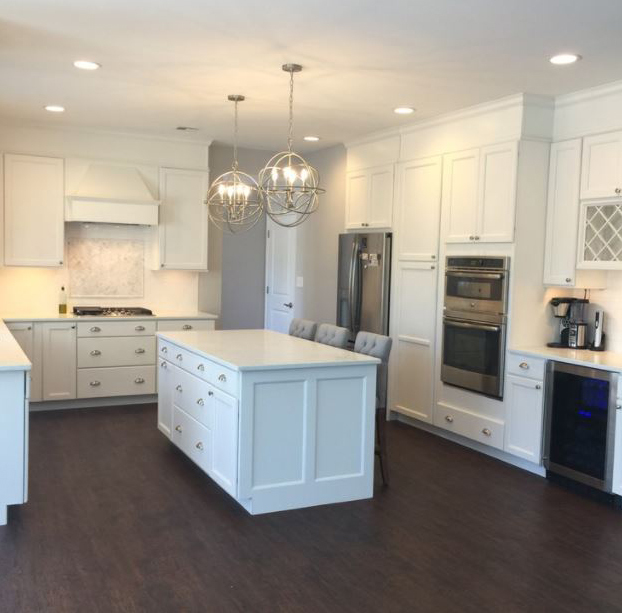 Photo Credit: @meganstamelos on Houzz
Calacatta Vicenza quartz that looks like marble is one of the subtlest styles in our catalog. The elegant white backdrop is neutral and goes with both warm and cool color schemes. As a result, you can use it with any type of lighting, trim, or furniture.
The grey veining is also extremely thin and minute. Rather than having the same bold lines as other Calacatta options, this slab's veining looks more like organic shapes. The black veins come together to create organic shapes such as half-circles and loops.
Those looking to get Calacatta Vicenza (or any of our other white countertop slabs) can order it in either 2-3 cm thicknesses. There are also prefabricated options available, so ask MSI about these slabs if you're looking to maximize installation flexibility.
Fairy White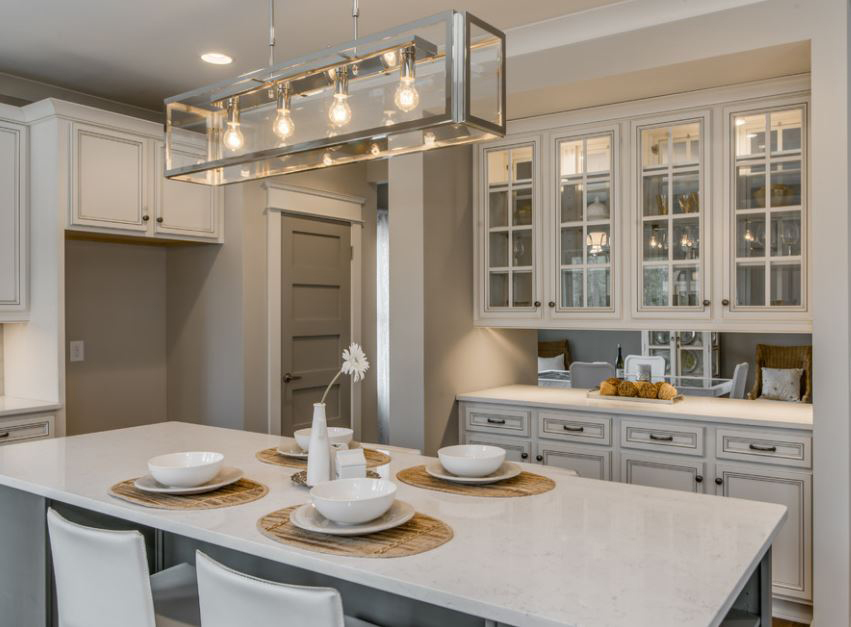 Photo Credit: @marilynhillinteriors on Houzz
Not all of our white, marble-look kitchen countertops are part of the Calacatta collection. We also offer gorgeous slabs like Fairy White.
This beautiful slab features an icy eggshell background with cool gray organic veining. Because it's so bright, it looks perfect in modern and contemporary spaces. Bright fluorescent lighting will bring out the glow of the surface.
Try pairing this cool countertop material with stainless steel appliances and glass lampshades. The brilliant hue is sure to elevate your space because of its light sterling accents and low-maintenance stain-resistant beauty.
Carrara Morro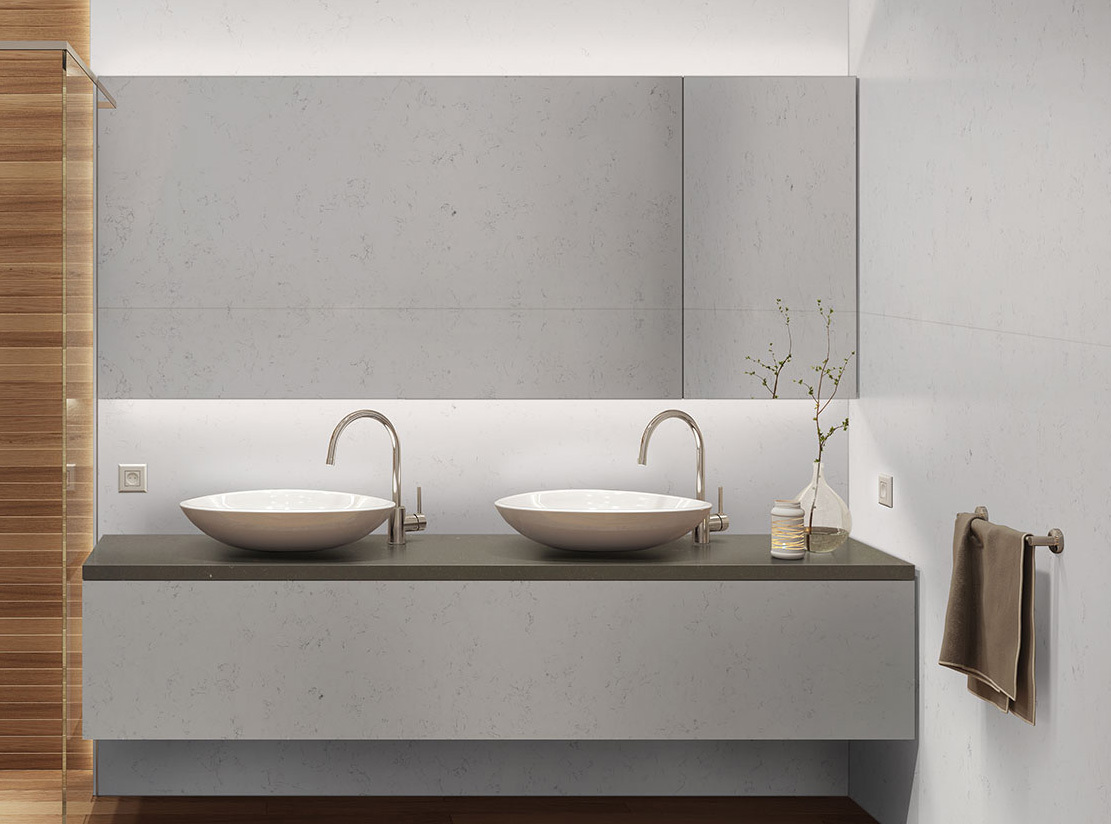 Carrara Morro is an understated slab that complements any space perfectly. The neutral white background has a matte appearance and works well with all color and decor schemes. However, despite its lack of a glow, it looks fresh and unique.
Because of the extremely fine veining, this is one of the most versatile styles in MSI's catalog. You're sure to love it regardless of whether you want an antique marble-look design or a bright contemporary slab.
Quartz countertop care and maintenance are simple when you use any MSI slab. Whether you prefer Carrara Morero, Fairy White, or any of our Calacatta styles, all you need to do is wipe spills up with a wet washrag immediately to prevent staining. Beyond that, you can simply wipe it with soapy water occasionally to keep it shining.
Glacier White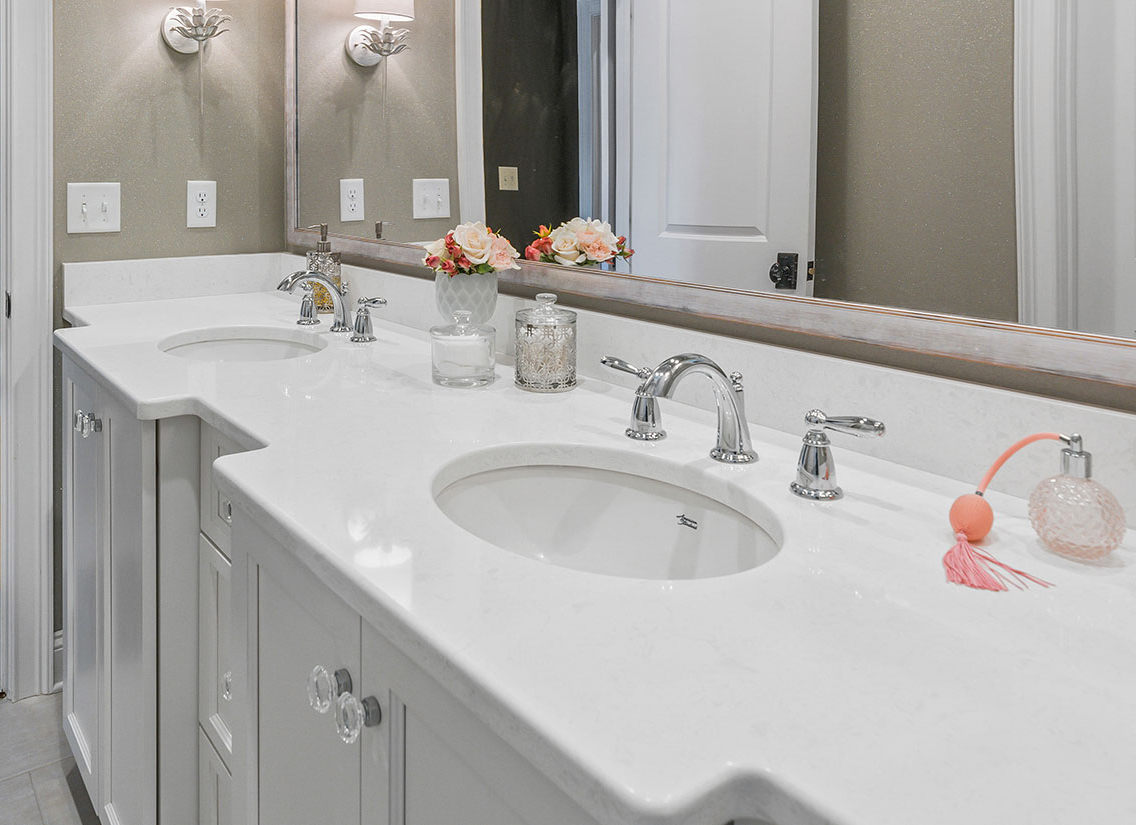 Glacier White is a great choice for unique, individualist kitchen remodel designs. This creamy white quartz features an organic frosty heather rather than traditional veining. This essentially means that it has clouded gray-brown shapes scattered across its surface for a bold look.
This slab looks amazing with all lighting schemes. Bright lighting provides a unique contrast and brings out the heather while softer lighting brings the space together.
Get Countertops in Marble-Look Quartz Colors Today
Now that you know some of the best quartz colors for your marble-look countertops, it's time to get started. Contact MSI's experts with any remaining questions that you have about your next kitchen renovations.
We're happy to help you find the perfect quartz slab for your kitchen, bathroom, or home accents. Because you can view all options with our countertop visualizer tool, it's easy to see what will best fit your space. We look forward to helping you with your upcoming renovations!
Read more on Quartz countertops:
6 Quartz Countertops That Look Like Concrete
Monochromatic Quartz Countertops: A Contemporary Trend
Are Quartzite and Quartz Countertops The Same Thing?
Solve Your Kitchen Remodel Emergency with Prefab Quartz Countertops