The Truth About Marble In The Bathroom
September 26, 2018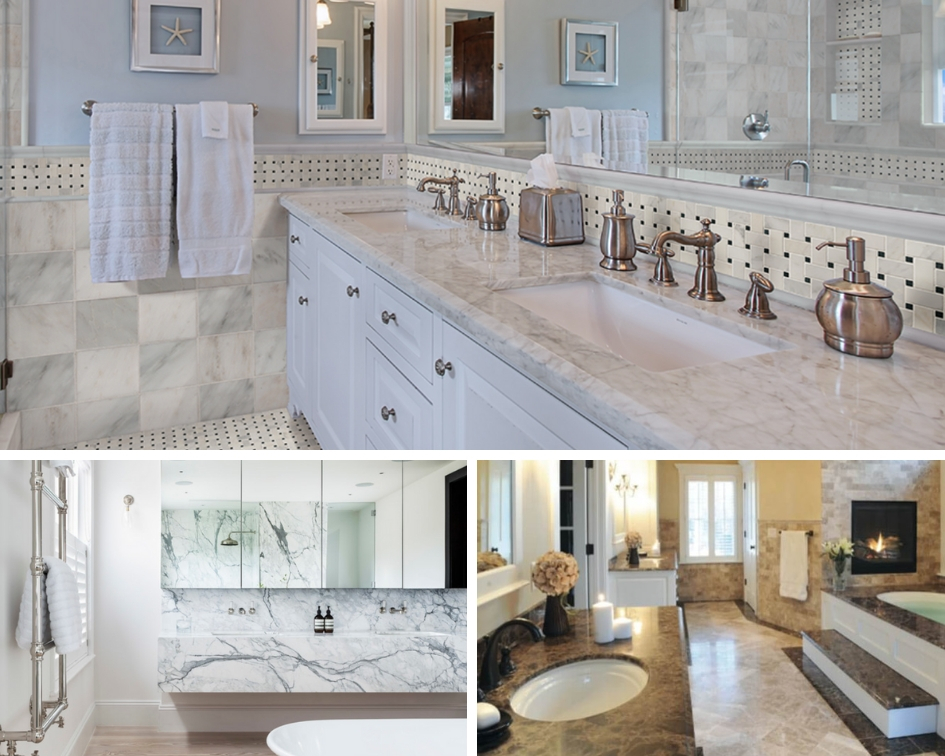 Natural marble is one of the most beautiful and luxurious stones on the planet, and it is always on trend. In addition, much ado is often made about how difficult marble floors and marble counters are to keep looking beautiful…but in all honesty, marble's delicacy is often overhyped. Yes, it is true that marble requires regular sealing to protect against watermarks and stains, but that is quite a simple process that only needs to be done a couple of times each year.
When it comes to sealing, in most cases, the best sealing option for marble inside the home is a water-based one. The reason for this is that water-based sealers don't produce the noxious fumes associated with solvent-based sealers. The end goal of sealing your marble flooring, countertops, and showers is to repel any substances—including beauty products—that will inevitably get spilled on the natural stone. But there's no need to be worried about cleaning the marble in your bathroom—a gentle liquid soap, soft cloth, and water is all you need for routine cleaning of sealed marble.
We've eased your concerns about marble care, but now it's time to check out some gorgeous marble looks! The most iconic marble slabs are undoubtedly Carrara White. Its soft white background and elegant gray veins are the quintessential timeless choice for a luxurious design. Combining a marble slab with one or two natural marble tiles is a chic bathroom makeover idea that is sure to please. In this bathroom, the small tiles on the marble flooring and larger tiles for the shower pair with the elegant countertop, creating a beautiful, spa-worthy retreat.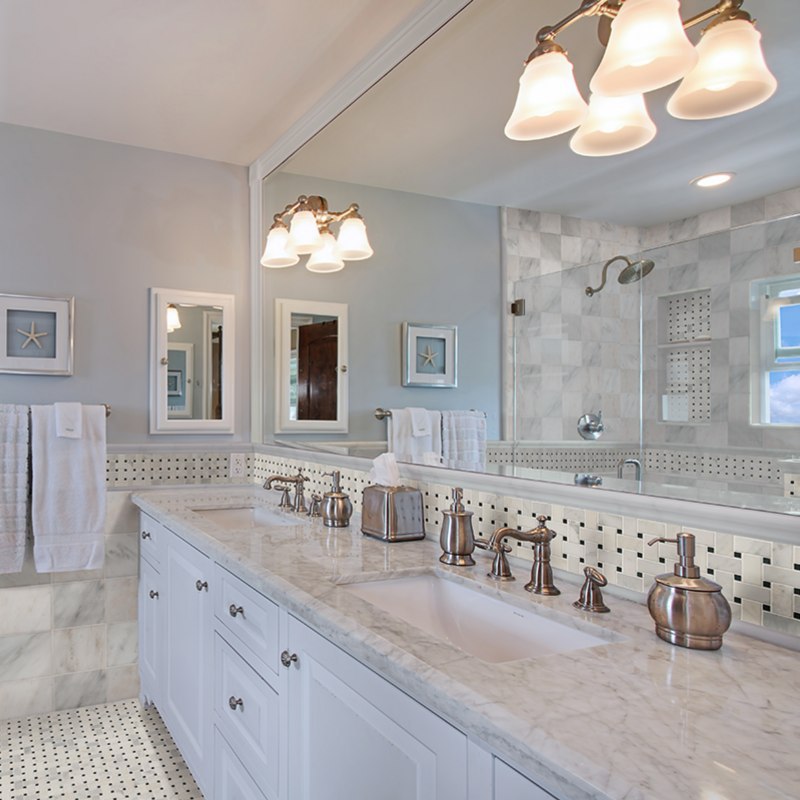 Featured: Carrara White Marble
With more variation and more dramatic veining, Arabescato Carrara Marble also lends itself well to bathroom designs. Here, large format marble tiles are used both for the shower and as an elegant marble flooring. The expansive space, flooded with sunlight and accessorized sparingly, has a modern feel that still stays grounded in classic design. One of the benefits of this marble tile is that several of the sizes are available with a honed finish—perfect for a bathroom. A honed finish can disguise the majority of any light marks caused by water droplets, and is less slippery than polished finishes when wet.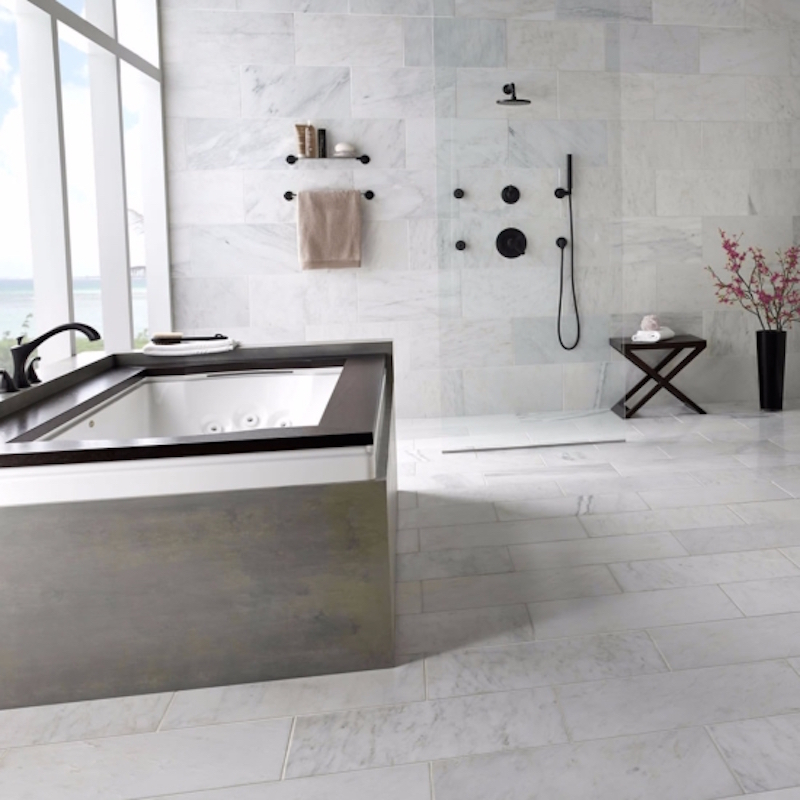 Featured: Arabescato Carrara Marble
Want to go even bolder? Statueritto Marble slabs might be the answer for your design dreams! In this clean and sleek bathroom, this high-drama gray and white marble extends far beyond just marble countertop, creating both an eye-catching backsplash and cladding the front of the vanity. It is definitely the star of this design. As a bonus, extending marble onto the vanity and wall makes them incredibly easy to keep clean. Wood-look tile floors add a warm contrast in both color and pattern, resulting in a contemporary bathroom that plays tribute to both natural textures and tones.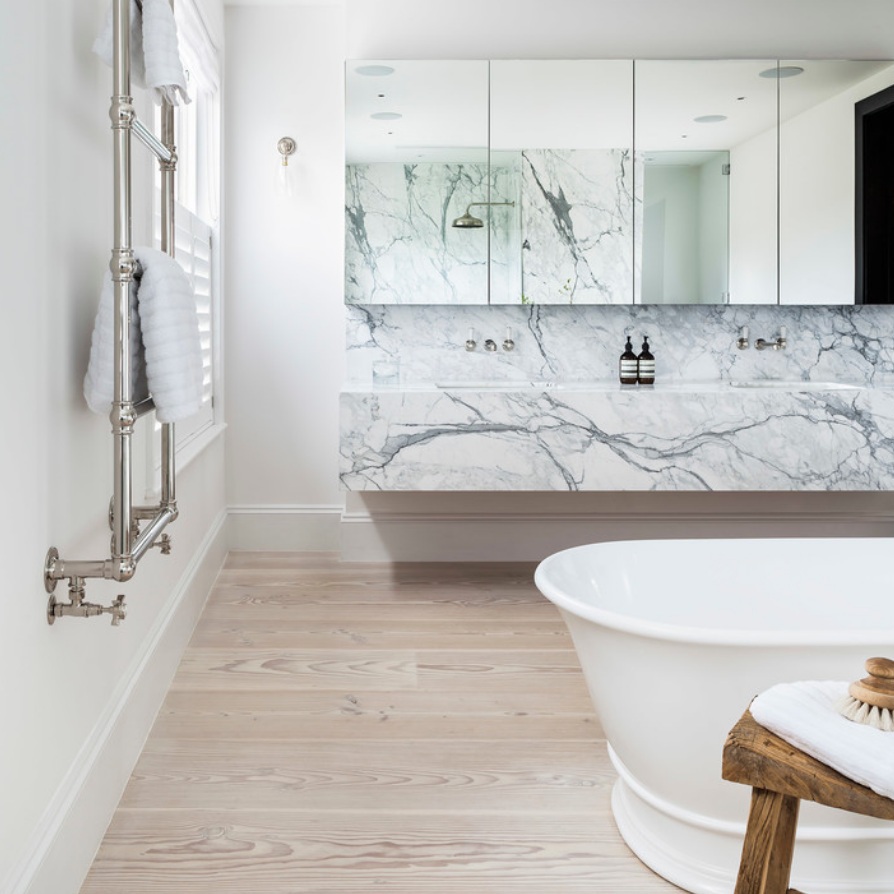 Get this look with MSI's Statueritto Marble (Photo Credit: Houzz)
If your style leans more towards warmer tones, don't fret; there are plenty of natural marble slabs with golden hues as well. This traditional bathroom retreat, complete with a beauty station and separate vanities, uses rich hardwood cabinetry to complement our Emperador Light marble countertops. To keep water spots at bay, be sure to wipe down your marble countertop with a soft cloth after brushing your teeth or splashing water on your face.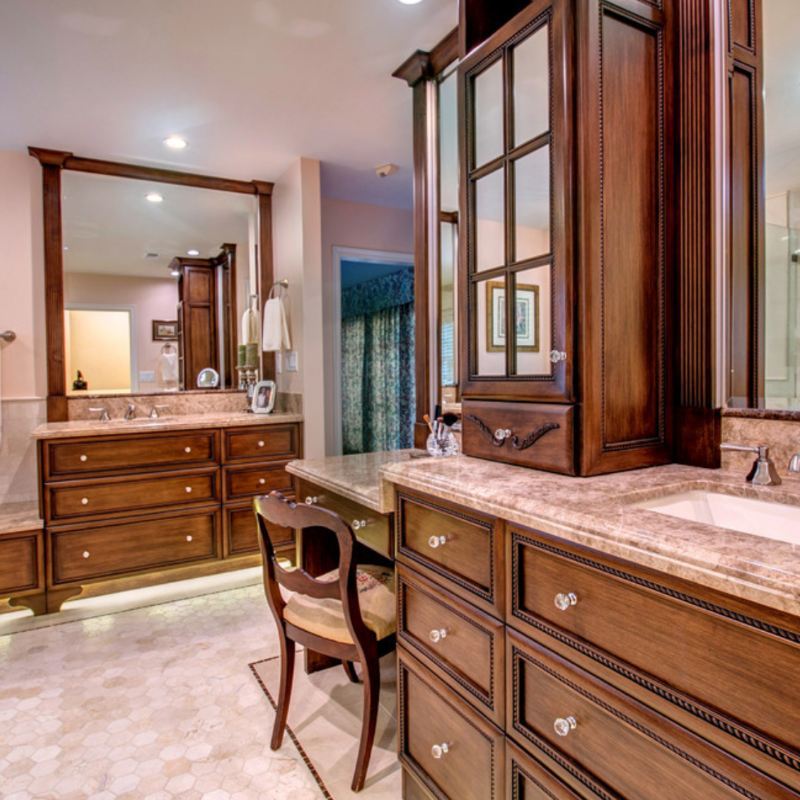 Get this look with MSI's Emperador Light Marble (Photo Credit: Houzz)
If a more linear pattern is what you long for in your marble flooring, our Gray Oak Marble beautifully captures the look. The name of this stone may pay homage to hardwood, but this is still a natural marble tile, rich with warm creams, golds, browns, and hints of cool grays. In this contemporary bathroom, the marble floor acts as the "splash zone" between the bathtub and the vanity, and looks like a pattern rug with its complementary mosaic tile frame. The honed finish of this area is perfect for disguising any watermarks that may appear, while the polished tile that surrounds the frame reflects both light and shadow.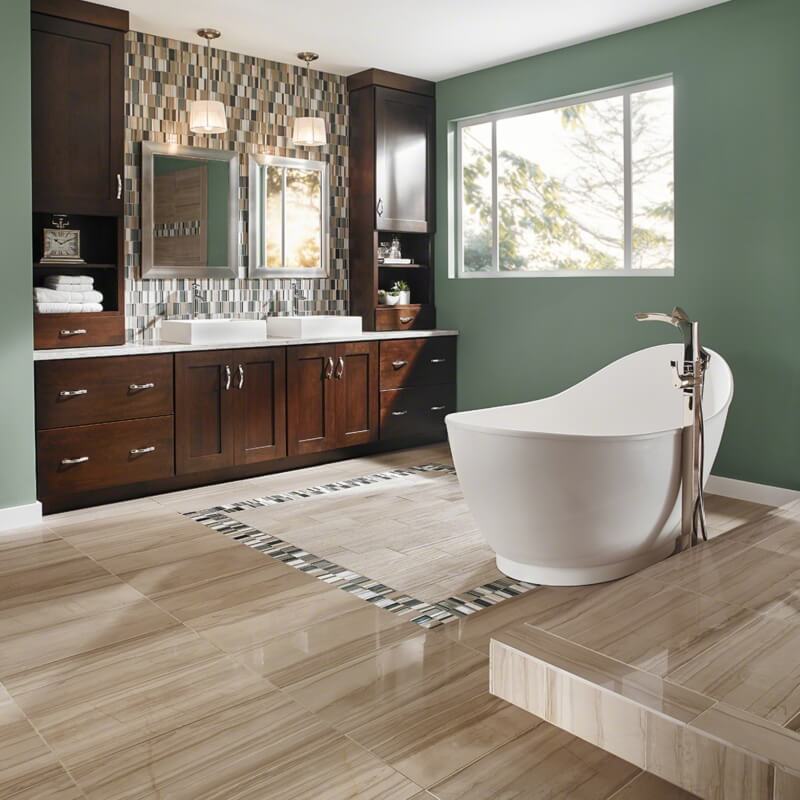 Featured: Gray Oak Marble
When designing your ideal bathroom, don't be afraid to use natural marble flooring, countertops, or showers in your space. Yes, the marble surfaces will need to be sealed to protect them from beauty products and other spills, but with just a bit of extra care and attention to drying the surfaces, your bathroom will be beautiful for decades to come.
MORE BATHROOM IDEAS
Tile Style: Beautiful Bathroom Designs Featuring Ceramic Tile
Tips From The Trade: Should You Use Stacked Stone In The Bathroom?
Perk Up Your Bathroom With Fresh Ceramic Tile
Tile Style: Which Size Porcelain Tile Is Best for Small Bathrooms
7 Bathrooms Featuring Show-Stopping Travertine Tile
Why We're Seeing More Quartz Countertops In The Bathroom