Popular
The Top 5 Design Trends Of 2020
January 14, 2020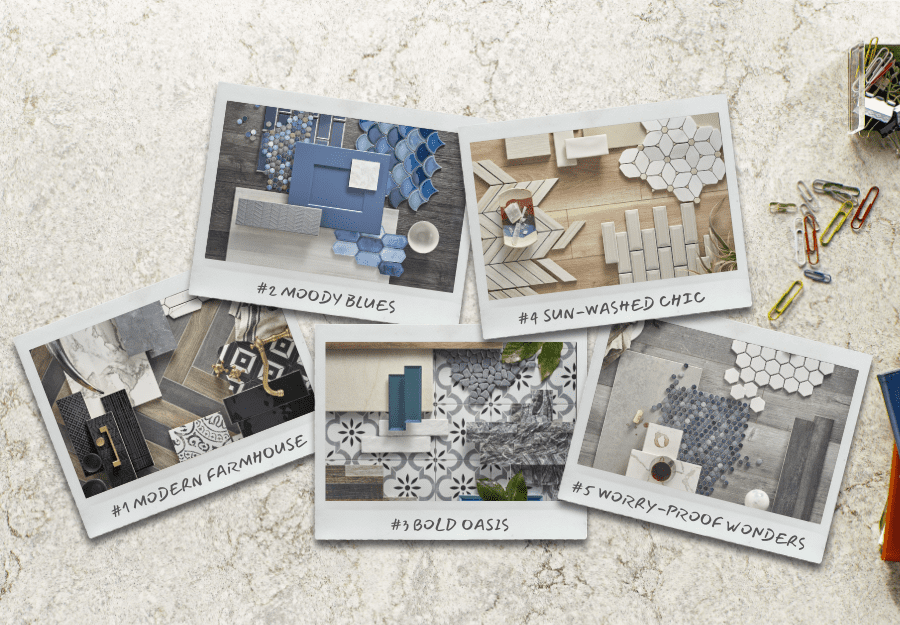 Is it weird to dream about countertops and tile? Because we do - on the regular. This time of year, our brains are a bit, well, focused. The bustle begins in the fall when our trend/design director, Emily Holle, takes her annual trip to Italy for Cersaie. The event is a window into the most compelling surfaces on the market – and the start of a new buying season. By the time we celebrate New Year's, fleets of ships carrying surfaces from every corner of the world arrive stateside. As the hottest looks of the moment roll into our showrooms, we introduce our Top 5 Design Trends. Easy peasy.
The visions of loveliness heading your way this year are Modern Farmhouse, Moody Blues, Bold Oasis, Sun-Washed Chic, and Worry-proof Wonders. If you're planning a remodel in 2020, break out the bubbly. Between the Lookbook, design tips, and oh-so-inspiring images, these trends are ready to transport residential and commercial spaces with showstopping results.
#1 The Modern Farmhouse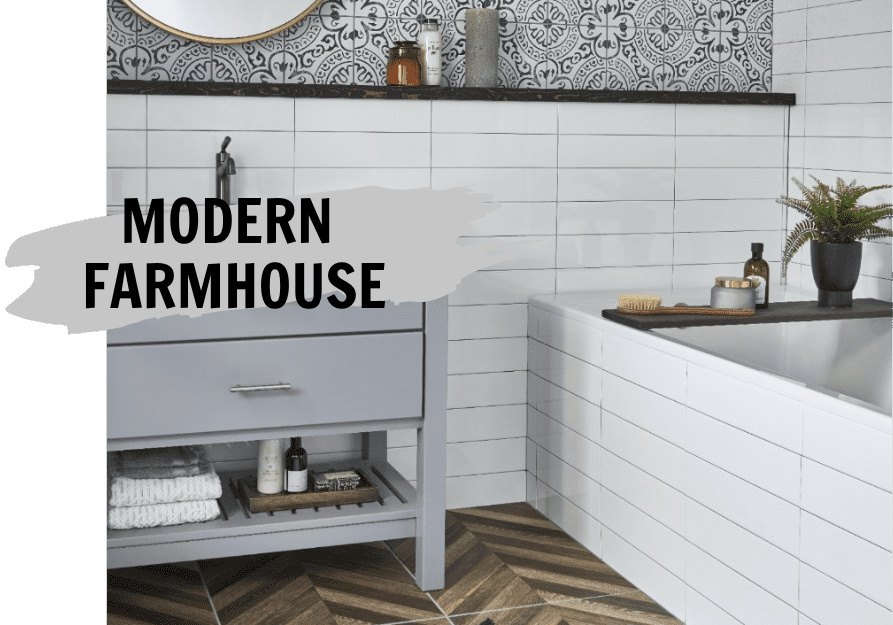 A few favorite things: Kenzzi Porcelain Paloma wall tile, stacked horizontal subway tile, and Antoni Café Nero floors.
Oh, Joanna! You had us at subway tile. Inspiring dream spaces from coast to coast, The HGTV wonder duo that is Chip and Joanna Gaines ignited our love of the Modern Farmhouse. And there's no turning back. The best part about the look? It's not just one thing –– but a high-style mix of classic, modern, and industrial design. The perfect backdrop for family life, the aesthetic is crisp and clean. And it brings us back to the basics ––a time when natural and utilitarian influences made our homes feel cozy and down-to-earth.

Open shelving . . . Yes please, plus a full height Calacatta Laza Quartz Backsplash - AMAZING!
Contrast plays a big part in this trend story. A fresh white and matte black palette looks warm and inviting when paired with rustic wood accents like barn doors and open shelves. Brushed brass industrial pendants over large quartz islands and white apron sinks make us swoon. Open floor plans invite conversation and create beautiful sightlines.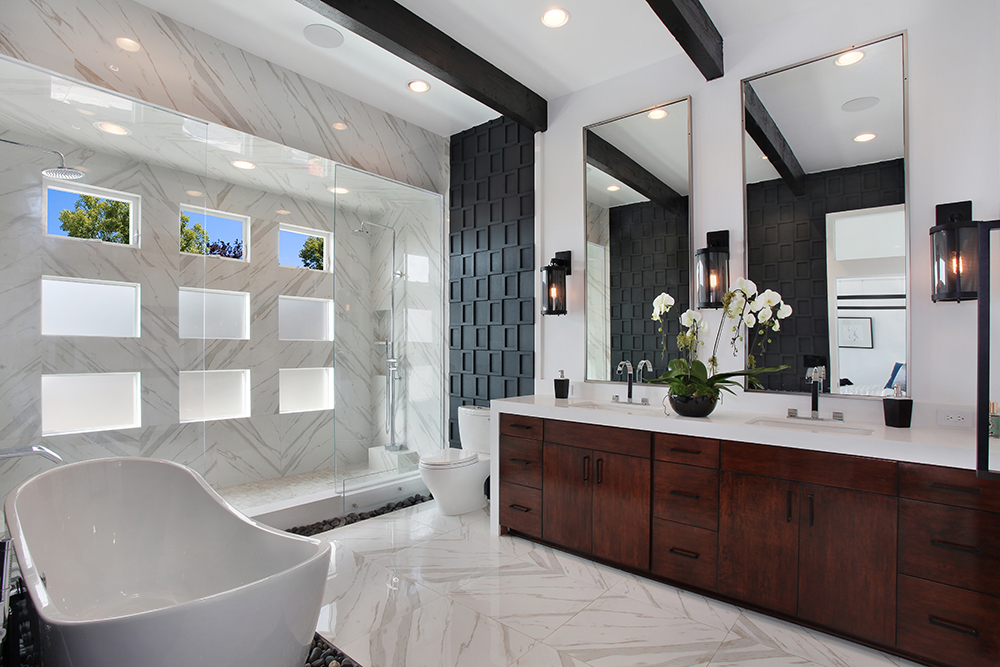 Loving this mix of materials! Pietra Calacatta porcelain tile and Arctic White Quartz pair together perfectly. And, don't miss the beach pebbles in this dream master bathroom.
Design tips: Warm up a room underfoot with a rough-hewn Everlife Luxury Vinyl Flooring like Reclaimed Oak or try porcelain planks from our Salvage collection. Pair a classic subway tile with a white quartz countertop from our Q™ lineup. Add texture and bring the outdoors in with a Rockmount stacked stone fireplace in black.
#2 Moody Blues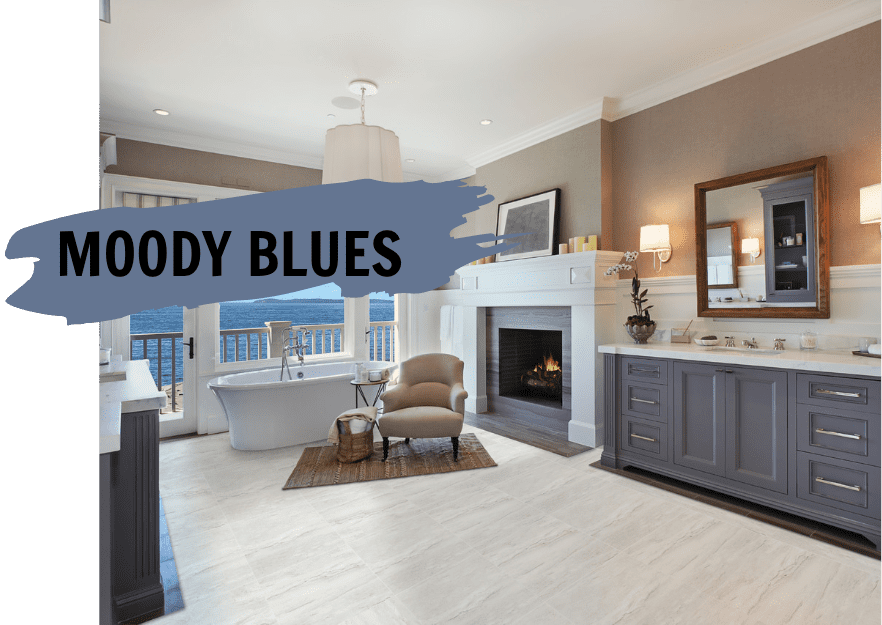 Just add blue, and all is right with the world.
It lights up the sky and the sea. Inspires artists. Dominates industries. And as all the world races to get somewhere, it calms the senses. It's no wonder the color blue incites such a devoted fan base. And since Classic Blue was named Pantone's Color of the Year in 2020, it's officially the most sought-after shade of the moment.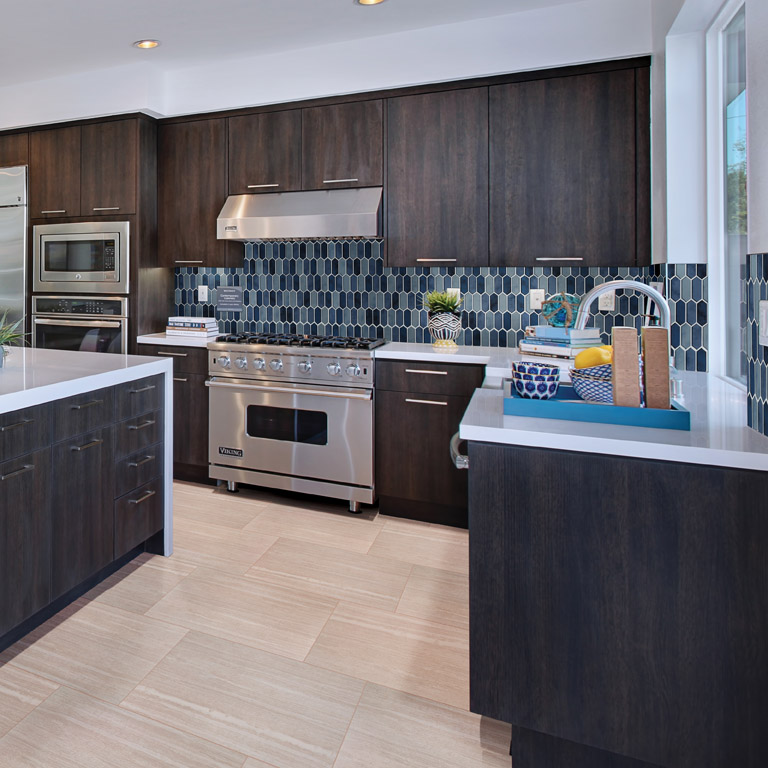 A shapely pop of blue in the kitchen is always a good idea: Boathouse Blue Picket tile.
From frosty ice to midnight, nature illustrates the possibilities of blue so beautifully. And we're taking Mother Nature's cue by introducing more and more surfaces that light up this side of the color wheel. Whether the shade runs cool on a backsplash or warm on the walls, we couldn't be happier that everything is coming up blue.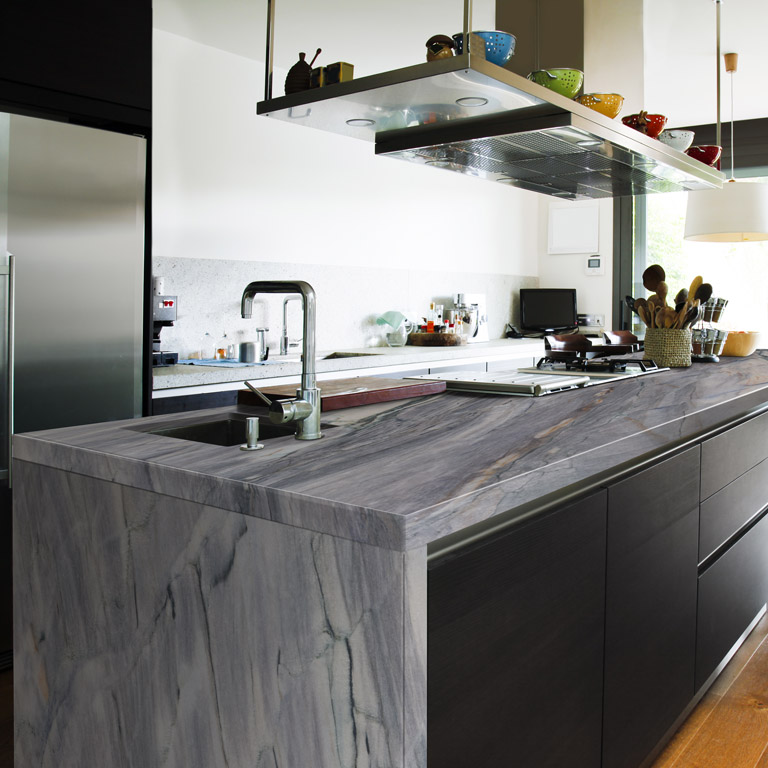 You won't see this natural beauty every day. Say hello to Azul Imperiale Quartzite.
Design tips: For a classic look in the kitchen, try a glass backsplash tile like Harbor Gray paired with a marble look Q Premium Natural Quartz countertop. Or swap the paint on the base of your island for a pattern tile like Blue Shimmer Arabesque. To make a bold statement underfoot, consider Dellano Exotic Blue Porcelain planks.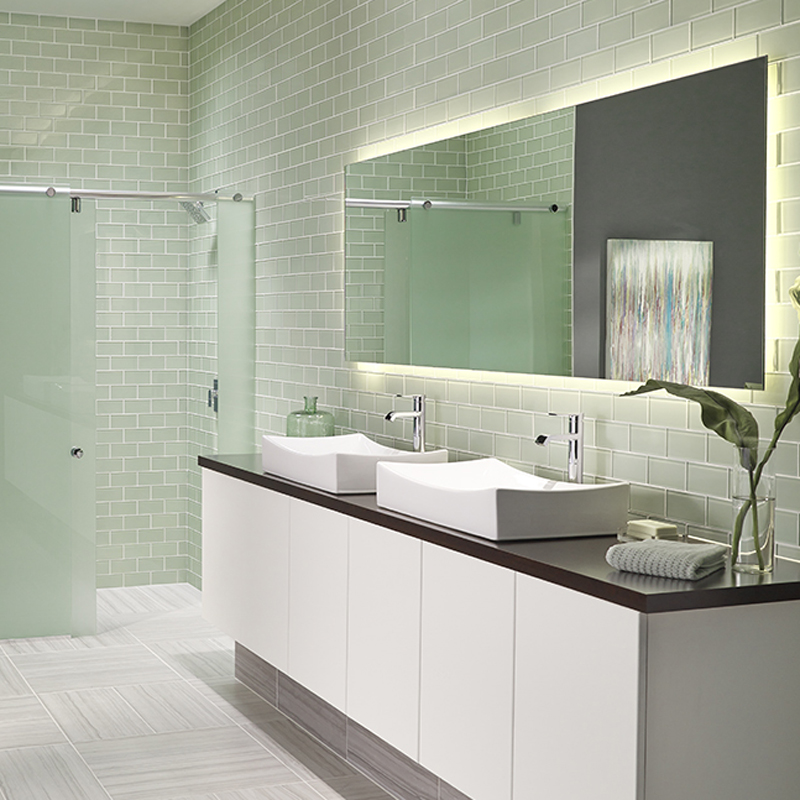 Prefer your blues on the icy side? Take a peek at Arctic Ice Glass Tile.
#3 Bold Oasis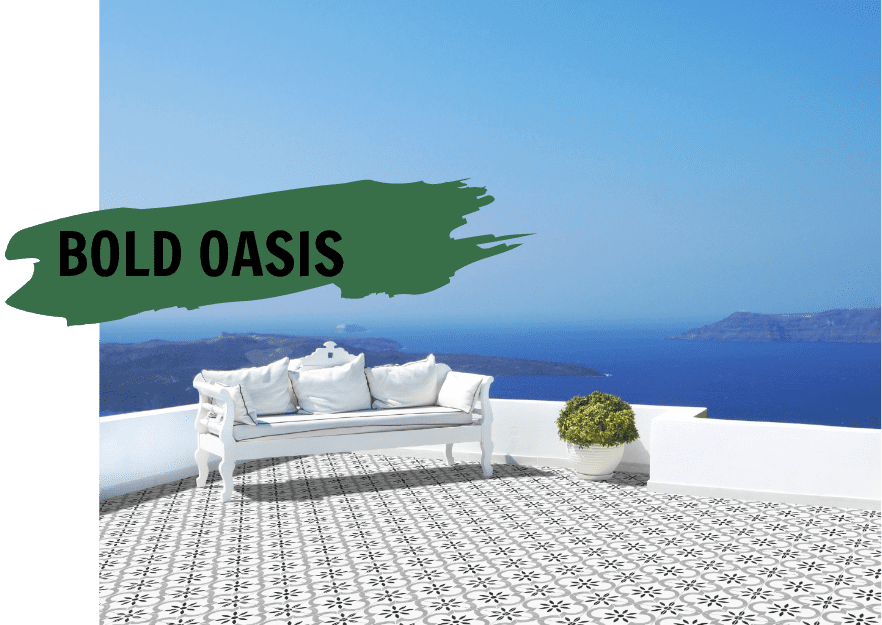 Full views of the ocean? Sign us up. Kenzzi Azila porcelain tile underfoot.
In 2020, everything about design feels sophisticated – especially our outdoor spaces. The Bold Oasis Trend pushes boundaries. Ultra-plush furnishings and resort-style amenities mix with eye-catching patterns and Eastern-inspired landscapes to create the new outdoor playbook. Our desire to inhabit our outdoor rooms more fully fuels the movement.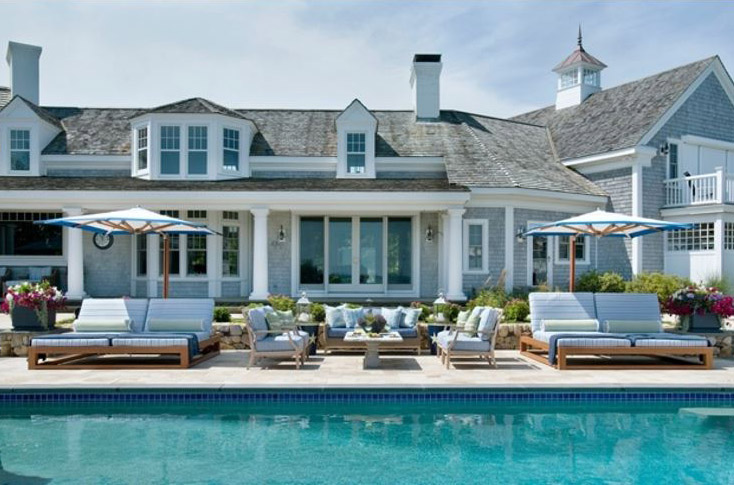 Courtesy of Casabella Interiors.
Whether expanding your patio, breaking ground on a new kitchen, or reimagining your pool, this elevated approach to design extends to surfaces. From the encaustic-inspired Kenzzi collection to decorative mosaics, pattern tile will play a central role in open-air rooms in the coming years. Cooling off in the pool will also be more dramatic – especially with Caribbean and Hawaiian-inspired pool tile. These shimming blues look lovely above ground, too –in the cabana, on a patio wall, or in a fountain.
Design tips: Because it won't fade or crack, granite countertops are a must alfresco. To dress up walls, planters, and fireplaces, stacked stone ledger panels are a no-fuss staple. Make a bold statement underfoot with a low-maintenance trendsetter in our Arterra Porcelain Tiles and Paver collection.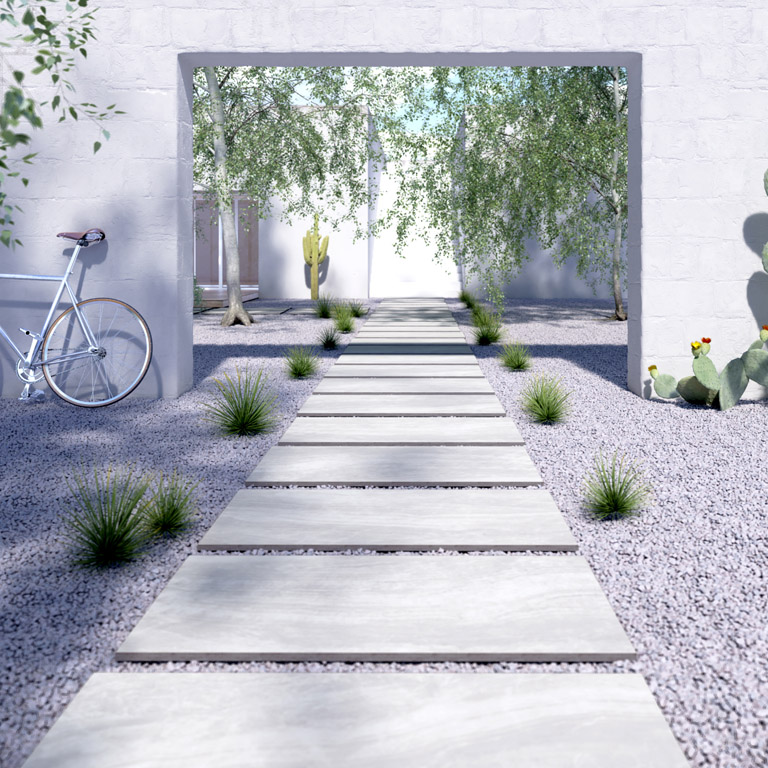 There's so much to love about this daydreamy space – including the 24" x 48" Praia Grey Porcelain Pavers.
#4 Sun-Washed Chic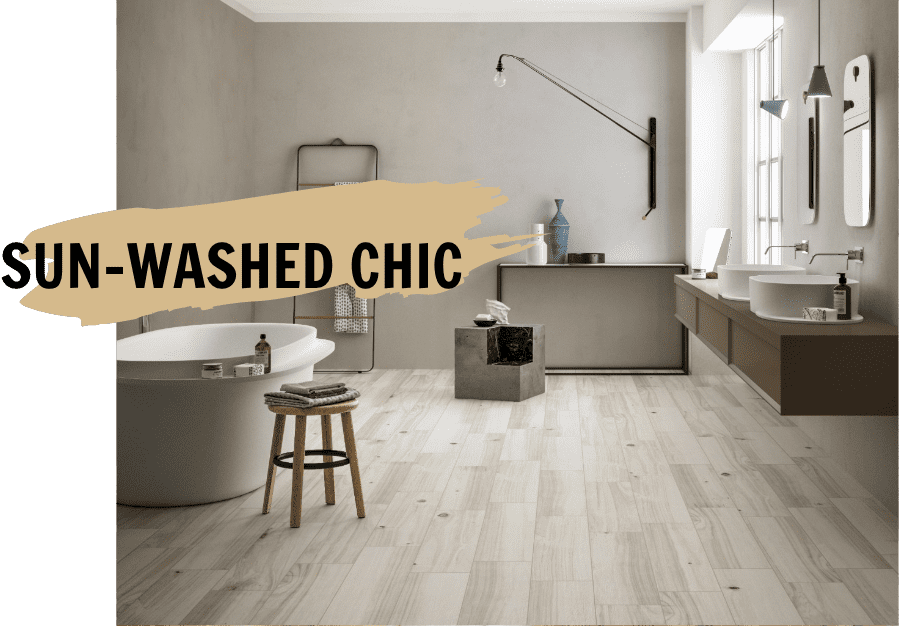 Equal parts beautiful and practical, Havenwood Dove Porcelain wood look tile.
Blondes are having a moment. From the palest whites to the golds and earth tones, the laid-back California aesthetic is soft, warm, and expansive. The hues in this sweeping design trend look naturally faded by the sun.
With roots in Scandinavian design, the bright and airy look departs from the gray color stories dominating headlines in the past few years. Instead, natural tone wood cabinetry, hardwood-inspired tile floors, white walls, and creamy countertops have a golden undertone. The rosier side of the color wheel combines well with the clean lines in classic and modern spaces.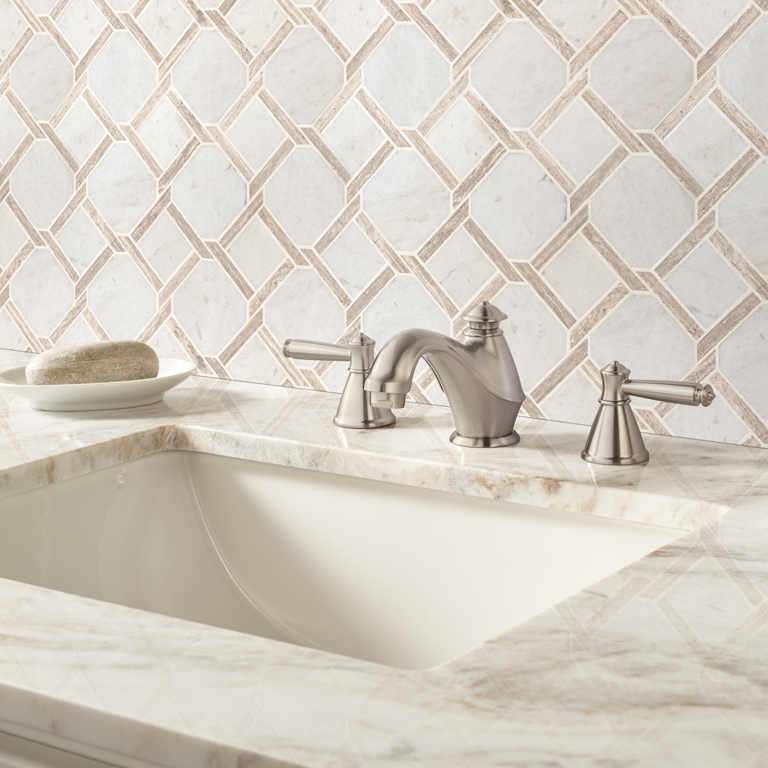 There's nothing like a little geometry to wake up a wall: Marbella Lynx Polished backsplash.
In keeping with the relaxed, unfussy vibe of Sun-Washed Chic interiors – the trend has a practical side. On the floor, the look calls for high-performance/low maintenance styles like LVT and porcelain planks. The upkeep on quartz-clad countertops is also a breeze, just wipe them down and go.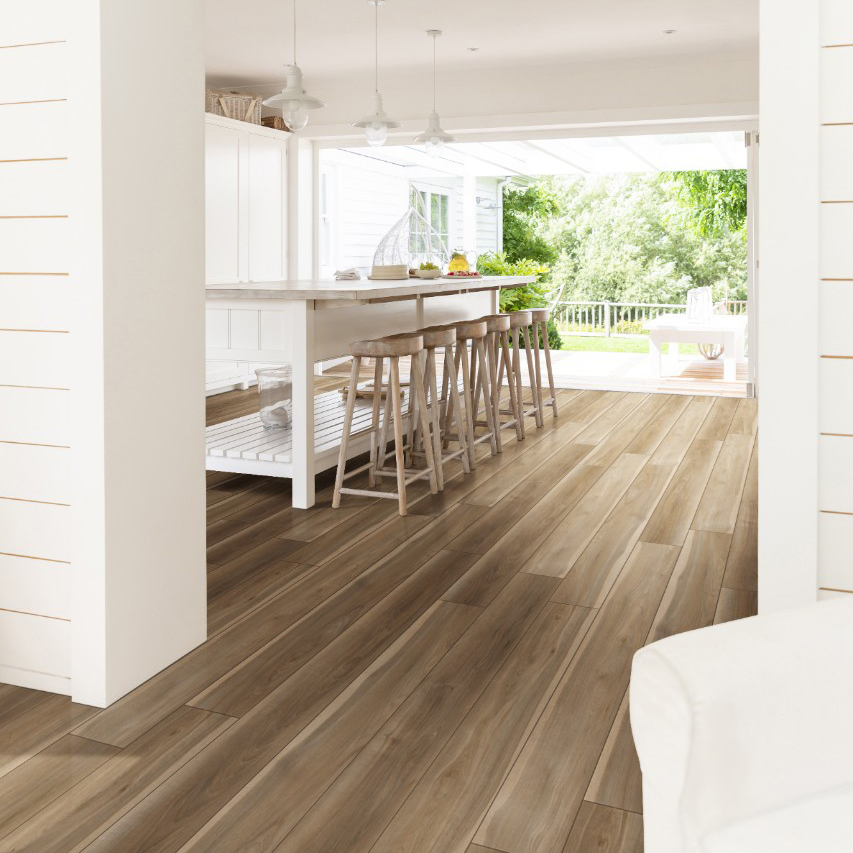 Andover Bayhill Blonde LVT is the star of this sun-kissed kitchen.
Design tips: From Portico Cream and Sahara Beige to Shell White, our Q Premium Natural Quartz countertops are flush with light and airy looks. To warm up floors, look at Highcliffe Greige and Cyrus Sandino Everlife Luxury Vinyl Flooring. Or Havenwood Dove and Celeste Taupe porcelain planks. Freshen up walls and backsplashes with Angora Herringbone Polished or Ivory Amber Beveled Subway tile.
#5 Worry-Proof Wonders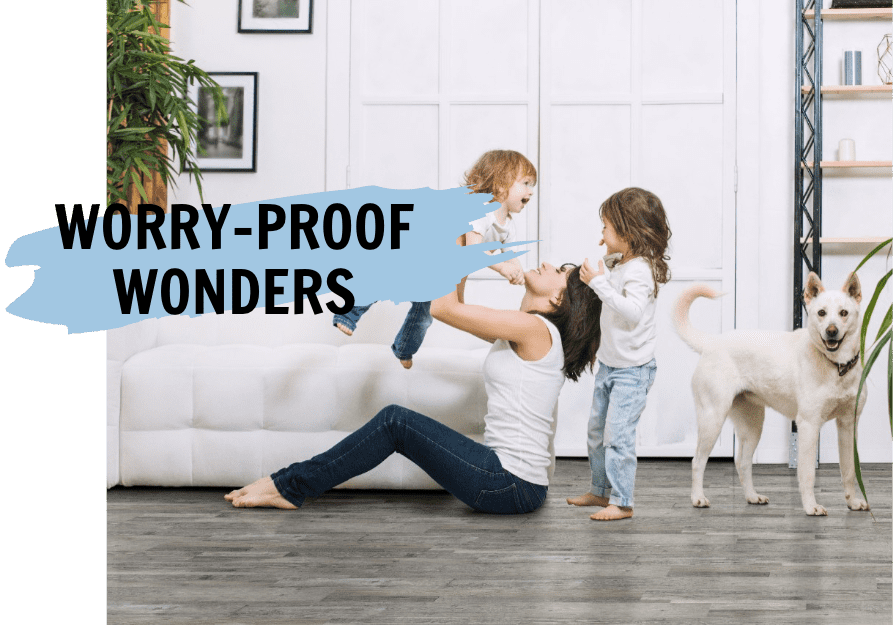 Family time made easy, meet Everlife's Mezcla from our Cyrus line.
There are plenty of things in life to worry about. Your surfaces shouldn't be one of them. If you're anything like us, you do a beeline for products that make life easier. And whether you're a parent with kids, empty nesters with pets, or a professional entertainer, this trend is for you.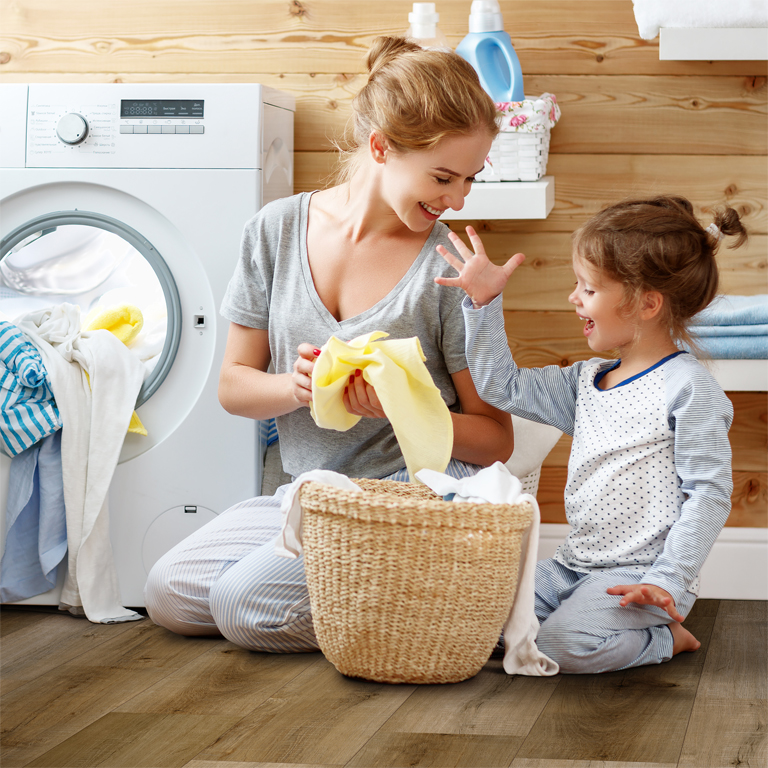 We wouldn't mind separating darks and lights in this space - featuring Andover Blythe from Everlife LVT.
We introduced Worry-proof Wonders like 100% Waterproof Everlife Luxury Vinyl Flooring, porcelain tile, and Q Premium Natural Quartz countertops to remove the stress of homeownership. One durable, low-maintenance surface at a time, these marvels make your home look and function like a dream. Nothing in this lineup will ruin your day with water damage, stains, scratches, or dents. And they're designed to last a lifetime – even in heavy traffic areas. The bonus? These hardworking floors and countertops have never looked better. We put an ever-growing stream of inspired styles at your fingertips, so you never have to choose between the trends you love and what's practical.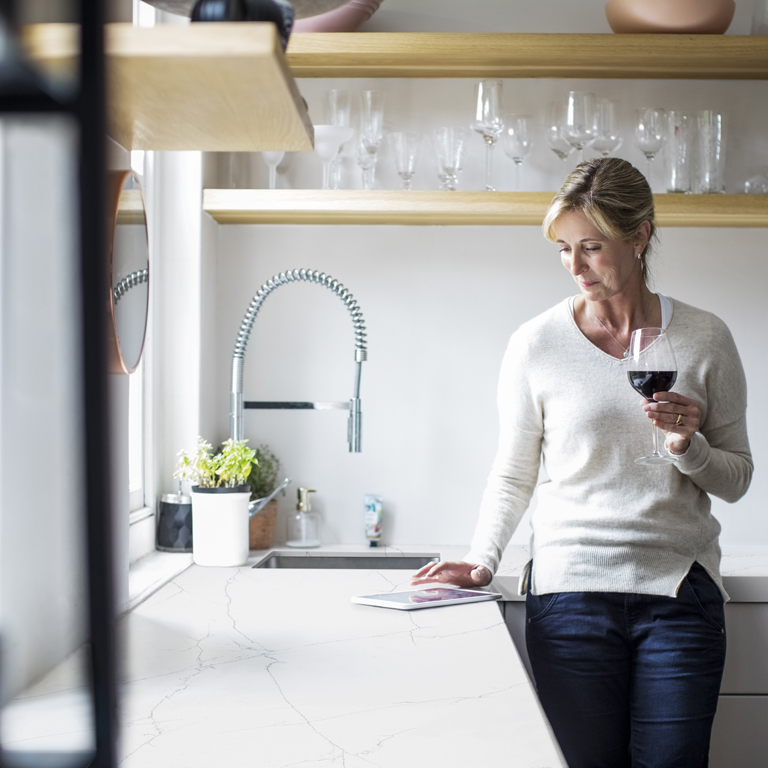 Calacatta Montage lightens up the mood in this urban kitchen.
Design tips: Flooring with a single aesthetic throughout the house boosts property value. Check out our wood look H20-friendly porcelain tiles. And our 100% Waterproof LVT – which is backed by best-in-class lifetime residential warranties. A designer and homeowner favorite, quartz is one of the most durable materials on the planet. In addition to being invulnerable to heat, scratches, and stains, our maintenance-free, Q™ lineup is flush with over one hundred trending looks.