Current Obsessions: Step Up Your Style With Sparkling White Quartz Countertops
July 06, 2017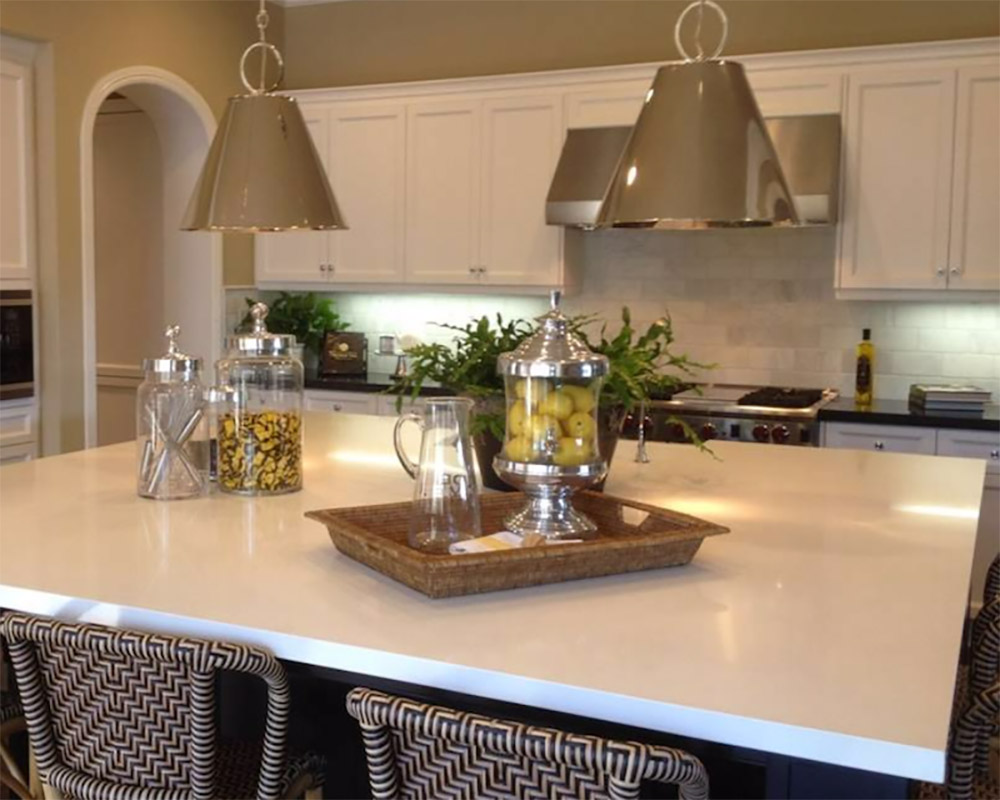 White kitchens have been continually popular for decades for a good reason – several reasons, really. For one thing, they just feel good. White represents happiness, innocence, and purity, and who wouldn't want that in their kitchen?
White kitchen design ideas feel more spacious and airy. It encourages cleanliness, because dirt is hard to hide on a white surface. It goes with everything. And finally, it's a timeless color that will never go out of style. Very important when you're about to make such a big investment, right?
One more thing about white – there's more than one way to integrate white into your décor scheme. MSI's white quartz countertops take white to a whole new level by adding polish and sparkle, from a subtle shimmer to a full-on glimmer.
Quartz countertops are man-made, manufactured by combining crystal quartz with pigments and flecks of other minerals to add that cheerful sparkle we love. Unlike the sheen or polish on other synthetic materials, the color goes completely through the countertop instead of just being applied to the surface; this gives it a more 3-D, realistic shimmer.
Here are some of our brightest options.
Frosted White
If you've been on the fence about white countertops for fear of being bland and plain, a sparkling countertop such as Frost White Quartz may change your mind. It has just enough subtle, glossy speckles to add aesthetic appeal while remaining a safe, conservative choice to preserve resale value.
If you love color, you can paint the walls, hang new curtains and art, and otherwise change it up as often as you want because this white quartz countertop matches it all.
Stellar White
Stellar White Quartz offers delicate flecks of gray on a soft white background. It allows for the ultimate design flexibility. As a man-made material, it is available in many sizes of slab and even pre-fab shapes, and is ideal for kitchen islands.
This color complements just about anything you wish to install above, beside or below it. Your appliances may come and go, but the quartz countertop will stay just as gorgeous.
Sparkling White
You can't get much more sparkly and shimmery than Sparkling White Quartz. Because the crystals and colored flecks of mineral are integrated throughout the countertop instead of just being imprinted on the surface, it has a dimensional depth that is stunning.
It's a great choice for smaller kitchens, because it seems to capture and magnify the light, making the room more cheerful.
Arctic White
White may have been a favorite kitchen color for generations, but Arctic White Quartz solid, glossy white quartz countertops are the perfect fit in the most contemporary designs. If you've shied away from white for fear of staining, or maintaining its pristine shine, worry no more. Quartz needs no sealing, and it's a cinch to keep clean.
Iced White
The sparkly crystal pebbles embedded in Iced White Quartz give it a 3-D textured look, but the surface is completely smooth. There are no sharp edges exposed from the shiny bits.
This means that the countertop is easy to clean, does not need maintenance, and can be shaped with a variety of edge treatments or cutouts without concern about rough spots or flaws.
Whichever white quartz you choose, any of these sparkly, light-catching countertops are sure to step up your design style from ordinary to brilliant. Interested in other colors of MSI's sparkling quartz? Visit our website gallery to see the wide variety in our collection.