Landscape Rocks Defined: Which Ones Are Best?
January 16, 2021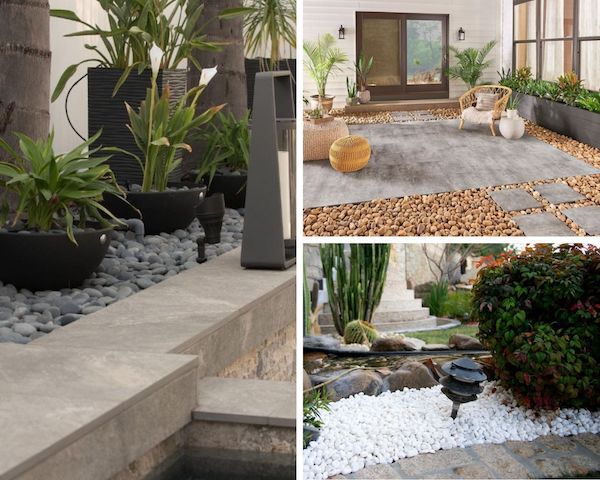 The use of landscape rock in outdoor designs for gardens, lawns, and living spaces has become a flourishing trend. So, if you're planning to upgrade your own home's landscaping, it's well worth learning about the many types of rock available, what they do best, and which works well for each purpose.
Using rocks in the landscape is not a new idea, but more homeowners are learning to appreciate the many jobs they can do. Not only is an installation of landscape rock easy to maintain, but it's a more permanent solution than alternatives such as mulch or ground-cover plants — the beauty and function of landscape rock lasts for years.
Some of the practical functions include weed control, diverting water away from structures, and erosion prevention. Design-wise, landscape rock adds beauty, interest, color, and texture. However, in order to achieve the perfect look and functional goal, it's vital to choose the right type of stone for the project!
Here are a few common landscape design issues, along with recommendations for the best landscape rocks for each.
Large Ground Coverings
Many homeowners have a section of their yard that's become a perennial trouble spot. Perhaps it's on the north side of the house, with poor soil, and nothing grows well there. Or, it could be a section of lawn that's difficult for a lawnmower to access. For this purpose, some excellent options include pea gravel, lava rock, or pebbles. Not only are they easy, one-time investments, but they're also relatively inexpensive,

In Place of Mulch
Bark and chipped-wood mulch are a landscaper's typical choice for garden beds, but they have their drawbacks. Mulch needs to replaced at least once a year because it rots, discolors, and degrades. It can also harbor mold and fungi. If you want to eliminate mulch delivery, hauling, and raking from your springtime routine, consider pebbles, decomposed granite, lava rock, or pea gravel. Your choice of garden rock will depend upon the plants in the garden bed; smaller, more fragile plants do better surrounded by smaller, lightweight stones, while larger rocks are ideal around slow-growing, larger plants such as cacti or decorative trees.
Paths or Driveways
When you are filling in a space where you will be walking, or on which you will park a vehicle, you want small, smooth rocks such as pea gravel or pebbles. They can hold up to traffic, are comfortable to walk on, and are much more attractive than old-fashioned gravel. Cobbles and flagstones are also good options. If you don't plan to walk barefoot on this surface, you could opt for decomposed granite, which compacts under pressure and lends a rustic look vs. the more elegant result you would get from flagstones or cobbles.

Accent Areas That Aren't For Walking On
If you are not planning to walk in the area where the rocks will be placed, you could choose the same small rocks such as pea gravel or pebbles, of course. But, since there's no concern about pedestrians tripping on large or uneven rocks, there's a much bigger choice. Options include lava rock, crushed granite, or classic, natural river rock. Yellow Polished Pebbles from MSI are tumbled, smooth, translucent marble and add warmth and character.
Defining or Creating Borders
Landscape stone isn't just for filling in areas. It can also be used to define or create a border between two areas. For example, you can install a 12-inch-wide strip of stones around a wood-mulched garden bed to set it apart from the lawn, in place of (or alongside) the usual garden fencing. Place larger rocks on the outside edge of pathways, such as river rock or MSI's Giallo Fantasia cobbles.
Attractive Support Around Objects
Posts, fences, and walls could sometimes use a little extra support to prevent damage and erosion and make lawn maintenance easier by lessening the need for edge trimming. Larger sizes of river rock are ideal for this purpose. Install them on a slight slope to help direct the flow of water away from foundations.

Stepping Stone Pathways
While some homeowners prefer carefully placed flagstone pathways, others want them arranged artfully as if they have been a part of the natural landscape for decades. Either way, quartzite flagstones such as MSI's Golden White Flagstones can create a level path to walk on that is durable enough to stand the test of time. Try smaller-sized stones, such as decomposed granite or pea gravel to fill in the spaces between the flagstones and reduce the need for weeding and trimming,
Large Focal Points
Plants and sculptures aren't the only way to create visual interest in the landscape. You can also create a large focal point with a dramatic boulder, or an artistically-arranged pile of them that either matches or contrasts with surrounding hardscaping elements.

Water Features
What could be more appropriate for a water feature in the landscape than natural river rock? Ponds, fountains, and manmade streams flow beautifully over river rock's textured blend of natural tones. You could also create a less natural, but more dramatic look by using bright white or jet-black pebbles.
Fire Features
The beauty of using landscape rock to create fire features in the hardscape is that you can choose just about any stones that suit your aesthetic preferences. If you are creating a natural-looking fire pit, large-sized river rocks are the way to go. Alternatively, propane-fueled fire features can be covered and accented with colorful polished pebbles; the choice is yours.
When choosing the right landscape rocks for your home, there aren't truly any bad choices. However, since there are so many different sizes, shapes, colors, and types of rock to choose from, it's easy to find the ones best suited for your needs. Whether your purpose is decorative or purely functional, you can have both function and beauty together — and enjoy the result for many years