Alternative Finishes: Concrete Looks For Quartz Countertops
June 06, 2022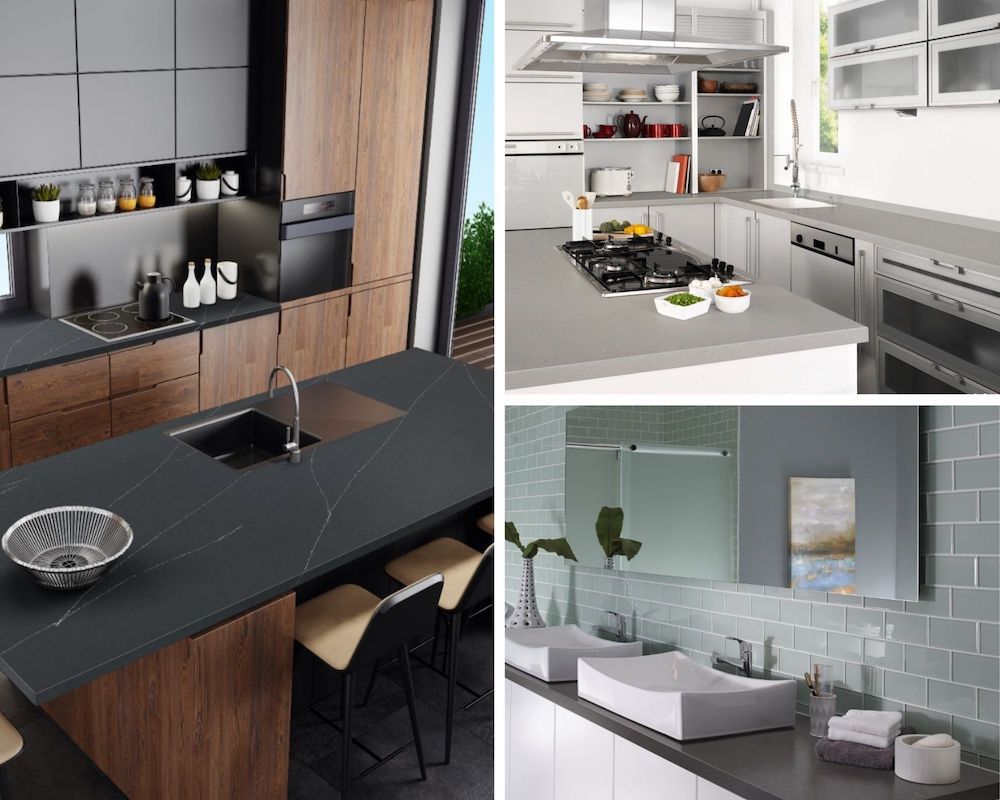 For some homeowners, there's nothing to compare with a bright, shiny polished kitchen or bathroom countertop. But not everyone appreciates that kind of high shine — and matte countertop finishes are a popular alternative. Today's quartz countertops are available in a variety of finishes, including the versatile, on-trend concrete looks featured here.
Concrete-finished countertops fit in well with many different design styles. No longer associated only with the industrial aesthetic, interior designers are using today's matte-look quartz in traditional homes, farmhouse kitchens, and contemporary designs as well. You might be surprised at how this low-sheen, silky texture transforms the entire look and feel of a quartz slab and enhances its patterning.
Here are a few of our favorite quartz colors with sophisticated matte finishes that resemble the look of concrete. Is one of them right for your home?
BABYLON GRAY CONCRETE QUARTZ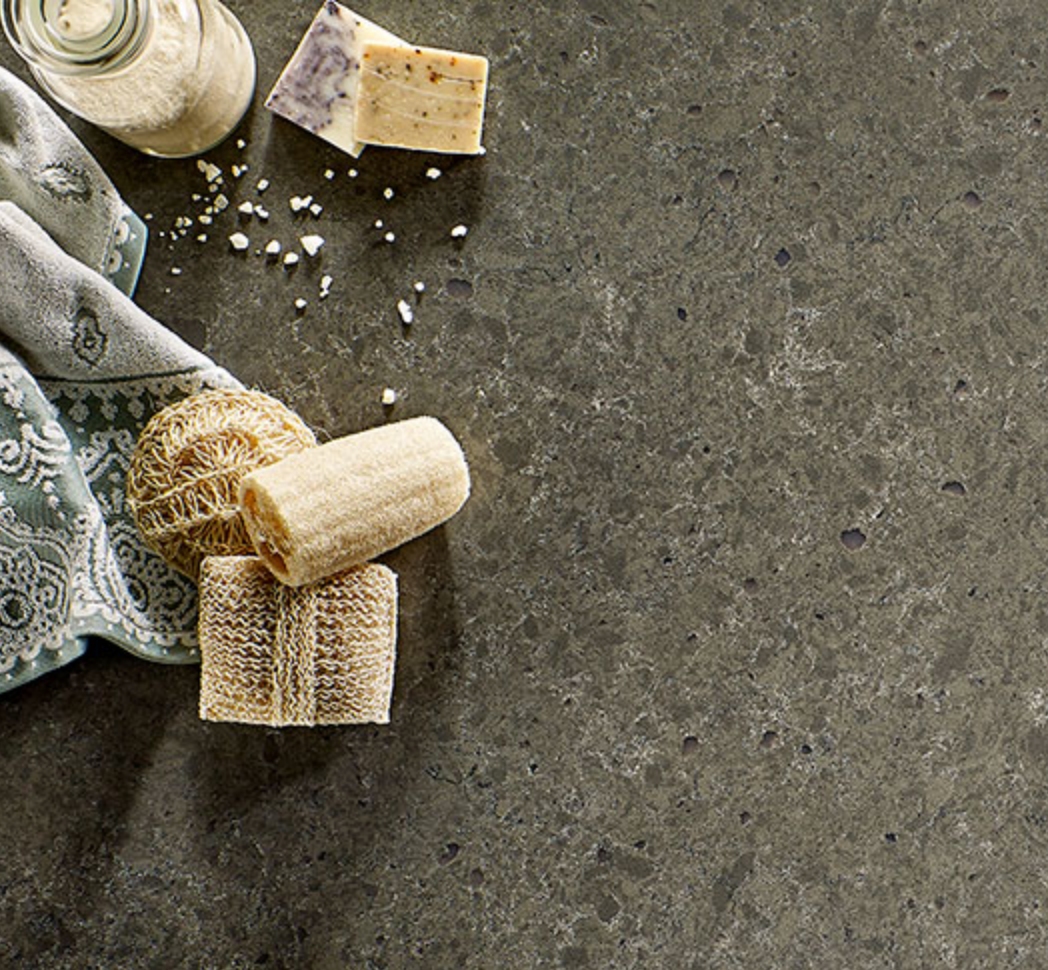 One of the advantages of concrete-finish countertops for kitchens is that they are much less reflective. While in some rooms, a glossy finish is a welcome way to brighten the space and make the most of the available light, in other rooms, it may present an unpleasant glare. This may also be true in bathrooms, where the countertop may be directly underneath bright vanity lights.
Granite-look Babylon Gray quartz features swirls and crystals in dark and medium-gray shades. With a soft, smooth concrete texture, it can serve as a balancing contrast to other elements such as bright white fixtures, stainless-steel faucets, and tile flooring. Quartz that looks like concrete also works well as a protective backsplash, as it's still totally waterproof with no need for sealing. You don't need to worry about etching from exposure to acidic foods or liquids, and it also repels stains – even tough ones like tomato sauce and wine.
SOAPSTONE METROPOLIS CONCRETE QUARTZ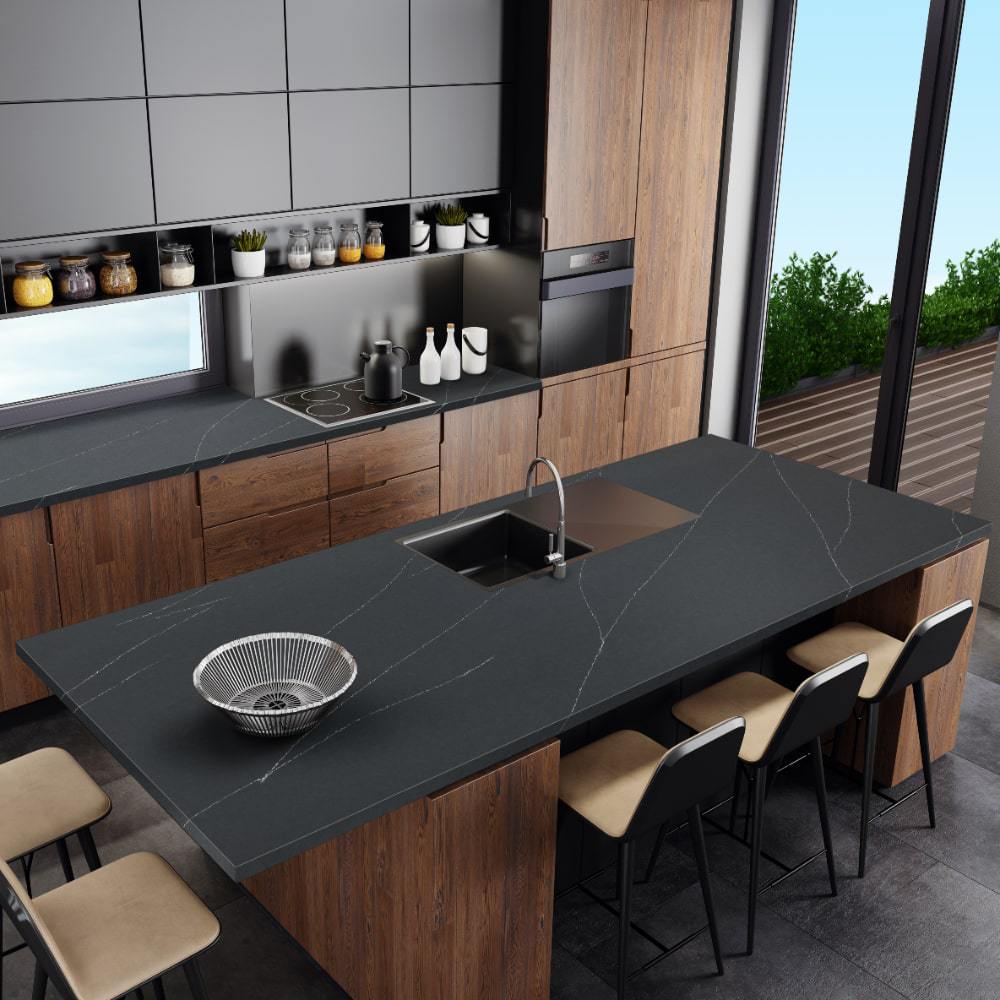 Although Soapstone Metropolis quartz countertops look amazing with a high gloss, a concrete matte finish adds an elegance that is unmatched. With a charcoal-gray background accented by thin, long white lines, it allows you to enjoy the look of natural soapstone without the maintenance that natural stone requires. It never needs to be sealed, and since it is nonporous, it's a cinch to keep totally clean and hygienic.
Plus, a matte finish can help hide small scratches, nicks, and even dirt to some degree. Compare it to a polished finish, which shows everything, including fingerprints. That's especially important on a countertop with a primarily solid color.
SOAPSTONE MIST CONCRETE QUARTZ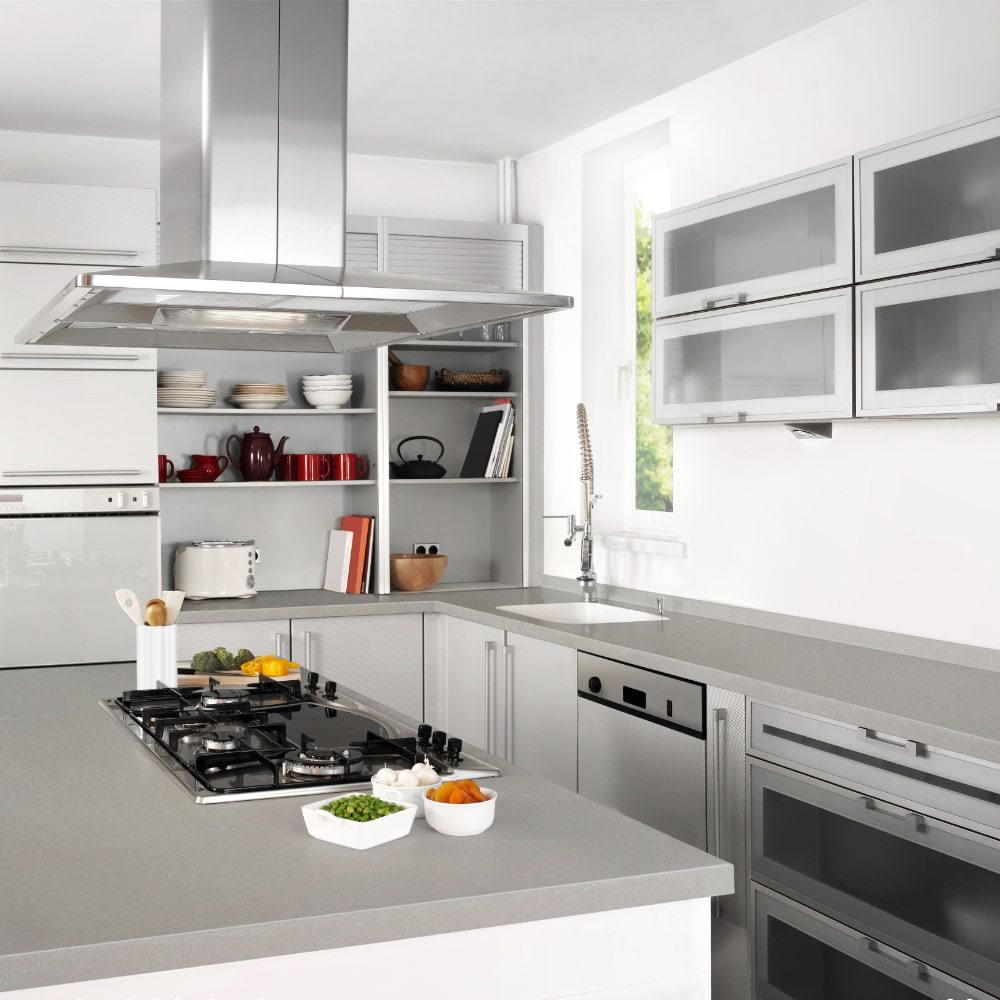 With a pale gray background accented by speckles and subtle white veining, Soapstone Mist is soothing and easygoing — and you'll love how easy it is to care for. After all, kitchens are meant to be used and lived in, which means messy cooking, spills and splatters, and other projects that can take a toll on a light-colored countertop. But you won't worry -- it's not really natural soapstone. It's MSI's Premium Quartz.
This quartz color, with a soft matte texture, fits well into a minimalistic aesthetic with plain square or rounded edges. But you can also enhance it with custom countertop edges, such as ogee, beveled, and more.
FOSSIL GRAY MATTE QUARTZ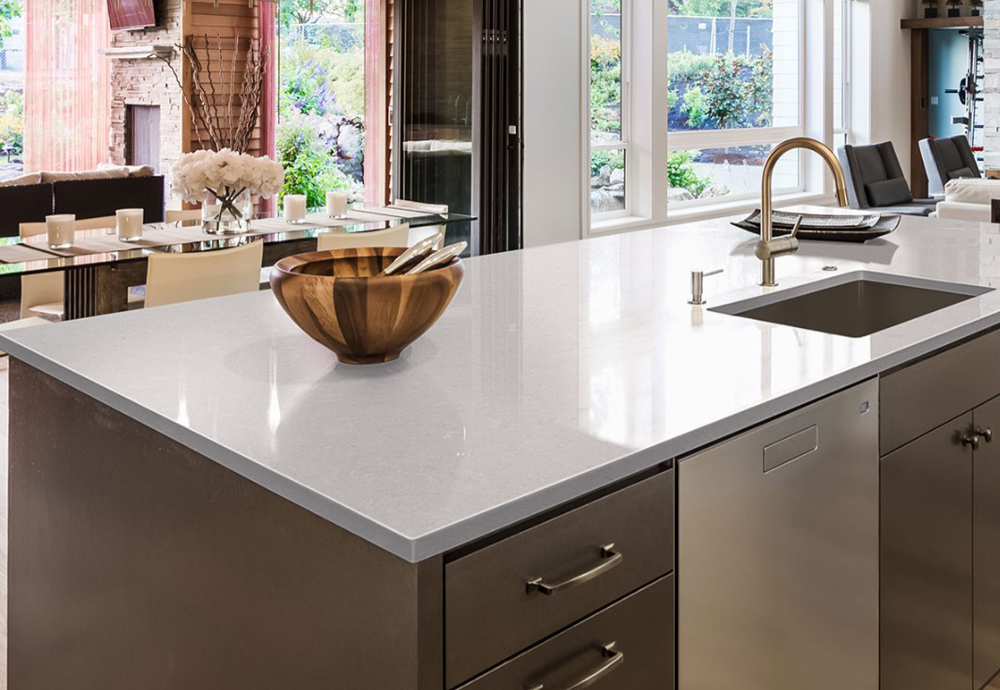 Although a true concrete countertop can be crafted with any color, we usually associate it with a natural, neutral gray. Light gray is a smart choice for a countertop, whether it's in the kitchen or the bathroom because it's complementary to any other color scheme you like. And since a new countertop — of any countertop material — is a substantial investment, homeowners often choose colors and patterns that look great no matter how many times they change up the paint, appliances and fixtures, or even the cabinetry.
A neutral countertop like Fossil Gray quartz is ideal for those who might be putting their home on the market, particularly with an easy-to-love matte finish. Any new countertop offers a boost to a home's selling price, but this is especially true when it is modern quartz, featuring all the trendy good looks of a concrete countertop with none of the drawbacks, such as having to seal it frequently to maintain its water resistance.
MIDNIGHT CORVO CONCRETE QUARTZ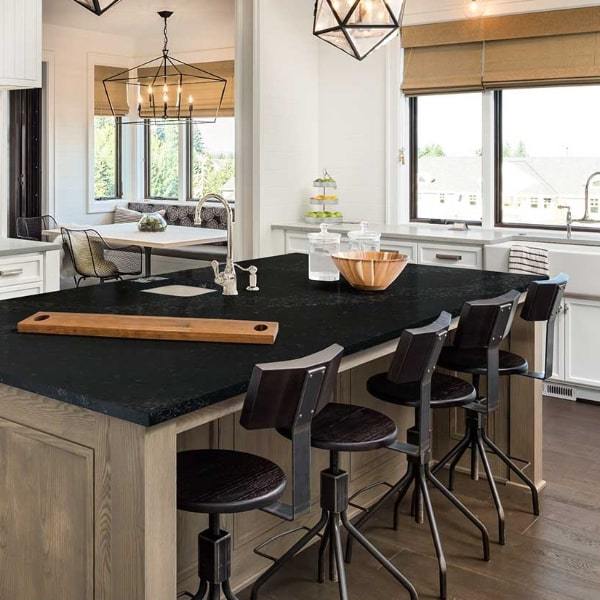 A black marble-look countertop is a bold choice, and it's not right for every home — but if you're blessed with a lot of natural light and space, it can make that space feel more luxurious. For that designer look, you'll want a black countertop that isn't solid black but has a subtle pattern, such as Midnight Corvo. Its subtle white veining pattern adds just the right amount of movement, and a silky-smooth, brushed concrete texture truly brings out its beauty.
Although it's a choice that we usually associate with contemporary designs such as this one, the matte finish makes it appropriate for traditional aesthetics as well. Like a little black dress, it can be dressed up or made more casual. Consider using a dark-colored countertop for a central kitchen island — underneath a gorgeous statement lighting fixture — and pairing it with lighter-colored side counters.
If you're not familiar with matte-textured countertops or need to see in-person how different textures alter the look of each quartz color, we suggest visiting one of our showrooms. Our expert staff will be happy to advise you and offer design suggestions to fit your preferences and your lifestyle.
Read More About Marble and Concrete Looking Quartz Countertops
New Calacatta Quartz Colors are Now Available!
Why Interior Designers Choose White Quartz Countertops
MSI's Top 10 Lumaluxe Quartz Countertop Colors
MSI's New Elite Quartz Manufacturing Facility
6 Beautiful Kitchens Featuring Quartz Countertops