MSI's New Elite Quartz Manufacturing Facility
September 09, 2022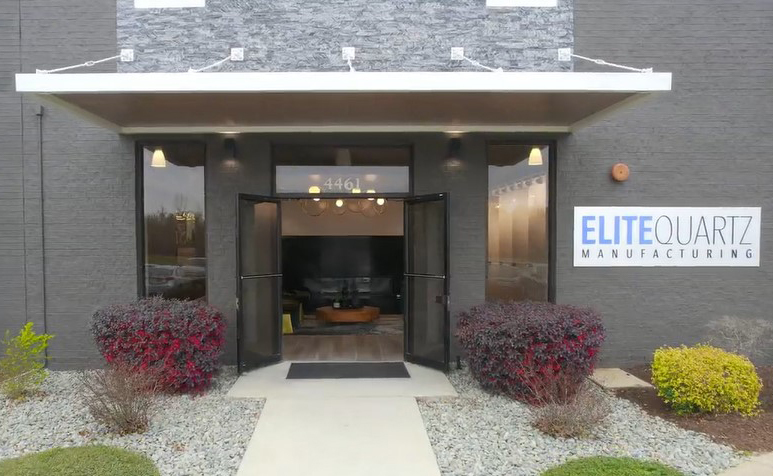 Quartz countertops are making a big splash with home interior designers — for good reason. MSI quartz gives you all the beauty of natural stones, such as granite and marble, with none of the worry and maintenance. And now, there are two more reasons to fall in love with quartz: Lumaluxe technology and our new Elite Quartz manufacturing facility.
Our new facility is a 360,000-square-foot manufacturing plant in Latta, South Carolina, and it's ramping up production to become the largest manufacturer of engineered quartz countertops in North America. Production began in early 2020, using the most advanced machinery and patented processes, and Elite has created over 150 new jobs for the Dillon County area.
One of those innovative, patented processes is our Lumaluxe technology. It creates the most realistic quartz countertops, focusing on depth of veining and coloration and enhanced light reflection, especially with a polished finish. The result is high-end, luxurious, and simply gorgeous quartz that looks like marble.
Our Q Quartz with Lumaluxe has the same qualities as our other quartz countertops, including the same limited lifetime warranty for residential and a 10-year warranty for commercial use. In addition, it is Greenguard, NSF, and Kosher certified, and just as easy to maintain and keep looking beautiful for many years.
We would love the opportunity to share more with you about our new elite manufacturing facility and how our patented Lumaluxe is produced. Just watch this short video!
Here are a few of our most popular Lumaluxe quartz countertop colors. Just imagine how they will enhance your kitchen or bathroom decor!
CALACATTA AZAI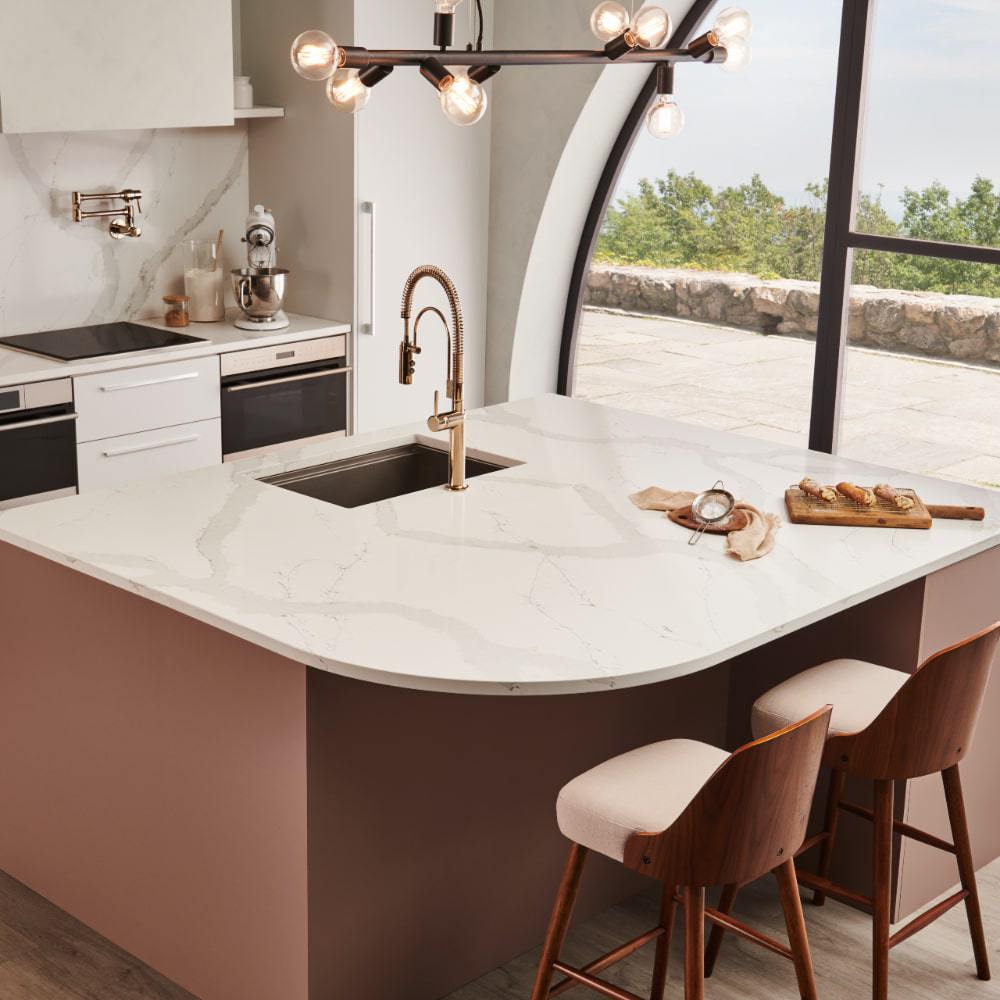 When it comes to luxury in-home interiors, you can't beat Calacatta marble. Natural Calacatta marble comes from Italy — so it's in high demand, and limited availability translates to high prices. But, of course, that's just one reason homeowners love MSI's marble-look quartz. While quartz is also a high-end countertop, it's more affordable than many types of natural stone and easier to obtain – something to consider when choosing between quartz vs. granite or marble. And if you're even more budget-minded, many quartz colors are available in prefabricated countertops with popular, standardized sizes and shapes.
Calacatta Azai is an excellent example of opulent-looking quartz. It features a cool white background and dramatic gray veining throughout. A center island like this allows you to show off your marble-look countertop to its best advantage and enjoy how it reflects both natural and artificial light sources.
CALACATTA MIRAGGIO GOLD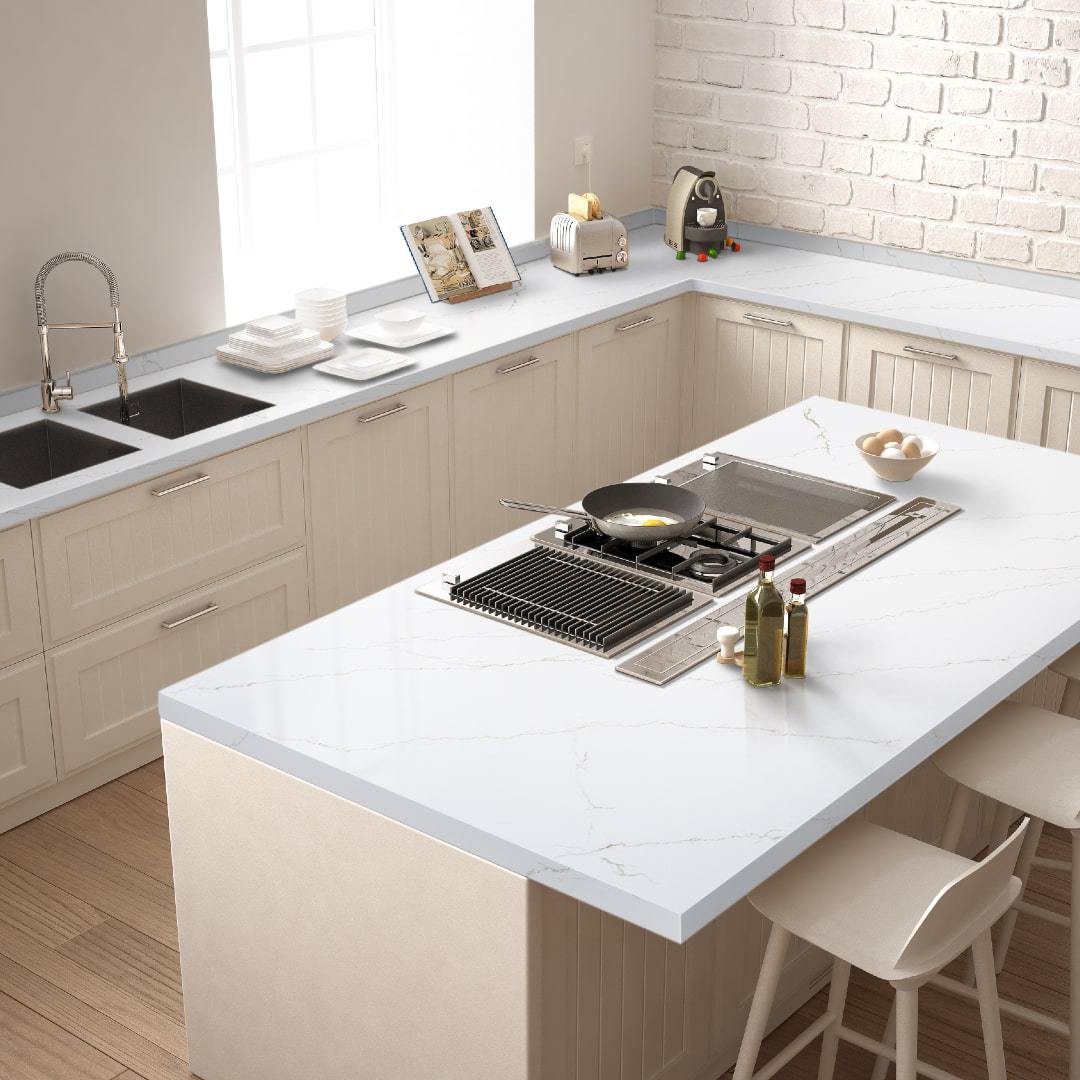 The soft, refined veining of Calacatta Miraggio Gold is at home with any decor — from minimalistic kitchens with white cabinets like the one shown here to traditional designs and even modern, contemporary aesthetics.
With the durability of MSI's marble-look quartz, you can relax and enjoy your kitchen, even when it's a bright white. In addition, quartz countertops are nonporous, which means they are highly resistant to staining, etching, and other types of damage. And unlike natural marble, they never need sealing to maintain water resistance. Of course, with such easy care requirements, you'll want to install them everywhere. We also recommend installing this beautiful quartz as a backsplash, especially since it will match up perfectly with the countertop. Alternatively, you can choose one of our beautiful coordinating backsplash mosaics from the menu on MSI's website.
CALACATTA ARNO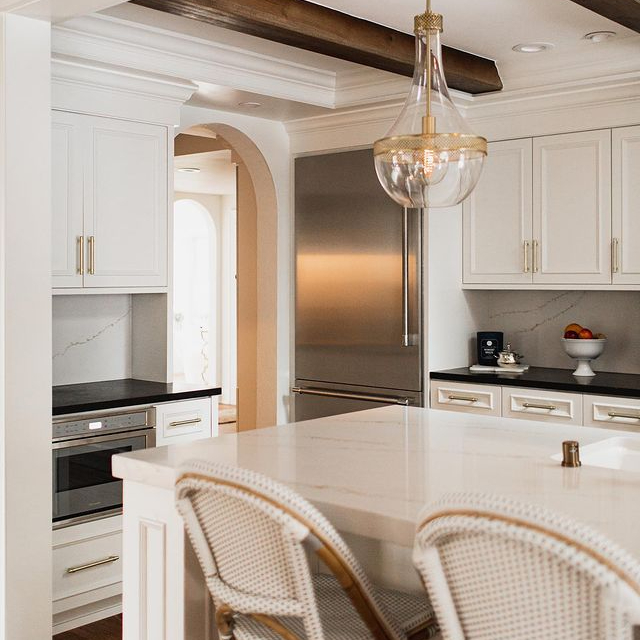 Photo Credit: @restorhomes on Instagram
One more benefit of choosing marble-look quartz over natural marble is consistency. With natural marble, homeowners often must visit a stone slab yard to pick out the exact piece they want to have fabricated into their kitchen or bathroom countertop. But quartz is an engineered surface, and when produced in a plant such as our new Elite Manufacturing Facility, it will have the same coloration and patterning throughout, no matter which slab makes its way into your home.
Featuring subtle, thin gray veins on a warm white background, Calacatta Arno is no exception. It's available with a 3 cm thickness, ideal for any countertop and even allows you to choose a customized edge treatment for a personal touch. The 2 cm thickness is appropriate for countertops and perfect for waterfall edges.
SMOKED PEARL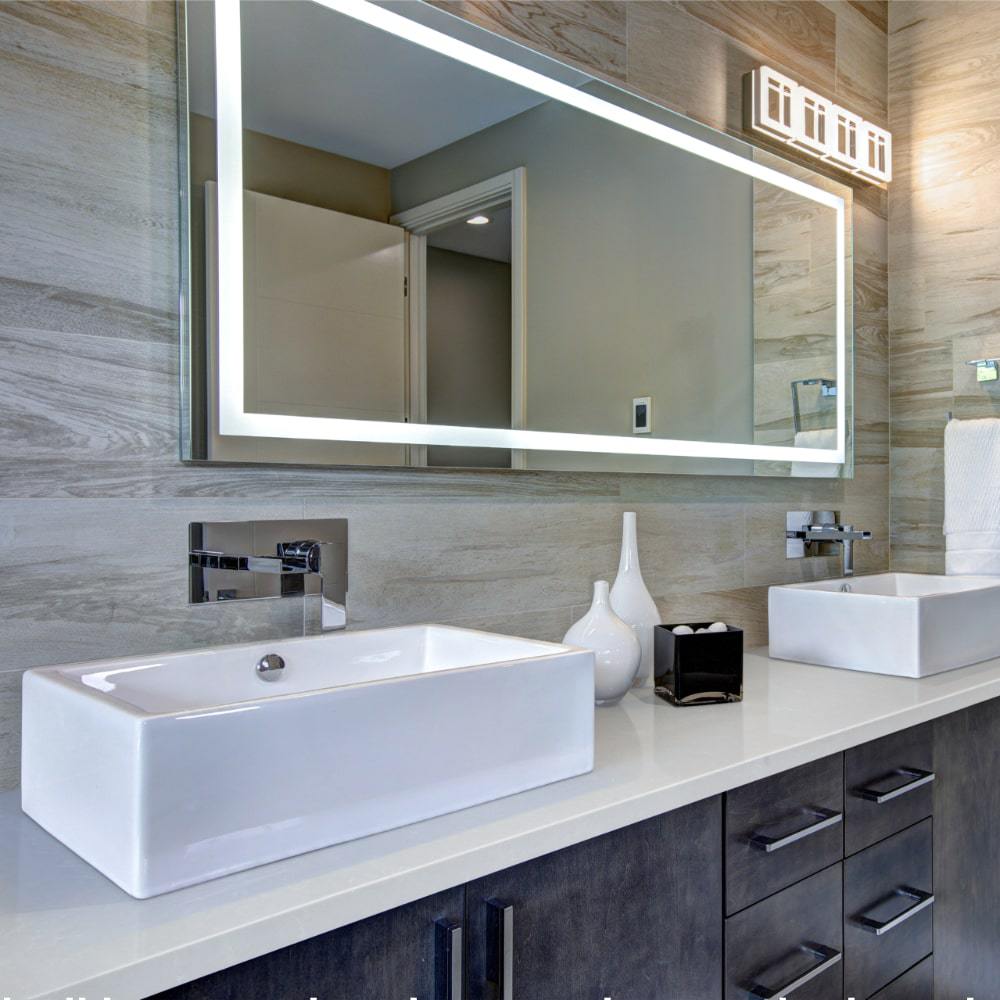 You've probably heard that natural granite or marble countertops can significantly impact your home's resale value. That's true for quartz countertops as well, and perhaps even more so because more homeowners — and home shoppers — are learning about the many benefits of quartz.
One of the reasons marble-look quartz enhances a home's value is that they're so versatile. So even if new homeowners choose to redecorate their kitchen or bathroom with a completely new color scheme and aesthetic, the countertops will still look perfect. Featuring a combination of pale gray with subtle white swirls throughout, Smoked Pearl is a neutral quartz color that works well with just about any other surface material. So pair it with wood-look planks, glass tile, and traditional or contemporary wood cabinets, to name a few. But don't just take our word for it – compare your favorites with the countertop visualizer tool on our website.
You can see how beautiful these Q Premium Lumaluxe quartz colors are from the photos in our gallery, but we encourage you to visit one of our showrooms to see them in person. In the meantime, if you have questions about our products, call and speak to one of our friendly, knowledgeable staff members.
Read More About Marble and Concrete Looking Quartz Countertops
Alternative Finishes: Concrete Looks For Quartz Countertops
New Calacatta Quartz Colors are Now Available!
Why Interior Designers Choose White Quartz Countertops
MSI's Top 10 Lumaluxe Quartz Countertop Colors
6 Beautiful Kitchens Featuring Quartz Countertops