Current Obsessions: How To Design A Bright Kitchen With Black And Gray Quartz Countertops
January 11, 2018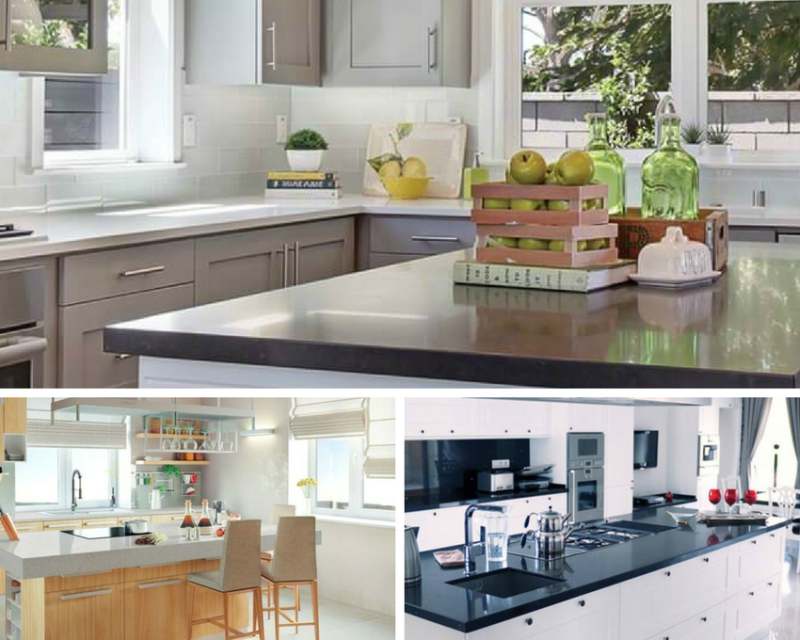 For a sophisticated color palette, black and gray are popular and timeless choices for interior design. However, like many homeowners, you may shy away from these hues, thinking they might make your space too dark or even unwelcoming. But surprisingly, black and gray quartz countertops—while dramatic—can turn out to be a far brighter option than you expected.
Plus, with their low-maintenance needs, the cost of a quartz countertop is definitely a worthwhile investment! Read on and see for yourself how these deep quartz colors are giving busy kitchens a lively look.
Meridian Gray
Meridian Gray is a low variation, mid-tone gray quartz with subtle flecks for added depth. Designers love this versatile surface because it works beautifully with a wide range of design styles. For instance, this Scandinavian-inspired kitchen—its gray quartz perfectly paired with light wood cabinets—has a light and bright feeling. The room also features plenty of big windows that let in natural light to reflect off of the polished surface.
Babylon Gray
Babylon Gray is a deep gray quartz with lighter gray veins. In this kitchen, the off-white cabinetry is sleek in style, while the natural stone backsplash and warm wood-look tile add rustic elements to the cooking space. Since soft hues are prevalent throughout the design, the countertop isn't too bold or overwhelming. Instead, the perfectly curated combination of elements makes this kitchen feel warm and homey.
Sparkling Black
Sparkling Black features a dramatic dark shade similar to the night sky, with random sparkles for extra shine. The high sheen of this polished countertop makes it perfect for modern, uber-chic spaces, and paired with white throughout the rest of the design, the black doesn't darken the space.
Shadow Gray
Shadow Gray is a deep-toned countertop in dusky graphite, its dark gray color accented with flecks of iron, onyx, and pewter. Because the island countertop is small in scale, its moody surface doesn't overshadow the rest of the light-colored elements in this kitchen. The slab is also installed over a bright white base and is illuminated by two large light pendants, highlighting the surface for the perfect balance of drama and subtlety.
Mystic Gray
Mystic Gray is a mid-tone gray countertop that features subtle dark specks. This contemporary kitchen features many stainless steel features, including the appliances, backsplash, pendant lights, and railing—and the gray quartz is a perfect match! This manufactured countertop also has a very high sheen, similar to stainless steel. Finally, to warm up this modern white and gray kitchen, warm wood-look tile grounds the design.
Whether it's high sheen or speckled variations that add interest to the solid gray or black backgrounds, these deep quartz colors end up helping to create cheerful and refreshing cooking spaces.
Feeling inspired to perk up your home design with a makeover? Check out these tips on how to brighten dark home interiors.
Read More About Quartz Countertops Designs and Trends:
How to Pair Natural Stone with Engineered Quartz Countertops
Top 5 Reasons Interior Designers Love Quartz
The Essential Guide to Picking a Quartz Countertop Color
7 Quartz Countertop Kitchens with Casual Elegance
Fresh Waterfall Edges for Quartz Countertop Islands
How Thick Should My Quartz Countertop Be?
Looking Back: 2018 Quartz Countertops Trends