Upgrade Your Home With Porcelain Wood Look Wall Tile
March 20, 2022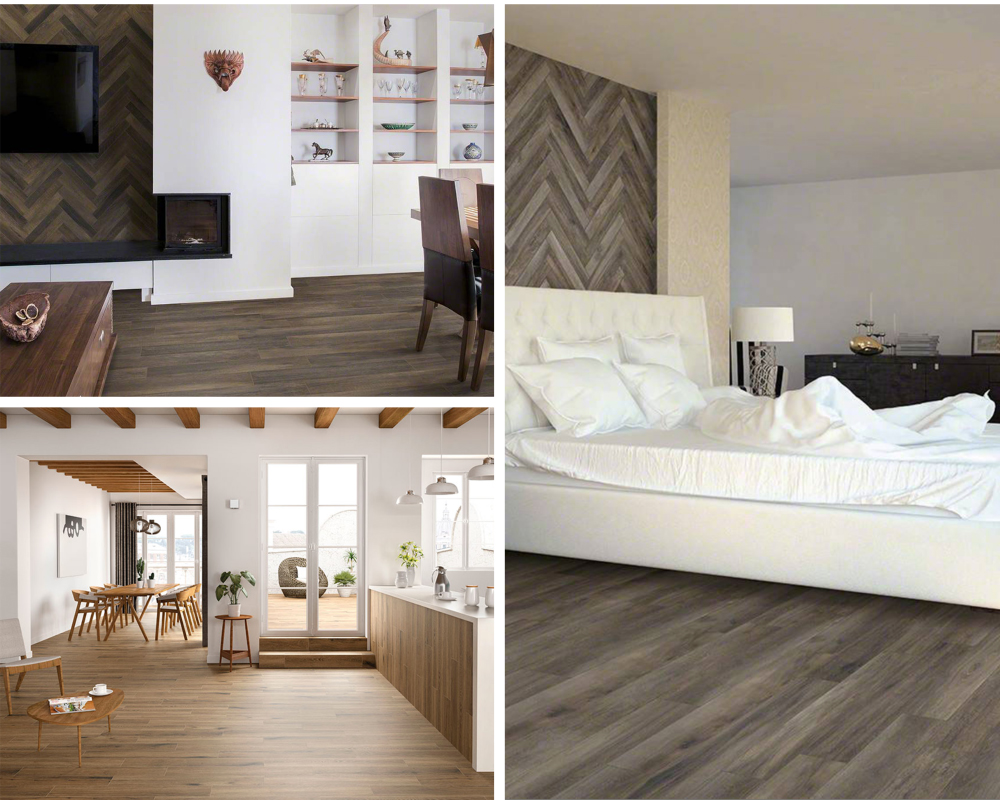 Customizing the look of your home with wood as a wall covering is nothing new, but in past decades it usually meant installing sections of faux wood paneling. Today's wood look wall tile is completely different. It's incredibly versatile, realistic, and long-lasting.
One of the greatest things about porcelain tile that looks like wood is that you can install it in any room of your house. This includes spaces where you would never place real wood, such as bathrooms, kitchens, and utility rooms. This opens up a whole new world of creative decorating possibilities!
Read on to find out how you can integrate porcelain wood-look planks into your own interior designs.
ANTONI CAFÉ PORCELAIN WOOD TILE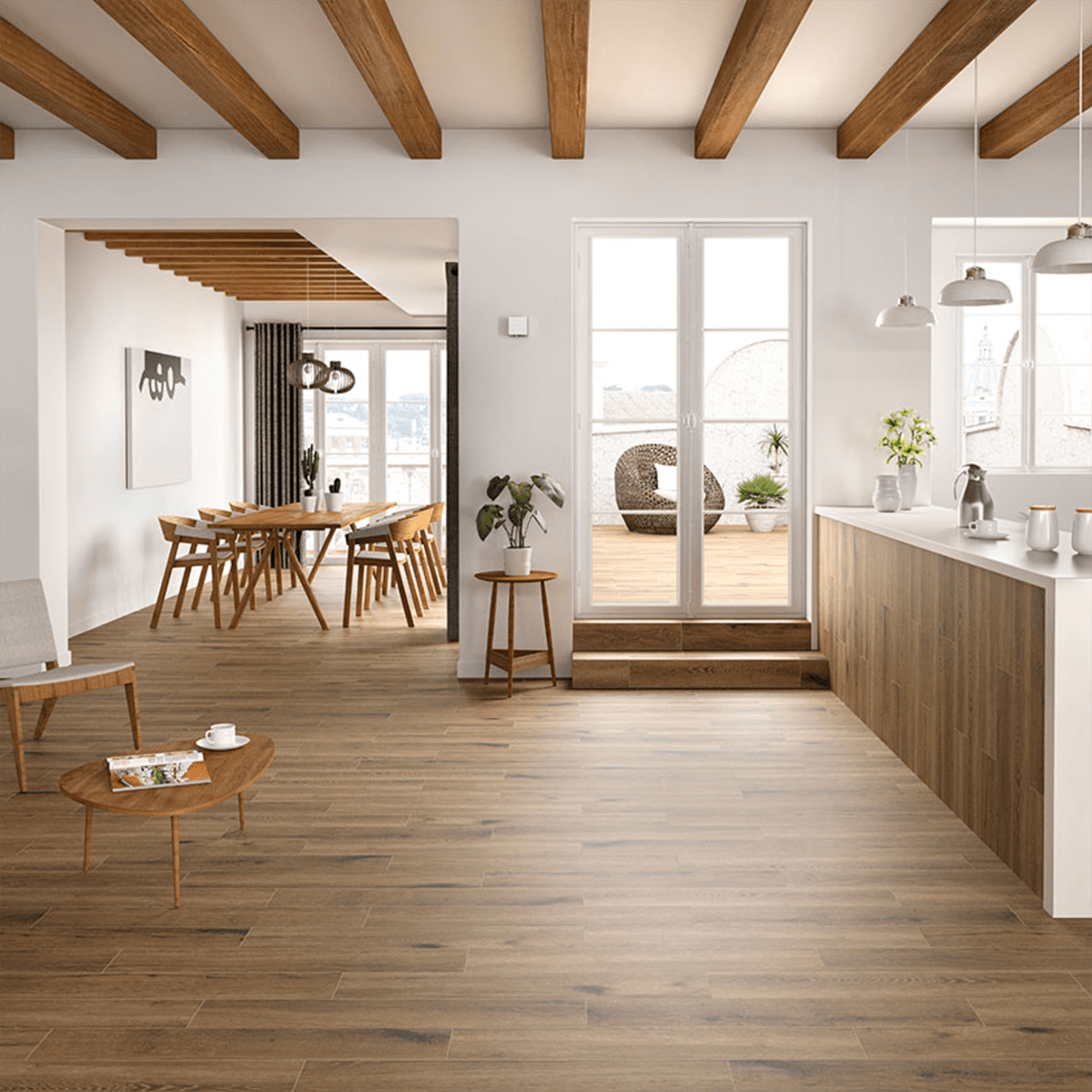 Wood-look porcelain tile is most commonly used as flooring, and it's especially popular in areas such as kitchens where homeowners most appreciate waterproof, easy-to-clean surfaces. However, those same traits are also useful for many vertical surfaces, such as the sides of your kitchen island, peninsula, or bar. Particularly in open-plan homes, the side facing out needs to be attractive — but it also needs to stand up to daily wear and tear, especially if it's used beside a seating area. It's durable enough to stand up to splashes, splatters, and even resists scratching — definitely a valuable investment.
Antoni Café porcelain tile features a medium-brown shade and realistic wood grain pattern. This dramatic, high-contrast glazed tile looks gorgeous in this kitchen photo, installed beside matching flooring to create a unified look throughout the kitchen and dining area.
MIDNIGHT PORCELAIN WOOD TILE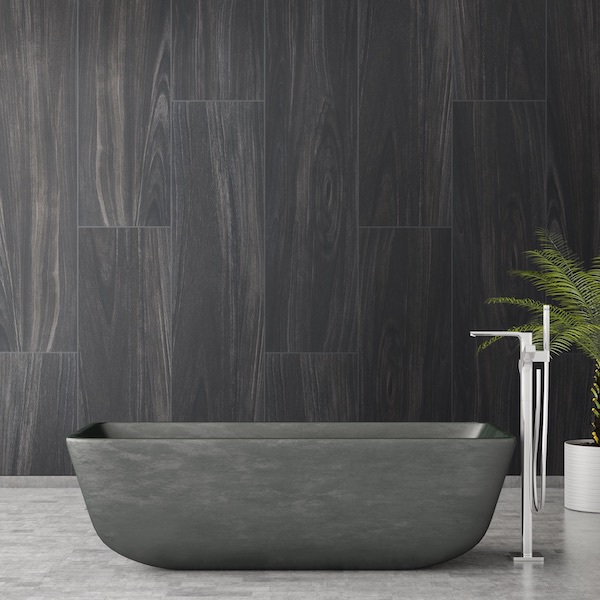 When is it all right to install wood planks beside the bathtub? Of course, wood-look porcelain tile is perfect for the job. Whether you're installing an accent wall or covering the entire room, you'll never have to worry about splashing it or damaging it with excess humidity. Porcelain tile is also extremely easy to clean and keep hygienically free of mold and mildew. You could even install it in the shower — yes, it's really waterproof and easy-care enough to stand up to all of that water and soap on a daily basis.
Midnight porcelain wood tile from MSI's Braxton collection features a soft, dark-gray shade highlighted by a pale gray wood grain pattern. Even better, the tile is a large-format 10" x 40" size rather than traditional narrow wood planks. The benefit? It covers large spaces quickly and easily, and there are fewer grout lines — that makes it even easier to keep clean. Install it with a lighter-colored grout to highlight the tile edges, or a matching gray shade to create a more seamless look.
UPSCAPE BRUNO WOOD LOOK TILE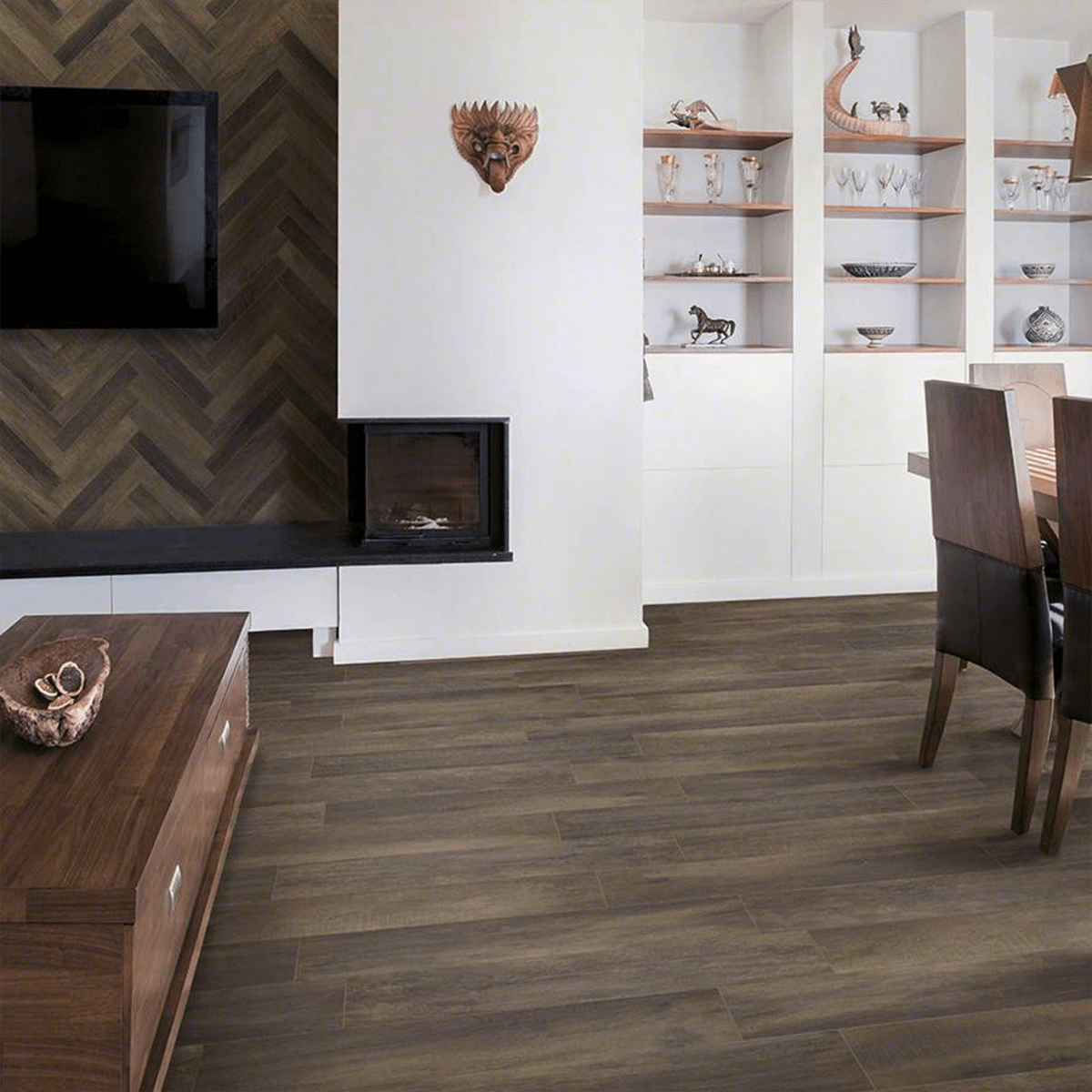 Although most homeowners would agree that hardwood planks are beautiful, their practical use is extremely restricted. But replicating the look of natural wood in porcelain opens up a world of possibilities. For one thing, you can install it beside fire features such as a wood stove or a gas fireplace without worrying so much about heat damage or cleaning off soot marks. You can also create unique installations such as the herringbone pattern shown here — it's easier to create, since the edges of porcelain wall tile are always uniform and straight, unlike real wood which is prone to warping and natural variation.
Upscape Bruno offers rich brown tones highlighted by lighter and darker shades to realistically imitate the look of natural wood. This is a shade that matches well with both traditional and modern decor, working well alongside stacked stone, brick, or even other shades of wood.
UPSCAPE GREIGE WOOD LOOK TILE

If you've never entertained the idea of using wood on a vertical surface, you might be surprised at the many ways it can elevate your home's decor. Porcelain wood planks can be laid horizontally, staggered in the traditional way, to create an amazing kitchen backsplash. Or, perhaps you'd enjoy installing backsplash tile planks vertically, side by side, to create a unique, contemporary bathroom design.
We especially love the dramatic way the interior designers have installed Upscape Greige wood look tile to create a herringbone-patterned accent wall in the bedroom. Who needs to hang wall art when you can enjoy the look of natural wood as a focal point for the room? This tile is a versatile mid-tone brown with a slightly rustic character. You almost have to reach out and touch it to tell it's not real wood planks. However, unlike real wood, it's a cinch to keep clean and free of dust and other indoor pollutants — a handy feature in bedrooms, especially if you're prone to allergies.
These are just a few examples of how you might integrate the look of natural wood into your home, in creative, unique ways you would never think of doing with the real thing. Wood-look porcelain tile is also available in many different shades, from pale cream to ebony and everything in between. We have a wide selection available, including refined, elegant wood-look planks as well as tiles that replicate weathered reclaimed barn wood — with no chance of getting splinters.
Would you like to see some more examples of our wood-look porcelain and ceramic tile? We encourage you to visit our website and browse the many options available. If you have questions or need advice about how to select, order, or install it, we are happy to help.
READ MORE ABOUT WOOD LOOK TILE:
Create A Worn Wood Look with Porcelain Tile
Is Porcelain Wood Look Tile Better Than the Real Thing?
The Different Design Styles Of Porcelain Wood Look Tile
Easy Care Porcelain Tile In Vintage Wood Looks
Move Over, Hardwood – This Is A Job For Porcelain Wood Tile!
READ MORE ABOUT WOOD LOOK TILE:
Country River Collection: Naturally Elegant Wood Look Porcelain Tile
Get the Look And Feel Of Real Wood with Waterproof Vinyl Plank Flooring
Get Durable And Affordable Wood Looks with Cyrus And Cyrus XL Luxury Vinyl Planks