Black And White: Our Favorite Quartz Countertops
May 12, 2019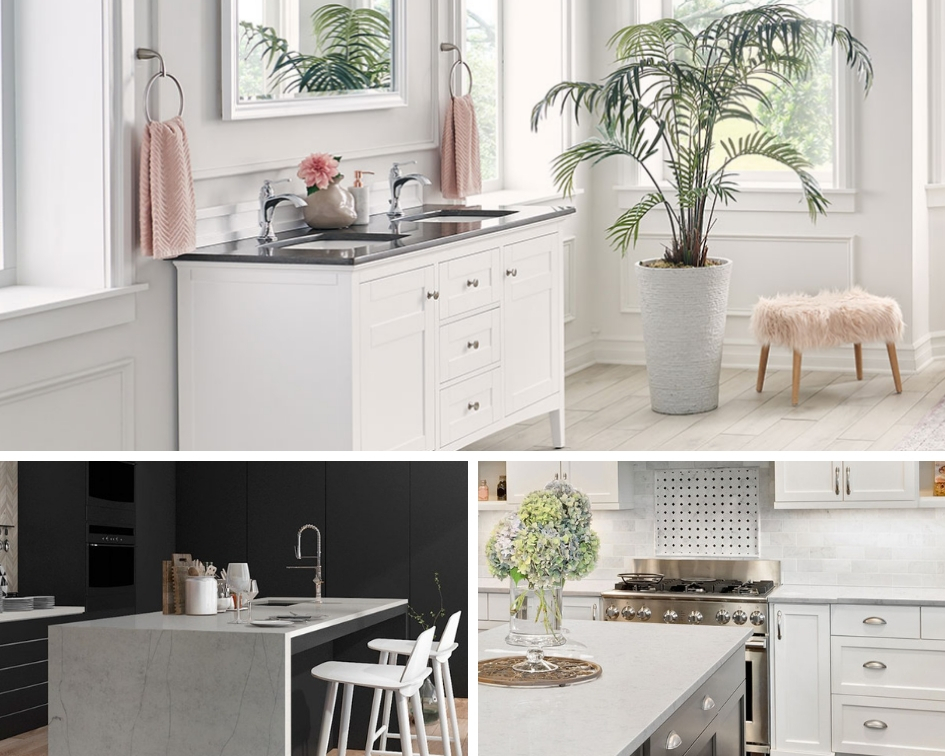 Life is complicated — maybe that's why homeowners are turning to the simple design combination of black and white. It's one of this year's biggest trends! It's a classic combination, trendy or not. Black and white quartz countertops are timeless and makes styling a breeze because there are so many possibilities, so many ways to incorporate it into your own personal style.
Glossy black and sparkling white quartz take a lot of the guesswork out of choosing accessories and other design elements. Simply go with a monochromatic scheme for the major components, such as walls, furniture, and accessories and it will all match perfectly. Add a pop of color that can be switched out if you like, such as wall art, cushions, or curtains.
Speaking of easy, you can't get any easier than quartz countertops. When you combine the simplicity of black and white with super easy-care quartz, your home truly becomes a haven from the world. Here are a few of our favorites from MSI's popular Quartz collection.
Babylon Gray Quartz
Black and white is the ultimate neutral to design a room around because it complements any décor style, from contemporary to rustic. Using various tones of white and softer black or gray or even shades of beige modernizes the classic combo. Babylon Gray Quartz is a monochromatic blend of black and mid-tone gray with lighter accents, and by choosing other elements that match these shades, you can't go wrong.
Calacatta Botanica Quartz
The combination of black and white quartz countertops is sometimes called "tuxedo." Depending on the other décor, it can be as casual or formal as the homeowners want. Like natural marble, Calacatta Botanica Quartz is sophisticated and elegant. Since it's quartz, however, this is a kitchen you can live in without worrying about the work of keeping it clean.
Mara Blanca Quartz
Installing both white and black quartz counters is a popular trend. One way to soften the sometimes stark combination of black and white is to incorporate wood or wood-look tile flooring. This is especially useful with subtly patterned quartz countertops such as Mara Blanca combined with clean, basic edges and simple cabinetry with little embellishment. The wood adds just the right natural touch.
Calacatta Clara Quartz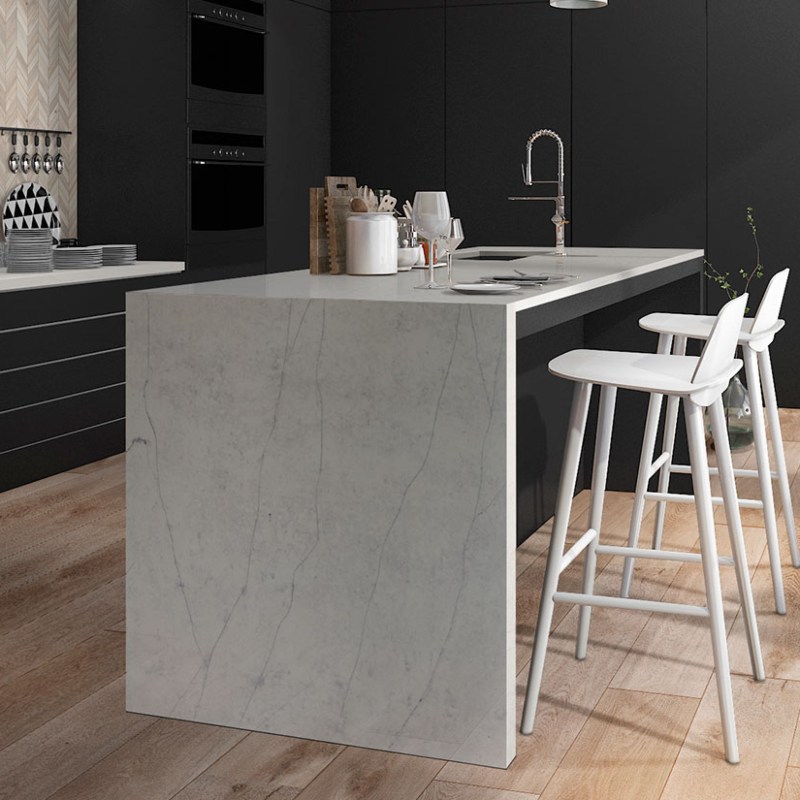 Featured: Calacatta Clara Quartz
Quartz countertops are often associated with modern and contemporary design trends because it is a manufactured surface and lends itself to clean, simple lines. At the same time, a marble-look quartz like Calacatta Clara is the perfect intersection of modern looks and natural elegance. This countertop complements and softens the stark contrast that black and white can create without detracting from the drama of the theme.
As you can see, sticking to black, white, and gray doesn't restrict your decorating choices — it expands them. With this classic combo you can go modern minimalist or charming traditional, it's up to you. Better yet, you can change your mind and the black and white counters will still be right at home. Visit MSI's web gallery to learn more about the quartz countertops featured here, as well as our many other quartz countertop colors.
More on Quartz Countertops
Quartz Countertop Alternatives to White Carrara Marble
Are Quartz Countertops Really Timeless?
Quartz Countertops: An Environmentally Responsible Design Choice
Which to Choose: Quartz Versus Granite
How To Choose A Quartz Countertop That Matches Your Kitchen Colors