Current Obsessions: Marble Inspired Quartz Countertops
February 24, 2017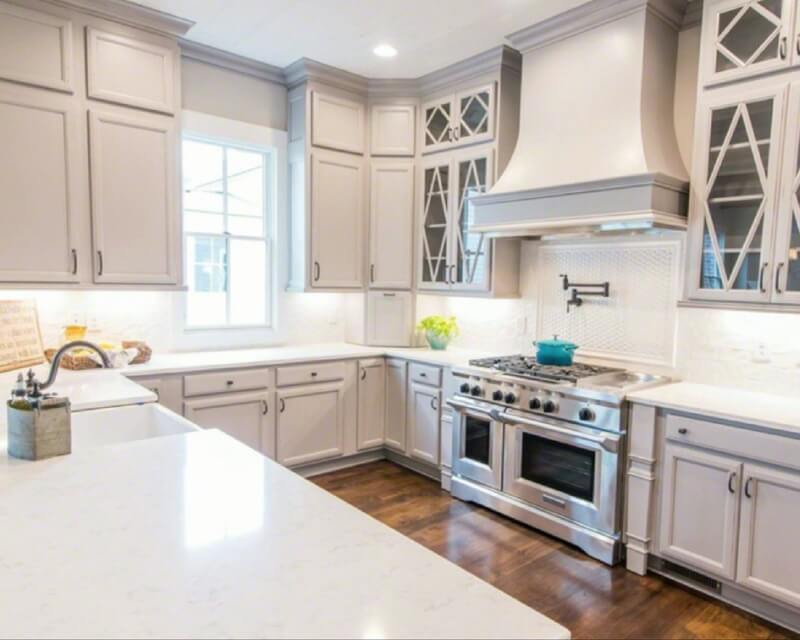 If you love the look of marble but don't want the fussy maintenance, you're in luck! Today's homeowners can reap the benefits of the latest technological advancements that result in convincing replicas of natural stone slabs, such as marble-look countertops. This manufactured quartz looks just like the real deal, replicating marble's characteristic coloration and veining.
When you choose quartz, you end up with a high-end surface that's durable and easy to care for, but without the high price tag. And with these five looks and benefits to boot, you'll see how a marble-inspired quartz countertop could quickly become your new fave.
Romano White
Although it's a man-made product, a marble look quartz countertop easily blends in with both natural elements like stone and wood, and fabricated materials like porcelain and glass, all without looking out of place. This kitchen design is filled with textural elements, from the warm wood floors to the glossy glass backsplash.
The Romano White Quartz countertop is a timeless look with dramatic movement reminiscent of natural marble. It features subtle white and gray tones, with hints of warm veins and specks.
Marbella White
The beauty of quartz is that it's a modern material with a classic appeal. It can successfully be incorporated in a traditional or contemporary design. Materials like Marbella White Quartz are ideal for a variety of styles because of its elegant soft white background and complementary tonal veins. This quartz adds just enough interest, but in a subtle way, blending in beautifully with the light neutrals of this modern kitchen.
Fairy White
You might think that keeping these white quartz countertops clean might be a chore, but think again! Quartz is easy to keep clean with a damp cloth because it's a smooth, non-porous surface that won't harbor any bacteria. It's also scratch-, stain-, and heat-resistant, and you won't have to worry about sealing or polishing your surface.
These Fairy White Quartz countertops are made up of a porcelain white color, with light sterling and dove grey veins and stippling. Pair this bright, beautiful material with high-gloss blue cabinets, and you've got a sleek and ultra-modern look.
Calacatta Vicenza
Since quartz is in high demand, installing a marble-look quartz countertop in the kitchen or bathroom is an excellent selling point you can highlight when it comes time to sell your home. Even with all of the marble mosaics on the adjacent walls, you'd never guess that these counters aren't the real thing.
Calacatta Vicenza Quartz includes the realistic features of natural marble, with its elegant white background and subtle gray veins. It's a great maintenance-free option for busy places like the bathroom.
Perla White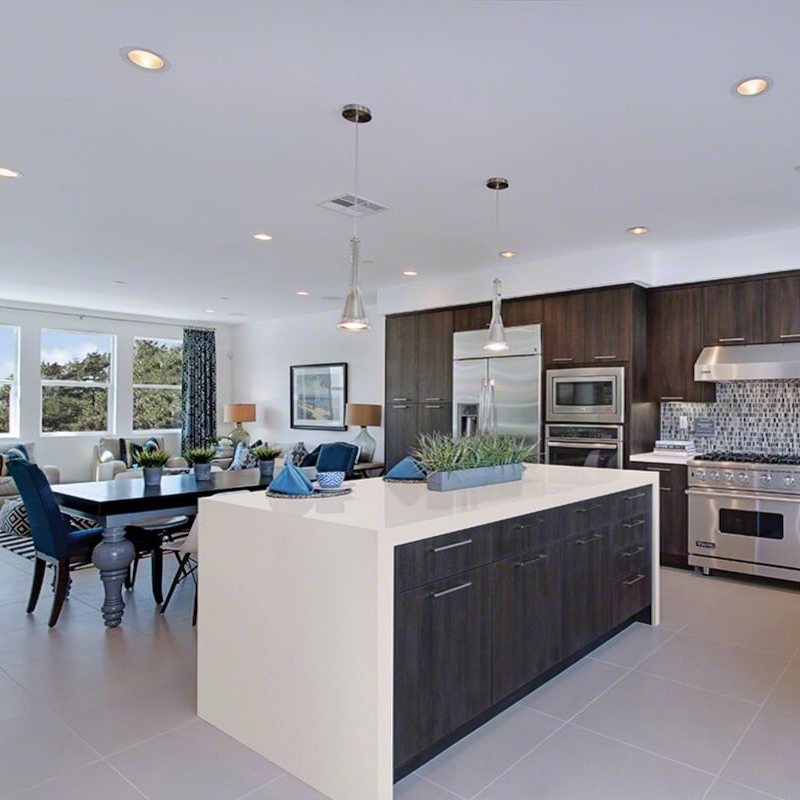 Featured: Perla White Quartz
Quartz is being used in a number of ways, from islands to accent walls, and even floors. This waterfall island is definitely the showpiece of this contemporary kitchen. The Perla White Quartz countertops add a clean look with their white background, and elegance and sophistication with their subtle veins.
For those who want the high-end look of marble but need a tough material for modern living, marble-inspired quartz is an excellent choice. MSI offers more than 50 color options of quartz, so you'll be sure to find one that works perfectly with your style. Check out these marble look colors and more at your local MSI location.
Read More About Quartz in Natural Stone and Marble Looks:
Beautiful Marble Look Quartz Countertops
Is Quartz More Expensive Than Marble?
Marble Look Quartz Countertops
Are Quartz Countertops Really More Expensive Than Marble?
Best Marble Slab Alternatives in Quartz Countertops
Thinking About Marble Consider a Quartz Countertop First
Quartz Countertops That Look Like Marble
Marble Look Quartz Dominates Home Remodels Here's Why