Designers Love Quartzite
December 22, 2016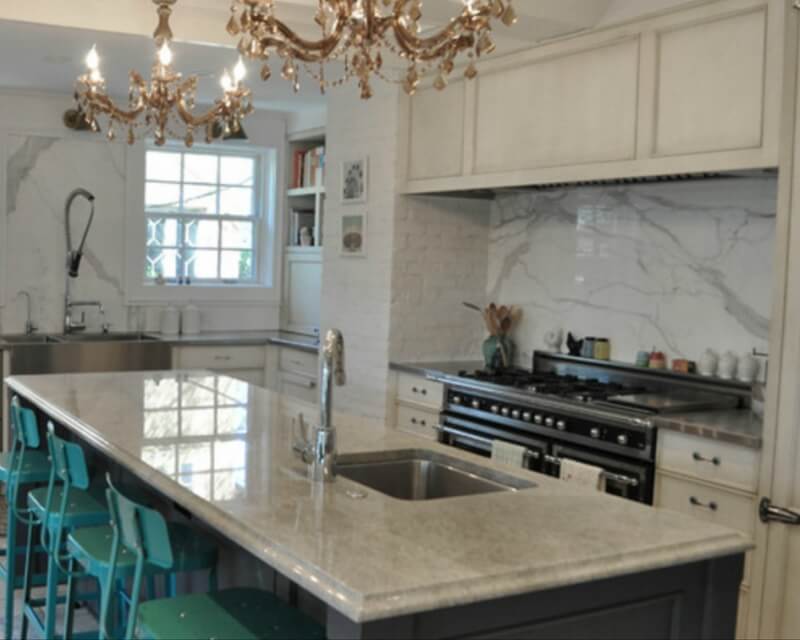 Classic, sophisticated, and elegant, marble has been one of the most popular choices for countertops for decades – centuries, to be more accurate! Its popularity continues, but many homeowners are concerned about marble's finicky maintenance needs. Cooks in a busy kitchen don't want to worry about possible scratching, staining or etching from common acidic foods like tomato sauce, citrus, or vinegar.
Quartzite is a metamorphic natural stone that is much more durable than marble. For this reason, interior designers have been fans of quartzite for years, and now homeowners are taking notice when it comes to their own bathroom or kitchen ideas. It is non-porous and resists stains and scratching, and does not need frequent sealing like marble does.
With many color options that vary depending on its mineral content, quartzite can bring you the look of beautiful marble countertops with a lot less work and worry!
White Macaubas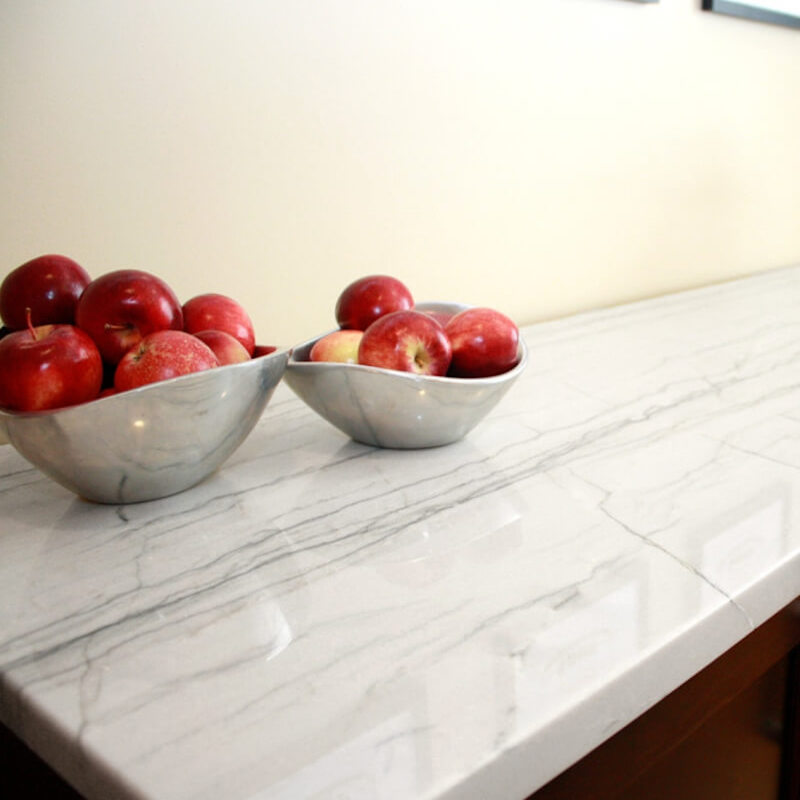 Featured: White Macaubas Quartzite
Featuring a pure white background and charcoal-gray veins, White Macaubas Quartzite offers that classic marble look we all love. It has a polished, almost translucent finish and is ideal for use in kitchen or bathroom countertops. Imported from Brazil, it is available in 2 cm. and 3 cm. thicknesses. Designing an outdoor kitchen space? This white quartzite is tough enough for outdoor use as well, even in freezing climates.
Azul Macaubus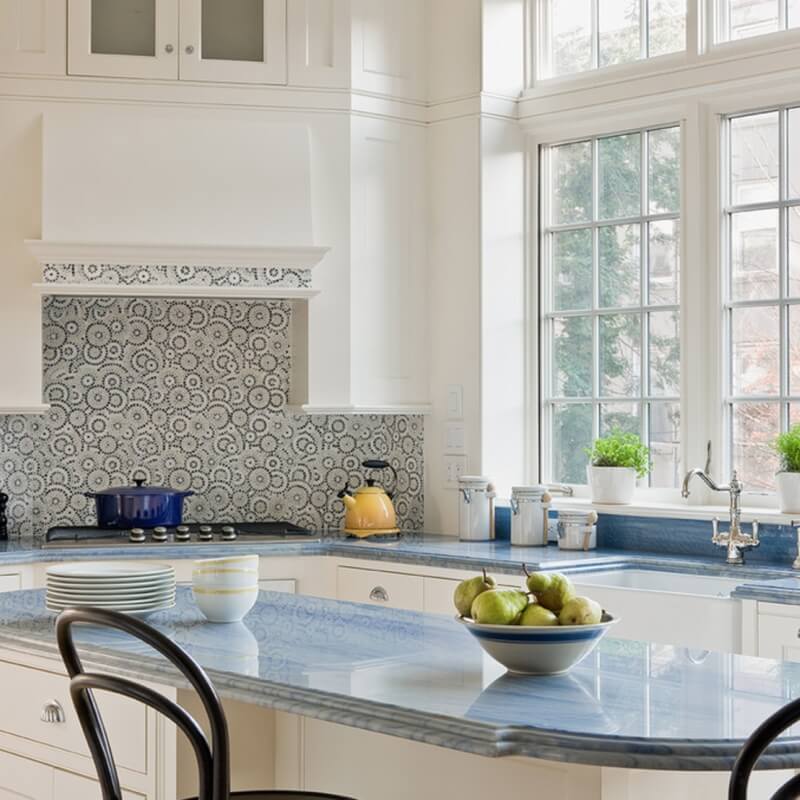 Featured: Azul Macaubas Quartzite
Definitely a show-stopper, Azul Macaubas Quartzite is an Italian import featuring a linear pattern with shades of blue-gray, charcoal, and taupe. This quartzite, along with a similar blue quartzite, Azul Imperiale, are available with a polished surface in thicknesses of 2 and 3 cm. Its non-porous surface makes it a great choice for any wet areas in the home such as bathroom counters, backsplashes and shower surrounds – and, of course, the kitchen's focal point countertop.
Madreperola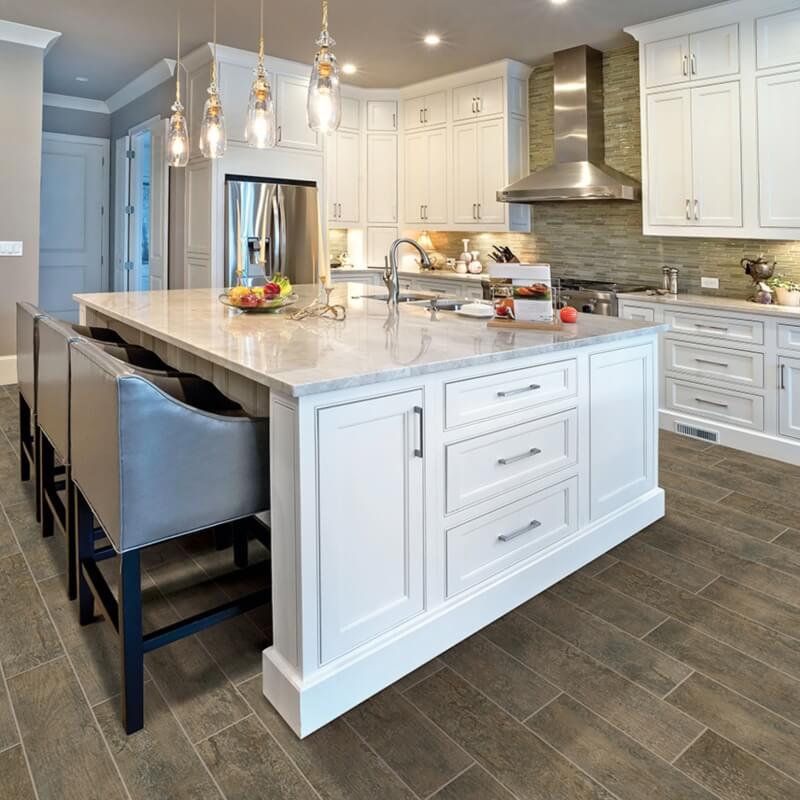 Featured: Madreperola Quartzite
The cream and gray swirls of Madreperola Quartzite are subtle and reminiscent of the finest marble, and we can truly say this material coordinates with just about anything. This surface is available in both polished and brushed finish, and although it makes for stunning quartzite countertops, we can also recommend it for flooring even in high-traffic areas, or for a fireplace surround.
Onyx Bamboo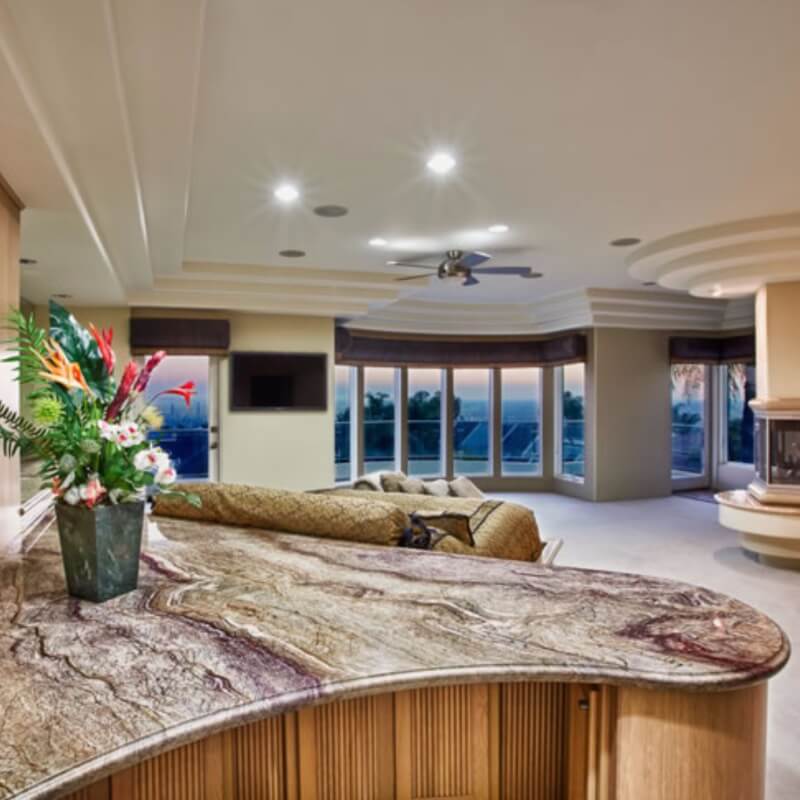 Featured: Onyx Bamboo Quartzite
Another Brazilian import, Onyx Bamboo Quartzite is a tough quartzite with dramatic swirls of brown and creamy white, with golden accents. It's available in polished-finish slabs, and is sure to become the focal point of any room. In thicknesses of 2 and 3 cm, it works well with any edge treatment you choose, from squared or rounded to the more complex triple ogee.
Quartzite delivers everything you love about marble – the swirls of color that range from subtle to dramatic, the bright polished surface, and the timeless elegance. But it also frees you from worrying about care and maintenance. With a Quartzite countertop, you can cook pots of spaghetti sauce without worrying about splashes, or juice the morning OJ with no worries about spills. Now you can have your showplace, picture-perfect kitchen and use it, too!
LEARN MORE ABOUT QUARTZITE COUNTERTOPS
The Dazzling Durability Of Quartzite Surfaces
Quartz Vs. Quartzite - The Real Difference
Does Quartzite Need To Be Sealed?
New Quartzite Countertop Colors