Introducing Bevollo: Our Newest Collection Of Luminous Glass Mosaic Tiles
October 23, 2020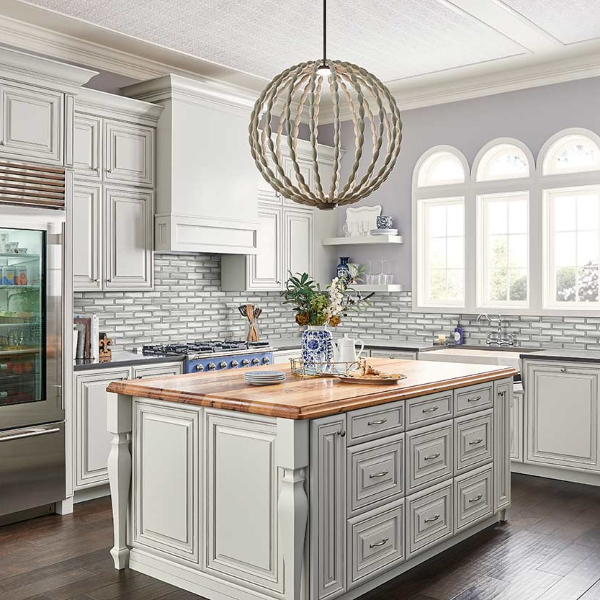 If you want to display mosaic art in your home, you're making a good choice. Dating back to the 3rd century BC, mosaics are an expressive art form that has persisted throughout the ages. The glass allows natural light to flow through in a variety of hues, and the amalgamations of color and light that you can make are uniquely beautiful.
However, if you're like most people, your home doesn't have a lot of space for mosaic window art. Glass mosaic tiles, on the other hand, are perfect for any flooring or backsplashes within your home. Here, we're going to introduce our mosaic-inspired Bevollo collection, so read on to learn how you can incorporate these styles into your living space!
Why the Bevollo Collection?
MSI's new Bevollo collection is a glass mosaic tile featuring soft icy hues that range from marble to metallic. It's especially well-suited for wall applications such as backsplashes in the kitchen or bath, vanity walls, shower surrounds, and any other place that needs a pop of color.
Bevollo's non-porous surface is resistant to mold and mildew, and it naturally repels harsh chemicals and staining liquids. Cleaning the surface can be as simple as wiping with a damp cloth or spraying down with a mild cleanser-no brushing or elbow breeze required.
There are multiple Bevollo tile patterns that come with these aesthetic and functional features. Let's take a deeper look at each individual style!
Ice Bevel
Our Ice Bevel glass tile is simple while still being sophisticated. It has a soft white color that's perfect for all color schemes. Whether you have furnishings in warm or cool colors or prefer monochromatic hues, this option will look perfect in your kitchen or bathroom.
It also has a classic beveled edge that frames each 4x12 rectangular tile perfectly. If you want a detailed and elegant option for your space, the precise detail on these tiles is sure to astound you.
As you may expect from a mosaic-inspired flooring option, Ice Bevel tile reflects and refracts both natural and artificial light. This is perfect for those who want to make their space as bright and lively as possible.
Champagne Bevel Herringbone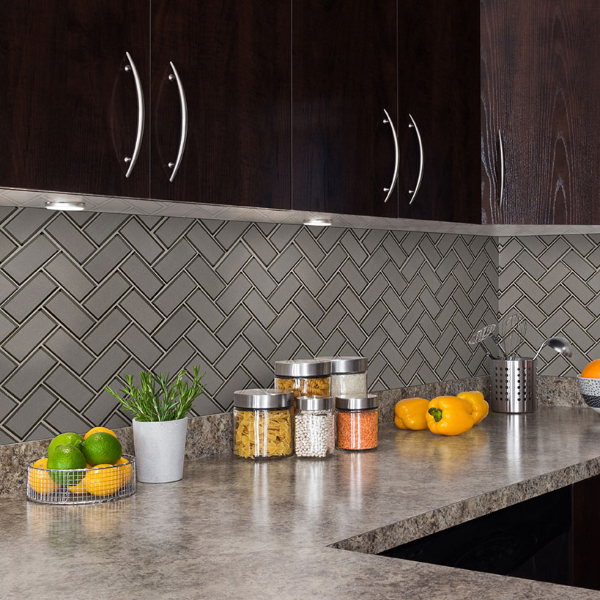 This style comes in a soft brown shade that goes with virtually every design scheme. It has the same beveled edges that Ice Bevel tiles do, which adds an interesting texture to the mesh-backed crystalline glass.
The glistening surface is guaranteed never to fade, and the mesh backing makes it a breeze to install. In fact, this is the case for the entire Bevollo collection. With such a lustrous appearance, no one would guess that the collection is affordable glass.
Like its ice-colored counterpart, Champagne Bevel tile can be installed both horizontally and vertically. This allows you to choose the aesthetic that best matches your room. You can also create different patterns with combinations of horizontal and vertical tiles or make diagonal v-shapes with them.
When making this decision, consider the orientation of other design features such as ceramic wall tile. You also may want to think about the way that you want the light to look as it bounces off your mosaic-inspired glass features.
Ivory Amber Bevel Subway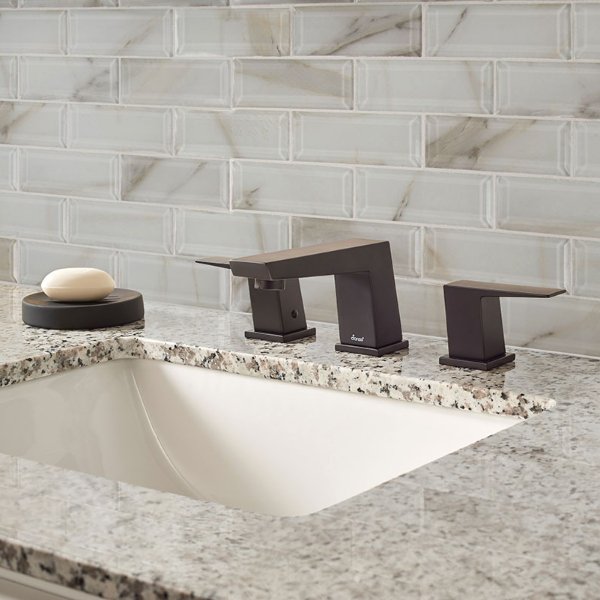 Our Ivory Amber Bevel Glass Subway tile is made to look like expensive Italian marble. Made from neutral glass, it works with virtually any color scheme that you can conceptualize for your home.
Plus, since it has a classic look that allows the viewer to enjoy it while splitting their attention with other design elements, you don't need to worry about it becoming overwhelming.
Like all styles in the Bevollo collection, this tile is perfect for both floor and backsplash designs. Its incredible versatility means that you can have an elegant and modern space that matches the rest of your room.
This style also goes perfectly with marble or quartz countertops. Since it's made to look like marble, it will blend right into these styles!
Verde Azul Subway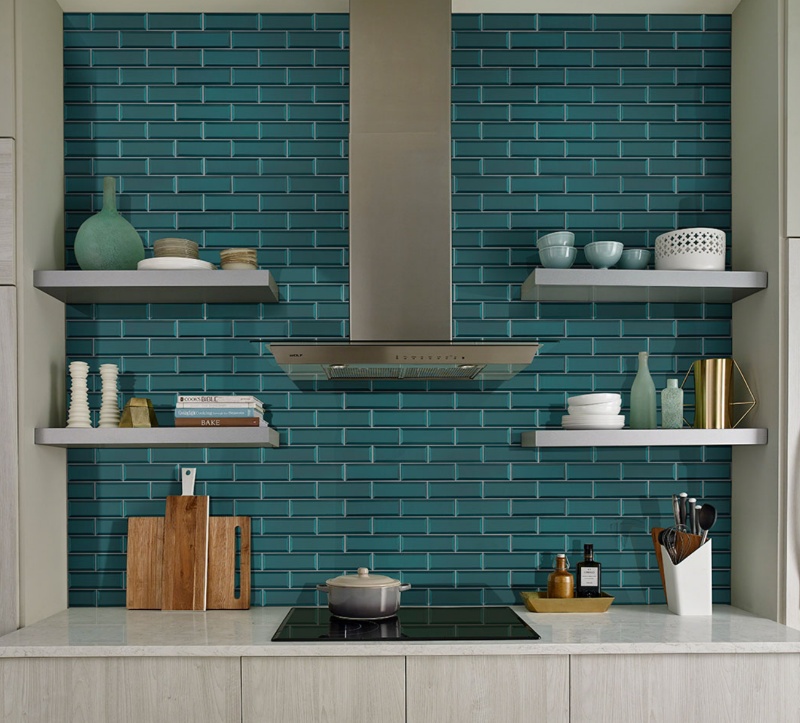 If your favorite color is blue, you're far from alone. In a study spanning 10 countries and 4 continents, blue was by far the most popular hue all across the board.
This means that the Verde Azul Subway style will appeal to a great many people. These tiles are an appealing teal color that sits on the border between blue and green. When light shines through or bounces off them, the hue only becomes more vibrant.
If you're a fan of colorful and bright spaces, this is definitely the right choice for you. Its long and thin tiles as well as its beveled edges also serve to add some more flavor to any home. Look into this style to give your space a bit of extra character!
Ice Bevel Subway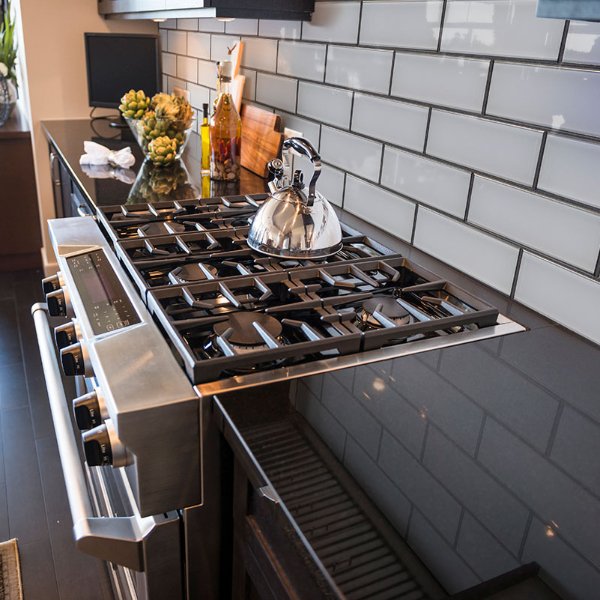 Ice Bevel Subway tiles are just as long and thin as Verde Azul ones. In fact, they're incredibly similar- their main difference lies in the color of the tile. This style is the same hue as the classic Ice Bevel, with a soft white color that looks bright and vibrant when hit by the light.
In a room where you use classic Ice Bevel tile on your floor, you might like to pair it with Ice Bevel Subway as a backsplash. While these two styles are the same color and go perfectly together, the change in tile shape is sure to make your room more visually appealing.
There's no better way to add character to your space than by mixing and matching your tile patterns!
Get Glass Mosaic Tiles Today
Now that you know all about our Bevollo collection and why it's the perfect fit for your home, it's time to get started. Contact us to learn more about glass mosaic tiles for your flooring and backsplash. Our experts are happy to help you find the perfect style to match the rest of your home interior and discuss installation options.