Reclaimed Wood Look
September 23, 2013
If you have opened any home décor magazines recently, you're sure to notice the trend of wood grain and wood looks throughout homes. These weathered accents are not only limited to homes but are widespread in commercial application as well. We are seeing full wood walls with the planks in the traditional offset installation to striking herringbone installations.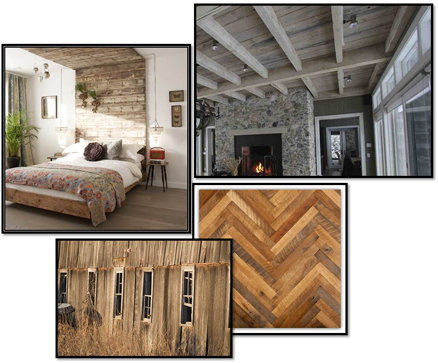 If you want to add an aged patina to your home that creates a dramatic visual impact, consider our Salvage Line of reclaimed wood inspired porcelain. Reclaimed wood boards come from torn-down barns, homes or even factories. If you own an older home, you may already have some beautiful wood behind the drywall or under your carpeted floor. Designers are using wood accents in multiple ways in homes. We are seeing wood accents in mirrors, lighting, furniture and even full wall treatments. Wood accents evoke an emotion of nostalgia that gives a space a sense of history. From barn board bedroom walls to wooden beams in kitchens, reclaimed wood adds weathered warmth and unexpected rustic touches to your home.
This movement is coming from strong believers of sustainable products and repurposing items and giving them new life. Have you watched the popular T.V. shows American Pickers or American Restoration? Many people are looking through salvage yards and restoring things back to their glory days. They are taking wood off old dilapidated buildings and using it as flooring, ceiling treatments, or accent walls.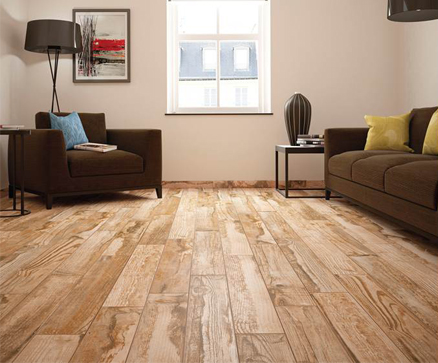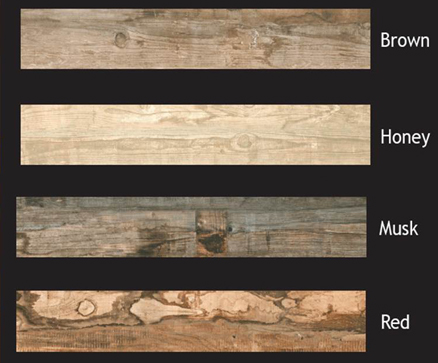 The unfortunate thing about real reclaimed wood is that it can be really pricey to buy and then requires a lot of love to bring it back to its original beauty. Porcelain is a great alternative to consider because of its indestructible nature and little to no maintenance. If you have pets or a family, or really do not want to deal with scratching, fading, or the wear and tear of wood, porcelain planks are the best solution. No waxing, re-staining, or buffing required.
The Salvage Line replicates reclaimed wood and has the unique random coloration of natural wood. Because of the unique inkjet technology used to create this line each piece is unique. No replication! It is available in 6"X40" large planks and is virtually maintenance free. Do not be afraid to use these planks in the interesting applications we are seeing with real wood. Try an accent wall, shower walls, a headboard, and definitely a full kitchen floor!
READ MORE ABOUT WOOD LOOK TILE:
Tips For Cleaning And Maintaining Wood-Look Floor Tile
6 Popular Wood-Look Tiles For 2017
Hardwood Flooring Vs. Wood-Look Tile Throughout the Home
Create A Worn Wood Look with Porcelain Tile