Should You Replace Your Second Floor Carpet With Luxury Vinyl Planks?
May 06, 2020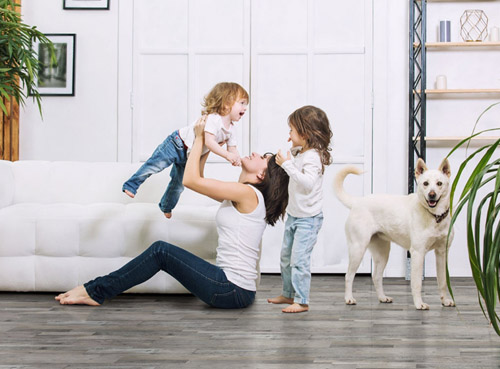 From the materials to the coloring, flooring greatly impacts a space and can add character to a room. While carpet is a common choice because of its comfort and cost, it isn't the only option these days, especially when it comes to the upstairs. Luxury vinyl planks (LVP) are another affordable alternative with its own set of unique benefits that are perfect for second-floor living. Whether you're concerned about allergies and air quality to maintenance and durability, LVP is the answer to these issues. LVP and luxury vinyl tile (LVT) may be the flooring solutions you need to get everyone in the household feeling better, so let's take a look at what makes luxury vinyl a better choice over second-floor carpeting.
Allergies
If you or a loved one is allergic to dust mites or pet dander, then you'll definitely want to ditch the carpet, especially if you have babies and young children at home since they're more susceptible to the irritating effects of dust trapped in carpets. The soft polyester, nylon, acrylic, or wool fibers are a breeding ground for dust mites, and it isn't just the bugs that cause problems. Their waste also contributes to symptoms, which may include skin reactions, sneezing, runny nose, headaches, asthma, and breathing problems just to name a few. Carpet also houses pet dander, pet hair, and other tiny particles that can recirculate back into the air. No matter how many times you vacuum your carpets, it's nearly impossible to remove the allergens because they can remain in the carpet padding underneath.
LVP and LVT flooring is an excellent solution for allergy sufferers because the hard surface wont' hold onto dust mites or pet dander like carpet does. Instead, allergies that fall on the non-absorbent floors can be easily wiped away without anything hiding or staying beneath the surface. Replacing your upstairs carpet with luxury vinyl is one way to help your family stay healthy and feel better.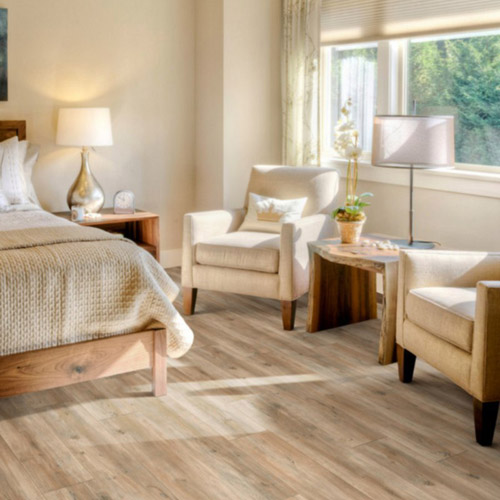 Photo Credit: Houzz
Indoor Air Quality
Second floors often have poor air circulation, and this problem can lead to higher humidity levels and even dampness. Moisture in the home can lead to worrisome conditions that harbor mold, bacteria, yeast, and dust mites. High humidity could lead to mold in the carpet and create the perfect environment for dust mites since they flourish in humidity, and these alarming problems could cause all kinds of health issues in the home.
Most vinyl flooring types can be easily installed in moisture-prone areas because of their water-resistant or waterproof properties, so moisture isn't a problem for this tough flooring preference. It can also be installed seamlessly throughout the entire top floor since it can replace carpet in bedrooms, offices, and bonus rooms as well as replace the flooring in water-prone bathrooms and laundry rooms. If air quality is a priority, then check for vinyl that is GreenGuard certified. This third-party certification means that your new vinyl flooring won't contribute to poor indoor air quality.
Design Style
Besides budget, one of the biggest concerns when it comes to choosing new flooring is finding a design style that matches your personal aesthetics. Carpet comes in various neutral tones and colors, with some featuring a single shade or multiple for added texture, as well as a range in thicknesses and design patterns. However, many shy away from lighter tones because they can look dingy over time, and that's a real-life concern if you have messy toddlers or fur babies.
Although carpet may evoke a cozy, comfortable feel with its plush fibers, vinyl gives a space a different kind of warmth. With virtually limitless versatility and style possibilities, vinyl comes in just about any color and pattern that can realistically replicate the natural look of hardwood and stone, and today's technology makes it hard to decipher between the two. Plus, hard floors create a more dramatic look than the softness of carpet, which is critical if you desire a more eye-catching design upstairs.
Durability and Maintenance
Although carpet can last anywhere from five to 20 years, it really only looks great when new. That's because it quickly loses its luster if you don't vacuum and shampoo it often. And, unless you have two sets of cleaning machines, you'll have to lug them upstairs each time you use them on a daily or weekly basis. While it's not a difficult task, it's a cumbersome inconvenience. Busy areas like hallways, whether they're upstairs or downstairs, will see a lot of traffic and get worn over time. While there may not be as much eating happening in the bedrooms, there's still concern regarding stains on second-level living. Carpets will still show permanent marks from spills from water and other drinks, food, makeup, soaps, or detergents.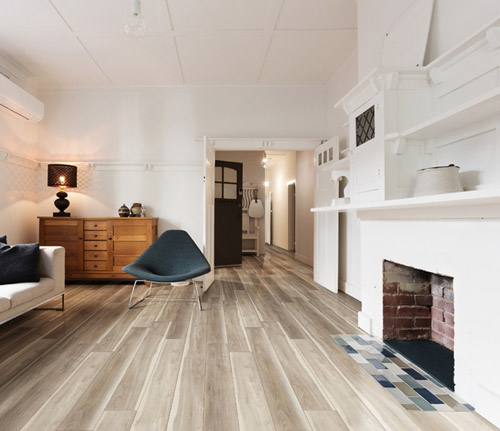 When it comes to durability and maintenance, the luxury vinyl tile benefits add up. LVP and LVT can last for a solid 10 to 20 years before needing to be replaced and will still look gorgeous over time. Simple sweeping or mopping is all you need to keep up with the low maintenance, and you don't need a lot of space to keep one handy in a hall closet or laundry room. Luxury vinyl can handle foot traffic, so choose one with a thicker wear layer to be able to handle the amount of people constantly using the stairs and hallways. Since vinyl is waterproof, spills aren't a big deal either since they can be wiped up quickly without soaking through, unlike with carpet. Vinyl flooring care and maintenance is a simple and quick, unlike carpet or other flooring types.
Replacing your second-floor carpet with luxury vinyl planks is a clear choice for those who have allergies, small children, messy households, and pets. Not only does it look like real hardwood planks in a wide range of colors, but also it's also much easier to maintain. While both carpet and vinyl can be good options for the upstairs, it's safe to say that carpet will look worse way long before luxury vinyl since it's a much more durable product. Of course, it's always important to weigh your lifestyle needs with your design desires.
More on Luxury Vinyl Tile
From the Kitchen to the Playroom Luxury Vinyl Tile Always Performs
See How Plank Luxury Vinyl Flooring Transformed These Rooms
How Luxury Vinyl Flooring Differs from Standard Vinyl
Is Luxury Vinyl Tile a Good Investment?