Cozy Stacked Stone Fireplaces
November 08, 2019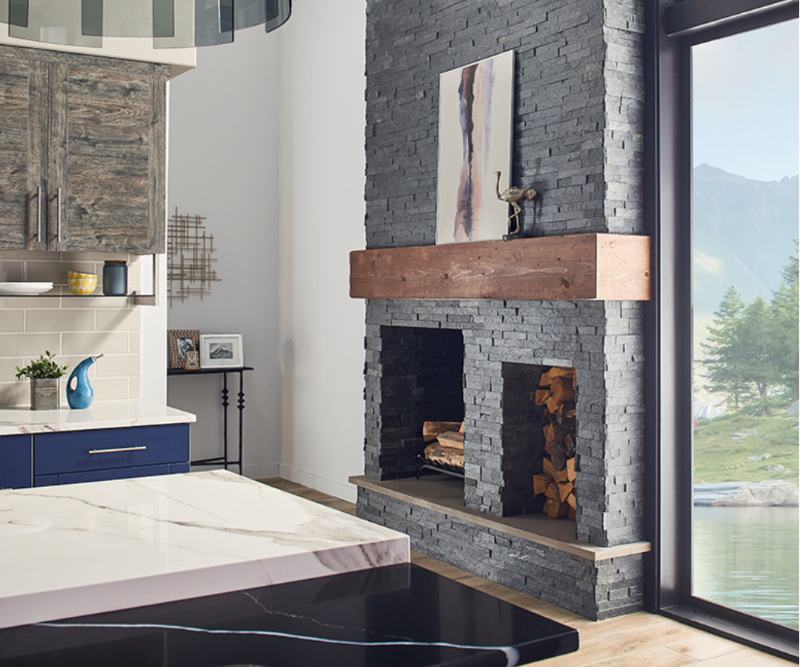 Is there anything better than the warm radiance from a crackling fireplace? Regardless of the time of year, fireplaces have the ability to bring people together, forging important memories for years to come. Few things are more romantic than a fireplace in your home and thankfully there are stacked stone options suitable for any aesthetic and design preference. Whether it's modern sleep patterns or traditional displays, stone wall tile is stunning as part of any fireplace and is sure to add a finishing touch of sophistication to any interior.
While most people are well aware what a stone fireplace is made of, what is stacked stone exactly? Technically, stone panels are trimmed pieces of natural stone spliced together to create modular stone panels offered in different sizes. Typically, these are used to enhance the look and feel of an interior or exterior area. As you can imagine, they are ideal and cozy for home or office fireplaces. The texture and patterns contribute to a room's tone dramatically, grounding a room and in particular—a fireplace—in a deep and meaningful way.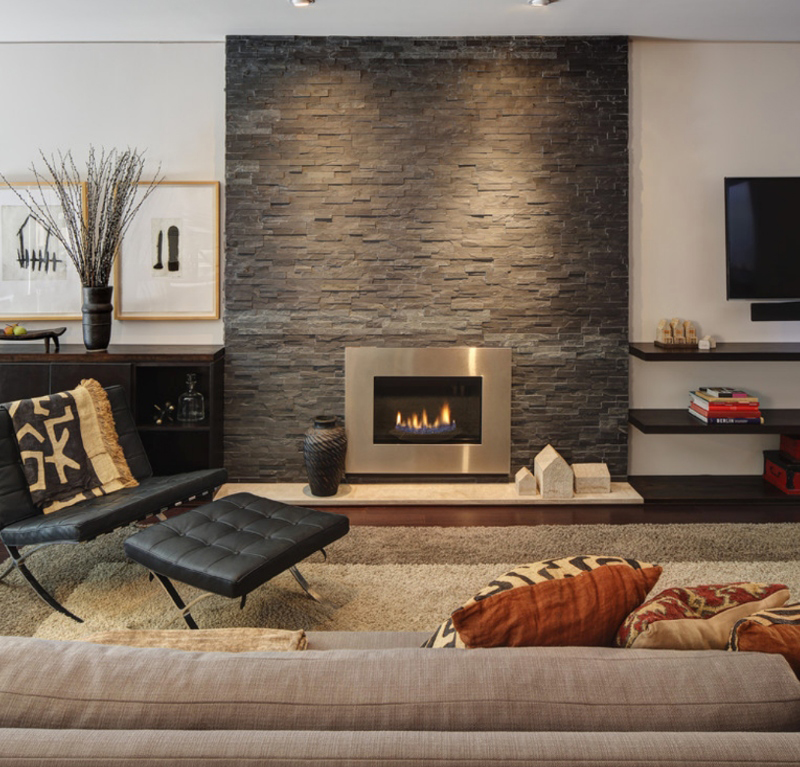 Photo Credit: Houzz
As previously stated, these designs are made from natural stone and create a diversified and enticing look, one that is as inviting as it is pleasing to the eye. Who doesn't love the focus cozy stacked stone fireplace designs can draw in with their dramatic and even eccentric patterns and texture? Thankfully, these ledger panels come in a variety of shapes, sizes, and colors to compliment nearly color scheme, making them an ideal fit for the community and open heartedness found around a domestic fireplace.
Let's explore some of these stacked stone designs and learn more about these game-changing panels!
When it comes to travertine stacked stone, you'll find some attractive gray hues and textures ideal for rustic or contemporary homes. Many of the travertine designs blend in well with various home decors and don't overwhelm a space with its presence. The way these particular designs add depth can be truly astounding, especially while sitting around a warm and crackling fire.
Marble stacked stone is another ideal option and a great pick for fireplaces, specifically, as marble is a stone that isn't affected by heat. The beauty and warmth added to a home from a marble fireplace can be intoxicating, especially with the inherent luxuriousness the stone offers. They are easy to clean and maintain and only need to be cleaned with a damp washcloth should someone spill a drink nearby. The durability of this stone in combination with its stunning beauty is not to be missed and in fact, welcomed by many aesthetics and preferences.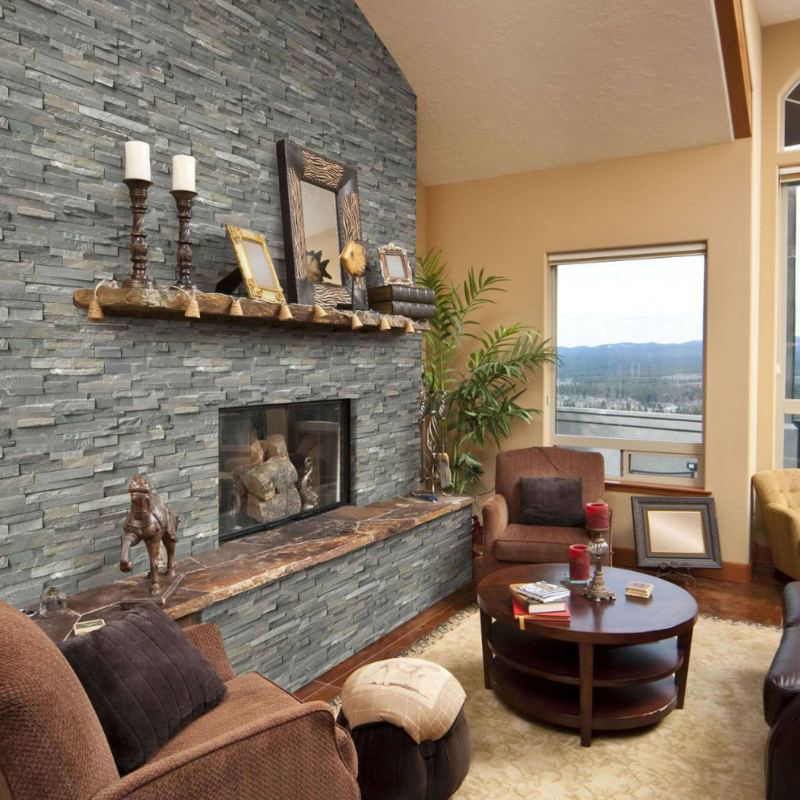 Similar to marble, slate is a material that is perfect for stacked stone fireplaces as it is also resistant to heat and stains. This deep richness of slate is also resistant to cracking and can last a good deal of time without showing wear or tear—a definite benefit for somewhere as central and social as your living room fireplace! As with all stone fireplaces, slate is an investment, but one that many people proudly cherish considering it isn't quick to fade or erode.
Installation is an important process when it comes to stacked stone, as well. After all, it doesn't look easy, does it? However, the veneer panels are designed for simple installation, many of which do not require grout. Obviously, measuring the area where you want to install is critical, as well—even doing so several times so you are 100 percent sure is a good tip. (Never hurts to double check, right?) Also, you do not want to just purchase the minimum stone required, count on paying for a little extra as you will need to cut and throw some pieces away. Protecting flooring with a drop cloth or newspaper is valuable advice, as the process can be somewhat messy and you don't want to harm your floors while cultivating a stunning fireplace!
Regardless if you are the one installing or if you've hired someone to do it, you will want to ensure that the first layer of your ledger panels are installed absolutely perfectly on the level. The bottom row is critical and can often dictate how well the other rows will align. One mistake on that first row can affect all the others—so heed the warning and make sure it's just as you want it.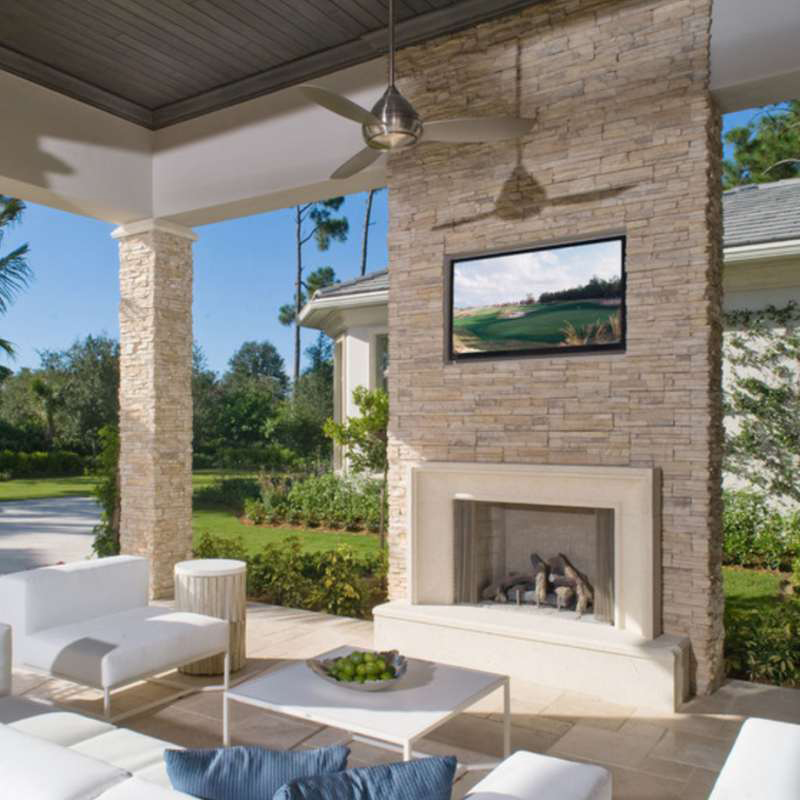 Photo Credit: Houzz
When it comes to maintenance with this gorgeous stone tile, you must remember not to clean this material with bleach or acid. Ultimately, those chemicals can damage and erode the stone long before you're due for a replacement. (Which may be never considering how durable these fireplaces really are!) To clean, you will want to wipe off with a towel and mild cleanser and let dry for several hours before sealing.
There are many sealant brands online or in home improvement stores, but you will want to check with your manufacturer before deciding which one is right for your fireplace. Of course, you will want to avoid sealants containing acid, which can cause damage to your hard-earned decorative investment. Many homeowners who want their stone to look lively and fresh will use a sealer as well as an enhancer, which can cause the stone to look slightly darker in tone. Much of that is left up to the preferences of the owner and how he or she wants the stone to look.
At the end of the day, few places in the home are an entrancing and cozy as whichever room you find your fireplace. The inviting and warm nature of a stacked stone fireplace allows for enchanting nights with stimulating conversation, important family bonding time and even much-needed time with yourself and a cup of hot chocolate—or wine! Thankfully, there are many patterns and designs from which to choose when you continue the hunt for the right stacked stone veneer.