Outdoor Oasis: What To Consider When Planning Outdoor Patio Surfaces
September 27, 2016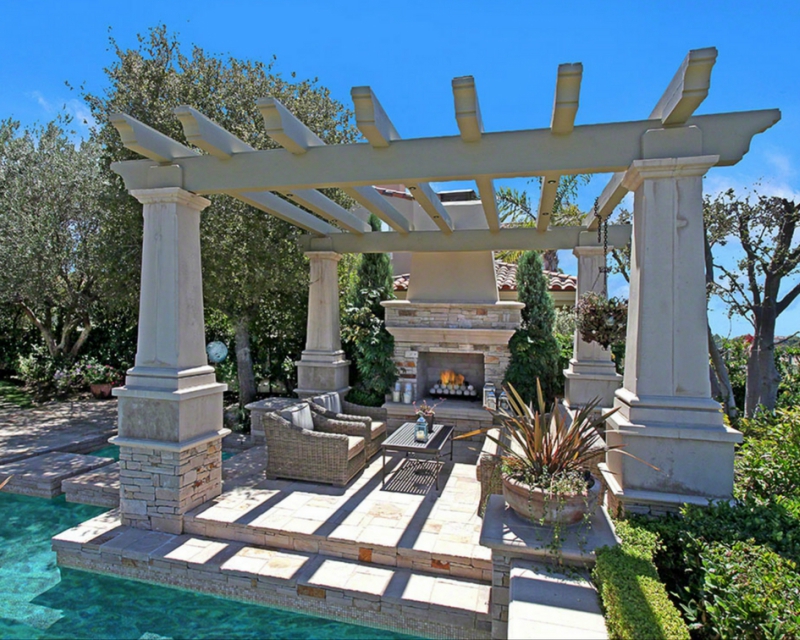 For some homeowners, amazing at-home amenities are definitely on their "must-have" list. But, if your home doesn't include a pretty pool, a fabulous fireplace, or a built-in barbeque, you can design your own outdoor oasis.
While it's exciting to get started right away, there are a few important factors you should think about when installing surfaces like travertine pavers or tiles. Here are some tips for creating a beautiful patio that is safe and functional and will last for years to come.
Clarify Your Design Needs and Wishes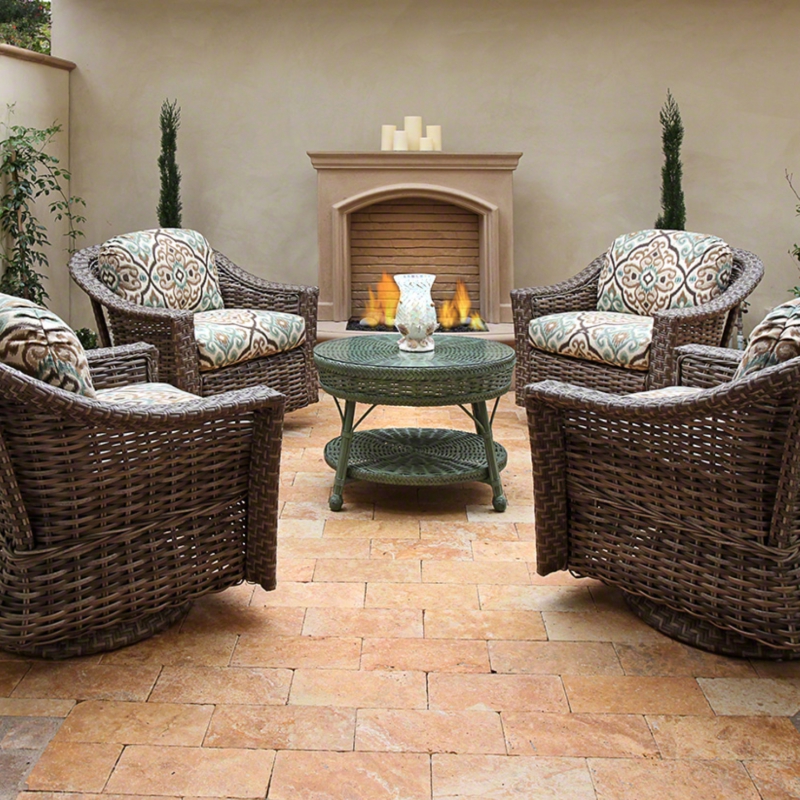 Featured: Tuscany Walnut Travertine Pavers
Whether you hire a professional, or design it yourself, make sure your patio plan meets your needs and your budget. Designate areas for specific purposes, like an outdoor dining area for gathering and eating, or a relaxing spot for poolside lounging.
Create a warm and comfortable space for intimate conversation with Tuscany Walnut Tumbled Travertine Pavers. The rich browns, taupes, tans, and creams reflect the warm ambience of the fire, perfect for this patio space.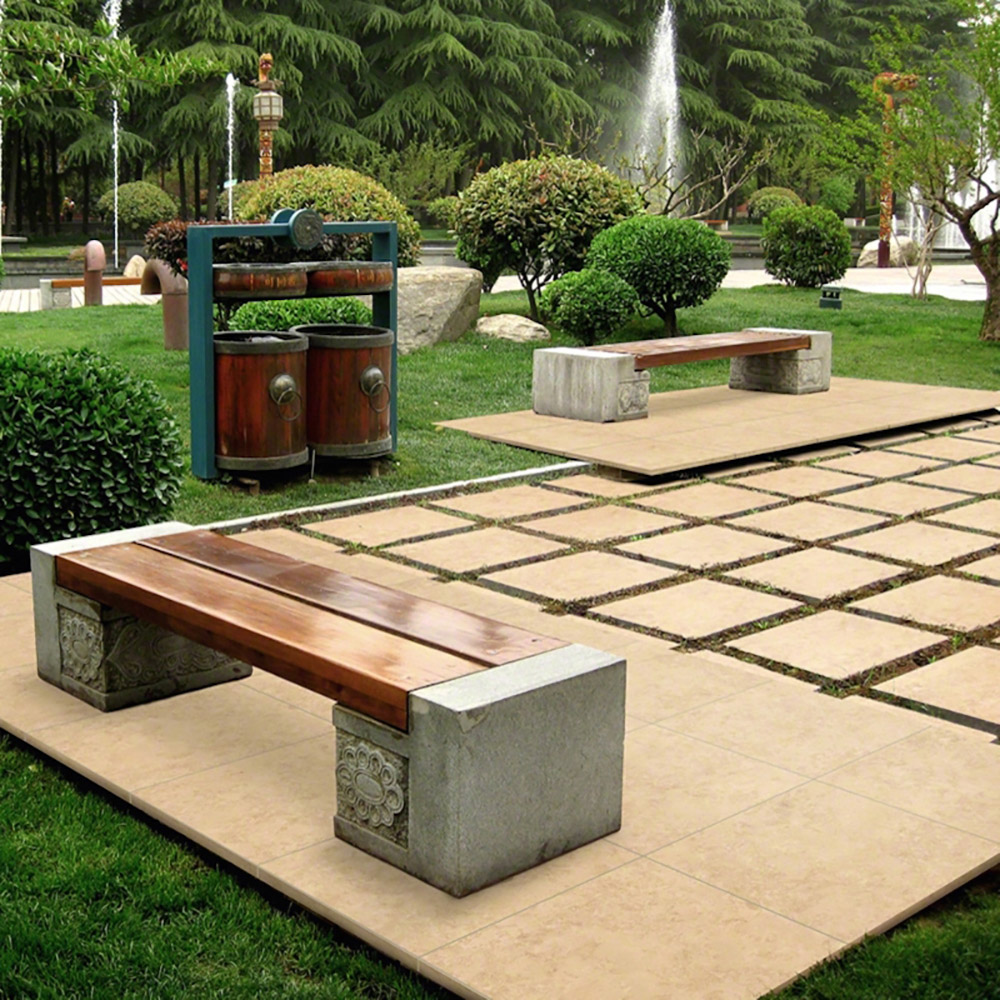 Featured: Petra Beige Porcelain Pavers
Create a focal point using one or two visual elements. These could include structural accents such as a pergola, or could emphasize pattern, as with a grid-like porcelain tile. Such focal elements will help determine the flow of traffic and where to lay floor tile. In this outdoor space, the eye is drawn toward the seating areas by Petra Beige porcelain pavers, installed in a geometric design.
Consider Your Overall Home Style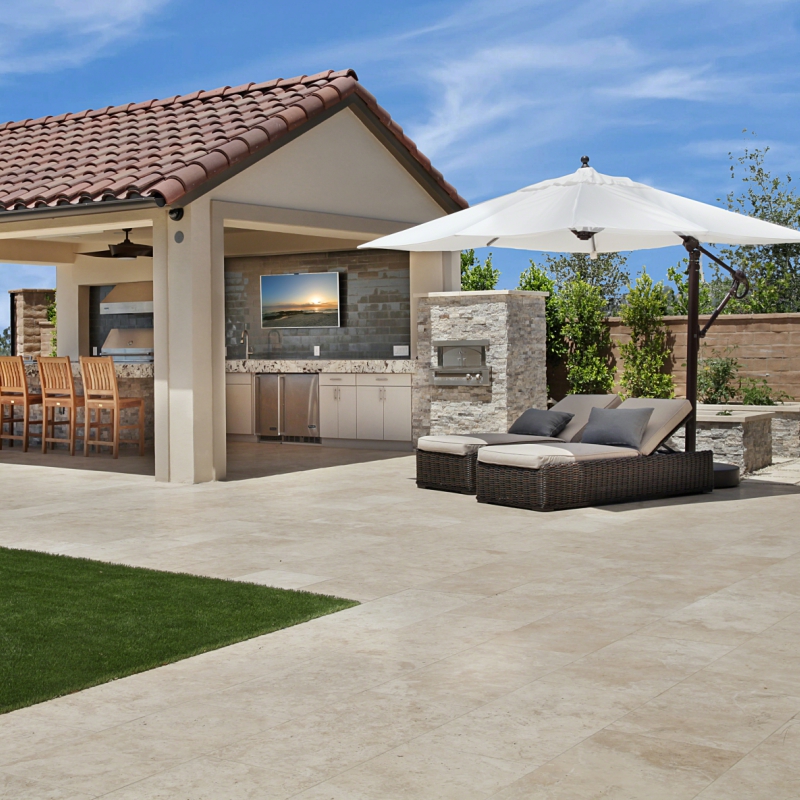 Featured: Tuscany Platinum Travertine
Be sure to consider what works well with both the exterior and interior style of your home. Then select two or three materials with varying textures for your hardscape to add interest. For example, this outdoor kitchen blends several products in similar tones, including the warm beiges and creams of the Tuscany Platinum Travertine travertine tiles, textural stacked stone, and a shimmery backsplash.
For old-world charm, opt for flooring with texture and color. From the grays, greens, and rusts of Earth Slate, to the golds, oranges, browns, and deep grays of Rustic Gold Slate, these rustic choices add major impact to any outdoor space.
Also take the entire landscape into consideration when designing your outdoor area. Decide whether you want to keep shapes linear and geometric or organic and curved, with lines that naturally transition into the rest of your landscape.
Prepare Your Patio Thoroughly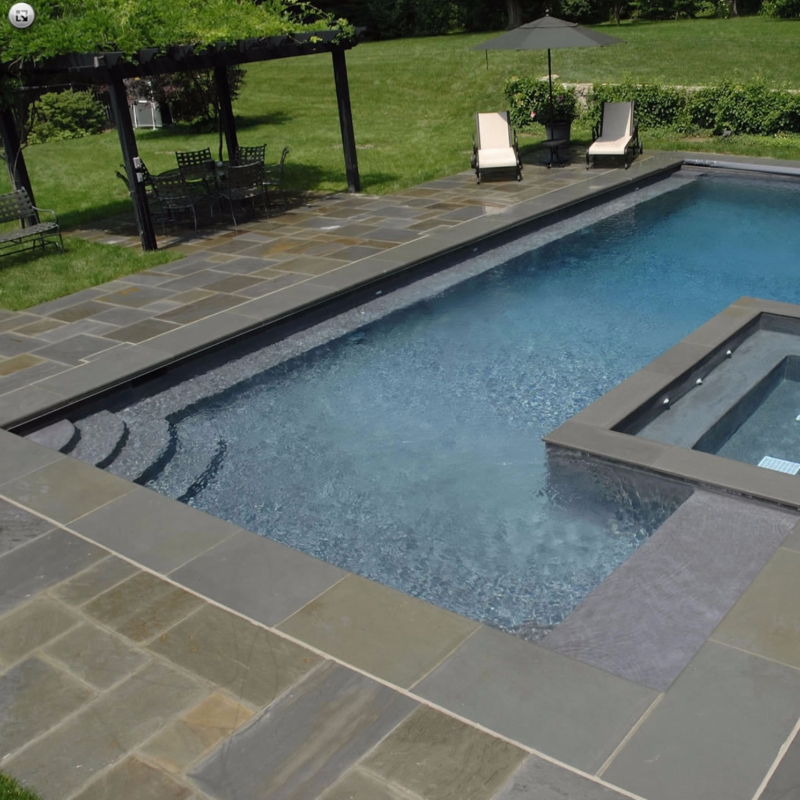 Featured: Rustic Gold Slate
While this step in the process is often overlooked, it's important to properly prepare the site of your outdoor space. This will help prevent problems arising later on.
Many make the mistake of adding too little base material or failing to adequately compact it. Make this mistake and you might end up with a sunken wall or a patio surface that shifts or breaks up over time.
Improper drainage can also affect your patio, so be sure to consider all drainage issues before installation. You can even put runoff to good use by designing water drainage that reuses runoff onsite instead of merely sending it down the drain.
Pick Quality Products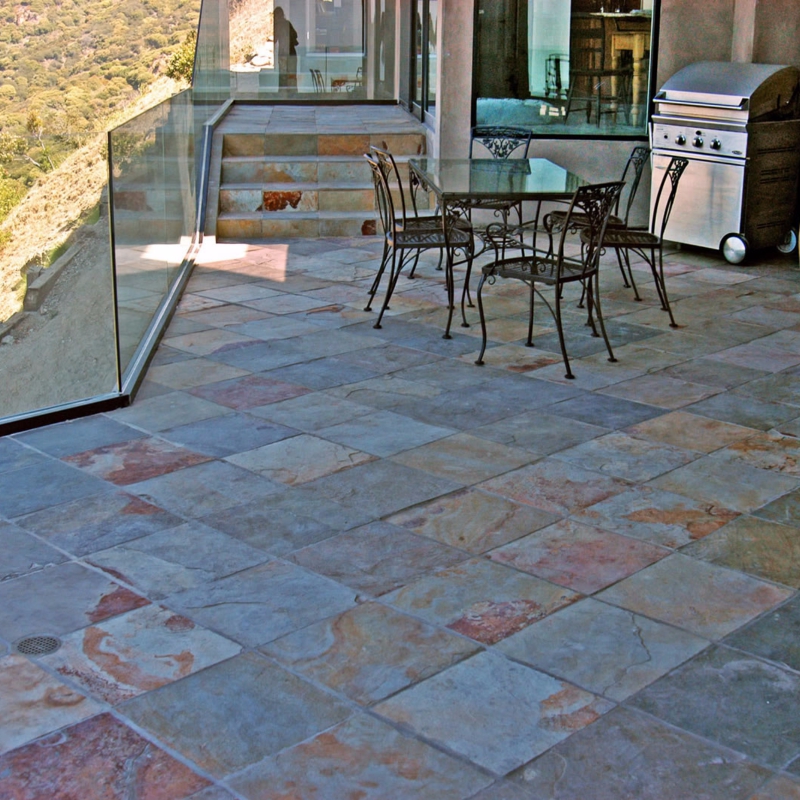 Featured: Earth Slate
It's important to choose materials that not only reflect your style, but also are suited to the climate and function. For example, tiles with low water absorption rates are durable and will resist cracking in freezing temperatures. Porcelain, travertine, and slate tile are all excellent surfaces for patios, and travertine is also a great slip resistant surface for wet areas such as pools.
If budget is an issue, remember that sometimes, cost-effective products may not last as long. Choosing a smaller amount of high-quality pavers or tiles for a more scaled-down project will look better and last longer than a larger project done with subpar materials. It's also best to buy more materials than what you currently need. This allows you to incorporate matching materials in other areas of your landscape in the future.
It's fun to dream about creating your own outdoor oasis, but as you can see, there's a lot that goes into a beautiful and durable design. But when you're ready to take the next step and start visualizing a design and picking out your favorite materials, check out MSI's Video Library of gorgeous outdoor spaces, and let your imagination go!